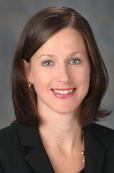 '
Nicole Fleming, M.D.
Present Title & Affiliation
Primary Appointment
Assistant Professor, Department of Gynecologic Oncology and Reproductive Medicine, Division of Surgery, The University of Texas MD Anderson Cancer Center, Houston, TX
Bio Statement
Dr. Fleming is an Assistant Professor in the Department of Gynecologic Oncology at M.D. Anderson Cancer Center. Dr. Fleming returns to the Houston area after completing her residency training in Obstetrics and Gynecology at Duke University Medical Center and fellowship in Gynecologic Oncology at University of California at Los Angeles Medical Center.
As a member of the M. D. Anderson Outreach Program, Dr. Fleming provides medical and surgical care to women with gynecologic malignancies in the greater Houston area. She has privileges at St. Luke's Episcopal Hospital, the Woman's Hospital of Texas, Methodist Hospital, and Lyndon B. Johnson Hospital which enable patients to be seen in a private-practice office setting with access to the amenities and specialized services of M. D. Anderson Cancer Center including clinical trials. Dr. Fleming believes in working closely with the patient and the referring doctor in order to provide quality care through a comprehensive, multidisciplinary approach.

Dr. Fleming has a special interest in minimally invasive surgery, including robotic-assisted laparoscopy, for appropriate patients with cervical, endometrial, and early-stage ovarian cancers. Minimally invasive surgery has revolutionized care for patients with gynecologic malignancies while improving patients' quality of life postoperatively. In addition to providing excellent patient care, Dr. Fleming continues to pursue her research interests which include surgical innovation and outcomes in gynecologic malignancies, and personalizing treatment options for patients with ovarian and endometrial cancer. She has authored and co-authored numerous articles in peer-reviewed journals on these and other subjects. In addition, she has been invited to write book chapters on a variety of topics in gynecologic oncology.
Dr. Fleming is a member of the American College of Obstetricians and Gynecologists, the American Society of Clinical Oncology, Society of Gynecologic Oncologists, and American Association of Gynecologic Laparoscopists. In addition, she serves as reviewer for several journals including Gynecologic Oncology and Annals of Surgical Oncology.


Education & Training
Degree-Granting Education

2004
University of Texas Medical School, Houston, TX, MD, Medicine
2000
Texas A&M University, College Station, TX, BS, Summa Cum Laude, Biomedical Science

Postgraduate Training

7/2008-6/2011

Clinical Fellowship, Gynecologic Oncology, University of California, Los Angeles, CA

7/2004-6/2008

Clinical Residency, Obstetrics and Gynecology, Duke University Medical Center, Durham, NC
Board Certifications
| | |
| --- | --- |
| 11/2012 | Obstetrics and Gynecology |
Experience/Service
Institutional Committee Activities
Member, Surgery Working Group, 2011-present
Member, Uterine Working Group, 2011-present
Member, Developmental therapeutics Working Group, 2011-present
Member, Fellowship Planning Committee, 2011-present
Honors and Awards
2012

GCF Carol's Cause Award for Outstanding Paper by Fellow/Resident

2010-2011

UCLA K30 Graduate Training Program in Translational Investigation,

University of California Los Angeles

2009-2010

AACR Molecular Biology in Clinical Oncology Workshop,

University of California Los Angeles

2007-2008

Administrative Chief Resident,

Duke University Medical Center

2007-2008

Outstanding Surgeon Award,

Duke University Medical Center

2006-2007

Felix Rutledge Fellowship,

M. D. Anderson Cancer Center

2006-2007

Medical Student Teaching Award,

Duke University Medical Center
Professional Memberships
American Association for Cancer Research
Associate member, 1/2010-present
American Association of Gynecologic Laparoscopy
Member, 10/2011-present
American College of Obstetrics and Gynecology
Junior Fellow in Practice, 1/2004-present
American Society of Clinical Oncology
Member, 1/2010-present
Society of Gynecologic Oncologists
Candidate, 1/2009-present
Selected Publications
Peer-Reviewed Original Research Articles

1.
Neubauer NL, Havrilesky LJ, Calingaert B, Bulusu A, Bernardini MQ, Fleming ND, Bland AE, Secord AA. The role of lymphadenectomy in the management of preoperative grade 1 endometrial carcinoma. Gynecol Oncol 112(3):511-6, 3/2009. e-Pub 1/13/2009. PMID: 19144394.
2.
Secord AA, Havrilesky LJ, O'Malley DM, Bae-Jump V, Fleming ND, Broadwater G, Cohn DE, Gehrig PA. A multicenter evaluation of sequential multimodality therapy and clinical outcome for the treatment of advanced endometrial cancer. Gynecol Oncol 114(3):442-7, 9/2009. e-Pub 6/26/2009. PMID: 19560193.
3.
Fleming ND, Alvarez-Secord A, Von Gruenigen V, Miller MJ, Abernethy AP. Indwelling catheters for the management of refractory malignant ascites: a systematic literature overview and retrospective chart review. J Pain Symptom Manage 38(3):341-9, 9/2009. e-Pub 3/28/2009. PMID: 19328648.
4.
Fleming ND, Havrilesky LJ, Valea FA, Allen TK, Broadwater G, Bland A, Habib AS. Analgesic and antiemetic needs following minimally invasive vs open staging for endometrial cancer. Am J Obstet Gynecol 204(1):65.e1-6, 1/2011. PMID: 20869036.
5.
Fleming ND, Lentz SE, Cass I, Li AJ, Karlan BY, Walsh CS. Is older age a poor prognostic factor in stage I and II endometrioid endometrial adenocarcinoma? Gynecol Oncol 120(2):189-92, 2/2011. e-Pub 11/26/2010. PMID: 21112078.
6.
Barnett JC, Havrilesky LJ, Bondurant AE, Fleming ND, Lee PS, Secord AA, Berchuck A, A Valea F. Adverse events associated with laparoscopy vs laparotomy in the treatment of endometrial cancer. Am J Obstet Gynecol. e-Pub 3/16/2011. PMID: 21514921.
7.
Fleming ND, Cass I, Walsh CS, Karlan BY, Li AJ. CA125 surveillance increases optimal resectability at secondary cytoreductive surgery for recurrent epithelial ovarian cancer. Gynecol Oncol 121(2):249-52, 5/1/2011. e-Pub 2/5/2011. PMID: 21300398.
8.
Fleming ND, Agadjanian H, Nassanian H, Miller CW, Orsulic S, Karlan BY, Walsh CS. Xeroderma pigmentosum complementation group C single-nucleotide polymorphisms in the nucleotide excision repair pathway correlate with prolonged progression-free survival in advanced ovarian cancer. Cancer. e-Pub 7/12/2011. PMID: 21751198.

Book Chapters

1.
Fleming ND, Farias-Eisner R. Malignant Diseases of the Ovary and Fallopian Tube. In: DiSaia: Women's Health Review: A Clinical Update in Obstetrics-Gynecology. Elsevier. In Press.
2.
Fleming, ND. Premalignant and Malignant Disorders of the Uterine Corpus. In: Current Diagnosis and Treatment: Obstetrics and Gynecology 11th edition. McGraw-Hill. In Press.
3.
Fleming ND. Fertility Preservation in the Gynecologic Cancer Patient. In: Gynecologic Oncology: Evidence-Based Perioperative and Supportive Care, 2nd edition. Wiley-Blackwell: Hoboken, NJ, 2011.
© 2014 The University of Texas MD Anderson Cancer Center