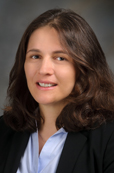 '
Niki M. Zacharias Millward, PhD
Present Title & Affiliation
Primary Appointment
Assistant Professor, Department of Cancer Systems Imaging, Division of Diagnostic Imaging, The University of Texas MD Anderson Cancer Center, Houston, TX
Associate Member, University of Texas Graduate School of Biomedical Sciences, Houston, TX
Adjunct Asst. Professor, Bioengineering, Rice University, Houston, TX
Bio Statement
The goal of Dr. Millward's lab is to use chemistry and biochemistry to design chemical probes to interrogate biological systems. Her lab's most recent research has been focused on studying metabolism and how metabolism is affected in cancer and during metastatic progression. Her team's research utilizes high field magnetic resonance to determine the metabolic profile of tissue and cells (steady-state metabolic profile). The lab is particularly interested in using synthetic and bioorganic chemistry to develop new probes for enzyme activity and metabolic transformation that can serve as tools for fundamental research in biological networks. This research utilizes a new imaging technique, hyperpolarized magnetic resonance. Hyperpolarization increases the sensitivity of magnetic resonance by over 50,000 fold and therefore allows for real time in vivo metabolism to be observed in tissue culture, in animals and eventually in patients.
Research Interests
As a chemist, my goal is to use chemistry and biochemistry to understand the metabolism of cancer and use this knowledge to design metabolic imaging probes and develop these probes from the bench to the clinic.
We are specifically interested in creating hyperpolarized metabolic imaging agents for magnetic resonance (MR) imaging and spectroscopy and, we are interested in determining the metabolic profile of cancer cell lines and tumor tissue using high field Nuclear Magnetic Resonance (NMR). NMR and MR are both powerful methods of determining the metabolic profiles of cancer. Hyperpolarized contrast agents increase the sensitivity of conventional MR over 50,000 fold and have the potential for early detection and selection of therapies for individual cancer patients. The four areas of research my lab is currently working on are a) synthesis and polarization of new imaging and metabolic compounds using Parahydrogen Induced Polarization (PHIP) and Dynamic Nuclear Polarization (DNP) with compounds containing either the non-radioactive isotopes 13C, 15N, 29Si, or a combination of. These molecules are small molecules, larger nanoparticles, and polymers b) application of hyperpolarized molecules in in vivo applications to different mice models of cancer, neurodegenerative and cardiovascular diseases c) determining the metabolic profile of cancer cell lines and tumor tissue using high field NMR d) using bioreactors and 3D cell culture and hyperpolarized agents to interrogate the metabolic cycles of different cancer cell lines.
Education & Training
Degree-Granting Education

2003
California Institute of Technology, Pasadena, CA, PHD, Chemistry
1997
Texas A&M University, College Station, TX, BS, Chemistry
Experience/Service
Academic Appointments
James G. Boswell Fellow, Division of Diagnostic Imaging, Huntington Medical Research Institutes and California Institute of Technology, Pasadena, CA, 2/2010-2/2012
Honors and Awards
| | |
| --- | --- |
| 2011 | Best Poster and Presentation Award in MRI Probes including Hyperpolarization II Session at World Molecular Imaging Congress |
| 2011 | International Society of Magnetic Resonance Annual Research Conference Student Stipend Award |
| 2010 | In Vivo Magnetic Resonance Gordon Research Conference Student Stipend Award |
| 2000-2001 | NIH Training Grant in Bioorganic Chemistry |
Professional Memberships
American Association for Cancer Research
Member, 12/2014-present
American Chemical Society
Member, 1/2012-present
International Society for Magnetic Resonance in Medicine
Member, 8/2012-present
Selected Publications
Peer-Reviewed Original Research Articles

1.
Zand B, Previs RA, Zacharias NM, Rupaimoole R, Mitamura T, Nagaraja AS, Guindani M, Dalton HJ, Yang L, Baddour J, Achreja A, Hu W, Pecot CV, Ivan C, Wu SY, McCullough CR, Gharpure KM, Shoshan E, Pradeep S, Mangala LS, Rodriguez-Aguayo C, Wang Y, Nick AM, Davies MA, Armaiz-Pena G, Liu J, Lutgendorf SK, Baggerly KA, Eli MB, Lopez-Berestein G, Nagrath D, Bhattacharya PK, Sood AK. Role of Increased n-acetylaspartate Levels in Cancer. J Natl Cancer Inst 108(6), 6/2016. e-Pub 1/2016. PMCID: PMC4849357.
2.
Benito J, Ramirez MS, Millward NZ, Velez J, Harutyunyan KG, Lu H, Shi YX, Matre P, Jacamo R, Ma H, Konoplev S, McQueen T, Volgin A, Protopopova M, Mu H, Lee J, Bhattacharya PK, Marszalek JR, Davis RE, Bankson JA, Cortes JE, Hart CP, Andreeff M, Konopleva M. Hypoxia-activated prodrug TH-302 targets hypoxic bone marrow niches in pre-clinical leukemia models. Clin Cancer Res 22(7):1687-98, 4/2016. e-Pub 11/2015. PMCID: PMC4818660.
3.
Jeong, G.; Lee, J; Gong, G.; Ko, H.; Choi, I; Seo H.; Lee, Y; Zacharias Millward N; Bhattacharya, P. Bio-interfacial magnetic resonance imaging of hyperpolarized contrast agents for metabolic flux interrogation in vivo. Journal of Industrial and Engineering Chemistry 36. e-Pub 2/2016.
4.
Zacharias, NM, McCullough CR, Wagner S, Sailasuta N, Chan HR, Lee Y, Hu J, Perman WH, Henneberg C, Ross BD, Bhattacharya P,. Towards Real-Time Metabolic Profiling of Cancer with Hyperpolarized Succinate. Journal of Molecular Imaging & Dynamics. e-Pub 2016.
5.
Rupaimoole R, Lee J, Haemmerle M, Ling H, Previs RA, Pradeep S, Wu SY, Ivan C, Ferracin M, Dennison JB, Millward NM, Nagaraja AS, Gharpure KM, McGuire M, Sam N, Armaiz-Pena GN, Sadaoui NC, Rodriguez-Aguayo C, Calin GA, Drapkin RI, Kovacs J, Mills GB, Zhang W, Lopez-Berestein G, Bhattacharya PK, Sood AK. Long Noncoding RNA Ceruloplasmin Promotes Cancer Growth by Altering Glycolysis. Cell Rep 13(11):2395-402, 12/2015. e-Pub 12/2015. PMCID: PMC4691557.
6.
Whiting N, Hu J, Shah JV, Cassidy MC, Cressman E, Millward NZ, Menter DG, Marcus CM, Bhattacharya PK. Real-Time MRI-Guided Catheter Tracking Using Hyperpolarized Silicon Particles. Sci Rep 5:12842, 2015. e-Pub 8/2015. PMCID: PMC4523869.
7.
Zacharias NM, Lee, Y, Piwnica-Worms, D, Bhattacharya, PK. Chemical Reaction-Induced Multi-molecular Polarization (CRIMP). Chemical Communication 50:13030-13033, 10/2014. PMID: 25224323.
8.
Zacharias NM, Chan HR, Sailasuta N, Ross BD, Bhattacharya P. Real-time molecular imaging of tricarboxylic acid cycle metabolism in vivo by hyperpolarized 1-(13)C diethyl succinate. J Am Chem Soc 134(2):934-43, 1/2012. e-Pub 12/2011. PMCID: PMC3262122.
9.
Bhattacharya P, Chekmenev EY, Reynolds WF, Wagner S, Zacharias N, Chan HR, Bünger R, Ross BD. Parahydrogen-induced polarization (PHIP) hyperpolarized MR receptor imaging in vivo: a pilot study of 13C imaging of atheroma in mice. NMR Biomed 24(8):1023-8, 10/2011. e-Pub 4/2011. PMCID: PMC3240663.
10.
Eastwood AL, Blum AP, Zacharias NM, Dougherty DA. A selenide-based approach to photochemical cleavage of peptide and protein backbones at engineered backbone esters. J Org Chem 74(23):9241-4, 12/2009. PMCID: PMC2953381.
11.
Petersson EJ, Brandt GS, Zacharias NM, Dougherty DA, Lester HA. Caging proteins through unnatural amino acid mutagenesis. Methods Enzymol 360:258-73, 2003. PMID: 12622154.
12.
Beene DL, Brandt GS, Zhong W, Zacharias NM, Lester HA, Dougherty DA. Cation-pi interactions in ligand recognition by serotonergic (5-HT3A) and nicotinic acetylcholine receptors: the anomalous binding properties of nicotine. Biochemistry 41(32):10262-9, 8/2002. PMID: 12162741.
13.
Zacharias N, Dougherty DA. Cation-pi interactions in ligand recognition and catalysis. Trends Pharmacol Sci 23(6):281-7, 6/2002. PMID: 12084634.
14.
Li, L, Zhong, Z, Zacharias, N, Gibbs, C. Lester, HA, Dougherty, DA. The tethered agonist approach to mapping ion channel proteins - towards a structural model for the agonist binding site of the nicotinic acetylcholine receptor. Chemistry and Biology 8:47-58, 2001. PMID: 11182318.
15.
Bekele H, Nesloney CL, McWilliams KW, Zacharias NM, Chitnumsub P, Kelly JW. Improved Synthesis of the Boc and Fmoc Derivatives of 4-(2'-Aminoethyl)-6-dibenzofuranpropionic Acid: An Unnatural Amino Acid That Nucleates beta-Sheet Folding. J Org Chem 62(7):2259-2262, 4/1997. PMID: 11671538.
16.
Whiting N, Hu J, Millward, N, Lokesh G, Volk D, Menter D, Rupaimoole R, Previs R, Sood A, Bhattacharya P. Developing hyperpolarized silicon particles to be used for in vivo MRI targeting of ovarian cancer. Journal of Medical Imaging. Submitted.
17.
Ornelas A, McCullough CR, Lu Z, Zacharias Millward N, Kelderhouse LE, Gray J, Wang Y, Mao W, Sutton MN, Bhattacharya PK, Bast R, Millward SW. Induction of autophagy by ARHI (DIRAS3) alters fundamental metabolic pathways in ovarian cancer models. BMC Cancer. Submitted.

Invited Articles

1.
Suto MJ, Zacharias N. Neuronal nicotinic acetylcholine receptors as drug targets. Expert Opin Ther Targets, 4/2004.

Book Chapters

1.
Bennett PB, Zacharias N, Nicholas JB, Sahba SD, Kulkarni A, Nowak M. Unnatural Amino Acids as Probes of Ion Channel Structure – Function and Pharmacology. In: Expression and Analysis of Recombinant Ion Channels: From Structural Studies to Pharmacological Screening. 2006.
Grant & Contract Support
Title:
Development of Targeted Theranostic Nanoparticles for the Imaging and Treatment of Breast Cancer
Funding Source:
UT MD Anderson, Center for Radiation Oncology
Role:
Co-Principal Investigator
Duration:
1/1/2016 - 12/31/2016
Title:
NCI Exploratory/Developmental Research Grant Award
Funding Source:
NIH/NCI
Role:
Co-Investigator
Principal Investigator:
Lu/Millward
Duration:
9/1/2015 - 8/31/2017
Title:
Non-Invasive Colonscopy by Molecular Imaging of Mucin Targeted Hyperpolarized Silicon Nanoparticles
Funding Source:
Cancer Prevention & Research Institute of Texas (CPRIT)
Role:
Co-Investigator
Principal Investigator:
Carson, Daniel (Rice University)
Duration:
6/1/2015 - 5/31/2017
Title:
Intrinsic and microenvironment-modulated glutamine dependence in AML: Biology and therapeutic targeting with glutaminase inhibitors
Funding Source:
NIH/NCI
Role:
Co-Investigator
Principal Investigator:
Konopleva, Marina
Duration:
3/1/2015 - 2/28/2016
Title:
Determining and Correlating the Metabolic Profile of Melanoma Cell Lines with iNOS Expression
Funding Source:
NIH/NCI
Role:
Principal Investigator
Duration:
12/28/2014 - 12/27/2015
Title:
Glioblastoma Moonshot
Funding Source:
MD Anderson Moonshot
Role:
Co-Investigator
Principal Investigator:
Amy Heimberger
Duration:
9/1/2014 - 8/31/2015
Title:
Anti-leukemia efficacy of the novel glutaminase inhibitor CB-839
Funding Source:
Calithera Biosciences, Inc.
Role:
Co-Investigator
Principal Investigator:
Marina Konopleva
Duration:
7/1/2014 - 12/31/2015
Title:
Early Detection of Pancreatic Cancer In Vivo by Molecular Imaging of Lactose-functionalized
Funding Source:
NIH/NCI
Role:
Co-Investigator
Principal Investigator:
Pratip Bhattacharya
Duration:
4/1/2014 - 3/31/2016
Title:
Early detection, characterization, and monitoring efficacy of chemotherapy in prostate cancer using hyperpolarized metabolic imaging agents
Funding Source:
Department of Defense (DOD)
Role:
Principal Investigator
Duration:
9/30/2012 - 9/29/2016