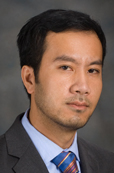 '
Ott Le, M D
Present Title & Affiliation
Primary Appointment
Assistant Professor, Department of Diagnostic Radiology, Division of Diagnostic Imaging, The University of Texas M D Anderson Cancer Center, Houston, TX
Office Address
The University of Texas MD Anderson Cancer Center
1400 Pressler Street
Unit Number: 1473
Houston, TX 77030
Room Number: FCT15.6097
Phone: 713-792-3673
Email: ott.le@mdanderson.org
Education & Training
Degree-Granting Education

2002
The University of Texas Medical Branch, Galveston, TX, MD, Medicine
1998
Texas A & M University, College Station, TX, BS, Zoology

Postgraduate Training

2003-2007

Clinical Residency, Radiology, The University of Texas Medical Branch, Galveston, TX

2002-2003

Transitional Year Internship, The University of Texas Health Sciences Center, Houston, TX
Board Certifications
| | |
| --- | --- |
| 6/2007 | American Board of Radiology |
Honors and Awards
2006

Voted Best Resident by Tele-Radiology Section,

University of Texas Medical Branch in Galveston, Texas
Professional Memberships
American College of Radiology
Member, 2006
Radiological Society of North America
Member, 2007
Texas Medical Association
Member, 2006
Selected Publications
Peer-Reviewed Original Research Articles

1.
Le O. Patterns of Peritoneal Spread of Tumor in the Abdomen and Pelvis. World J Radiol 5(3):106-12, 3/2013. PMCID: PMC3650201.
2.
Le O, Bhosale P, Szklaruk J, Ng C, Tamm E. MDCT: Impact of New Technologies on Oncologic Imaging - Practical Considerations. Applied Radiology 42(1):24-34, 1/2013. PMCID: PMC3390750.
3.
Le O, Roy A, Silverman PM, Kundra V. Common and Uncommon Adult Unilateral Renal Masses other than Renal Cell Carcinoma. Cancer Imaging 12:1-11, 2012. e-Pub 5/2012. PMCID: PMC3392784.
4.
Roy A, Le O, Silverman PM, Kundra V. Common and uncommon bilateral adult renal masses. Cancer Imaging 12:1-7, 2012. e-Pub 5/2012. PMID: 22750134.
5.
Oto A, Ernst RD, Mileski WJ, Nishino TK, Le O, Wolfe GC, Chaljub G. Localization of appendix with MDCT and influence of findings on choice of appendectomy incision. AJR Am J Roentgenol 187(4):987-90, 10/2006. PMID: 16985147.

Manuals, Teaching Aids, Other Teaching Publications

1.
Le O. ACR online teaching file, Body Imaging, MRI teaching file, biliary cystadenoma. http://mri.org/, 2008.
Grant & Contract Support
Title:
Feasibility Study of Contrast Enhanced Intraoperative Ultrasound for Detection and Characterization of Renal Mass Undergoing Open Partial Nephrectomy
Funding Source:
DICRC
Role:
Principal Investigator-MDACC
Duration:
2013 - present
Title:
Modeling the American Liver Cancer Patient - Swine HCC Model as a Bridge from Bench to Clinic
Funding Source:
IRG
Role:
Collaborator
Principal Investigator:
Rajesh Uthamanthil
Duration:
2011
© 2014 The University of Texas MD Anderson Cancer Center