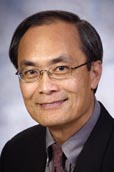 '
Paul K. Wong, Ph.D.
Present Title & Affiliation
Primary Appointment
Professor, Department of Molecular Carcinogenesis, Science Park-Research Division, The University of Texas MD Anderson Cancer Center, Smithville, TX
Dual/Joint/Adjunct Appointment
Adjunct Professor, Graduate School of Biomedical Sciences, University of Texas Health Science Center, Houston, TX
Adjunct Professor, Department of Microbiology, University of Texas at Austin, Austin, TX
Research Interests
Dr. Wong's lab is interested in the mechanisms of pathogenesis of diseases induced by retroviruses and defective genes. The lab's emphasis is on understanding the molecular and pathological mechanisms of how retroviruses and defective genes induce neuroimmunodegenerative diseases and cancer using animal models, including transgenic and gene knockout mice. Dr. Wong is particularly interested in oxidative stress, endoplastic reticulum stress (due to accumulation of misfolded proteins), and the signaling pathways of apoptosis and cell proliferation in these systems. The Wong lab has shown that oxidative stress induced by murine retroviruses can be restored by antioxidants and anti-inflammatory drugs, thus preventing virus-induced neurodegeneration and immunodeficiency. In recent years, Wong's research has also been focusing on neural stem cells (NSCs). One of the major recent breakthroughs in his research involves studies of the human childhood genetic disease called ataxia telangiectasia (A-T). This research showed that defects in the Atm gene impairs self-renewal and proliferation of neural stem cells through an oxidative stress-mediated pathway. Using a treatment targeting this pathway in NSCs, the lab was able to correct the dysregulated pathway, restoring neuronal loss and correcting the neural motor deficits in A-T mice. Dr. Wong is also interested in the association between human endogenous retrovirus type K (HERV-K) and breast cancer. Studies are underway to investigate whether the HERV-K retroviruses act as a trigger or as an accomplice of human breast cancer, and in particular, whether expression of HERV-K is responsible for breast cancer progression and metastasis.
Office Address
The University of Texas MD Anderson Cancer Center
1808 Park Road 1-C
PO Box 389
Smithville, TX 78957
Phone: (512) 237-9456
Email: pkwong@mdanderson.org
Education & Training
Degree-Granting Education

1972
University of Manitoba, Winnepeg, Manitoba, Canada, PHD, Viral Genetics
1969
University of Manitoba, Winnipeg, Manitoba, Canada, MsSc, Animal Virology/Genetics
1968
University of Manitoba, Winnipeg, Manitoba, Canada, BSc(Hons), Microbiology

Postgraduate Training

1974

Retrovirology, Cancer Research, University of Western Ontario, Ontario, Ontario, Canada
Experience/Service
Academic Appointments
Adjunct Professor, Institute for Neuroscience, University of Texas at Austin, Austin, TX, 1995-present
Associate Professor (with tenure), Microbiology, School of Basic Medical Sciences, University of Illinois, Urbana, IL, 1980-1986
Assistant Professor, Microbiology, School of Basic Medical Sciences, University of Illinois, Urbana, IL, 1974-1980
Selected Publications
Peer-Reviewed Original Research Articles

1.
Kim SJ, Wong PK. ROS upregulation during the early phase of retroviral infection plays an important role in viral establishment in the host cell. Journal of General Virology 94((Pt 10)):2309-17, 10/2013. PMCID: PMC3785033.
2.
Kim JS, Wong PK. Targeting p38 mitogen-activated protein kinase signaling restores subventricular zone neural stem cells and corrects neuromotor deficits in Atm knockout mouse. Stem Cells Transl Med 1(7):548-556, 7/2012. PMCID: PMC3659722.
3.
Kuang X, Yan M, Ajmo JM, Scofield VL, Stoica G, Wong PK.. Activation of AMP-activated protein kinase in cerebella of Atm-/- mice is attributable to accumulation of reactive oxygen species. Biochem Biophys Res Commun 418(2):267-72, 2/2012. PMID: 22260947.
4.
Kim J, Hwangbo J, Wong PKY. p38 MAPK-Mediated Bmi-1 Down-Regulation and Defective Proliferation in ATM-Deficient Neural Stem Cells can be Restored by Akt Activation. PLoS ONE 6(1):e16615, 1/2011. PMID: 21305053.
5.
Kuang X, Wenhui H, Yan M, Wong PK. Phenylbutyric acid suppresses protein accumulation-mediated ER stress in retrovirus-infected astrocytes and delays onset of paralysis in infected mice. Neurochem Int 57(7):738-48, 12/2010. PMCID: PMC3402222.
6.
Reddy PV, Lungu G, Kuang X, Stoica G, Wong PK. Neuroprotective effects of the drug GVT (monosodium luminol) are mediated by the stabiolization of Nrf2 in astrocytes. Neurochem Int 56(6-7):780-8, 2010. PMID: 20211212.
7.
Kuang X, Shen J, Wong PK, Yan M. Deregulation of mTOR signaling is involved in thymic lymphoma development in Atm-/- mice. Biochem Biophys Res Commun 383(3):368-72, 6/2009. PMID: 19364503.
8.
Kim J, Wong PK. Oxidative stress is linked to ERK-P16 signaling-mediated growth defect in ATM-deficient astrocytes. J Biol Chem 284(21):14396-404, 5/2009. PMCID: PMC2682888.
9.
Scofield VL, Yan M, Kuang X, Kim SJ, Crunk D, Wong PK. The drug monosodium luminol (GVT) preserves thymic epithelial cell cytoarchitecture and allows thymocyte survival in mice infected with the T cell-tropic, cytopathic retrovirus ts. Immunol Lett 122(2):159-69, 2/2009. PMID: 19183564.
10.
Kuang X, Scofield VL, Yan M, Stoica G, Liu N, Wong PK. Attenuation of oxidative stress, inflammation and apoptosis by minocycline prevents retrovirus-induced neurodegeneration in mice. Brain Res 1286:174-184, 2009. PMCID: PMC3402231.
11.
Kim J, Wong PKY. Loss of ATM impairs proliferation of neural stem cells through oxidative stress-mediated p38 MAPK signaling. Stem Cells 27:1987-1998, 2009. PMID: 19544430.
12.
Yan M, Shen J, Person MD, Kuang X, Lynn WS, Atlas D, Wong PK. Endoplasmic reticulum stress and unfolded protein response in Atm-deficient thymocytes and thymic lymphoma cells are attributable to oxidateive stress. Neoplasia 10(2):160-7, 2/2008. PMCID: PMC2244691.
13.
Jiang Y, Scofield VL, Yan M, Qiang W, Liu N, Reid AJ, Lynn WS, Wong PK. Retrovirus-induced oxidative stress with neuroimmunodegeneration is suppressed by antioxidant treatment with a refined monosodium alpha-luminol (Galavit). J Virol 80(9):4557-69, 5/2006. PMCID: PMC1472001.
14.
Yan M, Kuang X, Qiang W, Shen J, Claypool K, Lynn WS, Wong PK. Prevention of thymic lymphoma development in Atm-/- mice by dexamethasone. Cancer Res 62(18):5153-7, 9/2002. PMID: 12234978.
© 2014 The University of Texas MD Anderson Cancer Center