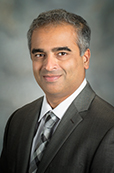 '
Prahlad T. Ram, Ph.D.
Present Title & Affiliation
Primary Appointment
Associate Professor, Department of Systems Biology, Division of Cancer Medicine, The University of Texas MD Anderson Cancer Center, Houston, TX
Education & Training
Degree-Granting Education

1997
Tulane University, New Orleans, LA, PHD, Structural and Cellular Biology
1991
Rutgers University, Camden, NJ, BA, Biology

Postgraduate Training

9/1997-8/2001

Postdoctoral Fellowship, Mount Sinai School of Medicine, New York, NY, Dr. Ravi Iyengar
Experience/Service
Other Appointments/Responsibilities
Steering Committee, NIH Theoretical and Computational Neuroscience Training Grant, Houston, TX, 1/2005-present
Faculty, Gulf Coast Consortia/Keck Center Pharmacoinformatics Training Grant, Houston, TX, 2005-present
Faculty, UT Graduate School of Biomedical Sciences, Houston, TX, 4/2004-present
Institutional Committee Activities
Member, MD/PhD Advisory Committee, 9/2011-present
Chair, Post-doctoral advisory committee, 9/2010-8/2011
Chair, GSBS Admissions Committee, 9/2010-8/2011
Member, GSBS Executive Committee, 2010-present
Member, UTHSC-MDACC Graduate School of Biological Sciences Admission Committee, 2008-2011
Member, UT M.D. Anderson Postdoctoral Fellows Advisory Committee, 2004-2011
Selected Publications
Peer-Reviewed Original Research Articles

1.
Ruths D, Nakhleh L, Ram PT. Rapidly Exploring Structural and Dynamic Properties of Signaling Networks Using PathwayOracle. BMC Syst Biol 2(1):76, 8/2008. PMID: 18713463.
2.
Muller M, Obeyesekere M, Mills GB, Ram PT. Network topology determines dynamics of the mammalian MAPK1,2 signaling network: bifan motif regulation of C-Raf and B-Raf isoforms by FGFR and MC1R. FASEB J 22(5):1393-403, 5/2008. PMID: 18171696.
3.
Ruths D, Muller M, Tseng JT, Nakhleh L, Ram PT. The signaling petri net-based simulator: a non-parametric strategy for characterizing the dynamics of cell-specific signaling networks. PLoS Comput Biol 4(2):e1000005, 2/2008. PMID: 18463702.
4.
Aaronson DS, Muller M, Neves SR, Chung WC, Jayaram G, Iyengar R, Ram PT. An androgen-IL-6-Stat3 autocrine loop re-routes EGF signal in prostate cancer cells. Mol Cell Endocrinol 270(1-2):50-6, 5/2007. PMID: 17374439.
5.
Ruths D, Tseng J-T, Nakhleh L, Ram PT. DeNovo Signaling Pathway Predictions based on protein-protein interaction, targeted therapy and protein microarray analysis. LNCS 4532:108-118, 2007.
6.
Ruths DA, Nakhleh L, Iyengar MS, Reddy SA, Ram PT. Hypothesis generation in signaling networks. J Comput Biol 13(9):1546-57, 11/2006. PMID: 17147477.
7.
He JC, Gomes I, Nguyen T, Jayaram G, Ram PT, Devi LA, Iyengar R. The G alpha(o/i)-coupled cannabinoid receptor-mediated neurite outgrowth involves Rap regulation of Src and Stat3. J Biol Chem 280(39):33426-34, 9/2005. PMID: 16046413.
8.
Ma'ayan A, Jenkins SL, Neves S, Hasseldine A, Grace E, Dubin-Thaler B, Eungdamrong NJ, Weng G, Ram PT, Rice JJ, Kershenbaum A, Stolovitzky GA, Blitzer RD, Iyengar R. Formation of regulatory patterns during signal propagation in a Mammalian cellular network. Science 309(5737):1078-83, 8/2005. PMID: 16099987.
9.
Campagne F, Neves S, Chang CW, Skrabanek L, Ram PT, Iyengar R, Weinstein H. Quantitative information management for the biochemical computation of cellular networks. Science Signaling 2004(248):pl11, 8/2004. PMID: 15340175.

Invited Articles

1.
Hennessy BT, Smith DL, Ram PT, Lu Y, Mills GB. Exploiting the PI3K/AKT pathway for cancer drug discovery. Nat Rev Drug Discov 4(12):988-1004, 12/2005. PMID: 16341064.

Book Chapters

1.
Muller M, Ram PT. Sytems Biology of the MAPK1,2 network. In: Systems Biology and Signaling Networks. 16. Springer Press: New York, 2010.
© 2014 The University of Texas MD Anderson Cancer Center