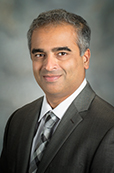 '
Prahlad T. Ram, Ph.D.
Present Title & Affiliation
Primary Appointment
Associate Professor, Department of Systems Biology, Division of Cancer Medicine, The University of Texas MD Anderson Cancer Center, Houston, TX
Education & Training
Degree-Granting Education

2001
Mount Sinai School of Medicine, New York, NY, PHD, Systems biology and cancer biology
1997
Tulane University, New Orleans, LA, PHD, Structural and Cellular Biology
1991
Rutgers University, Camden, NJ, BA, Biology

Postgraduate Training

9/1997-8/2001

Postdoctoral Fellowship, Mount Sinai School of Medicine, New York, NY, Dr. Ravi Iyengar
Experience/Service
Other Appointments/Responsibilities
Steering Committee, NIH Theoretical and Computational Neuroscience Training Grant, Houston, TX, 1/2005-present
Faculty, Gulf Coast Consortia/Keck Center Pharmacoinformatics Training Grant, Houston, TX, 2005-present
Faculty, UT Graduate School of Biomedical Sciences, Houston, TX, 4/2004-present
Institutional Committee Activities
Member, MD/PhD Advisory Committee, 9/2011-present
Chair, Post-doctoral advisory committee, 9/2010-8/2011
Chair, GSBS Admissions Committee, 9/2010-8/2011
Member, GSBS Executive Committee, 2010-present
Chair, UTHSC-MDACC Graduate School of Biological Sciences Admission Committee, 2010-2011
Member, UT M.D. Anderson Postdoctoral Fellows Advisory Committee, 2004-2011
Selected Publications
Peer-Reviewed Original Research Articles

1.
Sehgal, V., Tyler J. Moss, Ram, PT. Computational Approaches for Visualization and Integration of Omics Data. In Fundamentals of Advanced Omics Technologies: From Genes to Metabolites Elsevier. In Press.
2.
Wu S, Yang X, Gharpure KM, Hatakeyama H, Egli M, McGuire M, Nagaraja AS, Miyake T, Rupaimoole R, Pecot C, Taylor M, Pradeep S, Sierant M, Rodriguez-Aguayo C, Choi H, Previs R, Armaiz-Pena GN, Huang L, Martinez C, Hassell T, Ivan C, Sehgal V, Singhania R, Han H-D, Su C, Kim J-H, Dalton H, Kowali C, Keyomarsi K, McMillan N, Overwijk W , Liu J, Lee J-S, Baggerly K, Lopez-Berestein G, Ram PT, NawrotB, Sood A. Evoking potent RNAi response in cancer using novel 2'-OMe-phosphorodithioated modified siRNAs. Nat Commun. In Press.
3.
Werner HM, Mills GB, Ram PT. Cancer Systems Biology: a peek into the future of patient care? Nat Rev Clin Oncol 11(3):167-76, 3/2014. PMID: 24492837.
4.
Matsuo K, Nishimura M, Komurov K, Shahzad MM, Ali-Fehmi R, Roh JW, Lu C, Cody DD, Ram PT, Loizos N, Coleman RL, Sood AK. Platelet-derived growth factor receptor alpha (PDGFRα) targeting and relevant biomarkers in ovarian carcinoma. Gynecol Oncol 132(1):166-75, 1/2014. PMCID: PMC3946949.
5.
Nishikawa T, Bellance N, Damm A, Bing H, Zhu Z, Handa K, Yovchev MI, Sehgal V, Moss TJ, Oertel M, Ram P, Pipinos II, Soto-Gutierrez A, Fox IJ, Nagrath D. A switch in the source of ATP production and a loss in capacity to perform glycolysis are hallmarks of hepatocyte failure in advance liver disease. J Hepatol, 2014. PMCID: PMC4028384.
6.
Roh JW, Huang J, Hu W, Yang X, Jennings NB, Sehgal V, Sohn BH, Han HD, Lee SJ, Thanapprapa D, Bottsford-Miller J, Zand B, Dalton HJ, Previs RA, Davis AN, Matsuo K, Lee JS, Ram PT, Coleman R, Sood AK. Biological effects of platelet-derived growth factor receptor α blockade in uterine cancer. Clin Cancer Res, 2014. PMCID: PMC4024372.
7.
Iadevaia S, Nakhleh LK, Azencott R, Ram PT. Mapping network motif tunability and robustness in the design of synthetic signaling circuits. PLoS One 9(3):e91743, 2014. PMCID: PMC3958390.
8.
Sehgal V, Ram PT. Network Motifs in JNK Signaling. Genes Cancer 4(9-10):409-413, 9/2013. PMCID: PMC3863341.
9.
Slingluff CL, Petroni GR, Molhoek KR, Brautigan DL, Chianese-Bullock KA, Shada AL, Smolkin ME, Olson WC, Gaucher A, Chase CM, Grosh WW, Weiss GR, Wagenseller AG, Olszanski AJ, Martin L, Shea SM, Erdag G, Ram P, Gershenwald JE, Weber MJ. Clinical activity and safety of combination therapy with temsirolimus and bevacizumab for advanced melanoma: a phase II trial (CTEP 7190/Mel47). Clin Cancer Res 19(13):3611-20, 7/2013. PMCID: PMC3700572.
10.
Pecot CV, Rupaimoole R, Yang D, Akbani R, Ivan C, Lu C, Wu S, Han HD, Shah MY, Rodriguez-Aguayo C, Bottsford-Miller J, Liu Y, Kim SB, Unruh A, Gonzalez-Villasana V, Huang L, Zand B, Moreno-Smith M, Mangala LS, Taylor M, Dalton HJ, Sehgal V, Wen Y, Kang Y, Baggerly KA, Lee JS, Ram PT, Ravoori MK, Kundra V, Zhang X, Ali-Fehmi R, Gonzalez-Angulo AM, Massion PP, Calin GA, Lopez-Berestein G, Zhang W, Sood AK. Tumour angiogenesis regulation by the miR-200 family. Nat Commun 4:2427, 2013. PMCID: PMC3904438.
11.
Ram PT, Mendelsohn J, Mills GB. Bioinformatics and systems biology. Mol Oncol 6(2):147-54, 4/2012. PMCID: PMC3345061.
12.
Komurov K, Dursun S, Erdin S, Ram PT. NetWalker: a contextual network analysis tool for functional genomics. BMC Genomics 13(1):282, 2012. PMCID: PMC3439272.
13.
Komurov K, Tseng JT, Muller M, Seviour EG, Moss TJ, Yang L, Nagrath D, Ram PT. The glucose-deprivation response network counteracts EGFR signaling in lapatinib resistant cells. Mol Syst Biol 8(596):596, http://www.nature.com/msb/index.html, 2012. PMCID: PMC3421441.
14.
Matsuo K, Nishimura M, Bottsford-Miller JN, Huang J, Komurov K, Armaiz-Pena GN, Shahzad MM, Stone RL, Roh JW, Sanguino AM, Lu C, Im DD, Rosenshien NB, Sakakibara A, Nagano T, Yamasaki M, Enomoto T, Kimura T, Ram PT, Schmeler KM, Gallick GE, Wong KK, Frumovitz M, Sood AK. Targeting Src in Mucinous Ovarian Carcinoma. Clin Cancer Res 17(16):5367-5378, 8/2011. PMCID: PMC4028171.
15.
Lu Y, Muller M, Smith D, Dutta B, Komurov K, Iadevaia S, Ruths D, Tseng JT, Yu S, Yu Q, Nakhleh L, Balazsi G, Donnelly J, Schurdak M, Morgan-Lappe S, Fesik S, Ram PT, Mills GB. Kinome siRNA-phosphoproteomic screen identifies networks regulating AKT signaling. Oncogene, 2011. PMCID: PMC3175328.
16.
Nick AM, Stone RL, Armaiz-Pena G, Ozpolat B, Tekedereli I, Graybill WS, Landen CN, Villares G, Vivas-Mejia P, Bottsford-Miller J, Kim HS, Lee JS, Kim SM, Baggerly KA, Ram PT, Deavers MT, Coleman RL, Lopez-Berestein G, Sood AK. Silencing of p130Cas in Ovarian Carcinoma: A Novel Mechanism for Tumor Cell Death. J Natl Cancer Inst, 2011. PMCID: PMC3206039.
17.
Gopal YN, Deng W, Woodman SE, Komurov K, Ram P, Smith PD, Davies MA. Basal and treatment-induced activation of AKT mediates resistance to cell death by AZD6244 (ARRY-142886) in Braf-mutant human cutaneous melanoma cells. Cancer Res 70(21):8736-47, 11/2010. PMID: 20959481.
18.
Iadevaia S, Lu Y, Morales FC, Mills GB, Ram PT. Identification of optimal drug combinations targeting cellular networks: integrating phospho-proteomics and computational network analysis. Cancer Res 70(17):6704-14, 9/2010. PMCID: PMC2932856.
19.
Taube JH, Herschkowitz JI, Komurov K, Zhou AY, Gupta S, Yang J, Hartwell K, Onder TT, Gupta PB, Evans KW, Hollier BG, Ram PT, Lander ES, Rosen JM, Weinberg RA, Mani SA. Core epithelial-to-mesenchymal transition interactome gene-expression signature is associated with claudin-low and metaplastic breast cancer subtypes. Proc Natl Acad Sci U S A 107(35):15449-54, 8/2010. PMCID: PMC2932589.
20.
Komurov K, Ram PT. Patterns of human gene expression variance show strong associations with signaling network hierarchy. BMC Syst Biol 4(1):154, 2010. PMCID: PMC2992512.
21.
Komurov K, White MA, Ram PT. Use of data-biased random walks on graphs for the retrieval of context-specific networks from genomic data. PLoS Comput Biol 6(8), 2010. PMCID: PMC2924243.
22.
Ruths D, Nakhleh L, Ram PT. Rapidly Exploring Structural and Dynamic Properties of Signaling Networks Using PathwayOracle. BMC Syst Biol 2(1):76, 8/2008. PMCID: PMC2527501.
23.
Muller M, Obeyesekere M, Mills GB, Ram PT. Network topology determines dynamics of the mammalian MAPK1,2 signaling network: bifan motif regulation of C-Raf and B-Raf isoforms by FGFR and MC1R. FASEB J 22(5):1393-403, 5/2008. PMID: 18171696.
24.
Ruths D, Muller M, Tseng JT, Nakhleh L, Ram PT. The signaling petri net-based simulator: a non-parametric strategy for characterizing the dynamics of cell-specific signaling networks. PLoS Comput Biol 4(2):e1000005, 2/2008. PMCID: PMC2265486.
25.
Aaronson DS, Muller M, Neves SR, Chung WC, Jayaram G, Iyengar R, Ram PT. An androgen-IL-6-Stat3 autocrine loop re-routes EGF signal in prostate cancer cells. Mol Cell Endocrinol 270(1-2):50-6, 5/2007. PMID: 17374439.
26.
Ruths D, Tseng J-T, Nakhleh L, Ram PT. DeNovo Signaling Pathway Predictions based on protein-protein interaction, targeted therapy and protein microarray analysis. LNCS 4532:108-118, 2007.
27.
Ruths DA, Nakhleh L, Iyengar MS, Reddy SA, Ram PT. Hypothesis generation in signaling networks. J Comput Biol 13(9):1546-57, 11/2006. PMID: 17147477.
28.
He JC, Gomes I, Nguyen T, Jayaram G, Ram PT, Devi LA, Iyengar R. The G alpha(o/i)-coupled cannabinoid receptor-mediated neurite outgrowth involves Rap regulation of Src and Stat3. J Biol Chem 280(39):33426-34, 9/2005. PMID: 16046413.
29.
Ma'ayan A, Jenkins SL, Neves S, Hasseldine A, Grace E, Dubin-Thaler B, Eungdamrong NJ, Weng G, Ram PT, Rice JJ, Kershenbaum A, Stolovitzky GA, Blitzer RD, Iyengar R. Formation of regulatory patterns during signal propagation in a Mammalian cellular network. Science 309(5737):1078-83, 8/2005. PMID: 16099987.
30.
Campagne F, Neves S, Chang CW, Skrabanek L, Ram PT, Iyengar R, Weinstein H. Quantitative information management for the biochemical computation of cellular networks. Science Signaling 2004(248):pl11, 8/2004. PMID: 15340175.
31.
Bhalla US, Ram PT, Iyengar R. MAP kinase phosphatase as a locus of flexibility in a mitogen-activated protein kinase signaling network. Science 297(5583):1018-23, 8/2002. PMID: 12169734.
32.
Ram PT, Dai J, Yuan L, Dong C, Kiefer TL, Lai L, Hill SM. Involvement of the mt1 melatonin receptor in human breast cancer. Cancer Lett 179(2):141-50, 5/2002. PMID: 11888668.
33.
Obrink B, Sawa H, Scheffrahn I, Singer BB, Sigmundsson K, Sundberg U, Heymann R, Beauchemin N, Weng G, Ram P, Iyengar R. Computational analysis of isoform-specific signal regulation by CEACAM1-A cell adhesion molecule expressed in PC12 cells. Ann N Y Acad Sci 971:597-607, 2002. PMID: 12438192.
34.
Kiefer T, Ram PT, Yuan L, Hill SM. Melatonin inhibits estrogen receptor transactivation and cAMP levels in breast cancer cells. Breast Cancer Res Treat 71(1):37-45, 2002. PMID: 11859872.
35.
Dai J, Ram PT, Yuan L, Spriggs LL, Hill SM. Transcriptional repression of RORalpha activity in human breast cancer cells by melatonin. Mol Cell Endocrinol 176(1-2):111-20, 5/2001. PMID: 11369450.
36.
Ram PT, Yuan L, Dai J, Kiefer T, Klotz DM, Spriggs LL, Hill SM. Differential responsiveness of MCF-7 human breast cancer cell line stocks to the pineal hormone, melatonin. J Pineal Res 28(4):210-8, 5/2000. PMID: 10831156.
37.
Ram PT, Horvath CM, Iyengar R. Stat3-mediated transformation of NIH-3T3 cells by the constitutively active Q205L Galphao protein. Science 287(5450):142-4, 1/2000. PMID: 10615050.
38.
Eck KM, Yuan L, Duffy L, Ram PT, Ayettey S, Chen I, Cohn CS, Reed JC, Hill SM. A sequential treatment regimen with melatonin and all-trans retinoic acid induces apoptosis in MCF-7 tumour cells. Br J Cancer 77(12):2129-37, 6/1998. PMID: 9649124.
39.
Ram PT, Kiefer T, Silverman M, Song Y, Brown GM, Hill SM. Estrogen receptor transactivation in MCF-7 breast cancer cells by melatonin and growth factors. Mol Cell Endocrinol 141(1-2):53-64, 6/1998. PMID: 9723886.
40.
Chen J, Bander JA, Santore TA, Chen Y, Ram PT, Smit MJ, Iyengar R. Expression of Q227L-galphas in MCF-7 human breast cancer cells inhibits tumorigenesis. Proc Natl Acad Sci U S A 95(5):2648-52, 3/1998. PMID: 9482941.
41.
Worrad DM, Ram PT, Schultz RM. Regulation of gene expression in the mouse oocyte and early preimplantation embryo: developmental changes in Sp1 and TATA box-binding protein, TBP. Development 120(8):2347-57, 8/1994. PMID: 7925035.
42.
Temeles GL, Ram PT, Rothstein JL, Schultz RM. Expression patterns of novel genes during mouse preimplantation embryogenesis. Mol Reprod Dev 37(2):121-9, 2/1994. PMID: 7545925.
43.
Ram PT, Schultz RM. Reporter gene expression in G2 of the 1-cell mouse embryo. Dev Biol 156(2):552-6, 4/1993. PMID: 8462750.

Invited Articles

1.
Hennessy BT, Smith DL, Ram PT, Lu Y, Mills GB. Exploiting the PI3K/AKT pathway for cancer drug discovery. Nat Rev Drug Discov 4(12):988-1004, 12/2005. PMID: 16341064.
2.
Neves SR, Ram PT, Iyengar R. The hetrotrimeric G protein pathways. Science 296(5573):1636-9, 5/2002. PMID: 12040175.
3.
Ram PT, Iyengar R. G protein coupled receptor signaling through the Src and Stat3 pathway: role in proliferation and transformation. Oncogene 20(13):1601-6, 3/2001. PMID: 11313907.
4.
Hill SM, Teplitzky S, Ram PT, Kiefer T, Blask DE, Spriggs LL, Eck KM. Melatonin synergizes with retinoic acid in the prevention and regression of breast cancer. Adv Exp Med Biol 460:345-62, 1999. PMID: 10810532.
Other Articles
1.
Ram PT, Iyengar R. G protein connections map for Gas, Gaq, Ga12, Ga13 signaling networks. Science Signaling, stke.org, 2002. e-Pub 2002.

Book Chapters

1.
Muller M, Ram PT. Sytems Biology of the MAPK1,2 network. In: Systems Biology and Signaling Networks. 16. Springer Press: New York, 2010.
2.
Ram PT, Jordan DJ, Iyengar R. Effectors of Gao signaling. In: Handbook of Cellular Signaling. 2 Chapter 220. Academic Press, 605-607, 2004.
3.
Ram PT. Overexpression of tightly regulated proteins: protein phosphatase 2A overexpression in NIH 3T3 cells. In: Methods Enzymol. 345, 551-5, 2002. ISBN: 11665638.
4.
Ram PT, Iyengar R. Signal Transduction. In: McGraw-Hill Encyclopedia of Science and Technology 9th Edition. 16. McGraw-Hill, 2002.
5.
Hill SM, Ram PT, Molis TM, Spriggs LL. Melatonin on the neoplastic cellular level. In: Melatonin in Neoplastic and Psychiatric Disorders. American Psychiatric Association Press, Washington DC, 191-242, 1998.
Grant & Contract Support
Title:
miR-24 As a Therapeutic Agent in Ovarian Cancer
Funding Source:
Blanton-Davis Ovarian Cancer Research Program
Role:
Principal Investigator-MDACC
Duration:
6/1/2013 - 5/31/2015
Title:
Model-based predictions of response to RTK pathway therapies
Funding Source:
NIH/NCI
Role:
Co-Investigator
Principal Investigator:
J. Gray
Duration:
3/1/2012 - 2/28/2015
Title:
Overcoming acquired lapatininb resistance
Funding Source:
Susan G. Komen Breast Cancer Foundation
Role:
Principal Investigator
Duration:
2010 - 2013
Title:
Bayesian models for cancer prognosis by integrating diverse types of data
Funding Source:
NIH/NCI
Role:
Co-Investigator
Principal Investigator:
Dr. Ji
Duration:
10/1/2009 - 9/30/2012
Funding Source:
Gulf Coast Consortia/WM Keck Foundation Collaborative Activity Seed Grand
Role:
Principal Investigator
Duration:
9/1/2008 - 8/31/2009
Title:
Determinants of Signaling Network Regulation in Combinatorial Target Therapies
Funding Source:
NIH/NCI
Role:
Principal Investigator
Duration:
4/21/2008 - 4/20/2012
Funding Source:
Pharmacoinformatics Training Grant
Role:
Principal Investigator-MDACC
Principal Investigator:
Dr. Sergio Iadevia
Duration:
4/1/2008 - 3/31/2009
Funding Source:
AstraZeneca-MDACC Grant
Role:
Co-Investigator
Principal Investigator:
Dr. Michael Davis
Duration:
9/1/2007 - 8/31/2010
Title:
Determinants of Signaling Network Regulation in Combinatorial Target Therapies
Funding Source:
MDACC Bridge Funding
Role:
Principal Investigator
Duration:
9/1/2007 - 12/31/2008
Funding Source:
Pharmacoinformatics Training Grant
Role:
Principal Investigator-MDACC
Principal Investigator:
Jen-Te Tseng
Duration:
3/1/2007 - 2/29/2008
Funding Source:
AstraZeneca-MDACC Grant
Role:
Co-Investigator
Principal Investigator:
Henessy
Duration:
2007 - 2010
Funding Source:
Pharmacoinformatics Training Grant
Role:
Co-Investigator
Principal Investigator:
Dr. Mandi Murph
Duration:
3/1/2006 - 2/29/2008
Funding Source:
Pharmacoinformatics Training Grant
Role:
Co-Investigator
Principal Investigator:
Deborah Smith
Duration:
3/1/2005 - 2/29/2008
Title:
Functional proteomic analysis of signaling networks and response to targeted therapy
Funding Source:
Department of Defense (DOD)
Role:
Principal Investigator
Duration:
2/1/2005 - 3/31/2009
Title:
MC1R, Ras, andB-raf mutations in theetiology of melanoma
Funding Source:
MDACC Melanoma NIH NCI SPORE Development Grant
Role:
Principal Investigator-MDACC
Duration:
2005 - 2006
Title:
New faculty start up funding
Funding Source:
UT M.D. Anderson Cancer Center
Role:
Principal Investigator-MDACC
Duration:
9/1/2003 - 8/31/2006
Title:
Computational and experimental analysis of the MC1R SNPs in regulating cAMP and the MAPK and Stat3 network, and the development of Gas peptides to inhibit melanoma proliferation
Funding Source:
Sharp Foundation for Melanoma ResearchComp
Role:
Principal Investigator
Duration:
9/1/2002 - 7/31/2003
Title:
Molecular Theranostics of Ovarian Cancer
Funding Source:
NIH/NCI
Role:
Core Leader
Principal Investigator:
Sood/Lopez