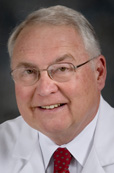 '
Robert M. Chamberlain, PhD
Present Title & Affiliation
Primary Appointment
Professor of Epidemiology (retired 2009, continuing in modified service), Department of Epidemiology, Division of OVP, Cancer Prevention and Population Sciences, The University of Texas MD Anderson Cancer Center, Houston, TX
Adjunct Professor of Epidemiology, University of MIchigan School of Public Health, Ann Arbor, MI
Professor (non-salaried), Department of Behavioral Science, The University of Texas School of Public Health, Houston, TX
Distinguished Senior Lecturer, The University of Texas Graduate School of Biomedical Sciences, Houston, TX
Education & Training
Degree-Granting Education

1969
University of Missouri-Columbia, Columbia, MO, PHD, Sociology & Anthropology (Urban Social Organization, Medical Sociology, & Research Methods)
1967
University of Missouri-Columbia, Columbia, MO, MA, Sociology & Anthropology (Social Gerontology)
1964
Westminster College, Fulton, MO, BA, Sociology & Anthropology

Postgraduate Training

1/1973

National Science Foundation, Computing Applications for the Social and Behavioral Sciences, University of Colorado, Boulder
Experience/Service
Academic Appointments
Distinguished Teaching Professor, The University of Texas System, Houston, TX, 2007-8/2010
Selected Publications
Peer-Reviewed Original Research Articles

1.
Chang S, Hughes DC, Chamberlain RM. Works In Process: Guiding Trainees Through Career Development Applications. J Cancer Educ. In Press.
2.
Wilkinson AV, Vasudevan V, Honn SE, Spitz MR, Chamberlain RM. Sociodemographic characteristics, health beliefs, and the accuracy of cancer knowledge. J Cancer Educ 24(1):58-64, 2009. PMID: 19259867.
3.
Zhao H, Wang LE, Li D, Chamberlain RM, Sturgis EM, Wei Q. Genotypes and haplotypes of ERCC1 and ERCC2/XPD genes predict levels of benzo[a]pyrene diol epoxide-induced DNA adducts in cultured primary lymphocytes from healthy individuals: a genotype-phenotype correlation analysis. Carcinogenesis 29(8). e-Pub 7/16/2008. PMCID: PMC2516484.
4.
Chang S, Hughes DC, Chamberlain RM. Works-in-progress: guiding junior scientists through career development applications. J Cancer Educ 23(3):142-8, 2008. PMID: 18709584.
5.
Shah NM, Soliman AS, Banerjee M, Merajver SD, Ismail K, Seifeldin I, Hablas A, Zarzour A, Abdel-Aziz A, Ayed FB, Chamberlain RM. Knowledge Gained After a Brief CME Module on Breast Cancer Diagnosis. J Cancer Educ 21:169-174, 2006.
© 2010 The University of Texas M. D. Anderson Cancer Center