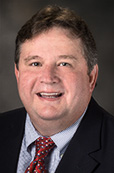 '
Russell R. Broaddus
Present Title & Affiliation
Primary Appointment
Professor with Tenure, Department of Pathology, Division of Pathology/Lab Medicine, The University of Texas MD Anderson Cancer Center, Houston, TX
Member of Graduate Faculty, University of Texas Health Science Center – Houston Graduate School of Biomedical Sciences (re-appointed with commendation, June 2009), Houston, TX
Research Interests
Our lab is primarily focused on the study of the molecular pathogenesis of endometrial cancer, the most common gynecological cancer in women. Current projects in the lab are examining the molecular differences between aggressive and non-invasive endometrial cancers, gene methylation patterns in endometrial cancer, and the characterization of novel genes important in endometrial cancer. Other projects in our lab are identifying novel molecular biomarkers to help stratify ovarian cancer patients into different treatment and prognostic groups.
We are also interested in the molecular diagnostics of solid tumors and the incorporation of specific molecular diagnostic tests into clinical practice.
Clinical Interests
Office Address
The University of Texas MD Anderson Cancer Center
1515 Holcombe Blvd.
Unit Number: 085
Houston, TX 77030
Room Number: B4-4511
Phone: (713) 745-2794
Fax: (713) 792-5532
Email: rbroaddus@mdanderson.org
Education & Training
Degree-Granting Education

1994
University of Texas-Houston Medical School, Houston, TX, MD, Medicine
1994
University of Texas-Houston Health Science Center Graduate School of Biomedical Sciences, Houston, TX, PHD, Cancer Biology & Immunology
1987
University of Texas at El Paso, El Paso, TX, BS, Microbiology

Postgraduate Training

1994-1998

Anatomic Pathology, Baylor College of Medicine Affiliated Hospitals, Houston, TX
Board Certifications
| | |
| --- | --- |
| 1/1999 | Diplomate American Board of Pathology, Anatomic Pathology |
Experience/Service
Academic Appointments
Associate Professor with Tenure, Department of Pathology, University of Texas MD Anderson Cancer Center, Houston, TX, 2005-8/2011
Assistant Professor, Department of Pathology, University of Texas M.D. Anderson Cancer Center, Houston, TX, 7/1999-2005
Assistant Professor, Department of Pathology, Baylor College of Medicine, Houston, TX, 7/1998-6/1999
Selected Publications
Peer-Reviewed Original Research Articles

1.
Meric-Bernstam F, Johnson A, Holla V, Bailey AM, Brusco L, Chen K, Routbort M, Patel KP, Zeng J, Kopetz S, Davies MA, Piha-Paul SA, Hong DS, Eterovic AK, Tsimberidou AM, Broaddus R, Bernstam EV, Shaw KR, Mendelsohn J, Mills GB. A decision support framework for genomically informed investigational cancer therapy. J Natl Cancer Inst 107(7), 7/2015. e-Pub 4/2015. PMID: 25863335.
2.
Chapela PJ, Broaddus R, Hawkins SM, Lessey BA, Carson DD. Cytokine Stimulation of MUC4 Expression in Human Female Reproductive Tissue Carcinoma Cell Lines and Endometrial Cancer. J Cell Biochem. e-Pub 4/2015. PMID: 25923310.
3.
Okoye EI, Bruegl AS, Fellman B, Luthra R, Broaddus RR. Defective DNA Mismatch Repair Influences Expression of Endometrial Carcinoma Biomarkers. Int J Gynecol Pathol. e-Pub 4/2015. PMID: 25851713.
4.
Stockman DL, Curry JL, Torres-Cabala CA, Watson IR, Siroy AE, Bassett RL, Zou L, Patel KP, Luthra R, Davies MA, Wargo JA, Routbort MA, Broaddus RR, Prieto VG, Lazar AJ, Tetzlaff MT. Use of clinical next-generation sequencing to identify melanomas harboring SMARCB1 mutations. J Cutan Pathol. e-Pub 3/2015. PMID: 25754356.
5.
Siroy AE, Boland GM, Milton DR, Roszik J, Frankian S, Malke J, Haydu L, Prieto VG, Tetzlaff M, Ivan D, Wang WL, Torres-Cabala C, Curry J, Roy-Chowdhuri S, Broaddus R, Rashid A, Stewart J, Gershenwald JE, Amaria RN, Patel SP, Papadopoulos NE, Bedikian A, Hwu WJ, Hwu P, Diab A, Woodman SE, Aldape KD, Luthra R, Patel KP, Shaw KR, Mills GB, Mendelsohn J, Meric-Bernstam F, Kim KB, Routbort MJ, Lazar AJ, Davies MA. Beyond BRAF(V600): clinical mutation panel testing by next-generation sequencing in advanced melanoma. J Invest Dermatol 135(2):508-15, 2/2015. e-Pub 8/2014. PMCID: PMC4289407.
6.
Goswami RS, Patel KP, Singh RR, Meric-Bernstam F, Kopetz ES, Subbiah V, Alvarez RH, Davies MA, Jabbar KJ, Roy-Chowdhuri S, Lazar AJ, Medeiros LJ, Broaddus RR, Luthra R, Routbort MJ. Hotspot Mutation Panel Testing Reveals Clonal Evolution in a Study of 265 Paired Primary and Metastatic Tumors. Clin Cancer Res. e-Pub 2/2015. PMID: 25695693.
7.
Liu Y, Broaddus RR, Zhang W. Identifying aggressive forms of endometrioid-type endometrial cancer: new insights into molecular subtyping. Expert Rev Anticancer Ther 15(1):1-3, 1/2015. e-Pub 12/2014. PMID: 25494844.
8.
Janku F, Hong DS, Fu S, Piha-Paul SA, Naing A, Falchook GS, Tsimberidou AM, Stepanek VM, Moulder SL, Lee JJ, Luthra R, Zinner RG, Broaddus RR, Wheler JJ, Kurzrock R. Assessing PIK3CA and PTEN in Early-Phase Trials with PI3K/AKT/mTOR Inhibitors. Cell Rep 6(2):377-87, 1/2014. e-Pub 1/2014. PMID: 24440717.
9.
Djordjevic B, Barkoh BA, Luthra R, Broaddus RR. Relationship between PTEN, DNA mismatch repair, and tumor histotype in endometrial carcinoma: retained positive expression of PTEN preferentially identifies sporadic non-endometrioid carcinomas. Mod Pathol 26(10):1401-12, 10/2013. e-Pub 4/2013. PMCID: PMC3720775.
10.
Huang M, Djordjevic B, Yates MS, Urbauer D, Sun C, Burzawa J, Daniels M, Westin SN, Broaddus R, Lu K. Molecular pathogenesis of endometrial cancers in patients with Lynch syndrome. Cancer 119(16):3027-33, 8/2013. e-Pub 6/2013. PMID: 23760948.
11.
Lu KH, Loose DS, Yates MS, Nogueras-Gonzalez GM, Munsell MF, Chen LM, Lynch H, Cornelison T, Boyd-Rogers S, Rubin M, Daniels MS, Conrad P, Milbourne A, Gershenson DM, Broaddus RR. Prospective multicenter randomized intermediate biomarker study of oral contraceptive versus depo-provera for prevention of endometrial cancer in women with Lynch syndrome. Cancer Prev Res (Phila) 6(8):774-81, 8/2013. PMCID: PMC3737517.
12.
Bruegl AS, Djordjevic B, Urbauer DL, Westin SN, Soliman PT, Lu KH, Luthra R, Broaddus RR. Utility of MLH1 Methylation Analysis in the Clinical Evaluation of Lynch Syndrome in Women with Endometrial Cancer. Curr Pharm Des. e-Pub 7/2013. PMCID: PMC3895501.
13.
Djordjevic B, Westin S, Broaddus RR. Application of Immunohistochemistry and Molecular Diagnostics to Clinically Relevant Problems in Endometrial Cancer Bojana Djordjevic, Shannon Westin, Russell R. Broaddus. Surg Pathol Clin 5(4):859-878, 12/2012. PMCID: PMC3653323.
14.
Djordjevic B, Hennessy BT, Li J, Barkoh BA, Luthra R, Mills GB, Broaddus RR. Clinical assessment of PTEN loss in endometrial carcinoma: immunohistochemistry outperforms gene sequencing. Mod Pathol 25(5):699-708, 5/2012. e-Pub 2/2012. PMCID: PMC3341518.
15.
Bartley AN, Luthra R, Saraiya DS, Urbauer DL, Broaddus RR. Identification of cancer patients with Lynch syndrome: clinically significant discordances and problems in tissue-based mismatch repair testing. Cancer Prev Res (Phila) 5(2):320-7, 2/2012. e-Pub 11/2011. PMCID: PMC3273660.
16.
Garg K, Broaddus RR, Soslow RA, Urbauer DL, Levine DA, Djordjevic B. Pathologic scoring of PTEN immunohistochemistry in endometrial carcinoma is highly reproducible. Int J Gynecol Pathol 31(1):48-56, 1/2012. PMID: 22123723.
17.
Westin SN, Broaddus RR. Personalized therapy in endometrial cancer: challenges and opportunities. Cancer Biol Ther 13(1):1-13, 1/2012. e-Pub 1/2012. PMCID: PMC3335980.
18.
Schlumbrecht MP, Xie S, Shipley GL, Urbauer DL, Broaddus RR. Molecular clustering based on ERα and EIG121 predicts survival in high-grade serous carcinoma of the ovary/peritoneum. Mod Pathol 24:453-462, 2011. PMID: 21102415.
19.
McCampbell AS, Harris HA, Crabtree JS, Winneker RC, Walker CL, Broaddus RR. Loss of inhibitory insulin receptor substrate-1 phosphorylation is an early event in mammalian target of rapamycin-dependent endometrial hyperplasia and carcinoma. Cancer Prev Res (Phila Pa) 3(3):290-300, 3/2010. e-Pub 2/2010. PMID: 20179297.
20.
Deng L, Feng J, Broaddus RR. The novel estrogen-induced gene EIG121 regulates autophagy and promotes cell survival under stress. Cell Death Dis 1(4):e32, 1/2010. PMCID: PMC2976047.
21.
Friel AM, Growdon WB, McCann CK, Olawaiye AB, Munro EG, Schorge JO, Castrillon DH, Broaddus RR, Rueda BR. Mouse models of uterine corpus tumors: clinical significance and utility. Front Biosci (Elite Ed) 2:882-905, 2010. PMID: 20515761.
22.
Westin SN, Broaddus RR, Deng L, McCampbell A, Lu KH, Lacour RA, Milam MR, Urbauer DL, Mueller P, Pickar JH, Loose DS. Molecular clustering of endometrial carcinoma based on estrogen-induced gene expression. Cancer Biol Ther 8(22):2126-35, 11/2009. e-Pub 11/2009. PMCID: PMC2872176.
23.
Xie R, Schlumbrecht MP, Shipley GL, Xie S, Bassett RL, Broaddus RR. S100A4 mediates endometrial cancer invasion and is a target of TGF-beta1 signaling. Lab Invest 89(8):937-47, 8/2009. e-Pub 6/2009. PMCID: PMC2718065.
24.
Westin SN, Lacour RA, Urbauer DL, Luthra R, Bodurka DC, Lu KH, Broaddus RR. Carcinoma of the lower uterine segment: a newly described association with Lynch syndrome. J Clin Oncol 26(36):5965-71, 12/2008. e-Pub 11/2008. PMCID: PMC2645115.
25.
Lu KH, Schorge JO, Rodabaugh KJ, Daniels MS, Sun CC, Soliman PT, White KG, Luthra R, Gershenson DM, Broaddus RR. Prospective determination of prevalence of lynch syndrome in young women with endometrial cancer. J Clin Oncol 25(33):5158-5164, 11/2007. e-Pub 10/2007. PMID: 17925543.
26.
Xie R, Loose DS, Shipley GL, Xie S, Bassett RL, Broaddus RR. Hypomethylation-induced expression of S100A4 in endometrial carcinoma. Mod Pathol 20(10):1045-1054, 10/2007. e-Pub 8/2007. PMID: 17673926.
27.
McCampbell AS, Broaddus RR, Loose DS, Davies PJ. Overexpression of the insulin-like growth factor I receptor and activation of the AKT pathway in hyperplastic endometrium. Clin Cancer Res 12(21):6373-8, 11/2006. PMID: 17085648.
28.
Yoshida H, Broaddus R, Cheng W, Xie S, Naora H. Deregulation of the HOXA10 homeobox gene in endometrial carcinoma: role in epithelial-mesenchymal transition. Cancer Res 66(2):889-97, 1/2006. PMID: 16424022.
29.
Broaddus RR, Lynch HT, Chen LM, Daniels MS, Conrad P, Munsell MF, White KG, Luthra R, Lu KH. Pathologic features of endometrial carcinoma associated with HNPCC: a comparison with sporadic endometrial carcinoma. Cancer 106(1):87-94, 1/2006. PMID: 16323174.
30.
Deng L, Broaddus RR, McCampbell A, Shipley GL, Loose DS, Stancel GM, Pickar JH, Davies PJ. Identification of a novel estrogen-regulated gene, EIG121, induced by hormone replacement therapy and differentially expressed in type I and type II endometrial cancer. Clin Cancer Res 11(23):8258-64, 12/2005. PMID: 16322283.
31.
Lu KH, Dinh M, Kohlmann W, Watson P, Green J, Syngal S, Bandipalliam P, Chen LM, Allen B, Conrad P, Terdiman J, Sun C, Daniels M, Burke T, Gershenson DM, Lynch H, Lynch P, Broaddus RR. Gynecologic cancer as a "sentinel cancer" for women with hereditary nonpolyposis colorectal cancer syndrome. Obstet Gynecol 105(3):569-74, 3/2005. PMID: 15738026.
32.
Broaddus RR, Lynch PM, Lu KH, Luthra R, Michelson SJ. Unusual tumors associated with the hereditary nonpolyposis colorectal cancer syndrome. Mod Pathol 17(8):981-9, 8/2004. PMID: 15143336.
33.
Deng L, Shipley GL, Loose-Mitchell DS, Stancel GM, Broaddus R, Pickar JH, Davies PJ. Coordinate regulation of the production and signaling of retinoic acid by estrogen in the human endometrium. J Clin Endocrinol Metab 88(5):2157-63, 5/2003. PMID: 12727970.