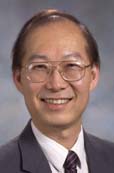 '
Samuel Tung
Present Title & Affiliation
Primary Appointment
Senior Medical Physicist, The University of Texas MD Anderson Cancer Center, Houston, TX
Medical Physicist / Sr. Medical Physicist, UT MD Anderson Cancer Center, Houston, TX
Office Address
The University of Texas MD Anderson Cancer Center
1400 Pressler St.
Unit Number: 1420
Houston, TX 77030-3722
Room Number: FCT8.6040
Phone: 713-563-2552
Fax: 713-563-2479
Email: samtung@mdanderson.org
Education & Training
Degree-Granting Education

1985
University of Colorado, Denver, CO, MS, Radiological Science
1980
Tsing Hua University, Hsin-chu, China, MS, Health Physics
1976
Tsing Hua University, Hsin-chu, China, BS, Nuclear Engineering
Board Certifications
| | |
| --- | --- |
| 1989 | American Board of Radiology, Therapeutic Physics |
| 1980 | Taiwan High Examination Board of Health Physics |
Experience/Service
Academic Appointments
Lead Physcist, Texas Oncology Cancer Center, Austin, TX, 1/2000-8/2000
Lead Physicist, Texas Oncology Cancer Center, Round Rock, TX, 2/1999-8/2000
Senior Medical Physicist, Texas Oncology Cancer Center (US Oncology), Austin, TX, 12/1997-8/2000
Solo Physicist, Texas Oncology Cancer Center, South Austin Cancer Center, Austin, TX, 12/1997-11/1999
Medical Physicist / RSO, Bishop Clarkson Memorial Hospital, Omaha, NE, 8/1985-2/1989
Hyperthermia Research Assistant, University of Colorado Health Science Center, Denver, CO, 2/1984-5/1985
Health Physicist, Atomic Energy Council, Taipei, Taiwan, 4/1981-7/1983
Medical Physicist, Chung Gung Memorial Hospital, Taipei, Taiwan, 7/1980-4/1981
Administrative Appointments/Responsibilities
H & N Service Leader, The University of Texas MD Anderson Cancer Center, Houston, TX, 8/2002-present
Radiation Safety Committee/Radiation Safety Officer, Bishop Clarkson Memorial Hospital, Omaha, NE, 8/1986-2/1989
Acting Section Chief, Atomic Energy Council, Taiwan, China, 6/1982-7/1983
Honors and Awards
2008

Department Leadership Award,

UT MD Anderson Cancer Center

2007

Department Leadership Award,

UT MD Anderson Cancer Center

1999

Award of Excellence,

South Austin Cancer Center
Selected Publications
Peer-Reviewed Original Research Articles

1.
Li H, Zhu XR, Zhang L, Dong L, Tung S, Ahamad A, Chao KS, Morrison WH, Rosenthal DI, Schwartz DL, Mohan R, Garden AS. Comparison of 2D Radiographic Images and 3D Cone Beam Computed Tomography for Positioning Head-and-Neck Radiotherapy Patients. Int J Radiat Oncol Biol Phys 71(3):916-925, 7/2008. e-Pub 4/2008. PMID: 18395358.
2.
O'Daniel JC, Garden AS, Schwartz DL, Wang H, Ang KK, Ahamad A, Rosenthal DI, Morrison WH, Asper JA, Zhang L, Tung SM, Mohan R, Dong L. Parotid gland dose in intensity-modulated radiotherapy for head and neck cancer: is what you plan what you get? Int J Radiat Oncol Biol Phys 69(4):1290-6, 11/15/2007. PMCID: PMC2288571.
3.
Garden AS, Morrison WH, Wong PF, Tung SS, Rosenthal DI, Dong L, Mason B, Perkins GH, Ang KK. Disease-control rates following intensity-modulated radiation therapy for small primary oropharyngeal carcinoma. Int J Radiat Oncol Biol Phys 67(2):438-44, 2/1/2007. e-Pub 12/4/2006. PMCID: PMC4125020.
4.
Dong L, Shiu A, Tung S, Hogstrom K. A pencil-beam photon dose algorithm for stereotactic radiosurgery using a miniature multileaf collimator. Med Phys 25(6):841-50, 6/1998. PMID: 9650171.
5.
Shiu AS, Kooy HM, Ewton JR, Tung SS, Wong J, Antes K, Maor MH. Comparison of miniature multileaf collimation (MMLC) with circular collimation for stereotactic treatment. Int J Radiat Oncol Biol Phys 37(3):679-88, 2/1/1997. PMID: 9112467.
6.
Dong L, Shiu A, Tung S, Boyer A. Verification of radiosurgery target point alignment with an electronic portal imaging device (EPID). Med Phys 24(2):263-7, 2/1997. PMID: 9048367.
7.
Shiu AS, Tung SS, Gastorf RJ, Hogstrom KR, Morrison WH, Peters LJ. Dosimetric evaluation of lead and tungsten eye shields in electron beam treatment. Int J Radiat Oncol Biol Phys 35(3):599-604, 6/1996. PMID: 8655385.
8.
Shiu AS, Tung SS, Nyerick CE, Ochran TG, Otte VA, Boyer AL, Hogstrom KR. Comprehensive analysis of electron beam central axis dose for a radiotherapy linear accelerator. Med Phys 21(4):559-66, 4/1994. PMID: 8058023.
9.
Boyer AL, Tung S, Otte V, Wells N, Steadham R. Dosimetry of effective wedge fields produced by an internal wedge. Med Phys 21(1):69-75, 1994. PMID: 8164591.
10.
Tung SS, Shiu AS, Starkschall G, Morrison WH, Hogstrom KR. Dosimetric evaluation of total scalp irradiation using a lateral electron-photon technique. Int J Radiat Oncol Biol Phys 27(1):153-60, 9/1993. PMID: 8365936.
11.
Shiu AS, Tung S, Hogstrom KR, Wong JW, Gerber RL, Harms WB, Purdy JA, Ten Haken RK, McShan DL, Fraass BA. Verification data for electron beam dose algorithms. Med Phys 19(3):623-36, 5/1992. PMID: 1508101.
12.
Kurup RG, Hogstrom KR, Otte VA, Moyers MF, Tung S, Shiu AS. Dosimetric evaluation of a two-dimensional, arc electron, pencil-beam algorithm in water and PMMA. Phys Med Biol 37(1):127-44, 1992. PMID: 1741418.
13.
Nelson TR, Tung SM. Temperature dependence of proton relaxation times in vitro. Magn Reson Imaging 5(3):189-99, 1987. PMID: 3041151.
14.
Chang SC, Chen WL, Su SH, Tsai CM, Wu SC, Tung S, Huang CY, Tsai YS, Cheng CH. A Radiation Protection Survey and Dosimetry Study of Cobalt-60 Teletherapy Units in Taiwan, The Republic of China. Nuclear Science J 19:145-148, 1982.