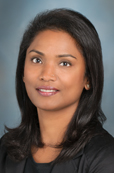 '
Sanju S. Samuel, M.D.
Present Title & Affiliation
Primary Appointment
Assistant Professor, Department of Critical Care, Division of Pediatrics, The University of Texas MD Anderson Cancer Center, Houston, TX
Education & Training
Degree-Granting Education

1998
Sri Devraj Urs Medical College, Kolar, Karnataka, India, MD, Bachelor of Medicine and Bachelor of Surgery, Pediatrics

Postgraduate Training

7/2008-6/2011

Clinical Fellowship, Pediatric Critical Care Medicine, Texas Children's Hospital, Baylor College of Medicine, Houston, TX

6/2005-7/2008

Clinical Residency, Dayton Children's Medical Center, Wright State University/Boonshoft School of Medicine, Dayton, OH
Experience/Service
Other Appointments/Responsibilities
Clinical Research Associate (CRA-1), PPD (Pharmaceutical Product Development, Bluebell, PA, 7/2004-6/2005
Institutional Committee Activities
Resident Representative, Special Care Committee: Texas Children's Hospital, 2008-2011
Resident Representative, Critical Care Team Advisory Committee: Dayton Children's Medical Center, 2006-2008
Honors and Awards
2010

Poster Presentation Award,

Baylor College of Medicine
Selected Publications
Other Articles
1.
Dmello D. Taylors. Outcomes of Etomidate in Severe Sepsis and Septic shock. Chest 138:1327-1332, 2010.
2.
Akre m. Finkelstein M, Erickson, M, Liu M, Vanderbilt L, Billman G. Sensitivity of the Pediatric early warning score to identify patient deterioration. Pediatrics(4):763-769, 2010.
3.
Shorr AF, Jackson Wl, Kelly, KM, Fu M, Kelly MH,. Transfusion practice and blood stream infectins in critically ill patients. Chest 127(5):1722-1728, 2005.

Abstracts

1.
Samuel SS, Mani A, Tackett B, DesaiD D, Thevananther S,. P2Y2 Purinergic activation is essential for endotoxin induced acute liver injury in mice(598), 10/2010.
© 2014 The University of Texas MD Anderson Cancer Center