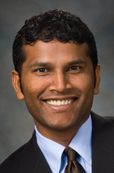 '
Sendurai A. Mani, Ph.D.
Present Title & Affiliation
Primary Appointment
Assistant Professor, Department of Translational Molecular Pathology, Division of Pathology/Lab Medicine, The University of Texas MD Anderson Cancer Center, Houston, TX
Co-Director, Metastasis Research Center, MDACC, Houston, TX
Dual/Joint/Adjunct Appointment
Member of the Graduate Faculty, The University of Texas Graduate School of Biomedical Sciences, Houston, TX
Associate Member, Center for Cell and Gene Therapy, Baylor College of Medicine, Houston, TX
Member, Center for Stem Cell and Developmental Biology, The University of Texas MD Anderson Cancer Center, Houston
Bio Statement
Research Interests
Greater than 80% of all cancer cases are carcinomas, resulting from thetransformation of epithelial cells. Most of the cancer cells are confined to the primary site by anetwork of cell-cell adhesion molecules and an intact basal lamina. However, in some cases, a few cells break these bonds by activating an embryonic program known as "Epithelial Mesenchymal Transition" (EMT) and complete the complex multi-stepprocess that leads to the formation of secondary tumors, ormetastasis.Our laboratory is primarily interested in understanding the biology of cancer progression.

Lab Members:
Instructor
Nathalie Sphyris

Post Doctoral Fellows
Joseph Taube
Steven Werden
Tapasree Roysarkar
Anurag Paranjape
Mika Pietila
Robiya Joseph

Graduate Students
Rebecca Romero (Rice University)
Geraldine Vidya Raja
Esmeralda Ramirez-Peña
Valentin Barsan(BCM)

Undergraduate Students:
Nitin Agrawal (Rice University)

Lab Manager
Huolin Tu


Administrative Assistant
Mark A. Milam

Office Address
The University of Texas MD Anderson Cancer Center
7435 Fannin Street
Unit Number: 951
Houston, TX 77054
Room Number: 2SCR4.2030
Phone: 713-792-9638
Fax: 713-834-6083
Email: smani@mdanderson.org
Education & Training
Degree-Granting Education

2000
Indian Institute of Science, Bangalore, India, PHD, Molecular Biology
1993
Madurai Kamaraj University, Madurai, India, MS, Biology
1991
Madurai Kamaraj University, Madurai, India, BS, Biology

Postgraduate Training

1998-2007

Postdoc, Cancer Biology, Whitehead Institute/MIT, Cambridge, MA, Dr. Robert Weinberg
Experience/Service
Administrative Appointments/Responsibilities
Co-Director, CCSG-Metastasis Research Program, MDACC, Houston, TX, 1/2012-present
Honors and Awards
2012-2015

The American Cancer Society M. Patricia Alexander Research Scholar,

American Cancer Society

2012-2014

Career Development Award,

MDACC Prostate Cancer SPORE

2008-2013

Fellow, M. D. Anderson Research Trust,

The University of TX, M. D. Anderson Cancer Center

2008-2010

V-Scholar,

The Jimmy V Foundation for Cancer Research

2008-2009

MD Anderson Faculty Development Award - CCSG,

The University of TX, M. D. Anderson Cancer Center

2001-2004

Postdoctoral Fellowship,

Breast Cancer Reserach Program, Department of Defense
Selected Publications
Peer-Reviewed Original Research Articles

1.
Lu J, Ye X, Fan F, Xia L, Bhattacharya R, Bellister S, Tozzi F, Sceusi E, Zhou Y, Tachibana I, Maru DM, Hawke DH, Rak J, Mani SA, Zweidler-McKay P, Ellis LM. Endothelial Cells Promote the Colorectal Cancer Stem Cell Phenotype through a Soluble Form of Jagged-1. Cancer Cell 23(2):171-85, 2/11/2013. e-Pub 1/31/2013. PMCID: PMC3574187.
2.
Hollier B.G., Tinnirello A.A., Werden S.J., Evans K.W., Taube J.H., Sarkar T.R., Sphyris N., Shariati M., Kumar S.V., Battula V.L., Herschkowitz J.I., Guerra R., Chang J.T., Miura N., Rosen J.M., and Mani S.A.,. FOXC2 expression links epithelial-mesenchymal transition and stem cell properties in breast cancer. Cancer Research. e-Pub 2/2013.
3.
Yao Y, Suraokar M, Darnay BG, Hollier BG, Shaiken TE, Asano T, Chen CH, Chang BH, Lu Y, Mills GB, Sarbassov D, Mani SA, Abbruzzese JL, Reddy SA. BSTA Promotes mTORC2-Mediated Phosphorylation of Akt1 to Suppress Expression of FoxC2 and Stimulate Adipocyte Differentiation. Sci Signal 6(257):ra2, 2013. e-Pub 1/8/2013. PMID: 23300339.
4.
Giordano A, Gao H, Anfossi S, Cohen E, Mego M, Lee BN, Tin S, De Laurentiis M, Parker CA, Alvarez RH, Valero V, Ueno NT, De Placido S, Mani SA, Esteva FJ, Cristofanilli M, Reuben JM. Epithelial-Mesenchymal Transition and Stem Cell Markers in Patients with HER2-Positive Metastatic Breast Cancer. Mol Cancer Ther. e-Pub 9/2012. PMID: 22973057.
5.
Fan F, Samuel S, Evans KW, Lu J, Xia L, Zhou Y, Sceusi E, Tozzi F, Ye XC, Mani SA, Ellis LM. Overexpression of Snail induces epithelial-mesenchymal transition and a cancer stem cell-like phenotype in human colorectal cancer cells. Cancer Med 1(1):5-16, 8/2012. e-Pub 6/8/2012. PMCID: PMC3544430.
6.
Narayanan TN, Gupta BK, Vithayathil SA, Aburto RR, Mani SA, Taha-Tijerina J, Xie B, Kaipparettu BA, Torti SV, Ajayan PM. Hybrid 2D Nanomaterials as Dual-Mode Contrast Agents in Cellular Imaging. Adv Mater. e-Pub 5/10/2012. PMID: 22573478.
7.
Battula VL, Shi Y, Evans KW, Wang RY, Spaeth EL, Jacamo RO, Guerra R, Sahin AA, Marini FC, Hortobagyi G, Mani SA, Andreeff M. Ganglioside GD2 identifies breast cancer stem cells and promotes tumorigenesis. J Clin Invest. e-Pub 5/2012. PMID: 22585577.
8.
Roman-Perez E, Casbas-Hernandez P, Rein J, Carey LA, Lubet RA, Mani SA, Amos KD, Troester MA, Pirone JR. Gene expression in extratumoral microenvironment predicts clinical outcome in breast cancer patients. Breast Cancer Res 14(2). e-Pub 3/19/2012. PMID: 22429463.
9.
Guo W, Keckesova Z, Donaher JL, Shibue T, Tischler V, Reinhardt F, Itzkovitz S, Noske A, Zürrer-Härdi U, Bell G, Tam WL, Mani SA, van Oudenaarden A, Weinberg RA. Slug and sox9 cooperatively determine the mammary stem cell state. Cell 148(5):1015-28, 3/2/2012. PMID: 22385965.
10.
Smitha S., Haseena V.S., Narayanan T.N., Reena Mary A.P., Ajayan P.M., Puthumana J., Aziz A.A., Aburto R.R., Mani S.A., Joy P.A., and Anantharaman M.R. Fluorescent Superparamagnetic Iron Oxide Core–Shell Nanoprobes for Multimodal Cellular Imaging. Mater. Express 2(4), 2012.
11.
Walia V, Yu Y, Cao D, Sun M, McLean JR, Hollier BG, Cheng J, Mani SA, Rao K, Premkumar L, Elble RC. Loss of breast epithelial marker hCLCA2 promotes epithelial-to-mesenchymal transition and indicates higher risk of metastasis. Oncogene. e-Pub 9/2011. PMID: 21909135.
12.
Mego M, Mani SA, Lee BN, Li C, Evans KW, Cohen EN, Gao H, Jackson SA, Giordano A, Hortobagyi GN, Cristofanilli M, Lucci A, Reuben JM. Expression of epithelial-mesenchymal transition-inducing transcription factors in primary breast cancer: The effect of neoadjuvant therapy. Int J Cancer. e-Pub 3/2011. PMID: 21387303.
13.
Tong Z, Chakraborty S, Sung B, Koolwal P, Kaur S, Aggarwal BB, Mani SA, Bresalier RS, Batra SK, Guha S. Epidermal growth factor down-regulates the expression of neutrophil gelatinase-associated lipocalin (NGAL) through E-cadherin in pancreatic cancer cells. Cancer. e-Pub 12/29/2010. PMID: 21192057.
14.
Taube JH, Herschkowitz JI, Komurov K, Zhou AY, Gupta S, Yang J, Hartwell K, Onder TT, Gupta PB, Evans KW, Hollier BG, Ram PT, Lander ES, Rosen JM, Weinberg RA, Mani SA. Core epithelial-to-mesenchymal transition interactome gene-expression signature is associated with claudin-low and metaplastic breast cancer subtypes. Proc Natl Acad Sci U S A 107(35):15449-54, 8/2010. e-Pub 8/2010. PMCID: PMC2932589.
15.
Battula VL, Evans KW, Hollier BG, Shi Y, Marini FC, Ayyanan A, Wang RY, Brisken C, Guerra R, Andreeff M, Mani SA. Epithelial-Mesenchymal Transition-Derived Cells Exhibit Multi-Lineage Differentiation Potential Similar to Mesenchymal Stem Cells. Stem Cells 28(8):1435-45, 8/2010. e-Pub 6/22/2010. PMID: 20572012.
16.
Bloushtain-Qimron N, Yao J, Snyder EL, Shipitsin M, Campbell LL, Mani SA, Hu M, Chen H, Ustyansky V, Antosiewicz JE, Argani P, Halushka MK, Thomson JA, Pharoah P, Porgador A, Sukumar S, Parsons R, Richardson AL, Stampfer MR, Gelman RS, Nikolskaya T, Nikolsky Y, Polyak K. Cell type-specific DNA methylation patterns in the human breast. Proc Natl Acad Sci U S A 105(37):14076-81, 9/16/2008. PMID: 18780791.
17.
Onder TT, Gupta PB, Mani SA, Yang J, Lander ES, Weinberg RA. Loss of E-cadherin promotes metastasis via multiple downstream transcriptional pathways. Cancer Res 68(10):3645-54, 5/15/2008. PMID: 18483246.
18.
Mani SA, Guo W, Liao MJ, Eaton EN, Ayyanan A, Zhou AY, Brooks M, Reinhard F, Zhang CC, Shipitsin M, Campbell LL, Polyak K, Brisken C, Yang J, Weinberg RA. The epithelial-mesenchymal transition generates cells with properties of stem cells. Cell 133(4):704-15, 5/2008. PMCID: PMC2728032.
19.
Liao MJ, Zhang CC, Zhou B, Zimonjic DB, Mani SA, Kaba M, Gifford A, Reinhardt F, Popescu NC, Guo W, Eaton EN, Lodish HF, Weinberg RA. Enrichment of a population of mammary gland cells that form mammospheres and have in vivo repopulating activity. Cancer Res 67(17):8131-8, 9/1/2007. PMID: 17804725.
20.
Mani SA, Yang J, Brooks M, Schwaninger G, Zhou A, Miura N, Kutok JL, Hartwell K, Richardson AL, Weinberg RA. Mesenchyme Forkhead 1 (FOXC2) plays a key role in metastasis and is associated with aggressive basal-like breast cancers. Proc Natl Acad Sci U S A 104(24):10069-74, 6/2007. PMCID: PMC1891217.
21.
Yang J, Mani SA, Donaher JL, Ramaswamy S, Itzykson RA, Come C, Savagner P, Gitelman I, Richardson A, Weinberg RA. Twist, a Master Regulator of Morphogenesis, Plays an Essential Role in Tumor Metastasis. Cell 117(7):927–939, 6/2004. PMID: 15210113.
22.
Samudre KR, Mani SA, Vathsala PG, Rangarajan PN, Padmanaban G. Phenobarbitone-mediated translocation of the cytosolic proteins interacting with the 5'-proximal region of rat liver CYP2B1/B2 gene into the nucleus. Biochem Biophys Res Commun 292(2):312-7, 2002. PMID: 11906163.
23.
Harish S, Khanam T, Mani S, Rangarajan P. Transcriptional activation by hepatocyte nuclear factor-4 in a cell-free system derived from rat liver nuclei. Nucleic Acids Res 29(5):1047-53, 3/1/2001. PMCID: PMC29722.
24.
Mani SA, Harish S, Vathsala PG, Rangarajan PN, Padmanaban G. Receptor-mediated gene delivery approach demonstrates the role of 5'-proximal DNA region in conferring phenobarbitone responsiveness to CYP2B2 gene in rat liver in vivo. Biochem Biophys Res Commun 268(3):734-9, 2/24/2000. PMID: 10679274.
25.
Fernandez MA, Mani SA, Rangarajan PN, Seshagiri PB. Sperm-mediated gene transfer into oocytes of the golden hamster: assessment of sperm function. Indian J Exp Biol 37(11):1085-92, 11/1999. PMID: 10783740.
26.
Prabhu L, Upadhya P, Ram N, Nirodi CS, Sultana S, Vatsala PG, Mani SA, Rangarajan PN, Surolia A, Padmanaban G. A model for the transcriptional regulation of the CYP2B1/B2 gene in rat liver. Proc Natl Acad Sci U S A 92(21):9628-963, 1995. PMID: 7568186.

Invited Articles

1.
Kolonin MG, Evans KW, Mani SA, Gomer RH. Alternative origins of stroma in normal organs and disease. Stem Cell Res. e-Pub 12/2011. PMID: 22209011.
2.
May CD, Sphyris N, Evans KW, Werden SJ, Guo W, Mani SA. Epithelial-mesenchymal transition and cancer stem cells: a dangerously dynamic duo in breast cancer progression. Breast Cancer Res 13(1). e-Pub 2/2011. PMID: 21392411.
3.
Mego M, Mani SA, Cristofanilli M. Molecular mechanisms of metastasis in breast cancer-clinical applications. Nat Rev Clin Oncol 7(12):693-701, 12/2010. e-Pub 10/19/2010. PMID: 20956980.
4.
Blick T, Hugo H, Widodo E, Waltham M, Pinto C, Mani SA, Weinberg RA, Neve RM, Lenburg ME, Thompson EW. Epithelial mesenchymal transition traits in human breast cancer cell lines parallel the CD44(hi/)CD24 (lo/-) stem cell phenotype in human breast cancer. J Mammary Gland Biol Neoplasia 15(2):235-52, 6/2010. e-Pub 6/2010. PMID: 20521089.
5.
Lu J, Steeg PS, Price JE, Krishnamurthy S, Mani SA, Reuben J, Cristofanilli M, Dontu G, Bidaut L, Valero V, Hortobagyi GN, Yu D. Breast Cancer Metastasis: Challenges and Opportunities. Cancer Research 69(12). e-Pub 5/2009.
6.
Mani SA, Evans KW, Hollier BG, Guo W, and Weinberg RA. Generation of Stem-like Cells via EMT: A New Twist in Cancer Initiation and Progression. AACR Education Book(1):173, 4/2009.
7.
Hollier BG, Evans K, Mani SA. The Epithelial-to-Mesenchymal Transition and Cancer Stem Cells: A Coalition Against Cancer Therapies. J Mammary Gland Biol Neoplasia 14(1):29-43, 3/2009. e-Pub 2/26/2009. PMID: 19242781.
8.
Sphyris N, Mani, SA. The importance of the Epithelial-Mesenchymal Transition in Breast Cancer. Current Breast Cancer Reports 1:229-237, 2009.
9.
Yang J, Mani SA, Weinberg RA. Exploring a new twist on tumor metastasis. Cancer Res 66(9):4549-52, 5/1/2006. PMID: 16651402.
10.
Gupta, P., Mani, S.A., Yang, J., Hartwell, K., Weinberg, R.A.. The evolving portrait of cancer metastasis. Cold Spring Harb Symp Quant Biol 70:291-298, 2005. PMID: 16869765.

Editorials

1.
Sphyris N, Mani SA. pIgR: Frenemy of Inflammation, EMT, and HCC Progression. J Natl Cancer Inst. e-Pub 10/2011. PMID: 22025623.
2.
Mani SA, Barton MC. HDAC3 at the Fulcrum of an Epithelial-Mesenchymal Balance. Mol Cell 43(5):697-698, 9/2011. e-Pub 2011. PMID: 21884971.

Book Chapters

1.
Taube, J., Mani, S.A. Epithelial-to-mesenchymal transition, stem cells, and cancer progression. In: Nova publishers book on "Stem Cell, Regenerative Medicine and Cancer". Nova, 2010.
© 2010 The University of Texas M. D. Anderson Cancer Center