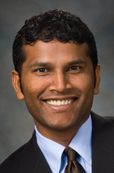 '
Sendurai A. Mani, Ph.D.
Present Title & Affiliation
Primary Appointment
Associate Professor, Department of Translational Molecular Pathology, Division of Pathology/Lab Medicine, The University of Texas MD Anderson Cancer Center, Houston, TX
Co-Director, Metastasis Research Center, MDACC, Houston, TX
Co-Director, Center for Stem Cells & Developmental Biology, MDACC, Houston, TX
Dual/Joint/Adjunct Appointment
Member of the Graduate Faculty, The University of Texas Graduate School of Biomedical Sciences, Houston, TX
Bio Statement
Research Interests
Metastasis remain the ultimate cause of cancer related death. Carcinoma cells, which are initially confined to the primary tumor site by the continued expression of cell-cell adhesion molecules, acquire metastatic properties by activating a latent embryonic program, known as epithelial-mesenchymal transition (EMT). Through EMT, cancer cell acquires mesenchymal morphology, increased migration, invasion and stem cell properties. The stem cell properties help cancer cells to recreate tumor histopathologically similar to their tissue of origin at the metastatic site. At present, our laboratory is investigating the biology of metastasis at the molecular level and developing ways to diagnose and treat metastasis.
Office Address
The University of Texas MD Anderson Cancer Center
2130 West Holcombe Boulevard
Unit Number: 2951
Houston, TX 77030
Room Number: LSP9.2001
Phone: 713-792-9638
Fax: 713-834-6083
Email: smani@mdanderson.org
Education & Training
Degree-Granting Education

2000
Indian Institute of Science, Bangalore, India, PHD, Molecular Biology

Postgraduate Training

2000-2007

Postdoc, Cancer Biology, Whitehead Institute/MIT, Cambridge, MA, Dr. Robert Weinberg
Experience/Service
Academic Appointments
Associate Professor, Department of Molecular and Cellular Biology, Division of Basic Science Research, Baylor College of Medicine, Houston, TX, 9/2014-present
Member, Keck Center for Interdisciplinary Bioscience Training Programs and GCC Research Consortia, Houston, TX, 2009-present
Administrative Appointments/Responsibilities
Co-Director, CCSG-Metastasis Research Program, MDACC, Houston, TX, 1/2012-present
Honors and Awards
2012-2015

The American Cancer Society M. Patricia Alexander Research Scholar,

American Cancer Society

2012-2014

Career Development Award,

MDACC Prostate Cancer SPORE

2008-2013

Fellow, M. D. Anderson Research Trust,

The University of TX, M. D. Anderson Cancer Center

2008-2010

V-Scholar,

The Jimmy V Foundation for Cancer Research

2008-2009

MD Anderson Faculty Development Award - CCSG,

The University of TX, M. D. Anderson Cancer Center

2001-2004

Postdoctoral Fellowship,

Breast Cancer Reserach Program, Department of Defense
Selected Publications
Peer-Reviewed Original Research Articles

1.
Sarkar TR, Battula VL, Werden SJ, Vijay GV, Ramirez-Peña EQ, Taube JH, Chang JT, Miura N, Porter W, Sphyris N, Andreeff M, Mani SA. GD3 synthase regulates epithelial-mesenchymal transition and metastasis in breast cancer. Oncogene 0. e-Pub 8/2014. PMID: 25109336.
2.
Malouf GG, Taube JH, Lu Y, Roysarkar T, Panjarian S, Estecio MR, Jelinek J, Yamazaki J, Raynal NJ, Long H, Tahara T, Tinnirello A, Ramachandran P, Zhang XY, Liang S, Mani SA, Issa JP. Architecture of epigenetic reprogramming following Twist1 mediated epithelial-mesenchymal transition. Genome Biol 14(12). e-Pub 12/2013. PMID: 24367927.
3.
Liu Y, Zhou R, Baumbusch LO, Tsavachidis S, Brewster AM, Do KA, Sahin A, Hortobagyi GN, Taube JH, Mani SA, Aarøe J, Wärnberg F, Børresen-Dale AL, Mills GB, Thompson PA, Bondy ML. Genomic copy number imbalances associated with bone and non-bone metastasis of early-stage breast cancer. Breast Cancer Res Treat. e-Pub 12/2013. PMID: 24305980.
4.
Taube JH, Malouf GG, Lu E, Sphyris N, Vijay V, Ramachandran PP, Ueno KR, Gaur S, Nicoloso MS, Rossi S, Herschkowitz JI, Rosen JM, Issa JP, Calin GA, Chang JT, Mani SA. Epigenetic silencing of microRNA-203 is required for EMT and cancer stem cell properties. Sci Rep 3:2687, 9/2013. PMCID: PMC3776231.
5.
Hollier BG, Tinnirello AA, Werden SJ, Evans KW, Taube JH, Sarkar TR, Sphyris N, Shariati M, Kumar SV, Battula VL, Herschkowitz JI, Guerra R, Chang JT, Miura N, Rosen JM, Mani SA. FOXC2 expression links epithelial-mesenchymal transition and stem cell properties in breast cancer. Cancer Res 73(6):1981-92, 3/15/2013. e-Pub 2/1/2013. PMCID: PMC3602160.
6.
Yao Y, Suraokar M, Darnay BG, Hollier BG, Shaiken TE, Asano T, Chen CH, Chang BH, Lu Y, Mills GB, Sarbassov D, Mani SA, Abbruzzese JL, Reddy SA. BSTA Promotes mTORC2-Mediated Phosphorylation of Akt1 to Suppress Expression of FoxC2 and Stimulate Adipocyte Differentiation. Sci Signal 6(257):ra2, 2013. e-Pub 1/2013. PMID: 23300339.
7.
Giordano A, Gao H, Anfossi S, Cohen E, Mego M, Lee BN, Tin S, De Laurentiis M, Parker CA, Alvarez RH, Valero V, Ueno NT, De Placido S, Mani SA, Esteva FJ, Cristofanilli M, Reuben JM. Epithelial-Mesenchymal Transition and Stem Cell Markers in Patients with HER2-Positive Metastatic Breast Cancer. Mol Cancer Ther. e-Pub 9/2012. PMID: 22973057.
8.
Battula VL, Shi Y, Evans KW, Wang RY, Spaeth EL, Jacamo RO, Guerra R, Sahin AA, Marini FC, Hortobagyi G, Mani SA, Andreeff M. Ganglioside GD2 identifies breast cancer stem cells and promotes tumorigenesis. J Clin Invest. e-Pub 5/2012. PMID: 22585577.
9.
Guo W, Keckesova Z, Donaher JL, Shibue T, Tischler V, Reinhardt F, Itzkovitz S, Noske A, Zürrer-Härdi U, Bell G, Tam WL, Mani SA, van Oudenaarden A, Weinberg RA. Slug and sox9 cooperatively determine the mammary stem cell state. Cell 148(5):1015-28, 3/2/2012. PMID: 22385965.
10.
Roman-Perez E, Casbas-Hernandez P, Rein J, Carey LA, Lubet RA, Mani SA, Amos KD, Troester MA, Pirone JR. Gene expression in extratumoral microenvironment predicts clinical outcome in breast cancer patients. Breast Cancer Res 14(2). e-Pub 3/2012. PMID: 22429463.
11.
Mego M, Mani SA, Lee BN, Li C, Evans KW, Cohen EN, Gao H, Jackson SA, Giordano A, Hortobagyi GN, Cristofanilli M, Lucci A, Reuben JM. Expression of epithelial-mesenchymal transition-inducing transcription factors in primary breast cancer: The effect of neoadjuvant therapy. Int J Cancer. e-Pub 3/2011. PMID: 21387303.
12.
Taube JH, Herschkowitz JI, Komurov K, Zhou AY, Gupta S, Yang J, Hartwell K, Onder TT, Gupta PB, Evans KW, Hollier BG, Ram PT, Lander ES, Rosen JM, Weinberg RA, Mani SA. Core epithelial-to-mesenchymal transition interactome gene-expression signature is associated with claudin-low and metaplastic breast cancer subtypes. Proc Natl Acad Sci U S A 107(35):15449-54, 8/2010. e-Pub 8/2010. PMCID: PMC2932589.
13.
Battula VL, Evans KW, Hollier BG, Shi Y, Marini FC, Ayyanan A, Wang RY, Brisken C, Guerra R, Andreeff M, Mani SA. Epithelial-Mesenchymal Transition-Derived Cells Exhibit Multi-Lineage Differentiation Potential Similar to Mesenchymal Stem Cells. Stem Cells 28(8):1435-45, 8/2010. e-Pub 6/22/2010. PMID: 20572012.
14.
Bloushtain-Qimron N, Yao J, Snyder EL, Shipitsin M, Campbell LL, Mani SA, Hu M, Chen H, Ustyansky V, Antosiewicz JE, Argani P, Halushka MK, Thomson JA, Pharoah P, Porgador A, Sukumar S, Parsons R, Richardson AL, Stampfer MR, Gelman RS, Nikolskaya T, Nikolsky Y, Polyak K. Cell type-specific DNA methylation patterns in the human breast. Proc Natl Acad Sci U S A 105(37):14076-81, 9/2008. PMID: 18780791.
15.
Onder TT, Gupta PB, Mani SA, Yang J, Lander ES, Weinberg RA. Loss of E-cadherin promotes metastasis via multiple downstream transcriptional pathways. Cancer Res 68(10):3645-54, 5/2008. PMID: 18483246.
16.
Mani SA, Guo W, Liao MJ, Eaton EN, Ayyanan A, Zhou AY, Brooks M, Reinhard F, Zhang CC, Shipitsin M, Campbell LL, Polyak K, Brisken C, Yang J, Weinberg RA. The epithelial-mesenchymal transition generates cells with properties of stem cells. Cell 133(4):704-15, 5/2008. PMCID: PMC2728032.
17.
Liao MJ, Zhang CC, Zhou B, Zimonjic DB, Mani SA, Kaba M, Gifford A, Reinhardt F, Popescu NC, Guo W, Eaton EN, Lodish HF, Weinberg RA. Enrichment of a population of mammary gland cells that form mammospheres and have in vivo repopulating activity. Cancer Res 67(17):8131-8, 9/2007. PMID: 17804725.
18.
Mani SA, Yang J, Brooks M, Schwaninger G, Zhou A, Miura N, Kutok JL, Hartwell K, Richardson AL, Weinberg RA. Mesenchyme Forkhead 1 (FOXC2) plays a key role in metastasis and is associated with aggressive basal-like breast cancers. Proc Natl Acad Sci U S A 104(24):10069-74, 6/2007. PMCID: PMC1891217.
19.
Yang J, Mani SA, Donaher JL, Ramaswamy S, Itzykson RA, Come C, Savagner P, Gitelman I, Richardson A, Weinberg RA. Twist, a Master Regulator of Morphogenesis, Plays an Essential Role in Tumor Metastasis. Cell 117(7):927–939, 6/2004. PMID: 15210113.

Invited Articles

1.
Chang JT, Mani SA. Sheep, wolf, or werewolf: Cancer stem cells and the epithelial-to-mesenchymal transition. Cancer Lett. e-Pub 3/2013. PMID: 23499890.
2.
May CD, Sphyris N, Evans KW, Werden SJ, Guo W, Mani SA. Epithelial-mesenchymal transition and cancer stem cells: a dangerously dynamic duo in breast cancer progression. Breast Cancer Res 13(1). e-Pub 2/2011. PMID: 21392411.
3.
Mego M, Mani SA, Cristofanilli M. Molecular mechanisms of metastasis in breast cancer-clinical applications. Nat Rev Clin Oncol 7(12):693-701, 12/2010. e-Pub 10/19/2010. PMID: 20956980.
4.
Blick T, Hugo H, Widodo E, Waltham M, Pinto C, Mani SA, Weinberg RA, Neve RM, Lenburg ME, Thompson EW. Epithelial mesenchymal transition traits in human breast cancer cell lines parallel the CD44(hi/)CD24 (lo/-) stem cell phenotype in human breast cancer. J Mammary Gland Biol Neoplasia 15(2):235-52, 6/2010. e-Pub 6/2010. PMID: 20521089.
5.
Mani SA, Evans KW, Hollier BG, Guo W, and Weinberg RA. Generation of Stem-like Cells via EMT: A New Twist in Cancer Initiation and Progression. AACR Education Book(1):173, 4/2009.
6.
Hollier BG, Evans K, Mani SA. The Epithelial-to-Mesenchymal Transition and Cancer Stem Cells: A Coalition Against Cancer Therapies. J Mammary Gland Biol Neoplasia 14(1):29-43, 3/2009. e-Pub 2/26/2009. PMID: 19242781.
7.
Sphyris N, Mani, SA. The importance of the Epithelial-Mesenchymal Transition in Breast Cancer. Current Breast Cancer Reports 1:229-237, 2009.
8.
Yang J, Mani SA, Weinberg RA. Exploring a new twist on tumor metastasis. Cancer Res 66(9):4549-52, 5/1/2006. PMID: 16651402.
9.
Gupta, P., Mani, S.A., Yang, J., Hartwell, K., Weinberg, R.A.. The evolving portrait of cancer metastasis. Cold Spring Harb Symp Quant Biol 70:291-298, 2005. PMID: 16869765.

Editorials

1.
Sphyris N, Mani SA. pIgR: Frenemy of Inflammation, EMT, and HCC Progression. J Natl Cancer Inst. e-Pub 10/2011. PMID: 22025623.
2.
Mani SA, Barton MC. HDAC3 at the Fulcrum of an Epithelial-Mesenchymal Balance. Mol Cell 43(5):697-698, 9/2011. e-Pub 2011. PMID: 21884971.

Book Chapters

1.
Taube, J., Mani, S.A. Epithelial-to-mesenchymal transition, stem cells, and cancer progression. In: Nova publishers book on "Stem Cell, Regenerative Medicine and Cancer". Nova, 2010.
© 2014 The University of Texas MD Anderson Cancer Center