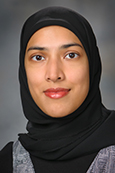 '
Shadia Zaman, Ph.D.
Present Title & Affiliation
Primary Appointment
Instructor, Department of Experimental Therapeutics, Division of Cancer Medicine, The University of Texas MD Anderson Cancer Center, Houston, TX
Office Address
The University of Texas MD Anderson Cancer Center
1901 East Road
Unit Number: 1950
Houston, TX 77054
Room Number: 4SCR3.1019
Phone: 713-563-3993
Email: szaman@mdanderson.org
Education & Training
Degree-Granting Education

2007
Princeton University, Princeton, NJ, PHD, Molecular Biology
2001
Rutgers University, New Brunswick, NJ, BA, Molecular Biology and Biochemistry
Selected Publications
Peer-Reviewed Original Research Articles

1.
Phillip CJ, Zaman S, Shentu S, Balakrishnan K, Zhang J, Baladandayuthapani V, Taverna P, Redkar S, Wang M, Stellrecht CM, Gandhi V. Targeting MET kinase with the small-molecule inhibitor amuvatinib induces cytotoxicity in primary myeloma cells and cell lines. J Hematol Oncol 6:92, 2013. e-Pub 12/2013. PMCID: PMC3878866.
2.
Wang Y, Ozawa A, Zaman S, Prasad NB, Chandrasekharappa SC, Agarwal SK, Marx SJ. The tumor suppressor protein menin inhibits AKT activation by regulating its cellular localization. Cancer Res 71(2):371-82, 1/2011. e-Pub 12/2010. PMCID: PMC3076053.
3.
Zaman S, Lippman SI, Schneper L, Slonim N, Broach JR. Glucose regulates transcription in yeast through a network of signaling pathways. Mol Syst Biol 5:245, 2009. e-Pub 2/2009. PMCID: PMC2657534.
4.
Yorimitsu T, Zaman S, Broach JR, Klionsky DJ. Protein kinase A and Sch9 cooperatively regulate induction of autophagy in Saccharomyces cerevisiae. Mol Biol Cell 18(10):4180-9, 10/2007. e-Pub 8/2007. PMCID: PMC1995722.

Invited Articles

1.
Zaman S, Wang R, Gandhi V. Targeting the Apoptosis Pathway in Hematologic Malignancies. Leuk Lymphoma. e-Pub 12/2013. PMID: 24295132.
2.
Zaman S, Lippman SI, Zhao X, Broach JR. How Saccharomyces responds to nutrients. Annu Rev Genet 42:27-81, 2008. PMID: 18303986.
© 2014 The University of Texas MD Anderson Cancer Center