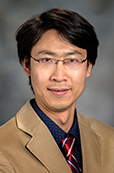 '
Song Yi, Ph.D.
Present Title & Affiliation
Primary Appointment
Principal Investigator and Faculty Member, Department of Systems Biology, The University of Texas MD Anderson Cancer Center, Houston, TX
Research Interests
Although a deluge of genetic variants have been identified by next-generation sequencing to be associated with various diseases, there was no prior demonstration for such an elucidation of disease mechanisms from the systems perspective and at the DNA base-pair level. We have a long-term interest in addressing the fundamental problem of genotype-phenotype relationships in human disease, especially in cancer. We combine computational and experimental expertise to build a systematic and quantitative understanding of molecular signaling networks in human health and disease.

We leverage on the advances in systems biology, genomics and bioinformatics, and seek to explore the functional and contextual effects of genotypic variants derived from patients stricken by a wide range of cancer types. By establishing a high-throughput variomics platform, we aim to prioritize and stratify disease-causing mutations at a single base-pair resolution, and to elucidate the mechanism of disease mutation-associated network alterations. Identifying perturbed interaction partners would hint at a potential to design patient-specific precision medicine, and have major ramifications for our understanding of cancer heterogeneity and individualized therapy.

For further interest, please contact Dr. Song Yi at Syi2@mdanderson.org

Education & Training
Degree-Granting Education

2009
University of Iowa, Iowa City, IA, PHD, with high distinction, Biology - Informatics, genomics and genetics
2003
Peking University, Beijing, China, BS, Biological Sciences

Postgraduate Training

2010-2016

Research Fellowship, Cancer Systems Biology and Network Biology, Harvard Medical School, and Dana-Farber Cancer Institute, Boston, MA
Honors and Awards
| | |
| --- | --- |
| 2015 | Harvard Life Science Distinguished Research Award |
| 2013 | Sigma Xi Award |
| 2012 | Dean's Distinguished Dissertation Award |
| 2008 | Graduate Training Award, American Society of Microbiology |
| 2004-2009 | Developmental Studies Hybridoma Bank Fellowship |
| 2004-2006 | President, Chinese Scholars and Students Association |
| 2003-2009 | Graduate Research Scholarship |
| 2002 | "May Fourth" Fellowship (top 1%), Peking University, China |
| 1999 | First-class Prize in Chinese National Mathematics Olympiad, China |
Selected Publications
Peer-Reviewed Original Research Articles

1.
Yi S#, Lin S, Li Y, Zhao W, Mills GB, Sahni N. Functional variomics and network perturbation: connecting genotype to phenotype in cancer. Nat Rev Genet (#, corresponding author). In Press.
2.
Karras GI, Yi S, Sahni N, Fischer M, Xie J, Vidal M, D'Andrea AD, Whitesell L, Lindquist S. HSP90 Shapes the Consequences of Human Genetic Variation. Cell 168(5):856-866.e12, 2/2017. e-Pub 2/2017. PMCID: PMC5325763.
3.
Sahni N, Yi S*, Taipale M, Fuxman Bass JI, Coulombe-Huntington J, Yang F, Peng J, Weile J, Karras GI, Wang Y, Kovács IA, Kamburov A, Krykbaeva I, Lam MH, Tucker G, Khurana V, Sharma A, Liu YY, Yachie N, Zhong Q, Shen Y, Palagi A, San-Miguel A, Fan C, Balcha D, Dricot A, Jordan DM, Walsh JM, Shah AA, Yang X, Stoyanova AK, Leighton A, Calderwood MA, Jacob Y, Cusick ME, Salehi-Ashtiani K, Whitesell LJ, Sunyaev S, Berger B, Barabási AL, Charloteaux B, Hill DE, Hao T, Roth FP, Xia Y, Walhout AJ, Lindquist S, Vidal M. Widespread macromolecular interaction perturbations in human genetic disorders. Cell 161(3):647-60, 4/2015. PMCID: PMC4441215 (*co-first author).
4.
Rolland T, Tasan M, Charloteaux B, Pevzner SJ, Zhong Q, Sahni N, Yi S*, Lemmens I, Fontanillo C, Mosca R, Kamburov A, Ghiassian SD, Yang X, Ghamsari L, Balcha D, Begg BE, Braun P, Brehme M, Broly MP, Carvunis AR, Convery-Zupan D, Corominas R, Coulombe-Huntington J, Dann E, Dreze M, Dricot A, Fan C, Franzosa E, Gebreab F, Gutierrez BJ, Hardy MF, Jin M, Kang S, Kiros R, Lin GN, Luck K, MacWilliams A, Menche J, Murray RR, Palagi A, Poulin MM, Rambout X, Rasla J, Reichert P, Romero V, Ruyssinck E, Sahalie JM, Scholz A, Shah AA, Sharma A, Shen Y, Spirohn K, Tam S, Tejeda AO, Trigg SA, Twizere JC, Vega K, Walsh J, Cusick ME, Xia Y, Barabási AL, Iakoucheva LM, Aloy P, De Las Rivas J, Tavernier J, Calderwood MA, Hill DE, Hao T, Roth FP, Vidal M. A proteome-scale map of the human interactome network. Cell 159(5):1212-26, 11/2014. PMCID: PMC4266588 (*co-first author).
5.
Chung CY, Khurana V, Yi S, Sahni N, Loh KH, Auluck PK, Baru V, Udeshi ND, Freyzon Y, Carr SA, Hill DE, Vidal M, Ting AY, Lindquist S. In Situ Peroxidase Labeling and Mass-Spectrometry Connects Alpha-Synuclein Directly to Endocytic Trafficking and mRNA Metabolism in Neurons. Cell Syst 4(2):242-250.e4, 2/2017. e-Pub 1/2017. PMID: 28131823.
6.
Fuxman Bass JI, Sahni N, Shrestha S, Garcia-Gonzalez A, Mori A, Bhat N, Yi S, Hill DE, Vidal M, Walhout AJ. Human gene-centered transcription factor networks for enhancers and disease variants. Cell 161(3):661-73, 4/2015. PMCID: PMC4409666.
7.
Barrera LA, Vedenko A, Kurland JV, Rogers JM, Gisselbrecht SS, Rossin EJ, Woodard J, Mariani L, Kock KH, Inukai S, Siggers T, Shokri L, Gordân R, Sahni N, Cotsapas C, Hao T, Yi S, Kellis M, Daly MJ, Vidal M, Hill DE, Bulyk ML. Survey of variation in human transcription factors reveals prevalent DNA binding changes. Science 351(6280):1450-4, 3/2016. e-Pub 3/2016. PMCID: PMC4825693.
8.
Yang X, Coulombe-Huntington J, Kang S, Sheynkman GM, Hao T, Richardson A, Sun S, Yang F, Shen YA, Murray RR, Spirohn K, Begg BE, Duran-Frigola M, MacWilliams A, Pevzner SJ, Zhong Q, Trigg SA, Tam S, Ghamsari L, Sahni N, Yi S, Rodriguez MD, Balcha D, Tan G, Costanzo M, Andrews B, Boone C, Zhou XJ, Salehi-Ashtiani K, Charloteaux B, Chen AA, Calderwood MA, Aloy P, Roth FP, Hill DE, Iakoucheva LM, Xia Y, Vidal M. Widespread Expansion of Protein Interaction Capabilities by Alternative Splicing. Cell 164(4):805-17, 2/2016. PMCID: PMC4882190.
9.
Yachie N, Petsalaki E, Mellor JC, Weile J, Jacob Y, Verby M, Ozturk SB, Li S, Cote AG, Mosca R, Knapp JJ, Ko M, Yu A, Gebbia M, Sahni N, Yi S, Tyagi T, Sheykhkarimli D, Roth JF, Wong C, Musa L, Snider J, Liu YC, Yu H, Braun P, Stagljar I, Hao T, Calderwood MA, Pelletier L, Aloy P, Hill DE, Vidal M, Roth FP. Pooled-matrix protein interaction screens using Barcode Fusion Genetics. Mol Syst Biol 12(4):863, 4/2016. e-Pub 4/2016. PMCID: PMC4848762.
10.
Sun S, Yang F, Tan G, Costanzo M, Oughtred R, Hirschman J, Theesfeld CL, Bansal P, Sahni N, Yi S, Yu A, Tyagi T, Tie C, Hill DE, Vidal M, Andrews BJ, Boone C, Dolinski K, Roth FP. An extended set of yeast-based functional assays accurately identifies human disease mutations. Genome Res 26(5):670-80, 5/2016. e-Pub 3/2016. PMCID: PMC4864455.
11.
Corominas R, Yang X, Lin GN, Kang S, Shen Y, Ghamsari L, Broly M, Rodriguez M, Tam S, Trigg SA, Fan C, Yi S, Tasan M, Lemmens I, Kuang X, Zhao N, Malhotra D, Michaelson JJ, Vacic V, Calderwood MA, Roth FP, Tavernier J, Horvath S, Salehi-Ashtiani K, Korkin D, Sebat J, Hill DE, Hao T, Vidal M, Iakoucheva LM. Protein interaction network of alternatively spliced isoforms from brain links genetic risk factors for autism. Nat Commun 5:3650, 2014. e-Pub 4/2014. PMCID: PMC3996537.
12.
Yi S, Sahni N, Daniels KJ, Lu KL, Huang G, Garnaas AM, Pujol C, Srikantha T, Soll DR. Utilization of the mating scaffold protein in the evolution of a new signal transduction pathway for biofilm development. MBio 2(1):e00237-10, 2011. e-Pub 1/2011. PMCID: PMC3018282.
13.
Yi S, Sahni N, Daniels KJ, Lu KL, Srikantha T, Huang G, Garnaas AM, Soll DR. Alternative mating type configurations (a/α versus a/a or α/α) of Candida albicans result in alternative biofilms regulated by different pathways. PLoS Biol 9(8):e1001117, 8/2011. e-Pub 8/2011. PMCID: PMC3149048.
14.
Yi S, Sahni N, Daniels KJ, Lu KL, Huang G, Srikantha T, Soll DR. Self-induction of a/a or alpha/alpha biofilms in Candida albicans is a pheromone-based paracrine system requiring switching. Eukaryot Cell 10(6):753-60, 6/2011. e-Pub 4/2011. PMCID: PMC3127667.
15.
Sahni N, Yi S*, Daniels KJ, Huang G, Srikantha T, Soll DR. Tec1 mediates the pheromone response of the white phenotype of Candida albicans: insights into the evolution of new signal transduction pathways. PLoS Biol 8(5):e1000363, 5/2010. e-Pub 5/2010. PMCID: PMC2864266 (*co-first author).
16.
Huang G, Yi S, Sahni N, Daniels KJ, Srikantha T, Soll DR. N-acetylglucosamine induces white to opaque switching, a mating prerequisite in Candida albicans. PLoS Pathog 6(3):e1000806, 3/2010. e-Pub 3/2010. PMCID: PMC2837409.
17.
Yi S, Sahni N, Pujol C, Daniels KJ, Srikantha T, Ma N, Soll DR. A Candida albicans-specific region of the alpha-pheromone receptor plays a selective role in the white cell pheromone response. Mol Microbiol 71(4):925-47, 2/2009. e-Pub 12/2008. PMID: 19170873.
18.
Yi S, Sahni N, Daniels KJ, Pujol C, Srikantha T, Soll DR. The same receptor, G protein, and mitogen-activated protein kinase pathway activate different downstream regulators in the alternative white and opaque pheromone responses of Candida albicans. Mol Biol Cell 19(3):957-70, 3/2008. e-Pub 12/2007. PMCID: PMC2262975.
19.
Wessels D, Srikantha T, Yi S, Kuhl S, Aravind L, Soll DR. The Shwachman-Bodian-Diamond syndrome gene encodes an RNA-binding protein that localizes to the pseudopod of Dictyostelium amoebae during chemotaxis. J Cell Sci 119(Pt 2):370-9, 1/2006. PMID: 16410554.

Invited Articles

1.
Lin S, Yin YA, Jiang X, Sahni N, Yi S#. Multi-OMICs and Genome Editing Perspectives on Liver Cancer Signaling Networks. Biomed Res Int 2016:6186281, 2016. e-Pub 6/2016. PMCID: PMC4923561 (#corresponding author).
2.
Sahni N, Yi S, Zhong Q, Jailkhani N, Charloteaux B, Cusick ME, Vidal M. Edgotype: a fundamental link between genotype and phenotype. Curr Opin Genet Dev 23(6):649-57, 12/2013. e-Pub 11/2013. PMCID: PMC3902775.

Editorials

1.
Jiang X, Chen R, Cheng S, Jiang X, Shen B, Xu R, Yi S. Computational advances in cancer informatics (a). Cancer Inform 13(Suppl 1):45-8, 2014. e-Pub 10/2014. PMCID: PMC4216040.