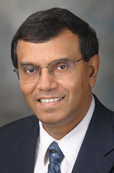 '
Soumen Khatua, MD
Present Title & Affiliation
Primary Appointment
Associate Professor, Division of Pediatrics, The University of Texas MD Anderson Cancer Center, Houston, TX
Section Chief, Neuro-Oncology, Department of Pediatrics Patient Care, Division of Pediatrics, The University of Texas MD Anderson Cancer Center, Houston
Bio Statement
Dr Khatua is an Assistant Professor and a pediatric Neuro-Oncologist at M.D. Anderson Cancer Center. He completed a pediatric Hematology-Oncology fellowship at the Children's National Medical Center, Washington DC and a Neuro-Oncology fellowship at the Childrens Hospital Los Angeles. His research efforts are directed towards developing clinical trials using targeted therapy in pediatric brain tumors. Dr Khatua's areas of interest and focus are high-grade glioma, diffuse pontine glioma and intracranial germ cell tumors.
Education & Training
Degree-Granting Education

1982
Calcutta Medical College, Calcutta, India, India, MBBS, Medicine

Postgraduate Training

7/2008-6/2009

Clinical Fellowship, Children's Hospital, Los Angeles, CA

7/2000-6/2003

Clinical Fellowship, Pediatric Hematology/Oncology, Children's National Medical Center, Washington, DC

7/1997-6/2000

Clinical Residency, Driscoll Children's Hospital, Corpus Christi, TX

3/1988-7/1988

Clinical Fellowship, Westminster's Children Hospital, London, United Kingdom

3/1987-6/1987

Clinical Fellowship, University of Illinois, Chicago, IL

7/1983-6/1984

Clinical Residency, Calcutta Medical College, Calcutta, India
Experience/Service
Academic Appointments
Assistant Professor, Department of Pediatrics Patient Care, Neuro-Oncology, The University of Texas MD Anderson Cancer Center, Houston, TX, 1/2011-1/2015
Professional Memberships
American Society of Pediatric Hematology/Oncology
active membership, 2003-present
Children's Oncology Group
CNS Committee, 2010-present
Society for Neuro-Oncology
Associate member, 1/2002-present
Selected Publications
Peer-Reviewed Original Research Articles

1.
Verma A, Zhou H, Chin S, Bruggers C, Kestle J, Khatua S. EGFR as a predictor of relapse in myxopapillary ependymoma. Pediatr Blood Cancer, 12/2011.
2.
O'Neil S, Ji L, Buranahirun C, Azoff J, Dhall G, Khatua S et al. Neurocognitive outcomes in pediatric and adolescent patients with central nervous system germinoma treated with a strategy of chemotherapy followed by reduced-dose and volume irradiation. Pediatr Blood Cancer 57:669-73, 4/2011. PMID: 21495164.
3.
Khatua, S, Dhall G, O'Neil S. Treatment of primary CNS germinomatous germ cell tumors with chemotherapy prior to reduced dose whole ventricular and local boost irradiation. Pediatr Blood and Cancer, 2010.
4.
Becher OJ, Peterson KM, Khatua S et al. IGFBP2 is overexpressed by pediatric malignant astrocytomas and induces the repair enzyme DNA-PK. J Child Neurol 23:1205-13, 2008. PMCID: PMCPMC3674842.

Invited Articles

1.
Sadighi Z, Vats T, Khatua S. The Paradigm Shift in Molecular Stratification and Treatment Profile. Child Neurology, 5/2012.
2.
Khatua S, Sadighi ZS, Pearlman ML, Bochare S, Vats TS. Brain Tumors in Children- Current Therapies and Newer Directions. Indian J Pediatr, 2/2012.
3.
Khatua, S, Moore K, Vats T, Kestle J. Diffuse Pontine Glioma in children- current status and future directions. Childs Nervous System 27:1391-97, 4/2011.
4.
Dhall G,Khatua S, Finaly JL. Pineal Region Tumors in Children. Curr Opin Neurology, 2010.

Abstracts

1.
Khatua S, Phillips A, Fangusaro J, Bovan S, Dhall G, Finlay JL. Recurrent pure CNS germinoma with markedly elevated serum and cerebrospinal fluid human chorionic gonadotropin-beta (HCGβ). Pediatr Blood Cancer, 2011. PMID: 20949592.
2.
Bruggers C, Moore K, Khatua S. Magnetic Resonance Imaging Spectroscopy in pediatric atypical teratoid/rhabdoid tumors. Neurooncology, 2010.
3.
Si SJ, Khatua S, Dhall G, Nelson MD, Gonzalez-Gomez I, Finlay JL. Regression of primary central nervous system germinoma after dexamethasone administration: a case report. Pediatr Hematol Oncol, 2010. PMID: 20367268.
4.
Bavishi S, Wong K, Delgardo T, Marachelian A, Khatua S. Successful radiation therapy for supratentorial primitive neuroectodermal tumor and epidermolysis bullosa simplex. Pediatr Blood Cancer, 2010. PMID: 19760073.