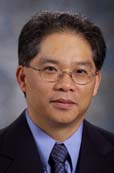 '
Spencer S Kee, MD, FRCA
Present Title & Affiliation
Primary Appointment
Associate Professor, Department of Anesthesiology and Perioperative Medicine, The University of Texas MD Anderson Cancer Center, Houston, TX
Education & Training
Degree-Granting Education

1994
The Royal College of Anaesthetists, London, United Kingdom, CCHTA, Higher Training in Anaesthesia
1987
The Royal College of Anaesthesia, London, United Kingdom, FRCA, Anaesthesia
1985
The Royal College of Anaesthetists, London, United Kingdom, DA(Engl), Anaesthesia
1984
Licentiate of The Royal College of Physicians of Edinburgh, Edinburgh, United Kingdom, LRCP(Edin), Medicine
1984
Licentiate of The Royal College of Surgeons of Edinburgh, Edinburg, United Kingdom, LRCS(Edin), Surgery
1984
Licentiate of The Royal college of Physicians and Surgeons of Glasgow, Glasgow, United Kingdom, MRCPS(Glasg), Medicine, Surgery
1981
University of Zimbabwe, Godfrey Huggins Medical School, Harare, Zimbabwe, MBChB, Honors in Anatomy, Obstetrics and Gynecology, Medicine

Postgraduate Training

7/2001-3/2002

Critical Care Medicine Fellow, The University of Texas MD Anderson Cancer Center, Houston, TX, J Katz

3/1991-8/1994

Anesthesiology Fellow equiv, West Midlands A. T. S., Birmingham, United Kingdom

10/1989-2/1991

Anesthesiology Lecturer, St. Bartholomew's Hospital, London, United Kingdom

4/1988-9/1989

Anesthesiology Resident, St. Bartholomew's Hospital, London, United Kingdom

2/1986-3/1988

Anesthesiology Resident, Whittington Hospital, London, United Kingdom

8/1984-1/1986

Anesthesiology Resident, Southend General Hospital, London, United Kingdom

7/1983-7/1984

Anesthesiology Resident, Parirenyatwa Hospital, Harare, Zimbabwe

1/1983-6/1983

Pediatric Medicine Resident, Parirenyatwa Hospital, Harare, Zimbabwe

1/1982-12/1982

Medicine and Surgery Intern, Parirenyatwa Hospital, Harare, Zimbabwe
Board Certifications
| | |
| --- | --- |
| 3/1994 | Certificate of Completion of Higher Training in Anesthesia Awarded by The Royal College of Anaesthetists, HTA |
| 1/1987 | Fellow of The Royal College of Anaesthetists, FRCA, England |
Experience/Service
Academic Appointments
Assistant Professor, Department of Anesthesiology and Pain Medicine, The University of Texas, M. D. Anderson Cancer Center, Houston, TX, 4/2002-8/2009
Assistant Professor, University of Texas Health Science Center at Houston, Houston, TX, 3/1997-6/2001
Other Appointments/Responsibilities
GME Rotation Program Coordinator, Critical Care Medicine, The University of Texas MD Anderson Cancer Center, Houston, 1/2002-1/2003
Faculty Mentor to Anesthesiology Residents, University of Texas Health Science Center at Houston, Houston, 1998-2001
Honors and Awards
2000

Dean's Excellence Award,

University of Texas

1999

Dean's Excellence Award,

University of Texas

1992

Dean's Teaching Excellence Award,

University of Texas
Selected Publications
Peer-Reviewed Original Research Articles

1.
Ruiz JR, Kee SS, Frenzel JC, Ensor JE, Selvan M, Riedel BJ, Apfel C. The Effect of Anatomically Classified Procedure on Antiemetic Administration in the PACU. Anesthesia and Analgesia. e-Pub 8/2009.
2.
Perrier ND, Edeiken B, Nunez R, Gayed I, Jiminez C, Busaidy N, Potylchansky E, Kee SS, Vu T. A Novel Nomenclature to Classify Parathyroid Adenomas. World Journal of Surgery.(33 (3)):412-416, 3/2009.
3.
Villars PS, Veazie MQ, Berger JS, Vu QM, Campbell-McAdory AA, Frenzel JC, Kee SS. Adaptation of the OODA Loop to Reduce Postoperative Nausea and Vomiting in a High-Risk Outpatient Oncology Population. J Perianesth Nurs. 23(2):78-86, 2008 Apr;23(2):78-86, 4/2008.
4.
Nates JL, Aravindan N, Hirsh-Ginsberg C, Sizer KC, Kee S, Nguyen AT, Chen K, Shaw A, Price K. Critically ill cancer patients are not consistently hypercoagulable after craniotomy. Neurosurgery, 7(3):211-216, 2007 Dec;, 12/2007.
5.
Guerrero MA, Wray CJ, Kee SS, Berger J, Perrier ND. Minimally Invasive Parathyroidectomy complicated by pneumothoraces: a report of four cases. Journal of Surgical Education 64(2):101-7, 2007 Mar-Apr, 3/2007.
6.
Khalil SN, Vije HN, KeeSS, Farag A, Hanna E Chuang AZ. Presurgical caudal block attenuates stress response in children. Middle East J Anesthesiol. 18(2):391-400, 2005 Jun, 6/2005.
© 2014 The University of Texas MD Anderson Cancer Center