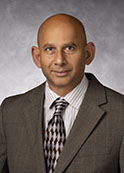 '
Sudhakar Tummala, MD, MBA, CMQ
Present Title & Affiliation
Primary Appointment
Associate Professor, Department of Neuro-Oncology, Division of Cancer Medicine, The University of Texas MD Anderson Cancer Center, Houston, TX
Director, Neurophysiology Lab, Department of Neuro-Oncology, Division of Cancer Medicine, University of Texas MD Anderson Cancer Center, Houston, TX
Office Address
The University of Texas MD Anderson Cancer Center
1515 Holcombe Blvd.
Unit Number: 431
Houston, TX 77030-4009
Room Number: FC7.3000
Education & Training
Degree-Granting Education

2013
University of Texas, Dallas, TX, MBA, Master of Business Administration
1993
Nagarjuna University, Nagarjuna, India, MBBS, Medical School
Board Certifications
| | |
| --- | --- |
| 5/2012 | Clinical Neurophysiology |
| 5/2012 | Neurology |
| 2009 | Neuromuscular Medicine |
| 12/2008 | Internal Medicine |
| 4/2007 | American Board of Clinical Neurophysiology |
| 4/2006 | American Board of Electrodiagnostic Medicine |
Professional Memberships
AANEM-American Association of Neuromuscular & Electrodiagnostic Medicine
Member, 2007-present
American Academy of Clinical Neurophysiology
Member, 2004-present
American Academy of Neurology
Member, 2002-present
Selected Publications
Peer-Reviewed Original Research Articles

1.
Schapiro R, Ferson D, Prabhu SS, Tummula S, Wefel J, Rao G. A Technique for Mapping Cortical Areas Associated with Speech Arrest. Stereotact Funct Neurosurg(90):118-123, 2012.
2.
Guha-Thakurta, Dang BN, Azeem S, Debnam JM, Tummala S. Postoperative Varicella-Zoster Virus Myelopathy and Dissemination. Arch Neruol. 68(10):1340-1, 10/2011.
3.
Melguizo I, Gilbert M, Tummala S. Guillain-Barre Syndrome and Glioblastoma. J Neurooncol 104(1):371-3, 8/2011. e-Pub 11/2010. PMID: 21104295.
4.
Wu J, Langford L, Schellingerhout D, Guha-Thakurta N, Tummala S, Weinberg JS, and Puduvalli VK. Progressive Multifocal Leukoencephalopathy in a Patient with Glioblastoma. J Neuro Onc 103(3):719-6, 7/2011. e-Pub 12/2010. PMID: 20964594.
5.
Prabhu SS, Gasco J, Tummala S, Weinberg JS, Rao G. Intraoperative Magnetic Resonance Imaging-Guided Tractography with Integrated Monopolar Subcortical Functional Mapping for Reserction of Brain Tumors. J Neurosurg 114(3):719-26, 3/2011. e-Pub 10/2010. PMID: 20964594.
6.
Bronstein Y, Tummala S, Rohren E. F-18 FDG PET/CT for Detection of Malignant Involvement of Peripheral Nerves: Case Series in Literature Review. Clinical Nucl Med 36(2):96-100, 2/2011. PMID: 21220969.
7.
Stubbelfield MD, Burstein HJ, Burton AW, Custodio CM, Deng GE, Ho M, Junck L, Morris GS, Paice JA, Tummala S, Von Roenn JH. NCCN Task Force Report: Management of Neuropathy in Cancer. J Natl Canc Netw 7(5):S1-S26, 9/2009. PMID: 19755042.
8.
Gasco J, Tummala S, Mahajan NM, Weinberg JS, Prabhu SS. Simultaneous Use of Functional Tractography, Neuronavigation-Integrated Subcortical White Matter Stimulation and Intraoperative Magnetic Resonance Imaging in Glioma Surgery: Technical Note. Stereotact Funct Neurosurg 87(6):395-8, 2009. e-Pub 11/2009. PMID: 19907203.

Abstracts

1.
Hatiboglu MA, Weinberg JS, Suki D, Tummala S, Rao G, Sawaya R, Prabhu SS. Utilization of Intraoperative Motor Mapping in Glioma Surgery with High-Field Intraoperative Magnetic Resonance Imaging. Stereotact Funct Neurosurg 88(6):345-52, 2010. PMID: 20733348.
2.
Grewal J, Kallio M, Tummala S, Puduvalli V. Two 19Q disorders in the same patient: 1P/19Q co-deleted oligodendroglioma and myotonic dystrophy type 1. Neuro-Oncology 9(4):546 (#z[S-21), 10/2007.
3.
Tummala S, McCutcheon IE, Kitagawa R, Lin V, Slopis JM. Neurofibromatosis Consortium Conference: Models, Mechanisms, and Therapeutic Targets, 6/2007.
4.
Tummala S, Grewal J,. Response Mediator Protein-Associated Sensory Gangliopathy. Journal of Child Neurology 21:261-272, 2006.
5.
Tummala S. Toxicity and efficacy profiles of intrathecal injections of I-131 Nal via intraverticular (Ivent) or intralumbar (Ilumb) route for leptomeningeal metastases (LM) therapy. J Clinical Oncology 24:1549, 2006.
6.
Tummala S, Pleitez MY, Dimachkie MM. Hyponatremia and recurrent weakness. Journal of Child Neurology:II-6, 20-27, 2003.

Book Chapters

1.
Tummala, Groves M, Randolph W. Evans (Ed),. Clinical presentation of brain tumors. In: In Saunders Manual of Neurological Practice. 18, 2. Saunders, 268-271, 2003.
2.
Tummala, Groves M, Randolph W. Evans (Ed). Neurological complications of chemotherapy and radiotherapy. In: In Saunders Manual of Neurological Practice. 18. Saunders, 317-321, 2003.
© 2014 The University of Texas MD Anderson Cancer Center