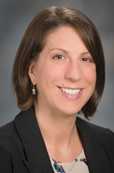 '
Susan Schembre, Ph.D., R.D.
Present Title & Affiliation
Primary Appointment
Assistant Professor, Department of Behavioral Science, Division of OVP, Cancer Prevention and Population Sciences, The University of Texas MD Anderson Cancer Center, Houston, TX
Bio Statement
Research Goals: To reduce the risk of obesity-related cancers through the prevention of excessive weight gain promote successful weight loss in populations at high risk for obesity-related cancers and chronic disease (primary prevention), and to work with cancer survivors to promote healthy weight control (tertiary prevention).
Research interests: My research interests include assessing weight-related eating behaviors and the contextual factors (e.g., environmental, neurological, physiological, and psychological) that promote obesity using multiple technological and non-technological methodologies; applying theories of behavior change and the multiple health behavior approach to understanding the initiation and maintenance behaviors that influence energy balance (physical activity and dietary intake); exploring the neural and genetic determinants of excessive weight gain; and developing innovative weight control interventions in young adults and cancer survivors. Additionally, I have an interest in contributing to others' diet-related projects as a consulting research dietitian.
Office Address
The University of Texas MD Anderson Cancer Center
1155 Pressler St.
Unit Number: 1330
Houston, TX 77030
Room Number: CPB3.3263
Phone: 713-563-5858
Fax: 713-745-4286
Education & Training
Degree-Granting Education

2009
University of Rhode Island, Kingston, RI, PHD, Nutrition & Food Sciences
2009
University of Rhode Island, Kingston, RI, RD, Dietetic Internship
2006
University of Rhode Island, Kingston, RI, MS, Nutrition & Food Sciences
1998
University of Rhode Island, Kingston, RI, BS, Civil Engineering

Postgraduate Training

2011-2012

Postdoctoral Fellowship , Health Promotion and Disease Prevention Research (T32 CA 009492-27), University of Southern California, Keck School of Medicine, Los Angeles, CA, Donna Spruijt-Metz, PhD

2009-2011

Postdoctoral Fellowship, Nutritional Epidemiology and Behavioral Cancer Prevention in a Multiethnic Population (R25 CA 90956), University of Hawaii Cancer Center, Honolulu, HI, Cheryl Albright, PhD, MPH
Experience/Service
Other Appointments/Responsibilities
Member, Society for the Study of Ingestive Behavior, 2009
Member, Sigma Xi, the Scientific Research Society, 2009
Member, The Obesity Society, 2007
Member, Academy of Nutrition and Dietetics, 2006
Honors and Awards
| | |
| --- | --- |
| 2009 | Outstanding Dissertation in Life Sciences |
Selected Publications
Abstracts

1.
Schembre SM, Keller S., Fridlund Dunton G, Spruijt-Metz D. Using ecological momentary assessment to predict maladaptive eating events. Symposium. Annals of Behavioral Medicine 41(Supp1)(S138), 2012.
2.
Schembre SM, Cheng I, Wilkens L, Albrigh C, Le Marchand L. Genetic sensitivity to bitter taste, dietary intakes, and colorectal adenoma risk. Annals of Behavioral Medicine 41(Supp 1)(S154), 2011.
3.
Schembre SM. Project TwEATs: Developing a novel method for assessing 'eating in the absence of hunger' in a free-living population. Obesity 19(Supp 1)(S134), 2011.
4.
Schembre SM, Yuen J. The feasibility of using automated text-messages to monitor appetite ratings continuously in a free-living population. Annals of Behavioral Medicine 41(Supp 1)(S100), 2011.
5.
Schembre SM. 'Reliance on internal cues' to eat is inversely related to BMI, emotional eating, and perceived overeating. Obesity 11(11(1):T4:PO):454, 2010.
6.
Dour C, Horacek T, Shoff S, Schembre S, Greene G, Kattleman K, Lohse B, Phillips B. Process evaluation of project WebHealth: Behavior change intervention for obesity prevention in young adults. Journal of the American Dietetic Association 110(A91), 2010.
7.
Maskarinec G., Morimoto Y, Schembre SM, Steinbrecher A, Pagano I, Grandinetti A, Kolonel LN. Weight gain since age 21 and risk for diabetes: The multiethnic cohort. Obesity 11(1):T4:OS4.2, 2010.
8.
Schembre S, Kresge D, Melanson K, Greene G. Perceived hunger in young adults susceptible to external and emotional eating. The Journal of the Federation of American Societies for Experimental Biology 23(LB424.1), 2009.
9.
Shoff SM, Nuss E, Horacek T, Boyle C, Lohse B, Patterson J, Krall J, White A, Mathews D, Schembre S, and Greene G. Sleep quality is associated with eating behavior in 18-24 year old college students. Journal of Nutrition Education and Behavior 41(4):S8-S9, 2009.
10.
Schembre S, Melanson K, Greene G, Riebe D. Assessment of the use of the International Physical Activity Questionnaire to Predict VO2max. Obesity 14(9):A145, 2006.
11.
Schembre S, Melanson K, Greene G. Lifestyle and physiological predictors of dietary behaviors as determinants of weight gain in college students. Obesity 14(9):A226, 2006.
Grant & Contract Support
Title:
Biobehavioral pedictors of weight gain in a young Mexican American
Funding Source:
NIH/NCI
Role:
Co-Investigator
Principal Investigator:
Daniel-MacDougall, Carrie
Duration:
4/1/2014 - 3/31/2016
Title:
Brain reward sensitivity as a predictor of weight control
Funding Source:
Duncan Seed Funding
Role:
Principal Investigator
Duration:
12/1/2013 - 11/30/2015
Title:
Obesity and brain reward sensitivity: an ERP study
Funding Source:
NIH/NCI
Role:
Principal Investigator
Duration:
9/1/2013 - 8/31/2015
Title:
Stress, Socioeconmic Status, Obesity and Fatigue in Breast
Funding Source:
NIH/NCI
Role:
Co-Investigator
Principal Investigator:
Fagundes, Christopher
© 2010 The University of Texas M. D. Anderson Cancer Center