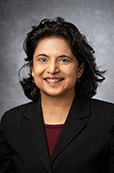 '
Swathi Arur, Ph.D.
Present Title & Affiliation
Primary Appointment
Associate Professor, Department of Genetics, Division of Basic Science Research, The University of Texas MD Anderson Cancer Center, Houston, TX
Dual/Joint/Adjunct Appointment
Co-Director, Genes and Development Graduate Program, The University of Texas MD Anderson Cancer Center, Houston, TX
Associate Professor, The University of Texas Graduate School of Biomedical Sciences, Houston, TX
Associate Professor, Division of Basic Science Research, Baylor College of Medicine, Houston, TX
Research Interests
RAS/ERK signaling pathways governing germ cell development

ERK-substrate networks

Evolution of developmental pathways

C. elegans genetics
Germ cells are immortal. They are uniquely poised to sustain life across generations through the fusion of oocyte and sperm. Despite the central importance of germ cells to life, a clear understanding of the molecular events that control their formation is lacking. Germ cells are set aside from somatic cells in the embryo and go through specialized meiotic cell cycles as the animal matures. These cell cycles are interspersed with long periods of arrest. In human females, meiosis I is initiated in the fetus. At birth, oocytes are arrested in meiosis I; after puberty, every month an oocyte initiates meiosis II – ovulation. Upon sperm availability these cells are fertilized, generate an embryo, and the cycle-of-life continues. During meiotic I progression and arrest, the fitness of oocytes and their progeny are influenced by environmental cues and signaling pathways. Yet, little is known about how these factors influence oocyte development and embryo fitness. Using Caenorhabditis elegans, we study the influence of the RAS/ERK pathway on female meiosis I progression. Our research focuses on understanding how the RAS/ERK pathway acts through a battery of substrates to direct multiple cell biological events during meiosis I; how environmental cues impact the RAS/ERK pathway and meiotic progression.
Our laboratory is interested in understanding the molecular and genetic factors that dictate the fitness of the maternal gametes. Specifically, we focus on identifying the function of proteins that are phosphorylated and regulated by environmental signaling and the RAS/ERK pathway to execute different response, and the impact of each response on gamete fitness.
We have identified over thirty different ERK target proteins that function during germ cell development in C. elegans. Currently, we approach each ERK target one at a time, and using a combination of transgenic methods, phosphorylated antibodies, Crispr mediated gene edits and powerful imaging techniques, we are beginning to delineate the role of individual ERK target proteins in differing events of meiotic progression, oocyte development and embryo fitness.
Given the conserved events of meiotic progression, and the RAS/ERK signaling pathway, our research holds the promise of not only uncovering the molecular control of meiosis I at unparalleled resolution to enable better understanding of factors that dictate maternal health and thus progeny survival, but also is poised to uncover novel ERK targets that are regulated during oncogenesis.
View a complete list of Dr. Arur's publications.
Office Address
The University of Texas MD Anderson Cancer Center
Department of Genetics Unit 1010
1515 Holcombe Blvd
Houston, TX 77030
Room Number: S11.8116A
Phone: 713-745-8424
Email: sarur@mdanderson.org
Education & Training
Degree-Granting Education

2002
All India Institute for Medical Sciences, New Delhi, India, PHD, Microbiology

Postgraduate Training

2007-1/2010

Instructor, Genetics, Developmental Biology and Cell Biology, Washington University School of Medicine, Saint Louis, MO

12/2002-2007

Post Doctoral Associate, Department of Genetics, Washington University in St Louis, School of Medicine, St. Louis, MO
Honors and Awards
2017-2019

Andrew Sabin Family Foundation Scholar,

Andrew Sabin Family Foundation

2016-2019

President's Scholar,

UT MD Anderson Cancer Center

2016-2018

Anna Fuller Foundation Scholar,

Anna Fuller Foundation

2014-2018

Research Scholar,

American Cancer Society

2013-2014

Outstanding Faculty Member, Genes and Development,

Genes and Development Program, UT MD Anderson Cancer Center

1997-2000

Council of Scientific and Industrial Research,

Government of India
Selected Publications
Peer-Reviewed Original Research Articles

1.
Das D, Arur S. Conserved insulin signaling in the regulation of oocyte growth, development, and maturation. Mol Reprod Dev. e-Pub 4/5/2017. PMID: 28379636.
2.
Burton NO, Furuta T, Webster AK, Kaplan RE, Baugh LR, Arur S, Horvitz HR. Insulin-like signalling to the maternal germline controls progeny response to osmotic stress. Nat Cell Biol. e-Pub 2/6/2017. PMID: 28166192.
3.
Arur S. Signaling-Mediated Regulation of Meiotic Prophase I and Transition During Oogenesis. Results Probl Cell Differ 59:101-123, 2017. PMID: 28247047.
4.
Gervaise AL, Arur S. Spatial and Temporal Analysis of Active ERK in the C. elegans Germline. J Vis Exp(117), 11/29/2016. e-Pub 11/29/2016. PMID: 27929466.
5.
Snee MJ, Wilson WC, Zhu Y, Chen SY, Wilson BA, Kseib C, O'Neal J, Mahajan N, Tomasson MH, Arur S, Skeath JB. Collaborative Control of Cell Cycle Progression by the RNA Exonuclease Dis3 and Ras is Conserved Across Species. Genetics. e-Pub 3/30/2016. PMID: 27029730.
6.
McCallum KC, Liu B, Fierro-González JC, Swoboda P, Arur S, Miranda-Vizuete A, Garsin DA. TRX-1 Regulates SKN-1 Nuclear Localization Cell Non-autonomously in Caenorhabditis elegans. Genetics. e-Pub 2/26/2016. PMID: 26920757.
7.
Mattingly HH, Chen JJ, Arur S, Shvartsman SY. A Transport Model for Estimating the Time Course of ERK Activation in the C. elegans Germline. Biophys J 109(11):2436-45, 12/1/2015. PMID: 26636953.
8.
Drake M, Furuta T, Suen KM, Gonzalez G, Liu B, Kalia A, Ladbury JE, Fire AZ, Skeath JB, Arur S. A Requirement for ERK-Dependent Dicer Phosphorylation in Coordinating Oocyte-to-Embryo Transition in C. elegans. Dev Cell 31(5):614-628, 12/2014. PMID: 25490268.
9.
Arur S, Schedl T. Generation and purification of highly specific antibodies for detecting post-translationally modified proteins in vivo. Nat Protoc 9(2):375-95, 2/2014. e-Pub 1/2014. PMCID: PMC4124490.
10.
Lopez AL, Chen J, Joo HJ, Drake M, Shidate M, Kseib C, Arur S. DAF-2 and ERK Couple Nutrient Availability to Meiotic Progression during Caenorhabditis elegans Oogenesis. Dev Cell. e-Pub 10/2013. PMCID: PMC3829605.
11.
Berkseth M, Ikegami K, Arur S, Lieb JD, Zarkower D. TRA-1 ChIP-seq reveals regulators of sexual differentiation and multilevel feedback in nematode sex determination. Proc Natl Acad Sci U S A. e-Pub 9/2013. PMCID: PMC3791753.
12.
Suen KM, Lin CC, George R, Melo FA, Biggs ER, Ahmed Z, Drake MN, Arur S, Arold ST, Ladbury JE. Interaction with Shc prevents aberrant Erk activation in the absence of extracellular stimuli. Nat Struct Mol Biol. e-Pub 4/2013. PMCID: PMC4059177.
13.
Putty K, Marcus SA, Mittl PR, Bogadi LE, Hunter AM, Arur S, Berg DE, Sethu P, Kalia A. Robustness of Helicobacter pylori Infection Conferred by Context-Variable Redundancy among Cysteine-Rich Paralogs. PLoS One 8(3):e59560, 2013. e-Pub 3/26/2013. PMCID: PMC3608669.
14.
Yokoo R, Zawadzki KA, Nabeshima K, Drake M, Arur S, Villeneuve AM. COSA-1 Reveals Robust Homeostasis and Separable Licensing and Reinforcement Steps Governing Meiotic Crossovers. Cell 149(1):75-87, 3/2012. PMCID: PMC3339199.
15.
Arur S, Ohmachi M, Berkseth M, Nayak S, Hansen D, Zarkower D, Schedl T. MPK-1 ERK Controls Membrane Organization in C. elegans Oogenesis via a Sex-Determination Module. Dev Cell 20(5):677-88, 5/2011. PMCID: PMC3098718.
16.
Green RA, Kao HL, Audhya A, Arur S, Mayers JR, Fridolfsson HN, Schulman M, Schloissnig S, Niessen S, Laband K, Wang S, Starr DA, Hyman AA, Schedl T, Desai A, Piano F, Gunsalus KC, Oegema K. A High-Resolution C. elegans Essential Gene Network Based on Phenotypic Profiling of a Complex Tissue. Cell 145(3):470-82, 4/29/2011. PMCID: PMC3086541.
17.
Howell K, Arur S, Schedl T, Sundaram MV. EOR-2 is an Obligate Binding Partner of the BTB-zinc Finger Protein EOR-1 in Caenorhabditis elegans. Genetics 184(4):899-913, 4/2010. e-Pub 1/11/2010. PMCID: PMC2865926.
18.
Hadwiger G, Dour S, Arur S, Fox P, Nonet ML. A monoclonal antibody toolkit for C. elegans. PLoS One 5(4):e10161, 2010. e-Pub 4/13/2010. PMCID: PMC2854156.
19.
Arur S, Ohmachi M, Nayak S, Hayes M, Miranda A, Hay A, Golden A, Schedl T. Multiple ERK substrates execute single biological processes in Caenorhabditis elegans germ-line development. Proc Natl Acad Sci U S A 106(12):4776-81, 3/24/2009. e-Pub 3/5/2009. PMCID: PMC2660749.
20.
Lee MH, Ohmachi M, Arur S, Nayak S, Francis R, Church D, Lambie E, Schedl T. Multiple functions and dynamic activation of MPK-1 extracellular signal-regulated kinase signaling in Caenorhabditis elegans germline development. Genetics 177(4):2039-62, 12/2007. PMCID: PMC2219468.
21.
Arur S, Uche UE, Rezaul K, Fong M, Scranton V, Cowan AE, Mohler W, Han DK. Annexin I is an endogenous ligand that mediates apoptotic cell engulfment. Dev Cell 4(4):587-98, 4/2003. PMID: 12689596.

Invited Articles

1.
Chen JJ, Arur S. Discovering Functional ERK Substrates Regulating Caenorhabditis elegans Germline Development. Methods Mol Biol 1487:317-335, 2017. PMID: 27924578.
2.
Arur S. Context-dependent regulation of Dicer activity and small RNA production: Implications to oocyte-to-embryo transition. Worm 4(4):e1086062, Oct-Dec, 10/2015. e-Pub 9/2015. PMCID: PMC4826148.

Books (edited and written)

1.
Arur, S. Ed(s) Swathi Arur. Signaling-Mediated Control of Germ Cells- From Oogenesis to Oocyte-to-Embryo Development. In: Results in Problems and Differentiation. Spinger, https://link.springer.com/book/, e-Book 2017.