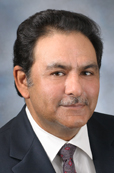 '
Tayab R. Andrabi
Present Title & Affiliation
Primary Appointment
Associate Professor, Department of Anesthesiology and Perioperative Medicine, The University of Texas MD Anderson Cancer Center, Houston, TX
Education & Training
Degree-Granting Education

1984
Rawalpindi Medical College, University of Punjab, Rawalpindi, Pakistan, MBBS, Bachelor of Medicine Bachelor of Surgery

Postgraduate Training

1/1994-1995

Anesthesiology Residency, Baylor College of Medicine, Houston, TX

1/1994-1995

Cardiovascular Anesthesiology Fellowship, Baylor College of Medicine, Houston, TX

1/1991-1992

Transitional Internship, Oakwood Hospital, Dearborn,, MI

1/1990-1991

Registar General Surgery, Rawalpindi General Hospital, Punjab, Pakistan

1/1987-1988

Instructor of Anatomy, Rawalpindi Medical College, Punjab, Pakistan

1/1985-1986

Surgical Internship, Holy Family Hospital, Rawalpindi,, Pakistan
Board Certifications
| | |
| --- | --- |
| 4/1996 | American Board of Anesthesiology |
Experience/Service
Academic Appointments
Assistant Professor, Department of Anesthesiology and Perioperative Medicine, The University of Texas MD Anderson Cancer Center, Houston, 9/2004-present
Instructor, Department of Anesthesiology and Critical Care, Division of Anesthesiology and Critical Care, The University of Texas M.D. Anderson Cancer Center, Houston, TX, 5/2003-9/2004
Clinical Specialist, Department of Anesthesiology and Perioperative Medicine, Division of Anesthesiology and Critical Care, The University of Texas M. D. Anderson Cancer Center, Houston, TX, 5/2001-4/2003
Administrative Appointments/Responsibilities
Medical Director, Department of Anesthesiology and Perioperative Medicine, The University of Texas M.D. Anderson Cancer Center, Houston, TX, 6/2005-7/2007
Honors and Awards
| | |
| --- | --- |
| 1995 | Best Resident in Chronic Pain, awarded upon completion of Residency at Baylor College of Medicine |
| 1984 | Distinction in Ophthalmology, awarded upon graduation final year of M.B.B.S. Medical School Exam |
| 1984 | Graduated top quarter of M.B.B.S. final year class. |
Selected Publications
Abstracts

1.
Lopez-Olivo MA, Andrabi TR, Suarez-Almazor ME. Cervical Spine Instability in Patient with Rheumatoid Arthritis (RA) Undergoing General Surgery. Arthritis & Rheumatism 56/9, 11/2007.
2.
Shahai S, Porter A, Manzullo E, Andrabi T, Holmes L. A Survey of Perioperative Beta-Blockade at a Comprehensive Cancer Center. 2nd Annual Perioperative Medicine Summit, 9/2006.
3.
Andrabi TR, Rozner MA. Laboratory Assay for Heart Failure Becomes Useful Preoperative Tool. American Society of Anesthesiologists Annual Meeting, Atlanta, GA, 2005.
4.
Andrabi T. Anesthesia and the Impaired Physician. CME Safety Module, Submitted 2008. Submitted.

Book Chapters

1.
Andrabi TR, Rozner MA. Preoperative Anesthesia Evaluation. In: Acute Care of the Cancer Patient. Chapter 17. Ed(s) Shaw AD, Riedel BJ, Burton A, Fields A, Feeley TW. Taylor and Francis: Boca Raton, FL, 243-258, 2005.