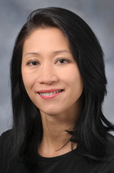 '
Thao P. Bui, MD
Present Title & Affiliation
Primary Appointment
Professor, Department of Anesthesiology and Perioperative Medicine, Division of Anesthesiology and Critical Care, The University of Texas MD Anderson Cancer Center, Houston, TX
Education & Training
Degree-Granting Education

1991
University of Texas, Southwestern Medical School, Dallas, TX, MD
1987
University of Dallas, Dallas, TX, BS

Postgraduate Training

7/1992-6/1995

Clinical Residency, Anesthesiology, The University of Texas Health, Science Center, Houston, TX, Dr. Berry

7/1991-6/1992

Clinical Internship, Internal Medicine, The University of Texas Health, Science Center, Houston, TX
Board Certifications
| | |
| --- | --- |
| 10/1996 | American Board of Anesthesiology |
Experience/Service
Academic Appointments
Associate Professor, Department of Anesthesiology and Perioperative Medicine, Division of Anesthesiology and Critical Care, The University of Texas, MD Anderson Cancer Center, Houston, TX, 9/2003-8/2010
Assistant Professor, Department of Anesthesiology and Perioperative Medicine, The University of Texas, M.D. Anderson Cancer Center, Houston, TX, 1997-2003
Instructor, Department of Anesthesiology and Perioperative Medicine, The University of Texas, M.D. Anderson Cancer Center, Houston, TX, 1995-1996
Administrative Appointments/Responsibilities
Medical Director for Non-OR Anesthesia Services, Department of Anesthesiology and Perioperative Medicine, The University of Texas MD Anderson Cancer Center, Houston, TX, 3/2006-present
Selected Publications
Other Articles
1.
Dennis Daley M, Norman P, Leak J, Bui T, Nguyen D, Hogervorst S, Serjic U, Kowalski A, Popat K, Kuerer H. Adverse Events Associated w/ the Injection of Isosulfan Blue. J Clin Anesth 16(5):332-341, 8/2004.

Book Chapters

1.
Bui T, Ferson D. Airway Management of Patients Undergoing Non-OR Procedures. In: Anesthesiology News Guide To Airway Management. Mc Mahon Publishing: USA, 2008.
2.
Bui T, Yasko A. Perioperative Care of Patients with Musculoskeletal Neoplasm. In: Acute Care of the Cancer Patient. Ed(s) Shaw AD, Riedel BJ, Burton AW, Fields AI, Feeley TW. Taylor & Francis Group, 2005.
3.
Bui T, Lichtiger B, Levenback C. Blood Component Therapy, and Shock. In: Operative Gynecology. W.B. Saunders: Philadelphia, London, New York, 132-146, 2001.