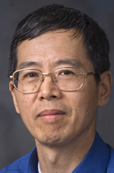 '
Tihui Fu, MD, PhD
Present Title & Affiliation
Primary Appointment
Instructor, Department of Genitourinary Medical Oncology - Research, Division of Cancer Medicine, The University of Texas MD Anderson Cancer Center, Houston, TX
Research Scientist I, Tanox Inc., Houston, TX
Postdoctoral Research Training Director, Education Programs, Baylor College of Medicine, Houston, TX
Postdoctoral Research Training Director, Education Programs, University of Miami School of Medicine, Miami, FL
PhD Student, Kochi Medical School, Kochi, Japan
Office Address
The University of Texas MD Anderson Cancer Center
1515 Holcombe Blvd
Unit Number: 18-7
Houston, TX 77030
Room Number: T7.3958
Phone: (713)-745-2369
Fax: (713)-563-2067
Education & Training
Degree-Granting Education

2000
Kochi Medical School, Kochi, Japan, PHD, Immunology
1990
Dalian Medical College, Dalian, China, MS, Immunology
1982
Guiyang College of Medicine, Guiyang, China, MD, Clinical Medicine
Selected Publications
Peer-Reviewed Original Research Articles

1.
Chen H, Fu T, Suh WK, Tsavachidou D, Wen S, Gao J, Ng Tang D, He Q, Sun J, Sharma P. CD4 T cells require ICOS-mediated PI3K signaling to increase T-Bet expression in the setting of anti-CTLA-4 therapy. Cancer Immunol Res 2(2):167-76, 2/2014. e-Pub 11/2013. PMCID: PMC4004958.
2.
Sun J, Tang DN, Fu T, Sharma P. Identification of human regulatory T cells in the setting of T-cell activation and anti-CTLA-4 immunotherapy on the basis of expression of latency-associated peptide. Cancer Discov 2(2):122-30, 2/2012. e-Pub 12/27/2011. PMID: 22585857.
3.
Fu T, He Q, Sharma P. The ICOS/ICOSL pathway is required for optimal antitumor responses mediated by anti-CTLA-4 therapy. Cancer Res 71(16):5445-54, 8/15/2011. e-Pub 6/27/2011. PMID: 21708958.
4.
Li K, Li Y, Wu W, Gordon WR, Chang DW, Lu M, Scoggin S, Fu T, Vien L, Histen G, Zheng J, Martin-Hollister R, Duensing T, Singh S, Blacklow SC, Yao Z, Aster JC, Zhou BB. Modulation of NOTCH signaling by antibodies specific for the extracellular negative regulatory region of NOTCH3. J Biol Chem 283(12):8046-54, 3/21/2008. e-Pub 1/8/2008. PMID: 18182388.
5.
Peng G, Guo Z, Kiniwa Y, Voo KS, Peng W, Fu T, Wang DY, Li Y, Wang HY, Wang RF. Toll-like receptor 8-mediated reversal of CD4+regulatory T cell function. Science 309(5739):1380-4, 8/26/2005. PMID: 16123302.
6.
Voo KS, Peng G, Guo Z, Fu T, Li Y, Frappier L, Wang RF. Functional characterization of EBV-encoded nuclear antigen 1-specific CD4+ helper and regulatory T cells elicited by in vitro peptide stimulation. Cancer Res 65(4):1577-86, 2/15/2005. PMID: 15735048.
7.
Herbert LM, Grosso JF, Dorsey M, Fu T, Keydar I, Cejas MA, Wreschner DH, Smorodinski N, Lopez DM. A unique mucin immunoenhaning peptide with antitumor properties. Cancer Res 64(21):8077-84, 11/1/2004. PMID: 15520219.
8.
Fu T, Voo KS, Wang RF. Critical role of EBNA 1-specific CD4+ T cells in the control of mouse Burkitt lymphoma in vivo. J Clin Invest 114(4):542-50, 8/2004. PMCID: PMC503775.
9.
Voo KS, Fu T, Wang HY, Tellam J, Heslop HE, Brenner MK, Rooney CM, Wang RF. Evidence for the presentation of major histocompatibility complex class 1-restricted Epstein-Barr virus nuclear antigen 1 peptides to CD8+ T lymphocytes. J Exp Med 199(4):459-70, 2/16/2004. e-Pub 2/9/2004. PMCID: PMC2211826.
10.
Voo KS, Fu T, Heslop HE, Brenner MK, Rooney CM, Wang RF. Identification of HLA-DP3-restricted peptides from EBNA1 recognized by CD4 (+) T cells. Cancer Res 62(24):7195-9, 12/15/2002. PMID: 12499257.
11.
Wang HY, Fu T, Wang G, Zeng G, Perry-Lalley DM, Yang JC, Restifo NP, Hwu P, Wang RF. Induction of CD4(+) T cell-dependent antitumor immunity by TAT=mediated tumor antigen delivery into dendritic cells. J Clin Invest 109(11):1463-70, 6/2002. PMCID: PMC151000.
12.
Fu T, Shen Y, Fujimoto S. Tumor-specific CDR(+) suppressor T-cell clone capable of inhibiting rejection of syngeneic sarcome in A/J mice. Int J Cancer 87(5):680-7, 9/2000. PMID: 10925362.
© 2014 The University of Texas MD Anderson Cancer Center