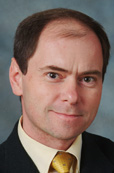 '
Tomasz Zal, Ph.D.
Present Title & Affiliation
Dual/Joint/Adjunct Appointment
Associate Professor, Department of Molecular and Cellular Oncology, Division of Cancer Medicine, The University of Texas MD Anderson Cancer Center, Houston, TX
Research Interests
Our laboratory isinterested in tissue regulation of immunity, which we investigate by combiningvarious immunological and genetic techniques with dynamic visualization such asby intravital multiphoton, confocal, FRET and super-resolution fluorescencemicroscopy.
The immune systemcan recognize cancerous cells in vivo, and tumor antigen-recognizing cytotoxiclymphocytes can exterminate such cells in vitro, but the in vivo anti-tumorimmune responses are subdued by the hostile tumor microenvironment. Exactlyhow lymphocytes are affected by the tumor microenvironment is of primary interestfor the design and optimization of anti-tumor immunotherapies. To better understandthe spatiotemporal regulation of immune cells inside tumors, we use intravitalmicroscopy and a variety of agents, including nanomaterials in various tumormodels in mice. By this approach, we can visualize and quantify the dynamics ofspecific cell populations and signaling pathways at a single cell- andsubcellular-resolution in the context of tissue in vivo. We find in lungmetastases that the recruitment and activity of tumor-infiltrating lymphocytescritically depends on tumor-associated CD11c+ dendritic cells (DCs)and that these DCs can both promote and downregulate anti-tumor immuneresponses. Thus on the one hand, tumor-associated DCs can probe the cytoplasmof cancer cells, thereby initiating tumor antigen cross-presentation, but onthe other hand this complex cell population recruits and interacts with theFoxP3+ Treg cells - an immune-suppressory T cell subpopulation.Currently, our goal is to understand how the interactions between tumor cells, DCs,Treg cells and other tumor-infiltrating lymphocytes are regulated in vivowith the hope that these interactions can be targeted for anti-tumorimmunotherapy.
T cells recognizeantigens through the T cell antigen receptor (TCR), whose composition dividesall T cells into the alpha/beta and gamma/delta lineages. Unlike alpha/beta T cells which circulate through lymphoidorgans, gamma/delta T cells resideprimarily in environment-exposed bodily epithelia, such as in the intestine,reproductive organs, lungs, and in mice, the epidermis, where they are involved intissue surveillance and homeostatic functions. Both alpha/beta and gamma/delta T cell lineages can become cytotoxic toward tumors and without themcancers progress rapidly. It is well established that most alpha/beta TCRs recognize MHC-associated non-self peptides,which can arise due to infection or mutations, such as cancer-drivingmutations, but the biological role of gamma/delta TCRs is less clear. Using intravital and in situ microscopy in mice, wediscovered that the epidermal gamma/delta T cells usetheir canonical Vg5 TCR to engagein a steady-state activatory interaction with the healthy epidermis, resultingin the formation of synapse-like phosphotyrosine-rich assemblies located onprojections (PALPs) near the apical barrier-forming squamous keratinocytetight junctions, including in germ-free mice. Our results indicate that intraepithelialgamma/delta TCRs may recognize distinctlylocalized epithelial self-ligands. We hope to leverage the intravitalvisualization approach to understand how this and other receptor-ligandinteractions contribute to the anti-tumor and homeostatic functionalities of gamma/delta T cells.
Office Address
The University of Texas MD Anderson Cancer Center
7455 Fannin Street
Unit Number: 902
Houston, TX 77054
Room Number: Bldg SCRB1, Rm 4.3017
Education & Training
Degree-Granting Education

1992
Institute of Immunology and Experimental Therapy, Polish Academy of Sciences, Wroclaw, Poland, PHD, Molecular Biology
1988
Wroclaw University of Technology, Wroclaw, Poland, MSc, Biochemistry, Microbiology

Postgraduate Training

1997-2001

Postdoctoral Fellowship, Immunology, The Scripps Research Institute, La Jolla, CA, Dr. Nicholas R.J. Gascoigne

1992-1997

Postdoctoral Fellowship, Immunology, National Institute for Medical Research, London, United Kingdom, Dr. Brigitta Stockinger
Experience/Service
Academic Appointments
Assistant Professor, Department of Immunology, The University of Texas MD Anderson Cancer Center, Houston, TX, 12/2004-8/2012
Institutional Committee Activities
Member, IACUC, 8/2009-present
Selected Publications
Peer-Reviewed Original Research Articles

1.
Chodaczek G, Papanna V, Zal MA, Zal T. Body-barrier surveillance by epidermal γδ TCRs. Nat Immunol 13(3):272-82, 3/2012. e-Pub 2/2012. PMCID: PMC3288780.
2.
Rostro-Kohanloo BC, Bickford LR, Payne CM, Day ES, Anderson LJ, Zhong M, Lee S, Mayer KM, Zal T , Adam L, Dinney CP, Drezek RA, West JL, Hafner JH. The stabilization and targeting of surfactant-synthesized gold nanorods. Nanotechnology 20(43):434005, 10/2009. e-Pub 10/2009. PMID: 19801751.
3.
Ganguly D, Chamilos G, Lande R, Gregorio J, Meller S, Facchinetti V, Homey B, Barrat FJ, Zal T , Gilliet M. Self-RNA-antimicrobial peptide complexes activate human dendritic cells through TLR7 and TLR8. J Exp Med 206(9):1983-94, 8/2009. e-Pub 8/2009. PMCID: PMC2737167.
4.
Ma LJ, Acero LF, Zal T, Schluns KS. Trans-presentation of IL-15 by intestinal epithelial cells drives development of CD8alphaalpha IELs. J Immunol 183(2):1044-54, 7/2009. e-Pub 6/2009. PMCID: PMC2706935.
5.
Chamilos G, Lewis RE, Hu J, Xiao L, Zal T , Gilliet M, Halder G, Kontoyiannis DP. Drosophila melanogaster as a model host to dissect the immunopathogenesis of zygomycosis. Proc Natl Acad Sci U S A 105(27):9367-72, 7/2008. e-Pub 6/2008. PMCID: PMC2453716.
6.
Lande R, Gregorio J, Facchinetti V, Chatterjee B, Wang YH, Homey B, Cao W, Wang YH, Su B, Nestle FO, Zal T , Mellman I, Schröder JM, Liu YJ, Gilliet M. Plasmacytoid dendritic cells sense self-DNA coupled with antimicrobial peptide. Nature 449(7162):564-569, 10/2007. e-Pub 9/2007. PMID: 17873860.
7.
Zal MA, Nelson M, Zal T. Interleaved dual-wavelength multiphoton imaging system for heterologous FRET and versatile fluorescent protein excitation. Proc. SPIE 64421Q, http://dx.doi.org/10.1117/12.699242, 1/2007. e-Pub 1/2007.
8.
Zal T, Zal MA, Lotz C, Goergen CJ, Gascoigne NR. Spectral shift of fluorescent dye FM4-64 reveals distinct microenvironment of nuclear envelope in living cells. Traffic 6(12):1607-13, 12/2006. e-Pub 10/17/2006. PMID: 17052249.
9.
Yachi PP, Ampudia J, Zal T, Gascoigne NR. Altered peptide ligands induce delayed CD8:TCR interaction-a role for CD8 in distinguishing ligand quality. Immunity 25(2):203-11, 8/2006. e-Pub 7/2006. PMID: 16872849.
10.
Zambricki E, Zal T, Yachi P, Shigeoka A, Sprent J, Gascoigne N, McKay D. In vivo anergized T cells form altered immunological synapses in vitro. Am J Transplant 6:2572-9, 2006. PMID: 16952297.
11.
Wirz SA, Davis CN, Lu X, Zal T, Bartfai T. Homodimerization and internalization of galanin type 1 receptor in living CHO cells. Neuropeptides 39(6):535-46, 12/2005. e-Pub 10/20/2005. PMID: 16242774.
12.
Yachi PP, Ampudia J, Gascoigne NR, Zal T. Nonstimulatory peptides contribute to antigen-induced CD8-T cell receptor interaction at the immunological synapse. Nat Immunol 6(8):785-92, 8/2005. e-Pub 6/2005. PMCID: PMC1352171.
13.
Lin MY, Zal T, Ch'en IL, Gascoigne NR, Hedrick SM. A pivotal role for the multifunctional calcium/calmodulin-dependent protein kinase II in T cells: from activation to unresponsiveness. J Immunol 174(9):5583-92, 5/1/2005. PMID: 15843557.
14.
Zal T, Gascoigne NR. Photobleaching-corrected FRET efficiency imaging of live cells. Biophys J 86(6):3923-39, 6/2004. PMCID: PMC1304294.
15.
Huang J, Lo PF, Zal T, Gascoigne NR, Smith BA, Levin SD, Grey HM. CD28 plays a critical role in the segregation of PKC theta within the immunologic synapse. Proc Natl Acad Sci U S A 99(14):9369-73, 7/9/2002. e-Pub 6/20/2002. PMCID: PMC123147.
16.
Zal T, Zal MA, Gascoigne NR. Inhibition of T cell receptor-coreceptor interactions by antagonist ligands visualized by live FRET imaging of the T-hybridoma immunological synapse. Immunity 16(4):521-34, 4/2002. PMID: 11970876.
17.
Alam SM, Davies GM, Lin CM, Zal T, Nasholds W, Jameson SC, Hogquist KA, Gascoigne NR, Travers PJ. Qualitative and quantitative differences in T cell receptor binding of agonist and antagonist ligands. Immunity 10:227-37, 1999. PMID: 10072075.
18.
Volkmann A, Zal T, Stockinger B. Antigen-presenting cells in the thymus that can negatively select MHC class II-restricted T cells recognizing a circulating self antigen. J Immunol 158:693-706, 1997. PMID: 8992985.
19.
Stockinger B, Zal T, Zal A, Gray D. B cells solicit their own help from T cells. J Exp Med 183:891-9, 1996. PMID: 8642293.
20.
Zal T, Weiss S, Mellor A, Stockinger B. Expression of a second receptor rescues self-specific T cells from thymic deletion and allows activation of autoreactive effector function. Proc Natl Acad Sci U S A 93(17):9102-7, 1996. PMID: 8799161.
21.
Peczynska-Czoch W, Osiadacz J, Kaczmarek L, Zal T. Microbial transformation of azacarbazoles X: Regioselective hydroxylation of 5,11-dimethyl-5H-indolo [2,3-b] quinoline, a novel DNA topoisomerase II inhibibitor, by Rhizopus arrhizus. Biotech. Letters. 18:123-128, 1996.
22.
Douek DC, Corley KT, Zal T, Mellor A, Dyson PJ, Altmann DM. Negative selection by endogenous antigen and superantigen occurs at multiple thymic sites. Int Immunol 8:1413-20, 1996. PMID: 8921419.
23.
Gamian A, Mieszala M, Katzenellenbogen E, Czarny A, Zal T, Romanowska E. The occurrence of glycine in bacterial lipopolysaccharides. FEMS Immunol Med Microbiol 13:261-8, 1996. PMID: 8739188.
24.
Zal T, Volkmann A, Stockinger B. Mechanisms of tolerance induction in major histocompatibility complex class II-restricted T cells specific for a blood-borne self-antigen. J Exp Med 180(6):2089-99, 1994. PMID: 7964486.
25.
Stockinger B, Zal T. Self antigen presentation for induction of tolerance or autoimmunity in MHC Class-II T-cell receptor transgenic mice. J. Cell. Biochem.:389-389, 1994.
26.
Peczynska-Czoch W. Zal T, Czerwinski M, Szulc M. Purification and some properties of hemagglutinin from Beauveria bassiana. Arch Immunol Ther Exp (Warsz) 40:319-24, 1992. PMID: 1340189.
27.
Wilimowska-Pelc A, Dryjanski M, Zal T, Wilusz T. Metalloproteinase from the seedlings of kale (Brassica-oleracea L var sabellica) - preparation, partial characterization and substrate-specificity. Planta 185:344-349, 1991.
28.
Boratynski J, Zal T. Colorimetric micromethods for glutaraldehyde determination by means of phenol and sulfuric acid or phenol and perchloric acid. Analyt Biochem 184:259-62, 1990. PMID: 2158247.

Invited Articles

1.
Zal T , Chodaczek G. Intravital imaging of anti-tumor immune response and the tumor microenvironment. Semin Immunopathol 32(3):305-17, 9/2010. e-Pub 7/2010. PMCID: PMC2971683.
2.
Gascoigne NR, Zal T , Yachi PP, Hoerter JA. Co-receptors and recognition of self at the immunological synapse. Curr Top Microbiol Immunol 340:171-89, 2010. PMID: 19960314.
3.
Gascoigne NR, Ampudia J, Clamme JP, Fu G, Lotz C, Mallaun M, Niederberger N, Palmer E, Rybakin V, Yachi PP, Zal T . Visualizing intermolecular interactions in T cells. Curr Top Microbiol Immunol 334:31-46, 2009. PMCID: PMC3079427.
4.
Zal T. Visualization of protein interactions in living cells. Adv Exp Med Biol 640:183-97, 1/2008. PMID: 19065792.
5.
Zal T, Gascoigne NR. Using live FRET imaging to reveal early protein-protein interactions during T cell activation. Curr Opin Immunol 16(4):418-27, 8/2004. PMID: 15245734.
6.
Gascoigne NR, Zal T. Molecular interactions at the T cell-antigen-presenting cell interface. Curr Opin Immunol 16(1):114-9, 2/2004. PMID: 14734119.
7.
Gascoigne NR, Zal T, Alam SM. T-cell receptor binding kinetics in T-cell development and activation. Expert Rev Mol Med 2001:1-17, 2001. PMID: 14987373.
8.
Gascoigne NR, Alam SM, Lin CM, McGuire MV, Marine S, Niederberger N, Redpath S, Sim BC, Travers PJ, Yachi P, Zal MA, Zal T. T cell receptor binding kinetics and special role of Valpha in T cell development and activation. Immunol Res 21:225-31, 2000. PMID: 10852121.
9.
Stockinger, B, Zal, T, Volkmann, A, Fossati, G, Barthlott, T. Induction of tolerance or (auto) immunity in MHC class II restricted T cells. Immunologist 6:102-105, 1998.
10.
Stockinger B, Zal T. T-cells with two T-cell receptors: are they important in autoimmunity? Biochem Soc Trans 25:617-20, 1997. PMID: 9191167.