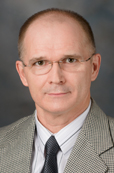 '
Victor Krasnykh, Ph.D.
Present Title & Affiliation
Primary Appointment
Associate Professor, Department of Cancer Systems Imaging, Division of Diagnostic Imaging, The University of Texas MD Anderson Cancer Center, Houston, TX
Bio Statement
Dr. Krasnykh's research program includes three main directions: The development of viral vectors for tumor-specific delivery and expression of therapeutic and imaging transgenes, the development of a versatile virus-based platform for anti-cancer vaccination, and the development of targeted imaging probes for cancer detection.
Viral vectors for tumor-specific gene delivery. The focus of these efforts is on achieving efficient, safe, and truly tumor-specific gene delivery and expression. To this end, we modify the natural tropism (tissue specificity) of adenoviruses (Ad) by direct genetic engrafting of tumor-targeting ligands into Ad virion proteins or by designing recombinant bispecific protein adapters that cross-link the viral vector and the target biomarker on tumor cells to enable gene transfer. In addition, we develop a more advanced strategy, which will eventually allow us to build extensive dual-function (protection and targeting) molecular shields on the surface of Ad virions resulting in protection of the virus from neutralization by antibodies, undesired uptake by nontarget tissues, and much improved targeting of tumors.
Virus-based vaccines for anti-cancer immunization. The goal here is to develop a versatile technological platform that will enable rapid generation of self-propagating vaccines that display sets of computationally predicted immunogenic epitopes of tumor-specific antigens (TSA) and are targeted to antigen-presenting cells (APCs) for improved processing . This will be achieved through multivalent presentation of defined TSA epitopes by genetically engrafting these epitopes in major proteins of viral particles. Targeting of these viral vaccines to APCs will be achieved by using the strategies described above.
Tumor-targeted imaging probes . These efforts are centered on using the rationally designed protein scaffolds as a platform for companion imaging diagnostics of cancer. For instance , to make complete surgical removal of disseminated microscopic tumors possible , we are working on developing panels of tumor marker­ binding probes enabling both the pre-operative detection of tumors by positron­ emission tomography and the intraoperative localization and identification of tumors by near-infrared imaging .
Education & Training
Degree-Granting Education

1999
Division of Gene Therapy, Department of Medical Oncology, Free University of Amsterdam, Amsterdam, the Netherlands, PHD, Medical Science
1982
Novosibirsk State University, Novosibirsk, Russia, MS, Microbiology
Experience/Service
Academic Appointments
Associate Professor, The University of Texas, Graduate School of Biomedical Sciences, Houston, TX, 2009-present
Associate Professor, Department of Experimental Diagnostic Imaging, Division of Diagnostic Imaging, The University of Texas MD Anderson Cancer Center, Houston, TX, 8/2003-5/2013
Selected Publications
Peer-Reviewed Original Research Articles

1.
Dreier B, Honegger A, Hess C, Nagy-Davidescu G, Mittl PR, Grütter MG, Belousova N, Mikheeva G, Krasnykh V, Plückthun A. Development of a generic adenovirus delivery system based on structure-guided design of bispecific trimeric DARPin adapters. Proc Natl Acad Sci U S A 110(10):E869-77, 3/2013. e-Pub 2/2013. PMCID: PMC3593905.
2.
Dreier B, Mikheeva G, Belousova N, Parizek P, Boczek E, Jelesarov I, Forrer P, Plückthun A, Krasnykh V. Her2-specific multivalent adapters confer designed tropism to adenovirus for gene targeting. J Mol Biol 405(405):410-426, 1/2011. e-Pub 11/2010. PMCID: PMC3149894.
3.
Yeh HH, Ogawa K, Balatoni J, Mukhopadhyay U, Pal A, Gonzalez-Lepera C, Shavrin A, Soghomonyan S, Flores L, Young D, Volgin AY, Najjar AM, Krasnykh V, Tong W, Alauddin MM, Gelovani JG. Molecular imaging of active mutant L858R EGF receptor (EGFR) kinase-expressing nonsmall cell lung carcinomas using PET/CT. Proc Natl Acad Sci U S A 108(4):1603-1608, 1/2011. e-Pub 1/2011. PMCID: PMC3029752.
4.
Belousova N, Mikheeva G, Xiong C, Soghomonian S, Young D, Le Roux L, Naff K, Bidaut L, Wei W, Li C, Gelovani J, Krasnykh V. Development of a targeted gene vector platform based on simian adenovirus serotype 24. J Virol 84(19):10087-1001, 10/2010. e-Pub 7/2010. PMCID: PMC2937776.
5.
Piao Y, Jiang H, Alemany R, Krasnykh V, Marini FC, Xu J, Alonso MM, Conrad CA, Aldape KD, Gomez-Manzano C, Fueyo J. Oncolytic adenovirus retargeted to Delta-EGFR induces selective antiglioma activity. Cancer Gene Ther 16(3):256-65, 3/2009. e-Pub 10/2008. PMCID: PMC3793894.
6.
Glasgow JN, Mikheeva G, Krasnykh V, Curiel DT. A strategy for adenovirus vector targeting with a secreted single chain antibody. PLoS One 4(12):e8355, 2009. e-Pub 12/2009. PMCID: PMC2791226.
7.
Wu Y, Fang B, Yang XQ, Wang L, Chen D, Krasnykh V, Carter BZ, Morris JS, Shureiqi I. Therapeutic molecular targeting of 15-lipoxygenase-1 in colon cancer. Mol Ther 16(5):886-92, 5/2008. e-Pub 3/2008. PMCID: PMC2377397.
8.
Belousova N, Mikheeva G, Gelovani J, Krasnykh V. Modification of adenovirus capsid with a designed protein ligand yields a gene vector targeted to a major molecular marker of cancer. J Virol 82(2):630-637, 1/2008. e-Pub 11/2007. PMCID: PMC2224583.
9.
Hosokawa M, Kadota R, Shichijo S, Itoh K, Dmitriev I, Krasnykh V, Curiel DT, Takue Y, Wakasugi H, Takashima S, Heike Y. Cell cycle arrest and apoptosis induced by SART-1 gene transduction. Anticancer Res 25(3B):1983-1990, May-Jun, 5/2005. PMID: 16158934.
10.
Wu H, Han T, Belousova N, Krasnykh V, Kashentseva E, Dmitriev I, Kataram M, Mahasreshti PJ, Curiel DT. Identification of sites in adenovirus hexon for foreign peptide incorporation. J Virol 79(6):3382-3390, 3/2005. PMCID: PMC1075677.
11.
Wang M, Hemminki A, Siegal GP, Barnes MN, Dmitriev I, Krasnykh V, Liu B, Curiel DT, Alvarez RD. Adenoviruses with an RGD-4C modification of the fiber knob elicit a neutralizing antibody response but continue to allow enhanced gene delivery. Gynecol Oncol 2(2):341-8, 2/2005. PMID: 15661219.
12.
Ono HA, Davydova JG, Adachi Y, Takayama K, Barker SD, Reynolds PN, Krasnykh VN, Kunisaki C, Shimada H, Curiel DT, Yamamoto M. Promoter-controlled infectivity-enhanced conditionally replicative adenoviral vectors for the treatment of gastric cancer. J Gastroenterol 40(1):31-42, 1/2005. PMID: 15692787.
13.
Rivera AA, Davydova J, Schierer S, Wang M, Krasnykh V, Yamamoto M, Curiel DT, Nettelbeck DM. Combining high selectivity of replication with fiber chimerism for effective adenoviral oncolysis of CAR-negative melanoma cells. Gene Ther 23(23):1694-702, 12/2004. PMID: 15496964.
14.
Zinn KR, Szalai AJ, Stargel A, Krasnykh V, Chaudhuri TR. Bioluminescence imaging reveals a significant role for complement in liver transduction following intravenous delivery of adenovirus. Gene Ther 11(19):1482-1486, 10/2004. PMID: 15295616.
15.
Davydova J, Le LP, Gavrikova T, Wang M, Krasnykh V, Yamamoto M. Infectivity-enhanced cyclooxygenase-2-based conditionally replicative adenoviruses for esophageal adenocarcinoma. Cancer Res 64(12):4319-4327, 6/2004. PMID: 15205347.
16.
Grandi P, Wang S, Schuback D, Krasnykh V, Spear M, Curiel DT, Manservigi R, Breakefield XO. HSV-1 virions engineered for specific binding to cell surface receptors. Mol Ther 9(3):419-427, 3/2004. PMID: 15006609.
17.
Rivera AA, Wang M, Suzuki K, Uil TG, Krasnykh V, Curiel DT, Nettelbeck DM. Mode of transgene expression after fusion to early or late viral genes of a conditionally replicating adenovirus via an optimized internal ribosome entry site in vitro and in vivo. Virology 320(1):121-134, 3/2004. PMID: 15003868.
18.
Timares L, Douglas JT, Tillman BW, Krasnykh V, Curiel DT. Adenovirus-mediated gene delivery to dendritic cells. Methods Mol Biol 246:139-54, 2004. PMID: 14970589.
19.
Korokhov N, Mikheeva G, Krendelshchikov A, Belousova N, Simonenko V, Krendelshchikova V, Pereboev A, Kotov A, Kotova O, Triozzi PL, Aldrich WA, Douglas JT, Lo KM, Banerjee PT, Gillies SD, Curiel DT, Krasnykh V. Targeting of adenovirus via genetic modification of the viral capsid combined with a protein bridge. J Virol 77(24):12931-12940, 12/2003. PMCID: PMC296051.
20.
Belousova N, Korokhov N, Krendelshchikova V, Simonenko V, Mikheeva G, Triozzi PL, Aldrich WA, Banerjee PT, Gillies SD, Curiel DT, Krasnykh V,. Genetically targeted adenovirus vector directed to CD40-expressing cells. J Virol 77(21):11367-11377, 11/2003. PMCID: PMC229360.
21.
Yamamoto M, Davydova J, Wang M, Siegal GP, Krasnykh V, Vickers SM, Curiel DT. Infectivity enhanced, cyclooxygenase-2 promoter-based conditionally replicative adenovirus for pancreatic cancer. Gastroenterology 125(4):1203-1218, 10/2003. PMID: 14517802.
22.
Takayama K, Reynolds PN, Short JJ, Kawakami Y, Adachi Y, Glasgow JN, Rots MG, Krasnykh V, Douglas JT, Curiel DT. A mosaic adenovirus possessing serotype Ad5 and serotype Ad3 knobs exhibits expanded tropism. Virology 309(2):282-293, 5/2003. PMID: 12758175.
23.
Kim M, Sumerel LA, Belousova N, Lyons GR, Carey DE, Krasnykh V, Douglas JT. The coxsackievirus and adenovirus receptor acts as a tumour suppressor in malignant glioma cells. Br J Cancer 88(9):1411-1416, 5/2003. PMCID: PMC2741053.
24.
Chaudhuri TR, Cao Z, Krasnykh VN, Stargel AV, Belousova N, Partridge EE, Zinn KR. Blood-based screening and light based imaging for the early detection and monitoring of ovarian cancer xenografts. Technol Cancer Res Treat 2(2):171-180, 4/2003. PMID: 12680799.
25.
Pereboeva L, Komarova S, Mikheeva G, Krasnykh V, Curiel DT. Approaches to utilize mesenchymal progenitor cells as cellular vehicles. Stem Cells 21(4):389-404, 2003. PMID: 12832693.

Abstracts

1.
Dreier B, Hess C, Boczek E, Krasnykh V, Pluckthun A. Affinity maturation of DARPins for efficient adenoviral gene transfer. VIII European Symposium of The Protein Society, Zurich, Switzerland, 2009.
2.
Mikheeva G, Derier B, Hess C, Boczek E, Belousova N, Pluckthun A, Krasnykh V. Design of bi-specific DARPin-derived adapters for targeting of adenovirus vectors. The 12th Annual Meeting of American Society of Gene Therapy, San Diego, CA, 2009.
Grant & Contract Support
Title:
Novel near-infrared fluorescence imaging probes for intraoperative tumor detection
Funding Source:
MD Anderson
Role:
Principal Investigator
Duration:
10/1/2014 - 9/30/2015
Title:
New generation of radiotracers for PET imaging of molecular signatures of tumors
Funding Source:
NIH/NCI
Role:
Principal Investigator
Duration:
8/7/2014 - 7/31/2016
© 2014 The University of Texas MD Anderson Cancer Center