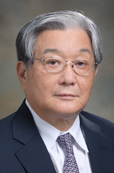 '
Waun Ki Hong, M.D., F.A.C.P., D.M.Sc.(Hon.)
Present Title & Affiliation
Primary Appointment
Head, Division of Cancer Medicine, The University of Texas MD Anderson Cancer Center, Houston, TX
Bio Statement
Waun Ki Hong, M.D., F.A.C.P., D.M.Sc (Hon) is Division Head and Professor at The University of Texas M. D. Anderson Cancer Center, an American Cancer Society Professor, and a Samsung Distinguished University Chair in Cancer Medicine. A national and international leader in medical oncology, Dr. Hong is a foremost authority on the treatment and prevention of head and neck cancer and lung cancer. His expertise spans more than 36 years of unprecedented advances in translational and clinical cancer research, as briefly summarized below:
Organ Preservation
Dr. Hong has developed treatment approaches that have enabled thousands of laryngeal cancer patients to avoid radical surgery and enjoy a better quality of life, eradicating the cancer while preserving the ability to speak and swallow.
Chemoprevention
Dr. Hong is one of the founders of cancer chemoprevention and pioneered a new paradigm for cancer—the possibility that it can be prevented or delayed. His landmark studies demonstrating that high-dose retinoic acid can reverse oral premalignant lesions and prevent the development of second primary tumors were the first to prove that chemoprevention can work in humans.
He also demonstrated proof of principle for bio-chemoprevention in reversing the phenotype of advanced premalignant lesions of the larynx, with persistent genetic scars.
Genetic Alterations in Former Smokers
Dr. Hong showed for the first time that genetic damage to the airways can persist for many years after smoking cessation and developed ways to identify genetically former smokers at highest risk for lung cancer.
Personalized Cancer Therapy
More recently, Dr. Hong has led the development of personalized molecular targeted therapies for lung cancer. For example, his Biomarker-Based Approaches of Targeted Therapy for Lung Cancer Elimination project (BATTLE), funded by the U.S. Department of Defense, employs an adaptive clinical trial design in which patients are assigned to the treatment drug to which they are most likely to respond based on their personal biomarker profile identified through tumor biopsies. His most recently funded Department of Defense project, Profiling of Resistance Patterns and Oncogenic Signaling Pathways in Evaluation of Cancers of the Thorax and Therapeutic Target Identification (PROSPECT), has already identified several molecular targets and pathways in cell lines that predict drug sensitivity and resistance. Clinical application of these findings is underway in developing and testing personalized therapeutic strategies for non-small-cell lung cancer and mesothelioma. Dr. Hong's ongoing research in this area holds extraordinary promise to prolong progression-free survival of these deadly diseases.
Genetic Risk Models
In collaboration with Dr. Xifeng Wu, Professor of Epidemiology, Dr. Hong has worked to identify genetic abnormalities associated with the risk of developing second primary tumors for head and neck cancer patients. This work is designed to lead to the development of a risk model to guide treatment decisions.
Dr. Hong has authored more than 660 scientific publications, edited 11 books, including Senior Editor of Holland-Frei Cancer Medicine Eighth Edition, and currently serves on the editorial boards of 6 scientific journals.
As Head of the Division of Cancer Medicine, Dr. Hong oversees the management of 16 departments comprised of more than 300 faculty and 13 clinical centers. He also directs the Hematology/Oncology Fellowship Program, which is widely recognized as the premier fellowship program in the nation. Within this context, he has close contact with the individual fellows and is highly involved in their ongoing development and progress.
Dr. Hong has also played an active role in shaping public policy, increasing international collaboration in cancer research, and successfully mentoring hundreds of young physicians and scientists from around the world. Many of these individuals have gone on to become leading experts as successful, independent physician scientists and investigators.
Research Interests
Biology of lung and head and neck cancers; molecular targeted therapies for treatment and prevention; genetic risk modeling for preventive therapy; personalized targeted therapy of head and neck lung cancers
Education & Training
Degree-Granting Education

1967
Yonsei University School of Medicine, Seoul, Korea, Republic of, MD, Medical Oncology
1963
Yonsei University, College of Engineering Science, Seoul, Korea, Republic of, BS, Engineering Science-Pre-Med

Postgraduate Training

1992

Executive Development Program, Rice University, Houston, TX

1973-1975

Medical Oncology Fellowship, Memorial Sloan-Kettering Cancer Center, New York, NY

1971-1973

Medical Residency, Boston Veterans Affairs Medical Center, Boston, MA

1970-1971

Rotating Intern, Bronx/Lebanon Hospital, New York, NY
Experience/Service
Academic Appointments
Professor, Department of Thoracic/Head and Neck Medical Oncology, Division of Cancer Medicine, The University of Texas MD Anderson Cancer Center, Houston, TX, 1984-present
Selected Publications
Peer-Reviewed Original Research Articles

1.
Wu X, Spitz MR, Lee JJ, Lippman SM, Ye Y, Yang H, Khuri FR, Kim E, Gu J, Lotan R, Hong WK. Novel susceptibility loci for second primary tumors/recurrence in head and neck cancer patients: large scale evaluation of genetic variants. Cancer Prev Res (Phila) 2(7):617-24, 7/2009. PMID: 19584075.
2.
Papadimitrakopoulou V, Izzo JG, Liu DD, Myers J, Ceron TL, Lewin J, William WN, Atwell A, Lee JJ, Gillenwater A, El-Naggar A, Wu X, Lippman SM, Hittelman WN, Hong WK. Cyclin D1 and cancer development in laryngeal premalignancy patients. Cancer Prev Res (Phila) 2(1):14-21, 1/2009. PMID: 19139013.
3.
Sporn MB, Hong WK. Concomitant DFMO and sulindac chemoprevention of colorectal adenomas: a major clinical advance. Nat Clin Pract Oncol 5(11):628-629, 11/2008. PMID: 18725921.
4.
Hittelman WN, Liu DD, Kurie JM, Lotan R, Lee JS, Khuri F, Ibarguen H, Morice RC, Walsh G, Roth JA, Minna J, Ro JY, Broxson A, Hong WK, Lee JJ. Proliferative changes in the bronchial epithelium of former smokers treated with retinoids. J Natl Cancer Inst 99(21):1603-12, 11/2007. PMID: 17971525.
5.
Spitz MR, Hong WK, Amos CI, Wu X, Schabath MB, Dong Q, Shete S, Etzel CJ. A risk model for prediction of lung cancer. J Natl Cancer Inst 99(9):715-26, 1/2007. PMID: 17470739.
6.
Tsao AS, Liu D, Lee JJ, Spitz M, Hong WK.. Smoking affects treatment outcome in patients with advanced nonsmall cell lung cancer. Cancer 106:2428-36, 6/2006. PMID: 16634096.
7.
Lee HY, Oh SH, Woo JK, Kim WY, Van Pelt CS, Price RE, Cody D, Tran H,. Chemopreventive effects of deguelin, a novel Akt inhibitor, on tobacco-induced lung tumorigenesis. J Natl Cancer Inst 97:1695-9, 11/2005. PMID: 16288123.
8.
Lee JJ, Liu D, Lee JS, Kurie JM, Khuri FR, Ibarguen H, Morice RC, Walsh G, Ro JY, Broxson A, Hong WK, Hittelman WN. Long-term impact of smoking on lung epithelial proliferation in current and former smokers. J Natl Cancer Inst 93(14):1081-8, 7/2001. PMID: 11459869.
9.
Hong WK, Spitz MR, Lippman SM. Cancer chemoprevention in the 21st century: genetics, risk modeling, and molecular targets. J Clin Oncol 18(21 Suppl):9S-18S, 11/2000. PMID: 11060320.