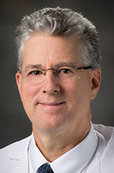 '
William D. Erwin, MS
Present Title & Affiliation
Primary Appointment
Senior Medical Physicist, Department of Imaging Physics, Division of Diagnostic Imaging, The University of Texas MD Anderson Cancer Center, Houston, TX
Bio Statement
William Daniel Erwin, MS, has been a Senior Medical Physicist in the Department of Imaging Physics at the University of Texas MD Anderson Cancer Center since 2002; and an Associate Faculty Member of the Medical Physics Program at the University of Texas Health Science Center at Houston Graduate School of Biomedical Sciences since 2006.
He received his Bachelor of Science in Physics from Northern Illinois University (1979) and his Master of Science in Nuclear Physics from DePaul University (1991). Prior to coming to MD Anderson, he was a Junior Research Scientist at Siemens Gammasonics, Des Plaines, IL (1980-83); Nuclear Medicine Physicist at Rush-Presbyterian-St. Luke's Medical Center, Chicago, IL (1983-1990); Senior Research Scientist at Siemens Medical Systems, Hoffman Estates, IL (1990-1997); and Nuclear Medicine Physicist at Northwestern Memorial Hospital, Chicago, IL (1997-2001).
Mr. Erwin has been authored or co-authored 52 nuclear medicine and medical physics-related peer-reviewed scientific journal articles, 93 scientific meeting abstracts and 6 book chapters. Since 2003, he has been a reviewer or associate editor at various times for eight different medical physics-related journals. He has presented over 20 invited lectures on various nuclear medicine physics topics. He was an Instructor in the Department of Medical Physics at Rush University, Chicago, IL (1986-1990), teaching Nuclear Medicine and Magnetic Resonance Imaging Physics; and is currently an instructor in four UTHSC-H GSBS MPP courses.
Mr. Erwin is currently a collaborator on four internal radiopharmaceutical dosimetry-related grants (1 NIH and 3 Sponsored), with several more in the pipeline.
Research Interests
Development of quantitative radionuclide imaging and radionuclide dosimetry techniques for treatment planning of therapy with internally administered radionuclides
Clinical Interests
Gamma camera planar

SPECT/CT

PET/CT and DXA BMD imaging instrumentation

Nuclear Medicine hot lab instrumentation

Internal radiopharmaceutical dosimetry and treatment planning

Nuclear Medicine radiation safety and protection
Education & Training
Degree-Granting Education

1991
DePaul University, Chicago, IL, MS, Nuclear Physics
1979
Northern Illinois University, De Kalb, IL, BS, Physics
Board Certifications
| | |
| --- | --- |
| 2002 | American Board of Science in Nuclear Medicine, Nuclear Medicine Physics & Instrumentation |
Experience/Service
Academic Appointments
Associate Faculty Member, Medical Physics Program, The University of Texas Graduate School of Biomedical Sciences at Houston, Houston, TX, 9/2006-present
Other Appointments/Responsibilities
Senior Medical Physicist, Department of Imaging Physics, Division of Diagnostic Imaging, The University of Texas MD Anderson Cancer Center, Houston, TX, 9/2003-present
Medical Physicist, The University of Texas MD Anderson Cancer Center, Houston, TX, 8/2001-8/2003
Institutional Committee Activities
Member, Nuclear Medicine Peer-Review Committee, 2008-present
Member, Radioactive Drug Research Committee, 2003-2007
Honors and Awards
1991

M.S. with Distinction,

DePaul University

1985

1 US Patent

1975-1976

Best Freshman Physics Major,

Western Illinois University
Selected Publications
Peer-Reviewed Original Research Articles

1.
Busse N, Erwin W, Pan T. Evaluation of a semiautomated lung mass calculation technique for internal dosimetry applications. Med Phys 40(12):122503, 12/2013. PMID: 24320539.
2.
Metyko J, Williford JM, Erwin W, Poston J, Jimenez S. Long-lived Impurities of 90Y-labeled Microspheres, TheraSphere and SIR-Spheres, and the Impact on Patient Dose and Waste Management. Health Phys 103((5 Suppl 3)):S204-8, 11/2012. PMID: 23026974.
3.
Simón J, Frank RK, Crump DK, Erwin WD, Ueno NT, Wendt RE. A preclinical investigation of the saturation and dosimetry of 153Sm-DOTMP as a bone-seeking radiopharmaceutical. Nucl Med Biol 39(6):770-6, 8/2012. e-Pub 3/28/2012. PMCID: PMC3389123.
4.
Khouri IF, Saliba RM, Erwin WD, Samuels BI, Korbling M, Medeiros LJ, Valverde R, Alousi AM, Anderlini P, Bashir Q, Ciurea S, Gulbis AM, de Lima M, Hosing C, Kebriaei P, Popat UR, Fowler N, Neelapu SS, Samaniego F, Champlin RE, Macapinlac HA. Nonmyeloablative allogeneic transplantation with or without 90yttrium ibritumomab tiuxetan is potentially curative for relapsed follicular lymphoma: 12-year results. Blood 119(26):6373-8, 6/28/2012. e-Pub 5/14/2012. PMID: 22586182.
5.
Dickinson RL, Erwin WD, Stevens DM, Bidaut LM, Mar MV, Macapinlac HA, Wendt RE. Hybrid Modality Fusion of Planar Scintigrams and CT Topograms to Localize Sentinel Lymph Nodes in Breast Lymphoscintigraphy: Technical Description and Phantom Studies. Int J Mol Imaging 2011:298102, 2011. e-Pub 12/14/2010. PMCID: PMC3065894.
6.
Núñez R, Erwin WD, Wendt RE, Stachowiak A, Mar M, Stevens D, Madewell JE, Yeung HW, Macapinlac HA. Acquisition Parameters for Oncologic Imaging with a New SPECT/Multislice CT Scanner. Mol Imaging Biol 12(2):110-38, 4/2010. e-Pub 1/5/2010. PMID: 20049543.
7.
Pasciak AS, Erwin WD. Effect of voxel size and computation method on Tc-99m MAA SPECT/CT-based dose estimation for Y-90 microsphere therapy. IEEE Trans Med Imaging 28(11):1754-8, 11/2009. PMID: 19884064.
8.
Schechter NR, Erwin WD, Yang DJ, Kim EE, Munden RF, Forster K, Taing LC, Cox JD, Macapinlac HA, Podoloff DA. Radiation dosimetry and biodistribution of (99m)Tc-ethylene dicysteine-deoxyglucose in patients with non-small-cell lung cancer. Eur J Nucl Med Mol Imaging 36(10):1583-1591, 10/2009. e-Pub 4/2009. PMCID: PMC2758190.
9.
Erwin WD, Esmaeli B. Estimation of yttrium-90 Zevalin tumor-absorbed dose in ocular adnexal lymphoma using quantitative indium-111 Zevalin radionuclide imaging. Nucl Med Commun 30(9):681-6, 9/2009. PMID: 19528874.
10.
Kappadath SC, Erwin WD, Wendt RE. A novel method to evaluate gamma camera rotational uniformity and sensitivity variation. Med Phys 36(6):1947-55, 6/2009. PMID: 19610283.
11.
Winter JN, Inwards DJ, Spies S, Wiseman G, Patton D, Erwin W, Rademaker AW, Weitner BB, Williams SF, Tallman MS, Micallef I, Mehta J, Singhal S, Evens AM, Zimmer M, Molina A, White CA, Gordon LI. Yttrium-90 ibritumomab tiuxetan doses calculated to deliver up to 15 Gy to critical organs may be safely combined with high-dose BEAM and autologous transplantation in relapsed or refractory B-cell non-Hodgkin's lymphoma. J Clin Oncol 27(10):1653-9, 4/1/2009. e-Pub 3/2/2009. PMCID: PMC2668971.
12.
Murthy R, Mutha P, Madoff DC, Mahvash A, Erwin W. Establishment of the radiation effect of yttrium-90 microspheres: role of C-arm CT. J Vasc Interv Radiol 20(3):422-4, 3/2009. e-Pub 1/23/2009. PMID: 19167244.
13.
Kurihara H, Yang DJ, Cristofanilli M, Erwin WD, Yu DF, Kohanim S, Mendez R, Kim EE. Imaging and dosimetry of (99m)Tc EC annexin V: Preliminary clinical study targeting apoptosis in breast tumors. Appl Radiat Isot 66(9):1175-82, 9/2008. e-Pub 1/26/2008. PMCID: PMC2562036.
14.
Gayed IW, Chang J, Kim EE, Nuñez R, Chasen B, Liu HH, Kobayashi K, Zhang Y, Liao Z, Gohar S, Jeter M, Henderson L, Erwin W, Komaki R. Lung perfusion imaging can risk stratify lung cancer patients for the development of pulmonary complications after chemoradiation. J Thorac Oncol 3(8):858-64, 8/2008. PMID: 18670303.
15.
Mar MV, Dickinson RL, Erwin WD, Wendt RE. Optimal (57) Co flood source activity and acquisition time for lymphoscintigraphy localization images. J Nucl Med Technol 36(2):82-7, 6/2008. e-Pub 5/15/2008. PMID: 18483139.
Grant & Contract Support
Title:
Dosimetry for AminoMedix for Radiation Kidney Protection During Peptide-Receptor Radionuclide Therapy (PRRT): Phase I, II Clinical Trial
Funding Source:
RadioMedix
Role:
Co-Investigator
Principal Investigator:
Osama Mawlawi, PhD
Duration:
5/16/2014 - 5/15/2016
Title:
Dosimetry of the Novel Radiotracer 111ln-FF21101 in Non-Human Primates
Funding Source:
Boston Strategies
Role:
Collaborator
Duration:
2/1/2014 - 12/31/2014
Title:
A New Radiopharmaceutical for the Treatment of Metastatic Bone Cancer
Funding Source:
NIH/NCI
Role:
Collaborator
Principal Investigator:
Jaime Simon
Duration:
8/1/2013 - 7/31/2015
© 2014 The University of Texas MD Anderson Cancer Center