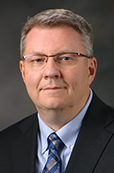 '
William W. Mattox, Ph.D.
Present Title & Affiliation
Dual/Joint/Adjunct Appointment
Associate Dean, The University of Texas Graduate School of Biomedical Sciences, Houston, TX
Associate Professor, Department of Genetics, The University of Texas MD Anderson Cancer Center, Houston, TX
Research Interests
Alternate RNA splicing
Sex determination
Animal models for disease
My lab's focus is on the mechanisms by which cells regulate RNA processing. Genome studies have revealed that many complex organisms have fewer genes than expected. One explanation for this lies in the fact that genes often generate alternative mRNAs and thus encode multiple distinct proteins. To produce alternative mRNAs, exons must be combined in different patterns during RNA splicing in a carefully controlled way. The choice of exon sequences that are picked is regulated by both splicing activator and repressor proteins which bind pre-mRNAs and act locally to either favor or block recognition of nearby splice sites by the spliceosome. We have found that splicing repression can be carried out by some of the same proteins that cause activation. These proteins interact with each other to form similar complexes, but ultimately have opposite effects on the RNA. By investigating how these complexes interact with the pre-mRNA splicing machinery we are gaining insight into the mechanisms of splicing regulation.
Office Address
The University of Texas MD Anderson Cancer Center
Department of Genetics, Unit 1010
1515 Holcombe Blvd.
Houston, TX 77030
Room Number: S11.8136B
Phone: 713-834-6329
Email: wmattox@mdanderson.org
Education & Training
Degree-Granting Education

1986
California Institute of Technology, Pasadena, CA, Ph.D., Molecular Genetics
1980
Michigan State University, East Lansing, MI, B.S., High Honors, Biochemistry

Postgraduate Training

1986-1992

Postdoctoral Research, Stanford University, Stanford, CA, Bruce Baker
Selected Publications
Peer-Reviewed Original Research Articles

1.
Shen M and W Mattox. Activation and repression functions of an SR splicing regulator depend on exonic versus intronic-binding position. Nucleic Acids Research 40:428-437, 1/2012. PMCID: PMC3245930.
2.
Lazareva AA, Roman G, Mattox W, Hardin PE, Dauwalder B. A role for the adult fat body in Drosophila male courtship behavior. PLoS Genet 3(1):115-122, 1/26/2007. PMCID: PMC1781494.
3.
Qi J, Su S, Mattox W.. The doublesex splicing enhancer components Tra2 and Rbp1 also repress splicing through an intronic silencer. Molecular and Cellular Biology 27:699-708, 2007. PMID: 17101798.
4.
Qi J, Su S, McGuffin ME, Mattox W.. Concentration dependent selection of targets by an SR splicing regulator results in tissue-specific RNA processing. Nucleic Acids Research 34:6256-6623, 2006. PMID: 17098939.
5.
Xu DQ, Mattox W.. Identification of a splicing enhancer in MLH1 using COMPARE, a new assay for determination of relative RNA splicing efficiencies. Human Molecular Genetics 15:329-336, 2006. PMID: 16357104.
6.
Chandler DS, Qi J, Mattox W.. Direct repression of splicing by transformer-2. Molecular and Cellular Biology 23:5174-5185, 2003. PMID: 12861004.
7.
Dauwalder B, Tsujimoto S, Moss J, Mattox W.. The takeout gene is regulated by the Drosophila sex determination pathway and affects male courtship behavior. Genes & Development 16:2879-2892, 2002. PMID: 12435630.
8.
Chandler DS, McGuffin ME, Mattox W.. Functionally antagonistic sequences are required for normal autoregulation of Drosophila tra-2 pre-mRNA splicing. Nucleic Acids Research 29:3012-3019, 2001. PMID: 11452026.
9.
Du C, McGuffin ME, Dauwalder B, Rabinow L, Mattox W.. Protein phosphorylation plays an essential role in the regulation of alternative splicing and sex determination in Drosophila. Molecular Cell 2:741-750, 1998. PMID: 9885562.
10.
Cooper TA, Mattox W.. The regulation of splice-site selection, and its role in human disease. American Journal of Human Genetics 61:259-266, 1997. PMID: 9311728.
© 2010 The University of Texas M. D. Anderson Cancer Center