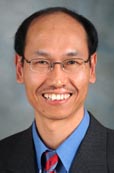 '
Xiangcang Ye, Ph.D.
Present Title & Affiliation
Primary Appointment
Assistant Professor, Department of Cancer Biology, The University of Texas - MD Anderson Cancer Center, Houston, TX
Research Interests
Our research interest is primarily in the angiogenic signaling molecules and interactions in tumor microenvironment. Currently, we focus on the investigation of angiocrine factors of endothelial cells, which contribute to maintenance of cancer stem cell phenotype. We also study the intracrine role of vascular endothelial growth factor - receptors and the effect on chemotherapy resistance in human colorectal cancer.
Office Address
Phone: 713-792-4087
Email: xcye@mdanderson.org
Education & Training
Degree-Granting Education

1998
The University of Texas at Austin, Austin, TX, PHD, Biological Sciences
1985
Zhejiang University, Hangzhou, China, MS, Animal Physiology & Biochemistry

Postgraduate Training

1999-2005

Research Fellowship, Molecular and Cellular Biology, Baylor College of Medicine, Houston, TX, Mentor: Dr. Bert O'Malley
Honors and Awards
2004

Keystone Symposium Scholarship for the Nuclear Receptors,

Keystone Symposium
Selected Publications
Peer-Reviewed Original Research Articles

1.
Lu J, Ye X, Fan F, Xia L, Bhattacharya R, Bellister S, Tozzi F, Sceusi E, Zhou Y, Tachibana I, Maru DM, Hawke DH, Rak J, Mani S, Zweidler-McKay P, Ellis LM. Endothelial Cells Promote the Colorectal Cancer Stem Cell Phenotype through a Soluble Form of Jagged-1. Cancer Cell. e-Pub 1/2013. PMID: 23375636.
2.
Fan F, Samuel S, Evans KW, Lu J, Xia L, Zhou Y, Sceusi E, Tozzi F, Ye XC, Mani SA, Ellis LM. Overexpression of Snail induces epithelial-mesenchymal transition and a cancer stem cell-like phenotype in human colorectal cancer cells. Cancer Med 1(1):5-16, 8/2012. e-Pub 6/8/2012. PMCID: PMC3544430.
3.
Ye X, Lee YC, Choueiri M, Chu K, Huang CF, Tsai WW, Kobayashi R, Logothetis CJ, Yu-Lee LY, Lin SH. Aberrant expression of katanin p60 in prostate cancer bone metastasis. Prostate 72(3):291-300, 2/2012. e-Pub 6/16/2011. PMCID: PMC3179562.
4.
Huang CF, Lira C, Chu K, Bilen MA, Lee YC, Ye X, Kim SM, Ortiz A, Wu FL, Logothetis CJ, Yu-Lee LY, Lin SH. Cadherin-11 increases migration and invasion of prostate cancer cells and enhances their interaction with osteoblasts. Cancer Res 70(11):4580-9, 6/1/2010. e-Pub 5/18/2010. PMCID: PMC2923552.
5.
Lee YC, Cheng CJ, Huang M, Bilen MA, Ye X, Navone NM, Chu K, Kao HH, Yu-Lee LY, Wang Z, Lin SH. Androgen depletion up-regulates cadherin-11 expression in prostate cancer. J Pathol 221(1):68-76, 5/2010. PMCID: PMC2936767.
6.
Lee YC, Huang CF, Murshed M, Chu K, Araujo JC, Ye X, deCrombrugghe B, Yu-Lee LY, Gallick GE, Lin SH. Src family kinase/abl inhibitor dasatinib suppresses proliferation and enhances differentiation of osteoblasts. Oncogene 29(22):3196-207, 2010. PMCID: PMC2921959.
7.
Lin SH, Cheng CJ, Lee YC, Ye X, Tsai WW, Kim J, Pasqualini R, Arap W, Navone NM, Tu SM, Hu M, Yu-Lee LY, Logothetis CJ. A 45-kDa ErbB3 secreted by prostate cancer cells promotes bone formation. Oncogene 27(39):5195-203, 2008. PMCID: PMC2562662.
8.
Chu K, Cheng CJ, Ye X, Lee YC, Zurita AJ, Chen DT, Yu-Lee LY, Zhang S, Yeh ET, Hu MC, Logothetis CJ, Lin SH. Cadherin-11 promotes the metastasis of prostate cancer cells to bone. Mol Cancer Res 6(8):1259-1267, 2008. PMCID: PMC2643879.
9.
Lin SH, Lee YC, Choueiri MB, Wen S, Mathew P, Ye X, Do KA, Navone NM, Kim J, Tu SM, Yu-Lee LY, Logothetis CJ. Soluble ErbB3 levels in bone marrow and plasma of men with prostate cancer. Clin Cancer Res 14(12):3729-3736, 2008. PMCID: PMC2562877.
10.
Chen N, Ye XC, Chu K, Navone NM, Sage EH, Yu-Lee LY, Logothetis CJ, Lin SH. A secreted isoform of ErbB3 promotes osteonectin expression in bone and enhances the invasiveness of prostate cancer cells. Cancer Res 67(14):6544-8, 2007. PMCID: PMC2000837.
11.
Ye XC, Choueiri M, Tu SM, Lin SH. Biology and clinical management of prostate cancer bone metastasis. Front Biosci 12:3273-3286, 2007. PMID: 17485298.
12.
Cheng CJ, Ye XC, Vakar-Lopez F, Kim J, Tu SM, Chen DT, Navone NM, Yu-Lee LY, Lin SH, Hu MC. Bone Microenvironment and Androgen Status Modulate Subcellular Localization of ErbB3 in Prostate Cancer Cells. Mol Cancer Res 5(7):675-684, 2007. PMCID: PMC2000833.
13.
Ye X, Han SJ, Tsai SY, DeMayo FJ, Xu J, Tsai MJ, O'Malley BW. Roles of steroid receptor coactivator (SRC)-1 and transcriptional intermediary factor (TIF) 2 in androgen receptor activity in mice. Proc Natl Acad Sci U S A 102(27):9487-92, 2005. PMCID: PMC1172261.
14.
Ye X, Schillinger K, Burcin MM, Tsai SY, O'Malley BW. Ligand-inducible transgene regulation for gene therapy. Methods Enzymol 346:551-561, 2002. PMID: 11883090.
15.
Nazimiec M, Lee CS, Tang YL, Ye X, Case R, Tang M. Sequence-dependent interactions of two forms of UvrC with DNA helix-stabilizing CC-1065-N3-adenine adducts. Biochemistry 40(37):11073-81, 9/2001. PMID: 11551204.
16.
Tang Ms , Nazimiec M, Ye X, Iyer GH, Eveleigh J, Zheng Y, Zhou W, Tang YY. Two Forms of UvrC Protein with Different Double-stranded DNA Binding Affinities. J Biol Chem 276(6):3904-3910, 2001. PMID: 11056168.
17.
Tsai SY, Schillinger K, Ye X. Adenovirus-mediated transfer of regulable gene expression. Curr Opin Mol Ther 2(5):515-23, 10/2000. PMID: 11249754.
18.
Ye X, Szaniszlo PJ. Expression of a Constitutively Active Cdc42 Homologue Promotes Development of Sclerotic Bodies but Represses Hyphal Growth in the Zoopathogenic Fungus Wangiella (Exophiala) dermatitidis. J Bacteriol 182(17):4941-4950, 2000. PMCID: PMC111375.
19.
Ye X, Feng B, Szaniszlo PJ. A color-selectable and site-specific integrative transformation system for gene expression studies in the dematiaceous fungus Wangiella (Exophiala) dermatitidis. Curr Genet 36(4):241-247, 1999. PMID: 10541862.
20.
Chen JX, Pao A, Zheng Y, Ye X, Kisleyou AS, Morris R, Slaga TJ, Harvey RG, Tang MS. Sequence preference of 7,12-dimethylbenz[a]anthracene-syn-diol epoxide-DNA binding in the mouse H-ras gene detected by UvrABC nucleases. Biochemistry 35(29):9594-602, 1996. PMID: 8755741.

Book Chapters

1.
Schillinger, K, Ye, X., Tsai, S.Y., O'Malley, B.W. Mifepristone-inducible gene regulatory system. In: Gene Transfer: Delivery and Expression of DNA and RNA: A Laboratory Manual. Ed(s) Theodore Friedmann and John Rossi. Cold Spring Harbor Laboratory Press: New York, 615-630, 2007.
Grant & Contract Support
Title:
Fusobacterium infection and the inflammatory effect in human colorectal cancer
Funding Source:
Texas Medical Center - Digestive Diseases Center (TMC-DDC)
Role:
Principal Investigator
Duration:
2/15/2013 - 2/14/2014
Title:
Paracrine Role of Endothelial Cells on the Colorectal Cancer Stem Cell Phenotype
Funding Source:
NIH/NCI
Role:
Co-Investigator
Principal Investigator:
Lee M. Ellis
Duration:
9/1/2012 - 8/31/2016
Title:
Microenvironmental Influence of Endothelial Cells on Colorectal Cancer Stem Cell Phenotype
Funding Source:
DOD/Congressionally Directed Medical Research Programs (DOD/CDMRP)
Role:
Co-Investigator
Principal Investigator:
Lee M. Ellis
Duration:
9/1/2011 - 9/29/2014
Title:
Role of Katanin in Prostate Cancer Bone Metastasis
Funding Source:
U.S. Army Medical Research and Material Command (USAMRMC), Prostate Cancer Research Program (PCRP)
Role:
Principal Investigator
Duration:
12/18/2006 - 12/17/2009
Title:
Regulable Gene Therapy for Prostate Cancer
Funding Source:
U.S. Army Medical Research and Material Command (USAMRMC), Prostate Cancer Research Program (PCRP)
Role:
Principal Investigator
Duration:
2002 - 2004