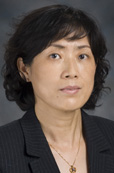 '
Xiuping Liu, M.D.
Present Title & Affiliation
Primary Appointment
Associate Professor, Department of Experimental Therapeutics, Division of Cancer Medicine, The University of Texas M.D. Anderson Cancer Center, Houston, TX
Operations Director, The University of Texas M.D. Anderson Cancer Center, Houston, TX
Research Interests
MicroRNAs have profound roles in multiple developmental and cellular processes by regulating the gene expression. It could be very important for therapeutic intervention in cancer, metabolic diseases, autoimmune disorders, and viral diseases. My research focuses are in discovery and profile noncoding RNAs include microRNAs involved in cancers using Microarray and Next Generation Sequencing technologies to explore and understand the new genetic mechanism of tumorigenesis because the cancer-specific signature ncRNA and miRNAs deregulated in cancer could be further developed as biomarkers for cancer early stage diagnosis and later stage prognosis. Also, the misregulated ncRNAs/miRNAs identified in cancer have a great potential to be further developed as target molecules for clinical treatment in cancer.
Education & Training
Degree-Granting Education

1982
Shandong University Medical School, Jinan, Shandong, China, MD, Clinical Medicine
Experience/Service
Academic Appointments
Associate Professor, Molecular Immunology, Virology and Medical Genetics, College of Medicine, Ohio State Univeristy, Columbus, OH, 5/2008-7/2008
Research Specialist, Microarray Shared Resource, Comprehensive Cancer Center, Ohio State University, Columbus, OH, 12/2004-4/2008
Research Scientist, Biochemistry and Molecular Biology, Northwestern University, Evanston, IL, 1999-2000
Research Scientist, Rutgers University, Piscataway, NJ, 1995-1999
Research Scientist, University of Vienna, Institute of Biochemistry and Molecular Cell Biology, Vienna, Austria, 1994-1995
Other Appointments/Responsibilities
R&D Scientist, Bristol-Myers Squibb, Expression Profiling Group, Hopewell, NJ, 2002-2004
Research Scientist II, Integrated Genomics Inc., Microarray Division, Chicago, IL, 2000-2002
Biomedical Engineer, Jinan Pharmaceutical Company, Jinan, Shandong, China, 1985-1994
Research Associate, Jinan Pharmaceutical Institute, Jinan, Shandong, China, 1982-1985
Selected Publications
Peer-Reviewed Original Research Articles

1.
Chang HR, Nam S, Kook MC, Kim KT, Liu X, Yao H, Jung HR, Lemos R, Seo HH, Park HS, Gim Y, Hong D, Huh I, Kim YW, Tan D, Liu CG, Powis G, Park T, Liang H, Kim YH. HNF4α is a therapeutic target that links AMPK to WNT signalling in early-stage gastric cancer. Gut 65(1):19-32, 1/2016. e-Pub 11/2014. PMCID: PMC4717359.
2.
Zhang L, Ren X, Cheng Y, Liu X, Allen JE, Zhang Y, Yuan Y, Huang SY, Yang W, Berg A, Webb BS, Connor J, Liu CG, Lu Z, El-Deiry WS, Yang JM. The NFκB inhibitor, SN50, induces differentiation of glioma stem cells and suppresses their oncogenic phenotype. Cancer Biol Ther 15(5):602-11, 5/2014. e-Pub 2/20/2014. PMCID: PMC4026083.
3.
Zhang P, Garnett J, Creighton CJ, Al Sannaa GA, Igram DR, Lazar A, Liu X, Liu C, Pollock RE. EZH2/miR-30d/KPNB1 pathway regulates malignant peripheral nerve sheath tumor cell survival and tumorigenesis. J Pathol 232(3):308-318, 2/2014. e-Pub 10/2013. PMCID: PMC4166508.
4.
Zhang Y, Yang WQ, Zhu H, Qian YY, Zhou L, Ren YJ, Ren XC, Zhang L, Liu XP, Liu CG, Ming ZJ, Biao LI, Chen B, Wang JR, Liu YB, Yang JM. Regulation of Autophagy by miR-30d Impacts Sensitivity of Anaplastic Thyroid Carcinoma to Cisplatin. Biochem Pharmacol 87(4):562-570, 12/2013. PMCID: PMC3926201.
5.
Xue X, Cao AT, Cao X, Yao S, Carlson ED, Soong L, Liu CG, Liu X, Liu Z, Duck LW, Elson CO, Cong Y.. Downregulation of MicroRNA-107 in intestinal CD11c,+ myeloid cells in response to microbiota and proinflammatory cytokines increases IL-23p19 expression. Eur J Immunol 44(3):673-682, 11/2013. PMCID: PMC3959497.
6.
Li J, Geng S, Liu X, Liu H, Jin H, Liu CG, Wang B. DNA and protein co-administration induces tolerogenic dendritic cells through DC-SIGN mediated negative signals. Hum Vaccin Immunother 9(10):2237-45, 10/2013. e-Pub 6/4/2013. PMCID: PMC3906410.
7.
Zhang L, Ren X, Cheng Y, Huber-Keener K, Liu X, Zhang Y, Yuan YS, Yang JW, Liu CG, Yang JM. Identification of Sirtuin 3, a mitochondrial protein deacetylase, as a new contributor to tamoxifen resistance in breast cancer cells. Biochem Pharmacol 86(6):726-33, 9/15/2013. e-Pub 7/12/2013. PMCID: PMC23856293.
8.
Gupta MK, Halley C, Duan ZH, Lappe J, Viterna J, Jana S, Augoff K, Mohan ML, Vasudevan NT, Na J, Sossey-Alaoui K, Liu X, Liu CG, Tang WH, Naga Prasad SV. miRNA-548c: a specific signature in circulating PBMCs from dilated cardiomyopathy patients. J Mol Cell Cardiol 62:131-141, 9/2013. e-Pub 6/2/2013. PMCID: PMC3735826.
9.
Hu B, Chen H, Liu X, Zhang C, Cole GJ, Lee JA, Chen X.. Transgenic overexpression of cdx1b induces metaplastic changes of gene expression in zebrafish esophageal squamous epithelium. Zebrafish 10(2):218-227, 6/2013. PMCID: PMC3673616.
10.
Shen J, Xia W, Khotskaya YB, Huo L, Nakanishi K, Lim SO, Du Y, Wang Y, Chang WC, Chen CH, Hsu JL, Wu Y, Lam YC, James BP, Liu X, Liu CG, Patel DJ, Hung MC. EGFR modulates microRNA maturation in response to hypoxia through phosphorylation of AGO2. Nature 497(7449):383-7, 5/16/2013. e-Pub 5/1/2013. PMCID: PMC3717558.
11.
Parker BC, Annala MJ, Cogdell DE, Granberg KJ, Sun Y, Ji P, Li X, Gumin J, Zheng H, Hu L, Yli-Harja O, Haapasalo H, Visakorpi T, Liu X, Liu CG, Sawaya R, Fuller GN, Chen K, Lang FF, Nykter M, Zhang W. The tumorigenic FGFR3-TACC3 gene fusion escapes miR-99a regulation in glioblastoma. J Clin Invest 123(2):855-65, 2/2013. e-Pub 1/9/2013. PMCID: PMC3561838.
12.
Moore LM, Kivinen V, Liu Y, Annala M, Cogdell D, Liu X, Liu CG, Sawaya R, Yli-Harja O, Shmulevich I, Fuller GN, Zhang W, Nykter M. Transcriptome and Small RNA Deep Sequencing Reveals Deregulation of miRNA Biogenesis in Human Glioma. J Pathol 229(3):449-59, 2/2013. PMCID: PMC3857031.
13.
Liang H, Cheung LW, Li J, Ju Z, Yu S, Stemke-Hale K, Dogruluk T, Lu Y, Liu X, Gu C, Guo W, Scherer SE, Carter H, Westin SN, Dyer MD, Verhaak RG, Zhang F, Karchin R, Liu CG, Lu KH, Broaddus RR, Scott KL, Hennessy BT, Mills GB. Whole-exome Sequencing Combined with Functional Genomics Reveals Novel Candidate Driver Cancer Genes in Endometrial Cancer. Genome Res 22(11):2120-9, 11/2012. e-Pub 10/1/2012. PMCID: PMC3483541.
14.
Meng F, Glaser SS, Francis H, Yang F, Han Y, Stokes A, Staloch D, McCarra J, Liu J, Venter J, Zhao H, Liu X, Francis T, Swendsen S, Liu CG, Tsukamoto H, Alpini G. Epigenetic Regulation of miR-34a Expression in Alcoholic Liver Injury. Am J Pathol 181(3):804-17, 9/2012. e-Pub 7/25/2012. PMCID: PMC3432440.
15.
Kim YH, Liang H, Liu X, Lee JS, Cho JY, Cheong JH, Kim H, Li M, Downey TJ, Dyer MD, Sun Y, Sun J, Beasley EM, Chung HC, Noh SH, Weinstein JN, Liu CG, Powis G. AMPKα modulation in cancer progression: multilayer integrative analysis of the whole transcriptome in Asian gastric cancer. Cancer Res 72(10):2512-21, 5/15/2012. e-Pub 3/20/2012. PMCID: PMC3872998.
16.
Meng F, Glaser SS, Francis H, Demorrow S, Han Y, Passarini JD, Stokes A, Cleary JP, Liu X, Venter J, Kumar P, Priester S, Hubble L, Stoloch D, Sharma J, Liu CG, Alpini G. Functional Analysis of microRNAs in Human Hepatocellular Cancer Stem Cells. J Cell Mol Med 16(1):160-173, 1/2012. e-Pub 2/2011. PMCID: PMC3116063.
17.
Huber-Keener KJ, Liu X, Wang Z, Wang Y, Freeman W, Wu S, Planas-Silva MD, Ren X, Cheng Y, Zhang Y, Vrana K, Liu CG, Yang JM, Wu R. Differential Gene Expression in Tamoxifen-Resistant Breast Cancer Cells Revealed by a New Analytical Model of RNA-Seq Data. PLoS One 7(7):e41333, 2012. e-Pub 7/23/2012. PMCID: PMC3402532.
18.
Katoh H, Qin ZS, Liu R, Wang L, Li W, Li X, Wu L, Du Z, Lyons R, Liu CG, Liu X, Dou Y, Zheng P, Liu Y. FOXP3 Orchestrates H4K16 Acetylation and H3K4 Trimethylation for Activation of Multiple Genes by Recruiting MOF and Causing Displacement of PLU-1. Mol Cell 44(5):770-84, 12/9/2011. PMCID: PMC3243051.
19.
Xue X, Feng T, Yao S, Wolf KJ, Liu CG, Liu X, Elson CO, Cong Y. Microbiota Downregulates Dendritic Cell Expression of miR-10a, Which Targets IL-12/IL-23p40. J Immunol 187(11):5879-86, 12/1/2011. e-Pub 11/7/2011. PMCID: PMC3226774.
20.
Taccioli C, Chen H, Jiang Y, Liu XP, Huang K, Smalley KJ, Farber JL, Croce CM, Fong LY. Dietary zinc deficiency fuels esophageal cancer development by inducing a distinct inflammatory signature. Oncogene 31(42). e-Pub 12/2011. PMCID: PMC3310953.
21.
Gocek E, Wang X, Liu X, Liu CG, Studzinski GP. MicroRNA-32 upregulation by 1,25-dihydroxyvitamin D3 in human myeloid leukemia cells leads to Bim targeting and inhibition of AraC-induced apoptosis. Cancer Res 71(19):6230-9, 10/1/2011. e-Pub 8/4/2011. PMCID: PMC21816906.
22.
Wan SG, Taccioli C, Jiang Y, Chen H, Smalley KJ, Huang K, Liu XP, Farber JL, Croce CM, Fong LY. Zinc deficiency activates S100A8 inflammation in the absence of COX-2 and promotes murine oral-esophageal tumor progression. Int J Cancer 129(2):331-45, 7/15/2011. e-Pub 11/9/2010. PMCID: PMC3015018.
23.
Koh MY, Lemos R, Liu X, Powis G. The hypoxia-associated factor switches cells from HIF-1α- to HIF-2α-dependent signaling promoting stem cell characteristics, aggressive tumor growth and invasion. Cancer Res 71(11):4015-27, 6/1/2011. e-Pub 4/21/2011. PMCID: PMC3268651.
24.
Liu JQ, Joshi PS, Wang C, El-Omrani HY, Xiao Y, Liu X, Hagan JP, Liu CG, Wu LC, Bai XF. Targeting activation-induced cytidine deaminase overcomes tumor evasion of immunotherapy by CTLs. J Immunol 184(10):5435-43, 5/15/2010. e-Pub 4/19/2010. PMCID: PMC2874093.
25.
Spizzo R, Nicoloso MS, Lupini L, Lu Y, Fogarty J, Rossi S, Zagatti B, Fabbri M, Veronese A, Liu X, Davuluri R, Croce CM, Mills G, Negrini M, Calin GA. miR-145 participates with TP53 in a death-promoting regulatory loop and targets estrogen receptor-alpha in human breast cancer cells. Cell Death Differ 17(2):246-54, 2/2010. e-Pub 9/4/2009. PMCID: PMC3648637.
26.
Wang X, Zhao Q, Matta R, Meng X, Liu X, Liu CG, Nelin LD, Liu Y. Inducible nitric-oxide synthase expression is regulated by mitogen-activated protein kinase phosphatase-1. J Biol Chem 284(40):27123-34, 10/2/2009. e-Pub 8/3/2009. PMCID: PMC2785641.
27.
Zhu H, Wu H, Liu X, Li B, Chen Y, Ren X, Liu CG, Yang JM. Regulation of autophagy by a beclin 1-targeted microRNA, miR-30a, in cancer cells. Autophagy 5(6):816-23, 8/2009. e-Pub 8/20/2009. PMCID: PMC3669137.
28.
Yu J, Ershler M, Yu L, Wei M, Hackanson B, Yokohama A, Mitsui T, Liu C, Mao H, Liu S, Liu Z, Trotta R, Liu CG, Liu X, Huang K, Visser J, Marcucci G, Plass C, Belyavsky AV, Caligiuri MA. TSC-22 contributes to hematopoietic precursor cell proliferation and repopulation and is epigenetically silenced in large granular lymphocyte leukemia. Blood 113(22):5558-67, 5/28/2009. e-Pub 3/27/2009. PMCID: PMC2689053.
29.
Zhu H, Wu H, Liu X, Evans BR, Medina DJ, Liu CG, Yang JM. Role of MicroRNA miR-27a and miR-451 in the regulation of MDR1/P-glycoprotein expression in human cancer cells. Biochem Pharmacol 76(5):582-8, 9/1/2008. e-Pub 6/24/2008. PMCID: PMC2628586.
30.
Calin GA, Cimmino A, Fabbri M, Ferracin M, Wojcik SE, Shimizu M, Taccioli C, Zanesi N, Garzon R, Aqeilan RI, Alder H, Volinia S, Rassenti L, Liu X, Liu CG, Kipps TJ, Negrini M, Croce CM. MiR-15a and miR-16-1 cluster functions in human leukemia. Proc Natl Acad Sci U S A 105(13):5166-71, 4/1/2008. e-Pub 3/24/2008. PMCID: PMC2278188.
31.
Calin GA, Liu CG, Ferracin M, Hyslop T, Spizzo R, Sevignani C, Fabbri M, Cimmino A, Lee EJ, Wojcik SE, Shimizu M, Tili E, Rossi S, Taccioli C, Pichiorri F, Liu X, Zupo S, Herlea V, Gramantieri L, Lanza G, Alder H, Rassenti L, Volinia S, Schmittgen TD, Kipps TJ, Negrini M, Croce CM. Ultraconserved regions encoding ncRNAs are altered in human leukemias and carcinomas. Cancer Cell 12(3):215-29, 9/2007. PMCID: PMC17785203.
32.
Mascellani N, Liu X, Rossi S, Marchesini J, Valentini D, Arcelli D, Taccioli C, Helmer Citterich M, Liu CG, Evangelisti R, Russo G, Santos JM, Croce CM, Volinia S. Compatible solutes from hyperthermophiles improve the quality of DNA microarrays. BMC Biotechnol 7:82, 2007. e-Pub 11/23/2007. PMCID: PMC2248183.
33.
Luke K, Radek A, Liu X, Campbell J, Uzan M, Haselkorn R, Kogan Y. Microarray analysis of gene expression during bacteriophage T4 infection. Virology 299(2):182-91, 8/1/2002. PMCID: PMC12202221.
34.
Sun D, Jessen S, Liu C, Liu X, Najmudin S, Georgiadis MM. Cloning, expression, and purification of a catalytic fragment of Moloney murine leukemia virus reverse transcriptase: crystallization of nucleic acid complexes. Protein Sci 7(7):1575-82, 7/1998. PMCID: PMC2144058.
Other Articles
1.
Liu X, Calin GA. The Role of MicroRNA Profiling in Cancer Management. PPO Updates: Principles & Practice of Oncology 23(5):1-6, 2009.

Book Chapters

1.
Liu CG, Liu X, Calin GA. MicroRNoma Genome-Wide Profiling by Microarray. In: Bioinformatics: A Practical Approach. Ed(s) Shui Qing Ye. Chapman & Hall/CRC, 251-270, 2007.