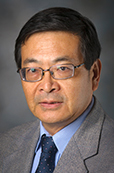 '
Yiping Shao, Ph.D.
Present Title & Affiliation
Primary Appointment
Associate Professor, Department of Imaging Physics, Division of Diagnostic Imaging, The University of Texas MD Anderson Cancer Center, Houston, TX
Bio Statement
Dr. Shao significant contributions to the medical and biomedical imaging include: As a physicist responsible for the successful detector and system development for the first small animal PET (microPET); As the leading physicist and the first author in the initial paper on the breakthrough simultaneous PET/MR imaging technology (commercialized by GE, Siemens and Phillips); He successfully led the initial simultaneous PET/SPECT imaging. As the PI, he led the latest technology development and feasibility study in the first PET image-guided intra-treatment proton beam-range measurement for substantially improving proton therapy accuracy.
Research Interests
Design, development and evaluation of state-of-art radionuclide imaging detectors, systems, and techniques that will significantly improve the image quality and expand the applications of nuclear medicine and molecular imaging and biological/functional image-guided radiation therapy applications
Clinical Interests
Office Address
The University of Texas MD Anderson Cancer Center
1881 East Road
Unit Number: 1902
Houston, TX 77054
Room Number: 3SCR2.3628
Education & Training
Degree-Granting Education

1994
Kent State University, Kent, OH, PHD, Experimental Nuclear Physics
1993
Northwestern Polytechnic University, Fremont, CA, MA, Electrical Engineering
1985
Soochew University, Suzhou, Jiangsu, China, MA, Physics
1982
Soochew University, Suzhou, Jiangsu, China, BA, Physics

Postgraduate Training

4/1994-6/1996

Postdoctoral Fellow, Biomedical Imaging Physics, Crump Institute for Molecular Imaging, UCLA, Los Angeles, CA, Simon R. Cherry
Honors and Awards
1998

1st Place Scientific Exhibit,

Society of Nuclear Medicine Annual Meeting

1993

Outstanding Student Award,

Kent State University
Professional Memberships
Computer and Instrumentation Council, Society of Nuclear Medicine
Member of Board of Directors, 6/2009-2011
IEEE Nuclear Medicine Imaging Science Council
Council member, 1/2007-1/2010
National Electrical and Manufacturer Associate, Standard Committee
Member, 10/2001-present
Selected Publications
Peer-Reviewed Original Research Articles

1.
Shao Y, Sun X, Lou K, Zhu XR, Mirkovic D, Poenisch F, Grosshans D. In-beam PET imaging for on-line adaptive proton therapy: an initial phantom study. Phys Med Biol 59(13):3373-88, 5/2014. PMID: 24874943.
2.
Shao Y, Sun X, Lan KA, Bircher C, Lou K, Deng Z. Development of a prototype PET scanner with depth-of-interaction measurement using solid-state photomultiplier arrays and parallel readout electronics. Phys Med Biol 59(5):1223-38, 3/2014. PMCID: PMC4041601.
3.
Bircher C, Shao Y. Investigation of crystal surface finish and geometry on single LYSO scintillator detector performance for depth-of-interaction measurement with silicon photomultipliers. Nucl Instrum Methods Phys Res A A 693:236 - 43, 11/2012. PMCID: PMC3475527.
4.
Bircher C, Shao Y. Use of internal scintillator radioactivity to calibrate DOI function of a PET detector with a dual-ended-scintillator readout. Med Phys 39(2):777-87, 2/2012. PMCID: PMC3272069.
5.
Sun X, Lan AK, Bircher C, Deng Z, Liu Y, Shao Y. Energy and Timing Measurement with Time-Based Detector Readout for PET Applications: Principle and Validation with Discrete Circuit Components. Nucl Instrum Methods Phys Res A A 641(1):128-135, 6/2011. PMCID: PMC3129980.
6.
Deng Z, Lan AK, Sun X, Bircher C, Liu Y, Shao Y. Development of an Eight-channel time based readout ASIC for PET applications. IEEE Transaction on Nuclear Sciences 58(6):3212-18, 2011.
7.
Shao Y, Yao R, Ma T. A novel method to calibrate DOI function of a PET detector with a dual-ended scintillator readout. Med Phys 35(12):5829-5840, 12/2008. PMID: 19175139.
8.
Yao R, Ma T, Shao Y. Lutetium oxyorthosilicate (LSO) intrinsic active correction and minimal detectable target activity study for SPECT imaging with a LSO-based animal PET scanner. Phys. Med. Biol. 53:4399-4415, 2008. PMID: 18670052.
9.
Shao Y. A new timing model for calculating the intrinsic timing resolution of a scintillator detector. Phys. Med. Biol. 52:1103-1117, 2007.
10.
Shao Y. Initial experimental studies of using solid state photomultiplier for PET applications. Nucl. Inst. Meth. 2007.
11.
Shao Y, Meadors K, Silverman RW, Farrell R, Cirignano L, Grazioso R, Shah KS, Cherry SR. Dual APD array readout of LSO crystals:optimization of crystal surface treatment. IEEE Trans. Nucl. Sci. 49:649-654, 2002.
Grant & Contract Support
Title:
Road to PET Image-Based On-line Proton Beam Range Measurement
Funding Source:
NIH/NCI
Role:
Principal Investigator
Duration:
9/12/2014 - 8/31/2016
Title:
In-Situ PET Imaging for Adaptive Proton Therapy
Funding Source:
Cancer Prevention & Research Institute of Texas (CPRIT)
Role:
Principal Investigator
Duration:
12/1/2011 - 5/30/2015
© 2014 The University of Texas MD Anderson Cancer Center