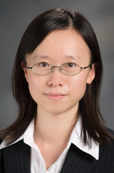 '
Yue Lu, Ph.D.
Present Title & Affiliation
Primary Appointment
Assistant Professor, Dept. of Epigenetics and Molecular Carcinogenesis, The University of Texas MD Anderson Cancer Center, Smithville, TX
Research Interests
My primary research interest is the design and application of bioinformatics approaches to deciphering biological mechanisms using next-generation sequencing technologies. It includes two major parts:

The first is the collaborative research with wet laboratories to address important biological problems. I have been in collaboration with many labs in and outside MD Anderson in the past several years. In general, most of the projects can be included in the large topic "characterization of genomic, transcriptomic and epigenomic changes in cancer". Specifically, we use exome/targeted high-throughput sequencing for genomic variations (single nucleotide variation, small indels, etc.), RNA-Seq for transcriptome alterations (differential expression, novel transcript identification, etc.), methylation-sequencing (DREAM, bisulfite-sequencing, MeDIP-Seq) for DNA methylation, ChIP-Seq for DNA-binding proteins (nuclear lamina, transcription factors, epigenetic modifiers, etc.) and histone modifications, and then integrate these data to elucidating important molecular mechanisms in cancer development and progression.

The second is the development and implementation of novel computational algorithms. In collaboration with other bioinformaticians, we developed novel methods, for e.g. improvement of the accuracy of RNA-seq, statistical model for the relation of histone marks, sequence error correction and prediction of imprinted genes from deep sequencing. The recent specific topics I'm interested in include: (1) Distribution pattern of epigenetic marks and its effect on biological processes; (2) Bias correction in various NGS technologies; (3) Precise identification of large blocks in ChIP-Seq; and (4) Intra- and inter- platform biological data integration.

From my graduate studies, I'm also very interested in algorithm development of multiple protein sequence alignment.



Office Address
Email: ylu4@mdanderson.org
Education & Training
Degree-Granting Education

2008
Texas A&M University, College Station, TX, PHD, Biochemistry
2002
Peking University, Beijing, China, BS, Cell Biology & Genetics
Selected Publications
Peer-Reviewed Original Research Articles

1.
Liu C, Eng C, Shen J, Lu Y, Yoko T, Mehdizadeh A, Chang GJ, Rodriguez-Bigas MA, Li Y, Chang P, Mao Y, Hassan MM, Wang F, Li D. Serum exosomal miR-4772-3p is a predictor of tumor recurrence in stage II and III colon cancer. Oncotarget. e-Pub 10/24/2016. PMID: 27788488.
2.
Chen X, Li Q, Liu X, Liu C, Liu R, Rycaj K, Zhang D, Liu B, Jeter C, Calhoun-Davis T, Lin K, Lu Y, Chao HP, Shen J, Tang DG. Defining a population of stem-like human prostate cancer cells that can generate and propagate castration-resistant prostate cancer (CRPC). Clin Cancer Res 22(17):4505-16, 9/1/2016. e-Pub 4/8/2016. PMCID: PMC5010458.
3.
Zhang D, Lin K, Lu Y, Rycaj K, Zhong Y, Chao HP, Calhoun-Davis T, Shen J, Tang DG. Developing a Novel Two-Dimensional Culture System to Enrich Human Prostate Luminal Progenitors That Can Function as a Cell of Origin for Prostate Cancer. Stem Cells Transl Med. e-Pub 9/29/2016. PMID: 27686757.
4.
Zhou F, Li M, Wei Y, Lin K, Lu Y, Shen J, Johanning GL, Wang-Johanning F. Activation of HERV-K Env protein is essential for tumorigenesis and metastasis of breast cancer cells. Oncotarget. e-Pub 8/20/2016. PMID: 27557521.
5.
Abba MC, Zhong Y, Lee J, Kil H, Lu Y, Takata Y, Simper MS, Gaddis S, Shen J, Aldaz CM. DMBA induced mouse mammary tumors display high incidence of activating Pik3caH1047 and loss of function Pten mutations. Oncotarget. e-Pub 8/31/2016. PMID: 27588403.
6.
Malouf GG, Su X, Zhang J, Creighton CJ, Ho TH, Lu Y, Raynal NJ, Karam JA, Tamboli P, Allanick F, Mouawad R, Spano JP, Khayat D, Wood CG, Jelinek J, Tannir NM. DNA Methylation Signature Reveals Cell Ontogeny of Renal Cell Carcinomas. Clin Cancer Res. e-Pub 6/2/2016. PMID: 27256309.
7.
Atanassov BS, Mohan RD, Lan X, Kuang X, Lu Y, Lin K, McIvor E, Li W, Zhang Y, Florens L, Byrum SD, Mackintosh SG, Calhoun-Davis T, Koutelou E, Wang L, Tang DG, Tackett AJ, Washburn MP, Workman JL, Dent SY. ATXN7L3 and ENY2 Coordinate Activity of Multiple H2B Deubiquitinases Important for Cellular Proliferation and Tumor Growth. Mol Cell 62(4):558-71, 5/19/2016. e-Pub 4/28/2016. PMCID: PMC4874879.
8.
Schibler A, Koutelou E, Tomida J, Wilson-Pham M, Wang L, Lu Y, Cabrera AP, Chosed RJ, Li W, Li B, Shi X, Wood RD, Dent SY. Histone H3K4 methylation regulates deactivation of the spindle assembly checkpoint through direct binding of Mad2. Genes Dev 30(10):1187-97, 5/15/2016. e-Pub 5/19/2016. PMCID: PMC4888839.
9.
Kim J, Zhao H, Dan J, Kim S, Hardikar S, Hollowell D, Lin K, Lu Y, Takata Y, Shen J, Chen T. Maternal Setdb1 Is Required for Meiotic Progression and Preimplantation Development in Mouse. PLoS Genet 12(4):e1005970, 4/2016. e-Pub 4/12/2016. PMCID: PMC4829257.
10.
Jeter CR, Liu B, Lu Y, Chao HP, Zhang D, Liu X, Chen X, Li Q, Rycaj K, Calhoun-Davis T, Yan L, Hu Q, Wang J, Shen J, Liu S, Tang DG. NANOG reprograms prostate cancer cells to castration resistance via dynamically repressing and engaging the AR/FOXA1 signaling axis. Cell Discov 2:16041, 2016. e-Pub 11/15/2016. PMID: 27867534.
11.
Zhang D, Park D, Zhong Y, Lu Y, Rycaj K, Gong S, Chen X, Liu X, Chao HP, Whitney P, Calhoun-Davis T, Takata Y, Shen J, Iyer VR, Tang DG. Stem cell and neurogenic gene-expression profiles link prostate basal cells to aggressive prostate cancer. Nat Commun 7:10798, 2016. e-Pub 2/29/2016. PMCID: PMC4773505.
12.
Li Y, Lu Y, Polak U, Lin K, Shen J, Farmer J, Seyer L, Bhalla AD, Rozwadowska N, Lynch DR, Butler JS, Napierala M. Expanded GAA repeats impede transcription elongation through the FXN gene and induce transcriptional silencing that is restricted to the FXN locus. Hum Mol Genet 24(24):6932-43, 12/15/2015. e-Pub 9/23/2015. PMCID: PMC4654050.
13.
Abba MC, Gong T, Lu Y, Lee J, Zhong Y, Lacunza E, Butti M, Takata Y, Gaddis S, Shen J, Estecio MR, Sahin AA, Aldaz CM. A Molecular Portrait of High-Grade Ductal Carcinoma In Situ. Cancer Res 75(18):3980-90, 9/15/2015. e-Pub 8/6/2015. PMCID: PMC4768486.
14.
Yamazaki J, Jelinek J, Lu Y, Cesaroni M, Madzo J, Neumann F, He R, Taby R, Vasanthakumar A, Macrae T, Ostler KR, Kantarjian HM, Liang S, Estecio MR, Godley LA, Issa JP. TET2 mutations affect non-CpG island DNA methylation at enhancers and transcription factor binding sites in chronic myelomonocytic leukemia. Cancer Res 75(14):2833-43, 7/15/2015. e-Pub 5/13/2015. PMCID: PMC4506197.
15.
Mallampati S, Leng X, Ma H, Zeng J, Li J, Wang H, Lin K, Lu Y, Yang Y, Sun B, Gong Y, Lee JS, Konopleva M, Andreeff M, Arlinghaus RB, Cai Z, Fang B, Shen H, Han X, Hirsch-Ginsberg CF, Gao X, Paranjape AN, Mani SA, Clise-Dwyer K, Sun X. Tyrosine kinase inhibitors induce mesenchymal stem cell-mediated resistance in BCR-ABL+ acute lymphoblastic leukemia. Blood 125(19):2968-73, 5/7/2015. e-Pub 2/23/2015. PMCID: PMC4424418.
16.
Qin T, Si J, Raynal NJ, Wang X, Gharibyan V, Ahmed S, Hu X, Jin C, Lu Y, Shu J, Estecio MR, Jelinek J, Issa JP. Epigenetic synergy between decitabine and platinum derivatives. Clin Epigenetics 7(1):97, 2015. e-Pub 9/11/2015. PMCID: PMC4567801.
17.
Kim J, Singh AK, Takata Y, Lin K, Shen J, Lu Y, Kerenyi MA, Orkin SH, Chen T. LSD1 is essential for oocyte meiotic progression by regulating CDC25B expression in mice. Nat Commun 6:10116, 2015. e-Pub 12/2/2015. PMCID: PMC4686821.
18.
Malouf GG, Tahara T, Paradis V, Fabre M, Guettier C, Yamazaki J, Long H, Lu Y, Raynal NJ, Jelinek J, Mouawad R, Khayat D, Brugières L, Raymond E, Issa JP. Methylome sequencing for fibrolamellar hepatocellular carcinoma depicts distinctive features. Epigenetics 10(9):872-81, 2015. PMCID: PMC4622466.
19.
Raymond A, Liu B, Liang H, Wei C, Guindani M, Lu Y, Liang S, St John LS, Molldrem J, Nagarajan L. A role for BMP-induced homeobox gene MIXL1 in acute myelogenous leukemia and identification of type I BMP receptor as a potential target for therapy. Oncotarget 5(24):12675-93, 12/30/2014. PMCID: PMC4350356.
20.
Simper MS, Rundhaug JE, Mikulec C, Bowen R, Shen J, Lu Y, Lin K, Surh I, Fischer SM. The tumor promoting activity of the EP4 receptor for prostaglandin E2 in murine skin. Mol Oncol 8(8):1626-39, 12/2014. e-Pub 7/3/2014. PMCID: PMC4253556.
21.
Jin Q, Zhuang L, Lai B, Wang C, Li W, Dolan B, Lu Y, Wang Z, Zhao K, Peng W, Dent SY, Ge K. Gcn5 and PCAF negatively regulate interferon-β production through HAT-independent inhibition of TBK1. EMBO Rep 15(11):1192-201, 11/2014. e-Pub 9/30/2014. PMCID: PMC4253493.
22.
Ma H, Mallampati S, Lu Y, Sun B, Wang E, Leng X, Gong Y, Shen H, Yin CC, Jones D, Amin HM, You MJ, Zweidler-McKay P, Ma Y, Kantarjian HM, Arlinghaus RB, Glassman A, Sun X. The Sox4/Tcf7l1 axis promotes progression of BCR-ABL-positive acute lymphoblastic leukemia. Haematologica 99(10):1591-8, 10/2014. e-Pub 7/2014. PMCID: PMC4181255.
23.
Mallampati S, Sun B, Lu Y, Ma H, Gong Y, Wang D, Lee JS, Lin K, Sun X. Integrated genetic approaches identify the molecular mechanisms of Sox4 in early B-cell development: intricate roles for RAG1/2 and CK1ε. Blood 123(26):4064-76, 6/2014. e-Pub 4/2014. PMCID: PMC4073324.
24.
Maegawa S, Gough SM, Watanabe-Okochi N, Lu Y, Zhang N, Castoro RJ, Estecio MR, Jelinek J, Liang S, Kitamura T, Aplan PD, Issa JP. Age-related epigenetic drift in the pathogenesis of MDS and AML. Genome Res 24(4):580-91, 4/2014. e-Pub 1/10/2014. PMCID: PMC3975058.
25.
Yang Y, McBride KM, Hensley S, Lu Y, Chedin F, Bedford MT. Arginine methylation facilitates the recruitment of TOP3B to chromatin to prevent R loop accumulation. Mol Cell 53(3):484-97, 2/6/2014. PMCID: PMC3959860.
26.
Oh CD, Lu Y, Liang S, Mori-Akiyama Y, Chen D, de Crombrugghe B, Yasuda H. SOX9 regulates multiple genes in chondrocytes, including genes encoding ECM proteins, ECM modification enzymes, receptors, and transporters. PLoS One 9(9):e107577, 2014. e-Pub 9/17/2014. PMCID: PMC4168005.
27.
Jin C, Lu Y, Jelinek J, Liang S, Estecio MR, Barton MC, Issa JP. TET1 is a maintenance DNA demethylase that prevents methylation spreading in differentiated cells. Nucleic Acids Res 42(11):6956-71, 2014. e-Pub 5/29/2014. PMCID: PMC4066785.
28.
Gururaj AE, Gibson L, Panchabhai S, Bai M, Manyam G, Lu Y, Latha K, Rojas ML, Hwang Y, Liang S, Bogler O. Access to the Nucleus and Functional Association with c-Myc Is Required for the Full Oncogenic Potential of ∆EGFR/EGFRvIII. J Biol Chem 288(5):3428-38, 2/2013. e-Pub 12/2012. PMCID: PMC3561561.
29.
Chen K, Wilson MA, Hirsch C, Watson A, Liang S, Lu Y, Li W, Dent SY. Stabilization of the promoter nucleosomes in nucleosome-free regions by the yeast Cyc8-Tup1 corepressor. Genome Res 23(2):312-22, 2/2013. e-Pub 11/2/2012. PMCID: PMC3561872.
30.
Yamazaki J, Estecio MR, Lu Y, Long H, Malouf GG, Graber D, Huo Y, Ramagli L, Liang S, Kornblau SM, Jelinek J, Issa JP. The epigenome of AML stem and progenitor cells. Epigenetics 8(1):92-104, 1/2013. e-Pub 12/18/2012. PMCID: PMC3549884.
31.
Mitra R, Muller P, Liang S, Lu Y, Ji Y. A Bayesian Graphical Model for ChIP-Seq Data on Histone Modifications. Journal of the American Statistical Association, 2013.
32.
Malouf GG, Taube JH, Lu Y, Roysarkar T, Panjarian S, Estecio MR, Jelinek J, Yamazaki J, Raynal NJ, Long H, Tahara T, Tinnirello A, Ramachandran P, Zhang XY, Liang S, Mani SA, Issa JP. Architecture of epigenetic reprogramming following Twist1-mediated epithelial-mesenchymal transition. Genome Biol 14(12):R144, 2013. e-Pub 12/24/2013. PMCID: PMC4053791.
33.
Jelinek J, Liang S, Lu Y, He R, Ramagli LS, Shpall EJ, Estecio MR, Issa JP. Conserved DNA methylation patterns in healthy blood cells and extensive changes in leukemia measured by a new quantitative technique. Epigenetics 7(12):1368-78, 12/2012. e-Pub 10/2012. PMCID: PMC3528692.
34.
Estecio MR, Gallegos J, Dekmezian M, Lu Y, Liang S, Issa JP. SINE retrotransposons cause epigenetic reprogramming of adjacent gene promoters. Mol Cancer Res 10(10):1332-42, 10/2012. e-Pub 9/2012. PMCID: PMC3475755.
35.
Challen GA, Sun D, Jeong M, Luo M, Jelinek J, Berg JS, Bock C, Vasanthakumar A, Gu H, Xi Y, Liang S, Lu Y, Darlington GJ, Meissner A, Issa JP, Godley LA, Li W, Goodell MA. Dnmt3a is essential for hematopoietic stem cell differentiation. Nat Genet 44(1):23-31, 1/2012. e-Pub 12/2011. PMCID: PMC3637952.
36.
Cai G, Li H, Lu Y, Huang X, Lee J, Müller P, Ji Y, Liang S. Accuracy of RNA-Seq and its dependence on sequencing depth. BMC Bioinformatics 13 Suppl 13:S5, 2012. e-Pub 8/24/2012. PMCID: PMC3426807.
37.
Ji Y, Mitra R, Quintana F, Jara A, Mueller P, Liu P, Lu Y, Liang S. BM-BC: a Bayesian method of base calling for Solexa sequence data. BMC Bioinformatics 13 Suppl 13:S6, 2012. e-Pub 8/24/2012. PMCID: PMC3426806.
38.
Li H, Su X, Gallegos J, Lu Y, Ji Y, Molldrem JJ, Liang S. dsPIG: a tool to predict imprinted genes from the deep sequencing of whole transcriptomes. BMC Bioinformatics 13:271, 2012. e-Pub 10/2012. PMCID: PMC3497615.
39.
Tonthat NK, Arold ST, Pickering BF, Van Dyke MW, Liang S, Lu Y, Beuria TK, Margolin W, Schumacher MA. Molecular mechanism by which the nucleoid occlusion factor, SlmA, keeps cytokinesis in check. EMBO J 30(1):154-64, 1/2011. e-Pub 11/2010. PMCID: PMC3020112.
40.
Jelinek J, Gharibyan V, Estecio MR, Kondo K, He R, Chung W, Lu Y, Zhang N, Liang S, Kantarjian HM, Cortes JE, Issa JP. Aberrant DNA methylation is associated with disease progression, resistance to imatinib and shortened survival in chronic myelogenous leukemia. PLoS One 6(7):e22110, 2011. e-Pub 7/2011. PMCID: PMC3132778.
41.
Yang Y, Lu Y, Espejo A, Wu J, Xu W, Liang S, Bedford MT. TDRD3 is an effector molecule for arginine-methylated histone marks. Mol Cell 40(6):1016-23, 12/2010. PMCID: PMC3090733.
42.
Lu Y, Sze SH. Improving accuracy of multiple sequence alignment algorithms based on alignment of neighboring residues. Nucleic Acids Res 37(2):463-72, 2/2009. e-Pub 12/2008. PMCID: PMC2632924.
43.
Lu Y, Sze SH. Multiple sequence alignment based on profile alignment of intermediate sequences. J Comput Biol 15(7):767-77, 9/2008. PMID: 18662101.
44.
Sze SH, Lu Y, Yang Q. A polynomial time solvable formulation of multiple sequence alignment. J Comput Biol 13(2):309-19, 3/2006. PMID: 16597242.
Other Articles
1.
Liang S, Lu Y, Jelinek J, Estecio M, Li H, Issa JP. Analysis of epigenetic modifications by next generation sequencing. Conf Proc IEEE Eng Med Biol Soc. 2009:6730, 2009.
2.
Lu Y and Sze SH. Multiple sequence alignment based on profile alignment of intermediate sequences. Proceedings of the 11th Annual International Conference on Research in Computational Molecular Biology (RECOMB'2007), Lecture Notes in Bioinformatics 4453:283-295, 2007.
3.
Sze SH, Lu Y and Yang Q. A polynomial time solvable formulation of multiple sequence alignment. Proceedings of the 9th Annual International Conference on Research in Computational Molecular Biology (RECOMB'2005), Lecture Notes in Bioinformatics 3500:204-216, 2005.