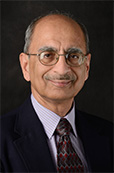 '
Zahid Hussain Siddik, Ph.D.
Present Title & Affiliation
Primary Appointment
Professor of Medicine (Pharmacology), Department of Experimental Therapeutics, Division of Cancer Medicine, The University of Texas MD Anderson Cancer Center, Houston, TX
Research Interests
Presence of wild-type p53 is prevalent in many refractory cancers. My current interests are focused on understanding how drug resistance is induced when wild-type p53 is present and how such a mechanism can be circumvented through drug design. More specifically, we are focused on the dysfunctionality of the p53/p21 pathway and how it impacts apoptosis through loss of checkpoint response.
Office Address
The University of Texas MD Anderson Cancer Center
1901 East Road
Unit Number: 1950
Houston, TX 77054
Room Number: 3SCR3.3420
Phone: (713) 792-7746
Fax: (713) 792-1204
Education & Training
Degree-Granting Education

1975
University of London, London, PHD, Biochemistry
1972
University of Liverpool, Liverpool, England, United Kingdom, BS, With Honors, Biochemistry

Postgraduate Training

1976-1980

Fogarty Postdoctoral Fellow, Laboratory of Toxicology, Drug Interactions Section, Developmental Therapeutics Program, Division of Cancer Treatment, National Cancer Institute, National Institutes of Health, Bethesda, MD

1972-1975

Postgraduate Student, Biochemistry Department, St. Mary's Hospital Medical School, Paddington, London W2 1PG
Selected Publications
Peer-Reviewed Original Research Articles

1.
Kim ES, Tang X, Peterson DR, Kilari D, Chow CW, Fujimoto J, Kalhor N, Swisher SG, Stewart DJ, Wistuba II, Siddik ZH. Copper transporter CTR1 expression and tissue platinum concentration in non-small cell lung cancer. Lung Cancer 85(1):88-93, 7/2014. e-Pub 4/2014. PMCID: PMC4090351.
2.
Martinez-Rivera M, Siddik ZH. Resistance and gain-of-resistance phenotypes in cancers harboring wild-type p53. Biochem Pharmacol 83(8):1049-62, 4/2012. e-Pub 12/2011. PMCID: PMC3299825.
3.
Arambula JF, Sessler JL, Siddik ZH. A texaphyrin-oxaliplatin conjugate that overcomes both pharmacologic and molecular mechanisms of cisplatin resistance in cancer cells. Medchemcomm 3(10):1275-1281, 2012. PMCID: PMC3737007.
4.
Le XF, Mao W, He G, Claret FX, Xia W, Ahmed AA, Hung MC, Siddik ZH, Bast RC. The role of p27(Kip1) in dasatinib-enhanced paclitaxel cytotoxicity in human ovarian cancer cells. J Natl Cancer Inst 103(18):1403-22, 9/21/2011. e-Pub 8/2/2011. PMCID: PMC3176777.
5.
He G, Kuang J, Khokhar AR, Siddik ZH. The impact of S- and G2-checkpoint response on the fidelity of G1-arrest by cisplatin and its comparison to a non cross-resistant platinum (IV) analog. Gynecol Oncol 122(2):402-409, 8/2011. e-Pub 5/18/2011. PMCID: PMC3601787.
6.
Arambula JF, Sessler JL, Siddik ZH. Overcoming biochemical pharmacologic mechanisms of platinum resistance with a texaphyrin-platinum conjugate. Bioorg Med Chem Lett 21(6):1701-5, 3/15/2011. e-Pub 1/26/2011. PMCID: PMC3463136.
7.
Preihs C, Arambula JF, Lynch VM, Siddik ZH, Sessler JL. Bismuth- and lead-texaphyrin complexes: towards potential a-core emitters for radiotherapy. Chem Commun (Camb) 46(42):7900-2, 11/2010. e-Pub 10/2010. PMCID: PMC3197826.
8.
Kurokawa T, He G, Siddik ZH. Protein kinase inhibitors emodin and dichloro-ribofuranosylbenzimidazole modulate the cellular accumulation and cytotoxicity of cisplatin in a schedule-dependent manner. Cancer Chemother Pharmacol 65(3):427-36, 2/2010. e-Pub 6/16/2009. PMCID: PMC4045215.
9.
Rowe RW, Strebel FR, Proett JM, Deng W, Chan D, He G, Siddik Z, Bull JM. Fever-range whole body thermotherapy combined with oxaliplatin: A curative regimen in a pre-clinical breast cancer model. Int J Hyperthermia 26(6):565-576, 2010. e-Pub 2010. PMCID: PMC4045248.
10.
Arambula JF, Sessler JL, Fountain ME, Wei WH, Magda D, Siddik ZH. Gadolinium Texaphyrin (Gd-Tex)-Malonato-Platinum Conjugates: Synthesis and Comparison with Carboplatin in Normal and Pt-Resistant Cell Lines. Dalton Trans(48):10834-40, 12/2009. e-Pub 10/2009. PMCID: PMC2862451.
11.
Mangala LS, Zuzel V, Schmandt R, Leshane ES, Halder JB, Armaiz-Pena GN, Spannuth WA, Tanaka T, Shahzad MM, Lin YG, Nick AM, Danes CG, Lee JW, Jennings NB, Vivas-Mejia PE, Wolf JK, Coleman RL, Siddik ZH, Lopez-Berestein G, Lutsenko S, Sood AK. Therapeutic Targeting of ATP7B in Ovarian Carcinoma. Clin Cancer Res 15(11):3770-80, 6/1/2009. e-Pub 5/26/2009. PMCID: PMC2752981.

Invited Articles

1.
Siddik ZH. Cisplatin: mode of cytotoxic action and molecular basis of resistance. Oncogene 22(47):7265-79, 10/20/2003. PMID: 14576837.

Abstracts

1.
He G, Kuang J, Kommen J, Kobayashi R, Khokhar AR, ZH Siddik. DNA damage by platinum-based drugs induces P21-dependent recruitment of PCNA as a homotrimer into the inhibited G-1 phase CDK complex. Proc. Am Assoc Cancer Res (#5361), 4/2011.
2.
Meraz IM, Khokhar A, Siddik ZH. Defective Check Point Kinase 2 (Chk2) Expression in Cisplatin-resistant Ovarian Tumor Cells Impedes wild-type P53 function. Proc. Am. Assoc. Cancer Res 51 (#2507), 4/2010.
3.
He G, Kuang J, Khokhar AR, Siddik ZH. The underlying basis for divergent cell cycles kinetics following checkpoint activation by cisplatin and a platinum (IV) analog. Am Assoc Cancer Res 51 (#3512), 4/2010.
4.
Huang Z, He G, Khokhar A, Siddik ZH. Paradoxical molecular changes in cisplatin-resistant ovarian tumor cells: up-regulation of drug-sensitizing and down-regulation of resistance-inducing genes. Proc Am Assoc Cancer Res 50 (#2952), 4/2009.

Book Chapters

1.
Siddik ZH. Targeting p21-dependent pathways for cell death in cancer therapy. In: Checkpoint Controls and Targets in Cancer Therapy. Ed(s) Siddik ZH. Humana Press: New Jersey, 199-213, 2010.
2.
Siddik ZH. Drug resistance and the tumor suppressor p53: The paradox of wild-type genotype in chemorefractory cancers. In: Drug Resistance in Cancer Cells. Ed(s) Mehta K, Siddik ZH. Humana Press: New Jersey, 209-231, 2009.

Books (edited and written)

1.
Boonstra J, Bunz F, Kuang J, Kramer A, Xiong Y, Lee MH, Nakanishi M, Alao JP, Lozano G, Giordano A, Friedenson B, Kaina B, Pevarello P, Eastman A, Siddik ZH, Bast R, Zhang H, Taylor SS, Rudolph J. Ed(s) ZH Siddik. Checkpoint Controls and Targets in Cancer Therapy. 14. Humana Press: New Jersey, 2010.
2.
Bates S, Fidler IJ, Kondo Y, Reddy EP, Mehta K, Hodkinson PS, Huang P, Aggarwal BB, Siddik ZH, Ali-Osman F, Ozoplat B, Calin G, Troester M, Price P, Chan MM. Ed(s) K Mehta, ZH Siddik. Drug Resistance in Cancer Cells. 17. Humana Press: New Jersey, 2009.