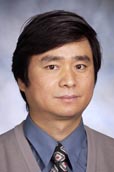 '
Zhengxin Wang, PhD
Present Title & Affiliation
Primary Appointment
Associate Professor, Department of Cancer Biology, Division of Basic Science Research, The University of Texas MD Anderson Cancer Center, Houston, TX
Research Interests
Androgen receptor (AR) plays key roles in regulation of gene transcription in the processes of reproduction, development, and metabolism and is involved in physiologic and pathophysiologic processes that are associated with the process of aging and the development of diseases in middle-aged and older people. Various transcriptional cofactors modulate the AR action in these processes. The long-term objective of my laboratory is to understand the detailed molecular mechanisms by which AR and its cofactors activate or repress key target genes that play critical regulatory roles in cell survival, differentiation, and proliferation, as well as in the aging process and age-related diseases.
It has been observed that hyper proliferation of prostate epithelial cells occurs in the aged men. The epithelial cell over proliferation is the first critical step leading to prostate tumorigenesis. The molecular changes that lead to the aging-related epithelial cell hyper proliferation are not well defined. We identified a 44-kDa protein, designated p44, as a new androgen receptor-interacting protein capable of influencing androgen receptor transcriptional activity. The p44 translocation from the nucleus to the cytoplasm in prostate epithelial cells is associated with proliferation of prostate epithelial cells and with prostate tumorigenesis. When we forced nuclear localization of p44 in prostate cancer cells, cell growth was inhibited because of G1 cell cycle arrest. Consistent with these observations, we found that mice lacking the p44 gene developed prostatic hyperplasia. Thus, p44 is required for proper expression of androgen receptor-target genes to maintain the differentiation stage of prostate epithelial cells. As a consequence, translocation of p44 from the nucleus into the cytoplasm in prostate cancer cells or the loss of the p44 gene in mouse prostate glands results in excessive epithelial cell proliferation. These studies will help to understand prostate tumorigenesis and eventually lead to find new drugs that target p44 cytoplasm localization for prostate cancer prevention and treatment.
Androgen ablation therapy, while effective in early androgen-dependent stages, nonetheless fails in the androgen-independent stages of advanced metastatic prostate cancer. Although the mechanism for the clinical response to androgen withdrawal therapy is not clear, androgen-independent progression has been associated with mutations or amplification of the androgen receptor gene and activation of intracellular signaling pathways that stimulate the androgen receptor function. Insights into this problem and a possible therapy for metastatic prostate cancer may be gained from a detailed understanding of the molecular mechanisms by which androgen receptor promotes survival of epithelial cells in the prostate gland. To this end, we demonstrated that the prostate apoptosis response factor-4 (par-4) functions as a novel AR coactivator. Par-4 physically interacted with the DNA-binding domain of AR, enhanced AR interacting with DNA, and increased AR-dependent transcription. Par-4 enhanced the c-FLIP promoter activity, was recruited onto the c-FLIP gene in the presence of androgens, and the dominant negative par-4 decreased c-FLIP expression. These results suggest that, in addition to its pro-apoptotic function, par-4 acts as a novel transcription cofactor for AR to target c-FLIP gene expression. In addition, we demonstrated that loss of c-FLIP expression was essential for the castration-induced apoptosis in the prostate gland and over-expression of c-FLIP is associated with hormonal-refractory metastatic prostate cancer. Our data shed light on a transcription-mediated mechanism for the effects of the androgen receptor-pathway on cell survival and apoptosis. These observations provide a potential target (c-FLIP) for the hormonal-refractory metastatic prostate cancer.
In other studies, we have recently found that mice with brain-specific deletion of the p44 gene display an early onset of phenotypes associated with aging, i.e. reduced longevity, osteoporosis, and generalized organ atrophy. More strikingly, we observed the significant decrease in the number of p44-expressing cells in the aged mouse and human brains. These data suggest that p44 plays a novel role in the aging process. The focus of the current research is to study the molecular mechanism by which p44 regulates the aging processes.
Education & Training
Degree-Granting Education

1990
Peking University, Beijing, PHD, Biochemistry
1983
Peking University, Beijing, BS, Chemistry

Postgraduate Training

1992-1997

Postdoctoral Fellow, Biochemistry and Molecular Biology, The Rockefeller University, New York, NY

1991-1992

Postdoctoral Fellow, Biochemistry, Boston University, Boston, MA
Selected Publications
Peer-Reviewed Original Research Articles

1.
Ye H, Li Y, Melamed J, Pearce P, Wei J, Chiriboga L, Wang Z, Osman I, Lee P. Stromal anti-apoptotic androgen receptor target gene c-FLIP in prostate cancer. J Urol 181(2):872-877, 2/2009. e-Pub 12/17/2008. PMID: 19095249.
2.
Qi W, Gao S, Wang Z. Transcriptional regulation of the TGF-beta1 promoter by androgen receptor. Biochem J 416(3):453-462, 12/15/2008. PMID: 18651839.
3.
Peng Y, Chen F, Melamed J, Chiriboga L, Wei J, Kong X, McLeod M, Li Y, Li CX, Feng A, Garabedian MJ, Wang Z, Roeder RG, Lee P. Distinct nuclear and cytoplasmic functions of androgen receptor coactivator p44 in prostate cancer growth and association with androgen-independent disease. Proc Natl Acad Sci U S A 105(13):5236-5241, 4/1/2008. e-Pub 3/20/2008. PMCID: PMC2278178.
4.
Qi W, Wu H, Yang L, Boyd DD, Wang Z. A novel function of caspase-8 in the regulation of androgen-receptor-driven gene expression. Embo J 26(1):65-75, 1/2007. PMCID: PMC782381.
5.
Zhou L, Wu H, Lee P, Wang Z. Roles of the androgen receptor cofactor p44 in the growth of prostate epithelial cells. J Mol Endocrinol 37(2):283-300, 10/2006. PMID: 17032745.
6.
Gao S, Wang H, Lee P, Melamed J, Li CX, Zhang F, Wu H, Zhou L, Wang Z. Androgen receptor and prostate apoptosis response factor-4 target the c-FLIP gene to determine survival and apoptosis in the prostate gland. J Mol Endocrinol 36(3):463-83, 6/2006. PMID: 16720717.
7.
Gao S, Lee P, Wang H, Gerald W, Adler M, Zhang L, Wang YF, Wang Z. The androgen receptor directly targets the cellular Fas/FasL-associated death domain protein-like inhibitory protein gene to promote the androgen-independent growth of prostate cancer cells. Mol Endocrinol 19(7):1792-802, 7/2005. PMID: 15731171.
8.
Hosohata K, Li P, Hosohata Y, Qin J, Roeder RG, Wang Z. Purification and identification of a novel complex which is involved in androgen receptor-dependent transcription. Mol Cell Biol 23(19):7019-29, 10/2003. PMID: 12972618.
9.
Liu GZ, Wang H, Wang Z. Identification of a highly conserved domain in the androgen receptor that suppresses the DNA-binding domain-DNA interactions. J Biol Chem 278(17):14956-60, 4/2003. PMID: 12591938.
10.
Li P, Yu X, Ge K, Melamed J, Roeder RG, Wang Z. Heterogeneous expression and functions of androgen receptor co-factors in primary prostate cancer. Am J Pathol 161(4):1467-74, 10/2002. PMID: 12368219.
Grant & Contract Support
Title:
The role of p44 in the control of proliferation and differentiation of prostate epithelial cells
Funding Source:
MD Anderson Cancer Center
Role:
Principal Investigator
Duration:
6/6/2007 - 6/5/2009
Title:
Mechanisms of Action of Androgen Receptor and Cofactors
Funding Source:
NIH/NIDDK
Role:
Principal Investigator
Duration:
7/15/2003 - 4/15/2009
© 2014 The University of Texas MD Anderson Cancer Center