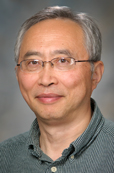 '
Ziding Feng, PhD
Present Title & Affiliation
Primary Appointment
Professor, Department of Biostatistics, Division of Quantitative Sciences, The University of Texas MD Anderson Cancer Center, Houston, TX
Chief, Section of Early Cancer Detection and Biomarkers, The University of Texas MD Anderson Cancer Center, Houston, TX
Co-Leader, Center for Global Early Cancer Detection, The University of Texas MD Anderson Cancer Center, Houston, TX
Research Interests
Cancer early detection (risk assessment, early detection and diagnosis, prognosis)
Diagnostic test evaluation
Biomarker evaluation
Group randomized trials
Education & Training
Degree-Granting Education

1990
Cornell University, Ithica, NY, PHD, Biometry
Honors and Awards
2007

Elected, Fellow, American Statistical Association,

American Statistical Association

1984

Cornell Graduate School Liu Memorial Award,

Cornell University
Selected Publications
Peer-Reviewed Original Research Articles

1.
Huang Y, Pepe M, Feng Z. Logistic regression analysis with standardized markers. Annals of Applied Statistics. In Press.
2.
Sin DD, Tammemagi CM, Lam S, Barnett MJ, Duan X, Tam A, Auman H, Feng Z, Goodman GE, Hanash S, Taguchi A, for the Pan-Canadian Early Lung Cancer Study Group. Pro-Surfactant Protein B As A Biomarker For Lunch Cancer Prediction. Journal of Clinical Oncology. In Press.
3.
Chao T, Ladd JJ, Qiu J, Johnson MM, Israel R, Chin A, Wang H, Prentice RL, Feng Z, Disis ML, Hanash S. Proteomic profiling of the autoimmune response to breast cancer antigens uncovers a suppressive effect of hormone therapy. Proteomics Clin Appl 7(5-6):327-36, 6/2013. e-Pub 5/10/2013. PMID: 23401414.
4.
Feng Z, Kagan J, Pepe M, Thornquist M, Ann Rinaudo J, Dahlgren J, Krueger K, Zheng Y, Patriotis C, Huang Y, Sorbara L, Thompson I, Srivastava S. The Early Detection Research Network's Specimen reference sets: paving the way for rapid evaluation of potential biomarkers. Clin Chem 59(1):68-74, 1/2013. e-Pub 11/27/2012. PMCID: PMC3652317.
5.
Hazelton WD, Goodman G, Rom WN, Tockman M, Thornquist M, Moolgavkar S, Weissfeld JL, Feng Z. Longitudinal multistage model for lung cancer incidence, mortality, and CT detected indolent and aggressive cancers. Math Biosci 240(1):20-34, 11/2012. e-Pub 6/15/2012. PMCID: PMC3412888.
6.
Pepe MS, Fan J, Seymour CW, Li C, Huang Y, Feng Z. Biases introduced by choosing controls to match risk factors of cases in biomarker research. Clin Chem 58(8):1242-51, 8/2012. e-Pub 6/22/2012. PMCID: PMC3464972.
7.
Zheng Y, Cai T, Jin Y, Feng Z. Evaluating prognostic accuracy of biomarkers under competing risk. Biometrics 68(2):388-96, 6/2012. e-Pub 12/7/2011. PMCID: PMC3694786.
8.
Koopmeiners JS, Feng Z, Pepe MS. Conditional estimation after a two-stage diagnostic biomarker study that allows early termination for futility. Stat Med 31(5):420-35, 2/28/2012. e-Pub 1/12/2012. PMCID: PMC3641588.
9.
Shang S, Plymoth A, Ge S, Feng Z, Rosen HR, Sangrajrang S, Hainaut P, Marrero JA, Beretta L. Identification of osteopontin as a novel marker for early hepatocellular carcinoma. Hepatology 55(2):483-90, 2/2012. e-Pub 12/19/2011. PMID: 21953299.
10.
Randolph TW, Harezlak J, Feng Z. Structured penalties for functional linear models-partially empirical eigenvectors for regression. Electron J Stat 6:323-353, 1/1/2012. PMCID: PMC3358792.
11.
Huang Y, Fong Y, Wei J, Feng Z. Borrowing Information across Populations in Estimating Positive and Negative Predictive Values. J R Stat Soc Ser C Appl Stat 60(5):633-653, 11/1/2011. PMCID: PMC3196635.
12.
Lin DW, FitzGerald LM, Fu R, Kwon EM, Zheng SL, Kolb S, Wiklund F, Stattin P, Isaacs WB, Xu J, Ostrander EA, Feng Z, Grönberg H, Stanford JL. Genetic variants in the LEPR, CRY1, RNASEL, IL4, and ARVCF genes are prognostic markers of prostate cancer-specific mortality. Cancer Epidemiol Biomarkers Prev 20(9):1928-36, 9/2011. e-Pub 8/2011. PMCID: PMC3169727.
13.
Pepe MS, Feng Z. Improving biomarker identification with better designs and reporting. Clin Chem 57(8):1093-5, 8/2011. PMCID: PMC3588584.
14.
Koopmeiners JS and Feng Z. Asymptotic properties of the sequential empirical ROC, PPV and NPV curves under case-control sampling. Ann. Statist. 39(6):3234-3261, 2011.
15.
Zheng W.. Feng Z, et al. Body mass index and mortality in over 1 million Asian persons. New England Journal of Medicine 364:719-729, 2011. PMID: Not in PubMed.
16.
Feng Z. Classification versus association models: should the same methods apply? Scand J Clin Lab Invest Suppl 242:53-8, 7/2010. PMCID: PMC3140431.
17.
Sokoll LJ, Sanda MG, Feng Z, Kagan J, Mizrahi IA, Broyles DL, Partin AW, Srivastava S, Thompson IM, Wei JT, Zhang Z, Chan DW. A prospective, multicenter, National Cancer Institute Early Detection Research Network study of [-2]proPSA: improving prostate cancer detection and correlating with cancer aggressiveness. Cancer Epidemiol Biomarkers Prev 19(5):1193-200, 5/2010. PMCID: PMC2867076.
18.
Haab BB, Porter A, Yue T, Li L, Scheiman J, Anderson MA, Barnes D, Schmidt CM, Feng Z, Simeone DM. Glycosylation variants of mucins and CEACAMs as candidate biomarkers for the diagnosis of pancreatic cystic neoplasms. Ann Surg 251(5):937-45, 5/2010. PMID: 20395854.
19.
Wang CY, Feng Z. Boosting with missing predictors. Biostatistics 11(2):195-212, 4/2010. e-Pub 11/30/2009. PMCID: PMC2830576.
20.
Zheng Y, Cai T, Stanford JL, Feng Z. Semiparametric models of time-dependent predictive values of prognostic biomarkers. Biometrics 66(1):50-60, 3/2010. e-Pub 4/13/2009. PMCID: PMC2875380.
21.
Newcomb LF, Brooks JD, Carroll PR, Feng Z, Gleave ME, Nelson PS, Thompson IM, Lin DW. Canary Prostate Active Surveillance Study: design of a multi-institutional active surveillance cohort and biorepository. Urology 75(2):407-13, 2/2010. e-Pub 9/16/2009. PMID: 19758683.
22.
Marrero JA, Feng Z, Wang Y, Nguyen MH, Befeler AS, Roberts LR, Reddy KR, Harnois D, Llovet JM, Normolle D, Dalhgren J, Chia D, Lok AS, Wagner PD, Srivastava S, Schwartz M. Alpha-fetoprotein, des-gamma carboxyprothrombin, and lectin-bound alpha-fetoprotein in early hepatocellular carcinoma. Gastroenterology 137(1):110-8, 7/2009. e-Pub 4/2009. PMCID: PMC2704256.
23.
Jin Z, Cheng Y, Gu W, Zheng Y, Sato F, Mori Y, Olaru AV, Paun BC, Yang J, Kan T, Ito T, Hamilton JP, Selaru FM, Agarwal R, David S, Abraham JM, Wolfsen HC, Wallace MB, Shaheen NJ, Washington K, Wang J, Canto MI, Bhattacharyya A, Nelson MA, Wagner PD, Romero Y, Wang KK, Feng Z, Sampliner RE, Meltzer SJ. A multicenter, double-blinded validation study of methylation biomarkers for progression prediction in Barrett's esophagus. Cancer Res 69(10):4112-5, 5/15/2009. e-Pub 5/12/2009. PMCID: PMC2752375.
24.
Pepe MS, Feng Z, Longton G, Koopmeiners J. Conditional estimation of sensitivity and specificity from a phase 2 biomarker study allowing early termination for futility. Stat Med 28(5):762-79, 2/28/2009. PMCID: PMC2745932.
25.
Pepe MS, Feng Z, Janes H, Bossuyt PM, Potter JD. Pivotal evaluation of the accuracy of a biomarker used for classification or prediction: standards for study design. J Natl Cancer Inst 100(20):1432-8, 10/15/2008. e-Pub 10/7/2008. PMCID: PMC2567415.
26.
Pepe MS, Feng Z, Huang Y, Longton G, Prentice R, Thompson IM, Zheng Y. Integrating the predictiveness of a marker with its performance as a classifier. Am J Epidemiol 167(3):362-8, 2/1/2008. e-Pub 11/2/2007. PMCID: PMC2939738.
27.
Pepe MS, Feng Z, Gu JW. Invited Commentary on 'Evaluating the added predictive ability of a new marker: From area under the ROC curve to reclassification and beyond' by M. J. Pencina et al., Statistics in Medicine (DOI: 10.1002/sim.2929). Stat Med 27(2):173-81, 1/2008. PMID: 17671958.
28.
McLerran DF, Feng Z, Semmes OJ, Cazares L, Randolph TW. Signal detection in high-resolution mass spectrometry data. J Proteome Res 7(1):276-85, 1/2008. PMID: 18173224.
29.
Sokoll LJ, Wang Y, Feng Z, Kagan J, Partin AW, Sanda MG, Thompson IM, Chan DW. [-2] proenzyment prostate specific antigen for Prostate Cancer Detection: an National Cancer Institute Early Detection Research Network Validation Study. Journal of Urology 180(2):539-543, 2008. PMID: Not in PubMed.
30.
Lin H, Feng Z, Yu Y, Zheng Y, Shivapurkar N, Gazdar AF. Application of Multidimensional Selective Item Response Regression Model for Studying Multiple Gene Methylation in SV40 Oncogenic Pathways. JASA 103(481):201-211, 2008. PMID: Not in PubMed.
31.
Qiu J, Choi G, Li L, Wang H, Pitteri SJ, Pereira-Faca SR, Krasnoselsky AL, Randolph TW, Edelstein C, Barnett M, Thornquist M, Goodman G, Omenn G, Brenner D, Feng Z and Hanash SM. Occurrence of autoantibodies to annexin 1, 14-3-3 theta and LAMR1 in prediagnostic lung cancer sera. Journal of Clinical Oncology 26(31):5060-5066, 2008.
32.
Sato F, Jin Z, Schulmann K, Wang J, Greenwald BD, Ito T, Kan T, Hamilton JP, Yang J, Paun B, David S, Olaru A, Cheng Y, Mori Y, Abraham JM, Yfantis HG, Wu TT, Fredericksen MB, Wang KK, Canto M, Romero Y, Feng Z, Meltzer SJ. Three-tiered risk stratification model to predict progression in Barrett's esophagus using epigenetic and clinical features. PLoS One 3(4):e1890, 2008. e-Pub 4/2/2008. PMCID: PMC2270339.
33.
Huang Y, Sullivan Pepe M, Feng Z. Evaluating the predictiveness of a continuous marker. Biometrics 63(4):1181-8, 12/2007. e-Pub 5/8/2007. PMCID: PMC3059154.
34.
Kraly JR, Jones MR, Gomez DG, Dickerson JA, Harwood MM, Eggertson M, Paulson TG, Sanchez CA, Odze R, Feng Z, Reid BJ, Dovichi NJ. Reproducible two-dimensional capillary electrophoresis analysis of Barrett's esophagus tissues. Anal Chem 78(17):5977-86, 9/1/2006. PMCID: PMC2597506.
35.
Sundararajan N, Mao D, Chan S, Koo TW, Su X, Sun L, Zhang J, Sung KB, Yamakawa M, Gafken PR, Randolph T, McLerran D, Feng Z, Berlin AA, Roth MB. Ultrasensitive detection and characterization of posttranslational modifications using surface-enhanced Raman spectroscopy. Anal Chem 78(11):3543-50, 6/1/2006. PMID: 16737206.
36.
Thompson IM, Ankerst DP, Chi C, Goodman PJ, Tangen CM, Lucia MS, Feng Z, Parnes HL, Coltman CA. Assessing prostate cancer risk: results from the Prostate Cancer Prevention Trial. J Natl Cancer Inst 98(8):529-34, 4/19/2006. PMID: 16622122.
37.
Zheng Y, Cai T, Feng Z. Application of the time-dependent ROC curves for prognostic accuracy with multiple biomarkers. Biometrics 62(1):279-87, 3/2006. PMID: 16542256.
38.
Gessner BD, Baggett HC, Muth PT, Dunaway E, Gold BD, Feng Z, Parkinson AJ. A controlled, household-randomized, open-label trial of the effect that treatment of Helicobacter pylori infection has on iron deficiency in children in rural Alaska. J Infect Dis 193(4):537-46, 2/15/2006. e-Pub 1/12/2006. PMID: 16425133.
39.
Orchekowski R, Hamelinck D, Li L, Gliwa E, vanBrocklin M, Marrero JA, Vande Woude GF, Feng Z, Brand R, Haab BB. Antibody microarray profiling reveals individual and combined serum proteins associated with pancreatic cancer. Cancer Res 65(23):11193-202, 12/1/2005. PMID: 16322270.
40.
Randolph TW, Mitchell BL, McLerran DF, Lampe PD, Feng Z. Quantifying peptide signal in MALDI-TOF mass spectrometry data. Mol Cell Proteomics 4(12):1990-9, 12/2005. e-Pub 9/29/2005. PMID: 16195224.
41.
True L, Feng Z. Immunohistochemical validation of expression microarray results. J Mol Diagn 7(2):149-51, 5/2005. PMCID: PMC1867530.
42.
Shigematsu H, Lin L, Takahashi T, Nomura M, Suzuki M, Wistuba II, Fong KM, Lee H, Toyooka S, Shimizu N, Fujisawa T, Feng Z, Roth JA, Herz J, Minna JD, Gazdar AF. Clinical and biological features associated with epidermal growth factor receptor gene mutations in lung cancers. J Natl Cancer Inst 97(5):339-46, 3/2/2005. PMID: 15741570.
43.
Yasui Y, Feng Z, Diehr P, McLerran G, Beresford SAA, McCulloch CE. Evaluation of community intervention trials via generalized linear mixed models. Biometrics 60:1043-1052, 2004. PMID: Not in PubMed.
44.
Li S, Bigler J, Lampe J, Potter J, Feng Z. FDR-controlling testing procedures and sample size determination for microarrays. Statistics in Medicine 24:2267-2280, 2004. PMID: Not in PubMed.
45.
Yasui Y, Pepe MS, Hsu L, Adam B, Feng Z. Partially supervised learning using an EM-Boosting algorithm. Biometrics 60:199-206, 2004. PMID: Not in PubMed.
46.
Feng Z, Prentice R, Srivastava S. Research issues and strategies for genomic and proteomic biomarker discovery and validation. Pharmacogneomics 5(6):709-719, 2004. PMID: Not in PubMed.
47.
Feng Z, Yasui Y. Statistical considerations in combining biomarkers for disease classification. Disease Marker 20(2):45-51, 2004. PMID: Not in PubMed.
48.
Yasui Y, Pepe M, Thompson ML, Adam BL, Wright GL, Qu Y, Potter JD, Winget M, Thornquist M, Feng Z. A data-analytic strategy for protein biomarker discovery: profiling of high-dimensional proteomic data for cancer detection. Biostatistics 4(3):449-63, 7/2003. PMID: 12925511.
49.
Winget MD, Baron JA, Spitz MR, Brenner DE, Warzel D, Kincaid H, Thornquist M, Feng Z. Development of common data elements: the experience of and recommendations from the early detection research network. Int J Med Inform 70(1):41-8, 4/2003. PMID: 12706181.
50.
Qu Y, Adam BL, Thornquist M, Potter JD, Thompson ML, Yasui Y, Davis J, Schellhammer PF, Cazares L, Clements M, Wright GL, Feng Z. Data reduction using a discrete wavelet transform in discriminant analysis of very high dimensionality data. Biometrics 59(1):143-51, 3/2003. PMID: 12762451.
51.
Braun T, Feng Z. Identifying settings when permutation tests have nominal size with paired binary-outcome, group randomized trials. Journal of Nonparametric Statistics 15(6):653-663, 2003. PMID: Not in PubMed.
52.
Qu Y, Adam BL, Yasui Y, Ward MD, Cazares LH, Schellhammer PF, Feng Z, Semmes OJ, Wright GL. Boosted decision tree analysis of surface-enhanced laser desorption/ionization mass spectral serum profiles discriminates prostate cancer from noncancer patients. Clin Chem 48(10):1835-43, 10/2002. PMID: 12324514.
53.
Feng Z, Thompson B. Some design issues in a community intervention trial. Control Clin Trials 23(4):431-49, 8/2002. PMID: 12161089.
54.
Shivapurkar N, Harada K, Reddy J, Scheuermann RH, Xu Y, McKenna RW, Milchgrub S, Kroft SH, Feng Z, Gazdar AF. Presence of simian virus 40 DNA sequences in human lymphomas. Lancet 359(9309):851-2, 3/9/2002. PMID: 11897287.
55.
Evans BA, Feng Z, Peterson AV. A comparison of generalized linear mixed model procedures with estimating equations for variance and covariance parameter estimation in longitudinal studies and group randomized trials. Stat Med 20(22):3353-73, 11/30/2001. PMID: 11746323.
56.
Pepe MS, Etzioni R, Feng Z, Potter JD, Thompson ML, Thornquist M, Winget M, Yasui Y. Phases of biomarker development for early detection of cancer. J Natl Cancer Inst 93(14):1054-61, 7/2001. PMID: 11459866.
57.
Braun T and Feng Z. Optimal permutation tests for the analysis of group randomized trials. JASA 96:1124-1132, 2001. PMID: Not in PubMed.
58.
Feng ZF, Diehr P, Peterson AV, McLerran D. Selected statistical issues in group randomized trials. Annual Review of Public Health 22:167-187, 2001. PMID: Not in PubMed.
59.
Stanford JL, Feng Z, Hamilton AS, Gilliland FD, Stephenson RA, Eley JW, Albertsen PC, Harlan LC, Potosky AL. Urinary and sexual function after radical prostatectomy for clinically localized prostate cancer: the Prostate Cancer Outcomes Study. JAMA 283(3):354-60, 1/2000. PMID: 10647798.
60.
Feng Z, Diehr P, Yasui Y, Evans B, Beresford S, Koepsell TD. Explaining community-level variance in group randomized trials. Stat Med 18(5):539-56, 3/15/1999. PMID: 10209810.
61.
Wang CY, Hsu L, Feng ZD, Prentice RL. An imputation method in failure time regression with measurement error. Biometrics 53:131-145, 1997. PMID: Not in PubMed.
62.
Feng Z, McLerran D, Grizzle J. A comparison of statistical methods for clustered data analysis with Gaussian error. Stat Med 15(16):1793-806, 8/1996. PMID: 8870161.
63.
Feng Z and McCulloch CE. On the likelihood ratio test statistic for the number of components in a normal mixture. Biometrics 50:1158-1162, 1994. PMID: Not in PubMed.
64.
Feng ZE and Grizzle JE. Correlated binomial variates: properties of estimator of intraclass correlation and its effect on sample size calculation. Statistics in Medicine 11:1607-1614, 1992. PMID: Not in PubMed.
65.
Feng Z and McCulloch CE. Statistical inference using maximum likelihood estimation and the generalized likelihood ratio when the true parameter is on the boundary of the parameter space. Statistics and Probability Letters 13:325-332, 1992. PMID: Not in PubMed.
Grant & Contract Support
Title:
Statistical Methods for Selection and Evaluation of Biomarkers
Funding Source:
NIH/NIGMS (Subaward from Fred Hutchinson Cancer Research Center)
Role:
Subaward Co-Investigator
Principal Investigator:
Ying Huang
Duration:
8/1/2013 - 1/31/2014
Title:
Salivary Biomarkers for Sjorgren's Syndrome Detection Definitive Clinical Validation
Funding Source:
NIH/NIDCR (Subaward from UCLA)
Role:
Subaward Principal Investigator
Principal Investigator:
David Wong
Duration:
5/1/2013 - 8/31/2015
Title:
Serum Glyco-Markers of Early Hepatocellular Carcinoma Using a Mass Spec Approach
Funding Source:
NIH/NCI (Subaward from the University of Michigan)
Role:
Subaward Co-Investigator
Principal Investigator:
Lubman
Duration:
4/1/2012 - 3/31/2016
Title:
Validation of biomarkers for prostate cancer prognosis
Funding Source:
DOD
Role:
Principal Investigator
Duration:
9/30/2011 - 9/29/2013
Title:
Early Detection Research Network: Data Management and Coordinating Center
Funding Source:
NIH/NCI
Role:
Principal Investigator
Duration:
8/16/2010 - 6/30/2015
Title:
Early Detection of Pancreatic Cystic Malignancy Using Protein and Glycan Biomarkers
Funding Source:
NIH/NCI (Subaward from Van Andel Research Institute)
Role:
Subaward Principal Investigator
Principal Investigator:
Haab, Allen, Brand
Duration:
7/1/2010 - 6/30/2015
© 2014 The University of Texas MD Anderson Cancer Center