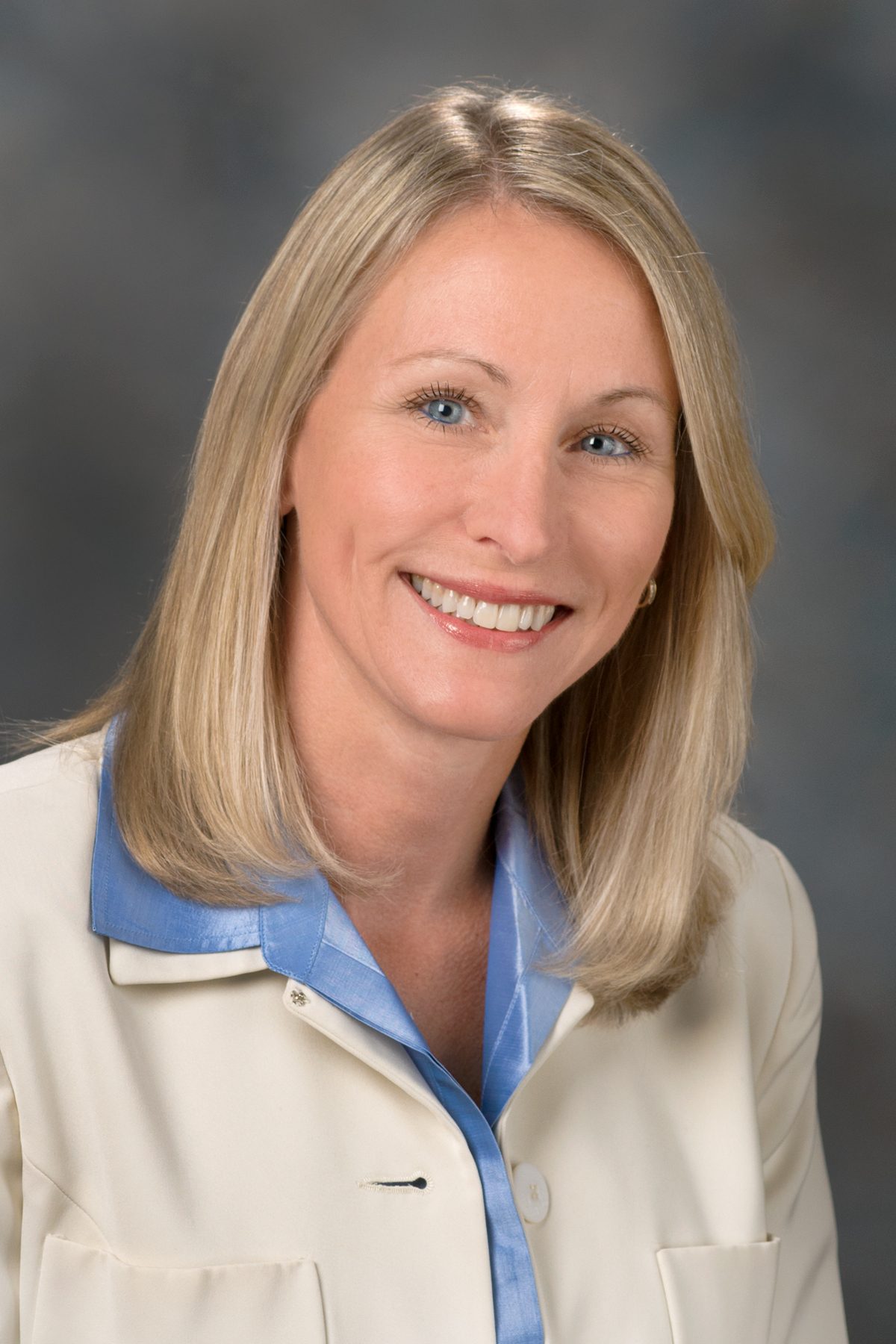 Denise Renee Nebgen, M.D., Ph.D.
Department of Gynecologic Oncology and Reproductive Medicine, Division of Surgery
About Dr. Nebgen
Dr. Denise Nebgen is an Associate Professor in the Department of Gynecologic Oncology and Reproductive Medicine. She is a native Texan who received her MD and PhD from Northwestern University. As a general gynecologist, she provides comprehensive gynecologic care for women with cancer. Her specialties include the treatment of abnormal uterine bleeding, menopausal disorders, cervical dysplasia and ovarian cysts. She also treats vulvar disorders including graft vs. host disease, lichen planus and sclerosis. Dr. Nebgen manages the High Risk Ovarian Screening clinic which focuses on the management of women who have a genetically high risk for gynecologic cancer. She is the Principal Investigator on a first United States trial of prophylactic salpingectomy and delayed oophorectomy in BRCA patients. She is also a co-investigator on multiple quality of life studies.
Dr. Nebgen is Board Certified in Obstetrics and Gynecology and is an active member of the American College of Obstetrics and Gynecology, Texas Association of Obstetrics and Gynecology. She is also on the Board of the Houston Gynecologic and Obstetric Society. Her clinical excellence and caring have been recognized in Houston's Top Doctors, Texas Super Doctors, and Marquis Who's Who in America.
Read More
Primary Appointment
Associate Professor, Department of Gynecologic Oncology & Reproductive Medicine, Division of Surgery, The University of Texas MD Anderson Cancer Center, Houston, TX
Degree-Granting Education
| | |
| --- | --- |
| 1997 | Northwestern University, Chicago, IL, USA, MD, Medicine |
| 1995 | Northwestern University, Chicago, IL, USA, PHD, Molecular Biology and Biochemistry |
| 1988 | The University of Texas Health Science Center at San Antonio, San Antonio, TX, USA, DDS, Dentistry |
Postgraduate Training
| | |
| --- | --- |
| 2015-2015 | Minimally Invasive Gynecologic Surgery, AAGL 2015 Global Congress, Las Vegas, NV |
| 2015-2015 | Heart of Leadership Program, M. D. Anderson Cancer Center, Houston, TX |
| 2014-2014 | Women Faculty Programs Course, Executive Training - Learning to Ask, M. D. Anderson Cancer Center, Houston, TX |
| 2014-2014 | Faculty and Academic Development, Mastering Workplace Performance, M. D. Anderson Cancer Center, Houston, TX |
| 2012-2012 | Mintos Course, Minimally Invasive Technology in Oncologic Surgery, M. D. Anderson Cancer Center, Houston |
| 2012-2012 | Robotic Training, Gynecologic Oncology, Intuitive Surgical, da Vinci Surgical System, Houston, TX |
| 1997-2001 | Internship and Residency, Obstetrics and Gynecology, Baylor College of Medicine, Houston, TX |
| 1989-1990 | Internship, Oral and Maxillofacial Surgery, University of Chicago, Chicago, IL |
| 1988-1989 | Fellowship, Oral and Maxillofacial Surgery, Baylor College of Dentistry, Dallas, TX |
| | |
| --- | --- |
| 2004 | American Board of Obstetrics and Gynecology |
Institutional Committee Activities
Member, Psychological, Behavioral, and Health Services Research Committee, 2013 - Present
Member, Prevention, HSR, QI and Survivorship Research Program, 2013 - Present
| | |
| --- | --- |
| 2011 | Texas Super Doctors |
| 2011 | Best Doctors in Texas, Best Doctors, Inc. |
| 2011 | Houston's Top Doctors, H Magazine |
| 2010 | Marquis Who's Who in Science and Industry |
| 2010 | Marquis Who's Who in American Women |
| 2010 | Marquis Who's Who in the World |
| 2009 | Marquis Who's Who in America |
| 1993 | Oral and Maxillofacial Surgery Foundation Research Award |
| 1992 | American Association Dental Research (AADR) Chicago, Young Investigators Award |
| 1991 | University of Chicago Surgical Training Grant, National Institute of Health |
| 1991 | Northwestern University, Oral Biology Grant, National Institute of Health ($25,000) |
| 1988 | Quintessence Clinical Achievement in Restorative Dentistry Award |
Houston Gynecological and Obstetrical Society (Executive Board), Houston, TX
President, 2018 - 2019
Houston Gynecological and Obstetrical Society (Executive Board), Houston, TX
President-Elect, 2017 - 2018
Houston Gynecological and Obstetrical Society (Executive Board), Houston, TX
Vice President, 2016 - 2017
Scientific Network on Female Sexual Health and Cancer
Member, 2015 - Present
International Society for the Study of Women's Sexual Health (ISSWSH)
Member, 2014 - Present
Society for Lower Genital Tract Disorders (ASCCP)
Member, 2013 - 2016
Psychosocial, Behavioral and Health Services Research Committee
Member, 2013 - 2016
Physician Organization of Women
Member, 2013 - Present
The Prevention, HSR, QI and Survivorship Research Committee
Member, 2013 - Present
Gynecologist Physician Advisory Board, MDACC
Member, 2013 - Present
Clinical Cancer Genetics Committee, Houston
Member, 2012 - Present
Society of Laparoendoscopic Surgeons
Member, 2011 - 2016
American Association of Gynecologic Laparoscopists
Member, 2009 - Present
American Board of Obstetrics and Gynecology
Member, 2004 - Present
American Society of Clinical Oncology
Member, 2004 - Present
Harris County Medical Society, Houston, TX
Member, 2001 - Present
Texas Medical Association, TX
Member, 2001 - Present
Texas Association of Obstetrics and Gynecology, TX
Member, 2001 - Present
American College of Obstetricians and Gynecologists
Member, 1997 - Present
Peer-Reviewed Articles
Streff H, Profato J, Ye Y, Nebgen D, Peterson SK, Singletary C, Arun BK, Litton JK

Cancer incidence in first and second degree relatives of BRCA1 and BRCA2 mutation carriers Oncologist 21 (7) :869-74, 2016. PMID: 27306910

Nebgen DR, Rhodes HE, Hartman C, Munsell MF, Lu KH

Abnormal uterine bleeding as the presenting symptom of hematologic cancer Obstet Gynecol 128 (2) :357-63, 2016. PMID: 27400009

Nebgen DR, Lu KH, Rimes S, Keeler E, Broaddus R, Munsell MF, Lynch PM

Combined colonoscopy and endometrial biopsy cancer screening results in women with Lynch syndrome Gynecologic Oncology (135) :85-89, 2014. PMID: 25149916

Bercaw-Pratt JL, Santos XM, Sanchez J, Ayensu-Coker L, Nebgen DR, Dietrich JE

The incidence, attitudes and practices of the removal of pubic hair as a body modification. J Pediatr Adolesc Gynecol 25 (1) :12-4, 2012. PMID: 22088314

Nebgen DR, Inoue H, Sabsay B, Wei K, Ho CS, Veis A

Identification of the chondrogenic-inducing activity from bovine dentin (bCIA) as a low-molecular-mass amelogenin polypeptide. J Dent Res 78 (9) :1484-94, 1999. PMID: 10512382

Inoue H, Nebgen D, Veis A

Changes in phenotypic gene expression in rat mandibular condylar cartilage cells during long-term culture. J Bone Miner Res 10 (11) :1691-7, 1995. PMID: 8592945

DiPietro LA, Nebgen DR, Polverini PJ

Downregulation of endothelial cell thrombospondin 1 enhances in vitro angiogenesis. J Vasc Res 31 (3) :178-85, 1994. PMID: 7511943

Nebgen D, Wood RS, Shapiro RD

Management of a mandibular fracture in a patient with cleidocranial dysplasia: report of a case and review of the literature. J Oral Maxillofac Surg 49 (4) :405-9, 1991. PMID: 2005496

Mersch J, Jackson MA, Park M, Nebgen D, Peterson SK, Singletary C, Arun BK, Litton JK

Cancers associated with BRCA1 and BRCA2 mutations other than breast and ovarian. Cancer 121 (2) :269-75. PMID: 25224030
Invited Articles
Nebgen D, Lu K, Fallopian tube removal may reduce ovarian cancer risk, 62 (2) :1-3, 2017
Nebgen DR, Doody KJ, Should salpingectomy be standard of care at time of bilateral tubal ligation?, 2015
Bradford A, Nebgen D, Is estrogen therapy safe for the management of sexual dysfunction in female cancer survivors of a hormone-responsive cancer?, 2015
Ronda Wendler/Denise Nebgen, Removing fallopian tubes may lower ovarian cancer risk, 2015
Abstracts
Denise R. Nebgen

Prophylactic salpingectomy with delayed oophorectomy (PSDO)-feasibility study in women with BRCA mutations ASCO Annual Meeting - Chicago - Oral Presentation, 2016

Woodard T, Kovanci E, Gibbons WE, Nebgen D, Lu K

Fertility services for women with gynecologic cancers: A new model for provision of services SGO, 2014

Nebgen DR, Hartman C, Rhodes HR, Woodard TL, Lu KH

Abnormal uterine bleeding as the presenting symptom of hematopoietic cancer Proceedings IN: ACOG Annual Clinical Meeting, 2014

Bradford A, Nebgen D, Keeler E, Milbourne A.

A comprehensive program to meet the sexual health needs of women with cancer Poster - Proceedings In: 7th Biennial Cancer Survivorship Research Conference, Atlanta, GA, 2014

Nebgen DR, Lynch PM, Broaddus R, Lu KH

Combined colon and endometrial cancer screening in women with HNPCC/Lynch Syndrome The International Society for Gastrointestinal Hereditary Tumours, 2013

Nebgen DR, Sun C,

Hydroxyzine for the management of hot flashes in breast cancer patients MDA Cancer Survivorship Research Retreat, 2012

Vo HQ, Hobday CD, Nebgen D, Yu N, Li K

Phase 4 clinical MRgFUS treatment of large uterine fibroids using the Insightec ExAblate 2000 Third International Symposium on Focused Ultrasound, 2012

Vo HQ, Hobday C, Nebgen D, Yu N, Li K

Phase 3 clinical MRgFUS treatment of large uterine fibroids using the Insightec ExAblate 2000 The Methodist Perspective, 2011

Gee PJ, Tempany C, leBlang S, Nebgen D, Curtis P, Stewart EA

Magnetic resonance guided focused ultrasound surgery (MRgFUS) of uterine fibroid in African American patients 9th Annual Advanced Workshop on Gynecologic Laparoscopic Anatomy and Minimally Invasive Surgery Including TVT and TOT - AAGL, 2009

Nebgen D, Gee P, Akin MD

Image characterization of fibroids to improve magnetic resonance guided focused ultrasound (MRgFUS) treatment outcomes AAGL, 2009

Rowe G, Nebgen DR

Successful pregnancy after magnetic resonance imaging guided focused ultrasound (MRgFUS) treatment of uterine leiomyoma Ultrasound in Obstetrics & Gynecology 32 (3) :415-416, 2008

Gee P, Tempany C, LeBlang S, Nebgen D, Curtis P, Stewart E

Magnetic Resonance guided Focused Ultrasound Surgery (MRgFUS) of Uterine Fibroids in African Patients 9th Annual AAGL Advanced Workshop, 2007