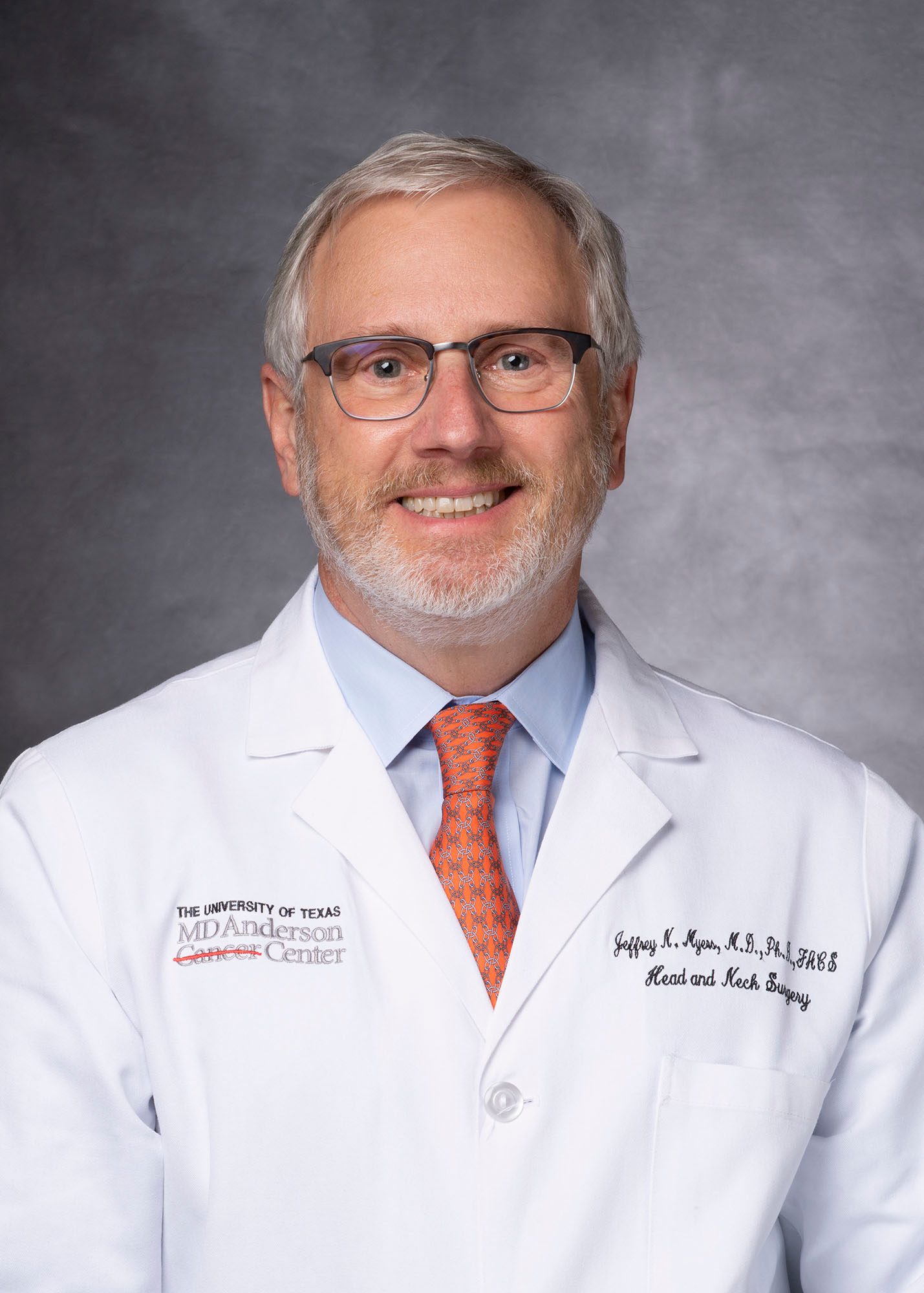 Jeffrey N. Myers, M.D., Ph.D., F.A.C.S.
Department of Head and Neck Surgery, Division of Surgery
About Dr. Myers
Dr. Jeffrey N. Myers received his medical (MD) and doctoral (PhD) degrees from the University of Pennsylvania School of Medicine and he then completed his residency training in Otolaryngology-Head and Neck Surgery at the University of Pittsburgh. He subsequently completed fellowship training in Head and Neck Surgical Oncology at the University of Texas MD Anderson Cancer Center, where he has been on the faculty ever since. Dr. Myers leads a basic and translational research program and his primary research interests are in the role of p53 mutation in oral cancer progression, metastasis and response to treatment.
Read More
Primary Appointment
Alando J. Ballantyne Distinguished Chair of Head and Neck Surgery, Department of Head and Neck Surgery, Division of Surgery, The University of Texas MD Anderson Cancer Center, Houston, TX
Director of Translational Research, Division of Surgery, The University of Texas MD Anderson Cancer Center, Houston, TX
Professor, Department of Head and Neck Surgery, The University of Texas MD Anderson Cancer Center, Houston, TX
Director of Research, Department of Head and Neck Surgery, The University of Texas MD Anderson Cancer Center, Houston, TX
Deputy Chair for Academic Programs, Department of Head and Neck Surgery, The University of Texas MD Anderson Cancer Center, Houston, TX
Dual/Joint/Adjunct Appointment
Professor, Department of Cancer Biology, The University of Texas MD Anderson Cancer Center, Houston, TX
Degree-Granting Education
| | |
| --- | --- |
| 1991 | University of Pennsylvania School of Medicine, Philadelphia, PA, USA, MD, Medicine |
| 1991 | University of Pennsylvania School of Medicine, Philadelphia, PA, USA, PHD, School of Medicine, Biochemistry |
| 1983 | University of Pennsylvania, Philadelphia, PA, USA, BA, Biochemistry |
Postgraduate Training
| | |
| --- | --- |
| 1996-1997 | Fellowship, Head and Neck Surgery, The University of Texas MD Anderson Cancer Center, Houston, TX |
| 1992-1996 | Residency, Otolaryngology, University of Pittsburgh School of Medicine, Pittsburgh, PA |
| | |
| --- | --- |
| 1997 | American Board of Otolaryngology |
Endowed Positions
Hubert L. and Olive Stringer Distinguished Professorship in Cancer Research, Department of Head and Neck Surgery, Division of Surgery, The University of Texas MD Anderson Cancer Center, Houston, TX, 2010 - 2016
| | |
| --- | --- |
| 2017 | American Association for the Advancement of Science (AAAS) Fellow |
| 2016 | America's Top Doctors For Cancer: 2016 - 2017, Castle Connolly Medical Ltd |
| 2016 | Houston Chronicle - MedCity - Houston Top Doctors |
| 2016 | Alando J. Ballantyne Distinguished Chair of Head and Neck Surgery, The University of Texas, MD Anderson Cancer Center |
| 2015 | Newsweek Special Health Issue - Curing Cancer - Top Doctors, Newsweek |
| 2012 | 7th Annual David Myers Distinguished Professor, University of Pennsylvania Health Systems |
| 2011 | America's Top Doctors for Cancer, Castle Connolly Medical Ltd. 7th Edition |
| 2010 | Hubert L. and Olive Stringer Distinguished Professorship in Cancer Research, The University of Texas MD Anderson Cancer Center |
| 2008 | Ashbel Smith Professorship, The University of Texas MD Anderson Cancer Center |
| 2005 | America's Top Doctors |
| 2004 | Julie and Ben Rogers Award for Excellence in Patient Care, The University of Texas MD Anderson Cancer Center |
| 2003 | Best Doctors in America |
| 2002 | Bristol-Myers Squibb Award in Clinical/Translational Research |
American Head and Neck Society (AHNS)
Chair, AHNS Nominating Committee, 2017 - 2018
American Head and Neck Society (AHNS)
President, 2016 - 2017
American Head and Neck Society (AHNS)
2017 Program Committee, 2016 - Present
American Head and Neck Society (AHNS)
Leadership Council Committee, 2016 - Present
American Association for Cancer Research
2017 Program Committee, 2016 - 2017
American Head and Neck Society (AHNS)
Vice President, 2015 - 2016
American Board of Otolaryngology, Chicago, IL
Senior Examiner, 2009 - 2014
American Board of Otolaryngology, Chicago, IL
Guest Examiner, 2007 - 2008
American Society of Clinical Oncology (ASCO)
Member, Education Committee, 2003 - 2004
American Academy of Otolaryngology – Head and Neck Surgery Foundation (AAO-HNSF)
Member, Maintenance of Certification Committee of the Continuing Education Advisory Committee, 2001 - 2003
American Head and Neck Society (AHNS)
Member, Research Committee, 2001 - 2007
American Head and Neck Society (AHNS)
Member, 2000 - 2000
National Institute of Health (NIH)
Member, CTEP Head and Neck Intergroup Committee, 1999 - 2007
American College of Surgeons Oncology Group (ACOSOG)
Chair, Head and Neck Surgery Organ Site Committee, 1998 - 2006
American Academy of Otolaryngology – Head and Neck Surgery Foundation (AAO-HNSF)
Member, Committee on Head and Neck Surgery, 1997 - Present
American Association for Cancer Research
Member, 1996 - Present
American Society of Clinical Oncology (ASCO)
Member, 1995 - Present
American Medical Association
Member, 1993 - Present
American Academy of Otolaryngology – Head and Neck Surgery Foundation (AAO-HNSF)
Member, 1993 - Present
Peer-Reviewed Articles
Hatano T, Sano D, Takahashi H, Hyakusoku H, Isono Y, Shimada S, Sawakuma K, Takada K, Oikawa R, Watanabe Y, Yamamoto H, Itoh F, Myers JN, Oridate N

Identification of human papillomavirus (HPV) 16 DNA integration and the ensuing patterns of methylation in HPV-associated head and neck squamous cell carcinoma cell lines. Int J Cancer 140 (7) :1571-1580, 2017. e-Pub 2017. PMID: 28006857

Li J, Zhao W, Akbani R, Liu W, Ju Z, Ling S, Vellano CP, Roebuck P, Yu Q, Eterovic AK, Byers LA, Davies MA, Deng W, Gopal YN, Chen G, von Euw EM, Slamon D, Conklin D, Heymach JV, Gazdar AF, Minna JD, Myers JN, Lu Y, Mills GB, Liang H

Characterization of Human Cancer Cell Lines by Reverse-phase Protein Arrays Cancer Cell 31 (2) :225-239, 2017. PMID: 28196595

Quinlan-Davidson SR, Morrison WH, Myers JN, Gunn GB, William WN, Beadle BM, Skinner HD, Gillenwater AM, Frank SJ, Phan J, Johnson FM, Fuller CD, Zafereo ME, Rosenthal DI, Garden AS

Recurrent oral cavity cancer: Patterns of failure after salvage multimodality therapy. Head Neck 39 (4) :633-638, 2017. e-Pub 2016. PMID: 28006086

Leroy B, Ballinger ML, Baran-Marszak F, Bond GL, Braithwaite A, Concin N, Donehower LA, El-Deiry WS, Fenaux P, Gaidano G, Langerød A, Hellstrom-Lindberg E, Iggo R, Lehmann-Che J, Mai PL, Malkin D, Moll UM, Myers JN, Nichols KE, Pospisilova S, Ashton-Prolla P, Rossi D, Savage SA, Strong LC, Tonin PN, Zeillinger R, Zenz T, Fraumeni JF, Taschner PE, Hainaut P, Soussi T

Recommended Guidelines for Validation, Quality Control, and Reporting of TP53 Variants in Clinical Practice. Cancer Res 77 (6) :1250-1260, 2017. PMID: 28254861

Nader ME, Myers JN, Gidley PW

Sudden hearing loss in a melanoma patient on pembrolizumab: An Etiology not to be omitted in the differential diagnosis J Immunother Cancer 5:24, 2017. e-Pub 2017. PMID: 28331614

Chang KP, Wang CI, Pickering CR, Huang Y, Tsai CN, Tsang NM, Kao HK, Cheng MH, Myers JN

Prevalence of promoter mutations in the TERT gene in oral cavity squamous cell carcinoma. Head Neck 39 (6) :1131-1137, 2017. e-Pub 2017. PMID: 28230921

Chitsazzadeh V, Coarfa C, Drummond JA, Nguyen T, Joseph A, Chilukuri S, Charpiot E, Adelmann CH, Ching G, Nguyen TN, Nicholas C, Thomas VD, Migden M, MacFarlane D, Thompson E, Shen J, Takata Y, McNiece K, Polansky MA, Abbas HA, Rajapakshe K, Gower A, Spira A, Covington KR, Xiao W, Gunaratne P, Pickering C, Frederick M, Myers JN, Shen L, Yao H, Su X, Rapini RP, Wheeler DA, Hawk ET, Flores ER, Tsai KY

Cross-species identification of genomic drivers of squamous cell carcinoma development across preneoplastic intermediates. Nat Commun 7:12601, 2016. e-Pub 2016. PMID: 27574101

Saluja K, Rao PH, Myers JN, El-Naggar AK

Novel t(1;3)(q21,p21) translocation in a basal cell adenocarcinoma of the parotid gland: potential association with tumorigenesis. Hum Pathol 54:189-92, 2016. e-Pub 2016. PMID: 27085552

Zhou G, Liu Z, Myers JN

TP53 Mutations in Head and Neck Squamous Cell Carcinoma and Their Impact on Disease Progression and Treatment Response. J Cell Biochem 117 (12) :2682-2692, 2016. PMID: 27166782

Hyakusoku H, Sano D, Takahashi H, Hatano T, Isono Y, Shimada S, Ito Y, Myers JN, Oridate N

JunB promotes cell invasion, migration and distant metastasis of head and neck squamous cell carcinoma. J Exp Clin Cancer Res 35 (1) :6, 2016. e-Pub 2016. PMID: 26754630

Neskey DM, Osman AA, Ow TJ, Katsonis P, McDonald T, Hicks SC, Hsu TK, Pickering CR, Ward A, Patel A, Yordy JS, Skinner HD, Giri U, Sano D, Story MD, Beadle BM, El-Naggar AK, Kies MS, William WN, Caulin C, Frederick M, Kimmel M, Myers JN, Lichtarge O

Evolutionary Action Score of TP53 Identifies High-Risk Mutations Associated with Decreased Survival and Increased Distant Metastases in Head and Neck Cancer. Cancer Res 75 (7) :1527-36, 2015. e-Pub 2015. PMID: 25634208

Osman AA, Monroe MM, Ortega Alves MV, Patel AA, Katsonis P, Fitzgerald AL, Neskey DM, Frederick MJ, Woo SH, Caulin C, Hsu TK, McDonald TO, Kimmel M, Meyn RE, Lichtarge O, Myers JN

Wee-1 Kinase Inhibition Overcomes Cisplatin Resistance Associated with High Risk TP53 Mutations in Head and Neck Cancer through Mito tic Arrest Followed by Senescence Mol Cancer Ther 14 (2) :608-19, 2015. e-Pub 2014. PMID: 25504633

Wang Y, Springer S, Mulvey CL, Silliman N, Schaefer J, Sausen M, James N, Rettig EM, Guo T, Pickering CR, Bishop JA, Chung CH, Califano JA, Eisele DW, Fakhry C, Gourin CG, Ha PK, Kang H, Kiess A, Koch WM, Myers JN, Quon H, Richmon JD, Sidransky D, Tufano RP, Westra WH, Bettegowda C, Diaz LA, Papadopoulos N, Kinzler KW, Vogelstein B, Agrawal N

Detection of somatic mutations and HPV in the saliva and plasma of patients with head and neck squamous cell carcinomas. Sci Transl Med 7 (293) :293ra104, 2015. PMID: 26109104

Foy JP, Pickering CR, Papadimitrakopoulou VA, Jelinek J, Lin SH, William WN, Frederick MJ, Wang J, Lang W, Feng L, Zhang L, Kim ES, Fan YH, Hong WK, El-Naggar AK, Lee JJ, Myers JN, Issa JP, Lippman SM, Mao L, Saintigny P

New DNA methylation markers and global DNA hypomethylation are associated with oral cancer development. Cancer Prev Res (Phila) 8 (11) :1027-35, 2015. e-Pub 2015. PMID: 26342026

Zhou JH, Sahin AA, Myers JN

Biobanking in Genomic Medicine Arch Pathol Lab Med 139 (6) :812-8, 2015. PMID: 26030251

Davis-Malesevich MV, Goepfert R, Kubik M, Roberts DB, Myers JN, Kupferman ME

Recurrence of cutaneous melanoma of the head and neck after negative sentinel lymph node biopsy. Head Neck 37 (8) :1116-21, 2015. PMID: 24764188

Mazumdar T, Sen B, Wang Y, Peng S, Nicholas C, Glisson BS, Myers JN, Johnson FM

Drug-induced RAF dimerization is independent of RAS mutation status and does not lead to universal MEK dependence for cell survival in head and neck cancers. Anticancer Drugs 26 (8) :835-42, 2015. e-Pub 2015. PMID: 26053277

Osman AA, Neskey DM, Katsonis P, Patel AA, Ward AM, Hsu TK, Hicks SC, McDonald TO, Ow TJ, Alves MO, Pickering CR, Skinner HD, Zhao M, Sturgis EM, Kies MS, El-Naggar A, Perrone F, Licitra L, Bossi P, Kimmel M, Frederick MJ, Lichtarge O, Myers JN

Evolutionary Action Score of TP53 Coding Variants (EAp53) is Predictive of Platinum Response in Head and Neck Cancer Patients. Cancer Res 75 (7) :1205-15, 2015. e-Pub 2015. PMID: 25691460

Chinn SB, Myers JN

Oral Cavity Carcinoma: Current Management, Controversies, and Future Directions. J Clin Oncol 33 (29) :3269-76, 2015. e-Pub 2015. PMID: 26351335

Sandulache VC, Chen Y, Skinner HD, Lu T, Feng L, Court LE, Myers JN, Meyn RE, Fuller CD, Bankson JA, Lai SY

Acute tumor lactate perturbations as a biomarker of genotoxic stress: development of a biochemical model. Mol Cancer Ther 14 (12) :2901-8, 2015. PMID: 26376962

Monroe MM, Pattisapu P, Myers JN, Kupferman ME

Sentinel Lymph Node Biopsy Provides Prognostic Value in Thick Head and Neck Melanoma. Otolaryngol Head Neck Surg 153 (3) :372-8, 2015. PMID: 26070510

Fitzgerald AL, Osman AA, Xie TX, Patel A, Skinner H, Sandulache V, Myers JN

Reactive oxygen species and p21Waf1/Cip1 are both essential for p53-mediated senescence of head and neck cancer cells. Cell Death Dis 6:e1678, 2015. e-Pub 2015. PMID: 25766317

Zhou G, Myers JN

Mutant p53 exerts oncogenic functions by modulating cancer cell metabolism. Mol Cell Oncol 1 (3) :e963441, 2014. e-Pub 2014. PMID: 27308343

Zhou JH, Kim KB, Myers JN, Fox PS, Ning J, Bassett RL, Hasanein H, Prieto VG

Immunohistochemical Expression of Hormone Receptors in Melanoma of Pregnant Women, Nonpregnant Women, and Men. Am J Dermatopathol 36 (1) :74-9, 2014. e-Pub 2013. PMID: 23812018

Gelbard A, Hale KS, Takahashi Y, Davies M, Kupferman ME, El-Naggar AK, Myers JN, Hanna EY

Molecular profiling of sinonasal undifferentiated carcinoma. Head Neck 36 (1) :15-21, 2014. PMID: 23633104

Guerrero-Preston R, Michailidi C, Marchionni L, Pickering CR, Frederick MJ, Myers JN, Yegnasubramanian S, Hadar T, Noordhuis MG, Zizkova V, Fertig E, Agrawal N, Westra W, Koch W, Califano J, Velculescu VE, Sidransky D

Key tumor suppressor genes inactivated by "greater promoter" methylation and somatic mutations in head and neck cancer. Epigenetics 9 (7) :1031-46, 2014. PMID: 24786473

Luke GP, Myers JN, Emelianov SY, Sokolov KV

Sentinel lymph node biopsy revisited: ultrasound-guided photoacoustic detection of micrometastases using molecularly targeted plasmonic nanosensors Cancer Res 74 (19) :5397-408, 2014. e-Pub 2014. PMID: 25106426

Takahashi Y, Bell D, Agarwal G, Roberts D, Xie TX, El-Naggar A, Myers JN, Hanna EY

Comprehensive assessment of prognostic markers for sinonasal squamous cell carcinoma. Head Neck 36 (8) :1094-102, 2014. e-Pub 2013. PMID: 23836481

Hauff SJ, Raju SC, Orosco RK, Gross AM, Diaz-Perez JA, Savariar E, Nashi N, Hasselman J, Whitney M, Myers JN, Lippman SM, Tsien RY, Ideker T, Nguyen QT

Matrix-Metalloproteinases in Head and Neck Carcinoma-Cancer Genome Atlas Analysis and Fluorescence Imaging in Mice. Otolaryngol Head Neck Surg 151 (4) :612-8, 2014. e-Pub 2014. PMID: 25091190

Pickering CR, Zhang J, Neskey DM, Zhao M, Jasser SA, Wang J, Ward A, Tsai CJ, Ortega Alves MV, Zhou JH, Drummond J, El-Naggar AK, Gibbs R, Weinstein JN, Wheeler DA, Wang J, Frederick MJ, Myers JN

Squamous cell carcinoma of the oral tongue in young non-smokers is genomically similar to tumors in older smokers. Clin Cancer Res 20 (14) :3842-8, 2014. e-Pub 2014. PMID: 24874835

Pickering CR, Zhou JH, Lee JJ, Drummond JA, Peng SA, Saade RE, Tsai KY, Curry JL, Tetzlaff MT, Lai SY, Yu J, Muzny DM, Doddapaneni H, Shinbrot E, Covington KR, Zhang J, Seth S, Caulin C, Clayman GL, El-Naggar AK, Gibbs RA, Weber RS, Myers JN, Wheeler DA, Frederick MJ

Mutational landscape of aggressive cutaneous squamous cell carcinoma. Clin Cancer Res 20 (24) :6582-92, 2014. e-Pub 2014. PMID: 25303977

Klein JD, Sano D, Sen M, Myers JN, Grandis JR, Kim S

STAT3 Oligonucleotide Inhibits Tumor Angiogenesis in Preclinical Models of Squamous Cell Carcinoma. PLoS One 9 (1) :e81819, 2014. e-Pub 2014. PMID: 24404126

Harari PM, Harris J, Kies MS, Myers JN, Jordan RC, Gillison ML, Foote RL, Machtay M, Rotman M, Khuntia D, Straube W, Zhang Q, Ang K

Postoperative Chemoradiotherapy and Cetuximab for High-Risk Squamous Cell Carcinoma of the Head and Neck: Radiation Therapy Oncology Group RTOG-0234. J Clin Oncol 32 (23) :2486-95, 2014. e-Pub 2014. PMID: 25002723

Yang CZ, Ma J, Luo QQ, Neskey DM, Zhu DW, Liu Y, Myers JN, Zhang CP, Zhang ZY, Zhong LP

Elevated level of serum growth differentiation factor 15 is associated with oral leukoplakia and oral squamous cell carcinoma. J Oral Pathol Med 43 (1) :28-34, 2014. PMID: 23710769

Sandulache VC, Hamblin JS, Skinner HD, Kubik MW, Myers JN, Zevallos JP

Metformin use is associated with improved survival in patients with laryngeal squamous cell carcinoma. Head Neck 36 (7) :1039-43, 2014. e-Pub 2014. PMID: 23784886

Mazumdar T, Byers LA, Ng PK, Mills GB, Peng S, Diao L, Fan YH, Stemke-Hale K, Heymach JV, Myers JN, Glisson BS, Johnson FM

A Comprehensive Evaluation of Biomarkers Predictive of Response to PI3K Inhibitors and of Resistance Mechanisms in Head and Neck Squamous Cell Carcinoma. Mol Cancer Ther 13 (11) :2738-50, 2014. e-Pub 2014. PMID: 25193510

Chuang HC, Yang LP, Fitzgerald AL, Osman A, Woo SH, Myers JN, Skinner HD

The p53-Reactivating Small Molecule RITA Induces Senescence in Head and Neck Cancer Cells. PLoS One 9 (8) :e104821, 2014. e-Pub 2014. PMID: 25119136

Hah JH, Zhao M, Pickering CR, Frederick MJ, Andrews GA, Jasser SA, Fooshee DR, Milas ZL, Galer C, Sano D, William WN, Kim E, Heymach J, Byers LA, Papadimitrakopoulou V, Myers JN

HRAS mutations and resistance to the epidermal growth factor receptor tyrosine kinase inhibitor erlotinib in head and neck squamous cell carcinoma cells. Head Neck 36 (11) :1547-54, 2014. e-Pub 2014. PMID: 24123531

Zhong LP, Zhu DW, William WN, Liu Y, Ma J, Yang CZ, Yang X, Wang LZ, Li J, Myers JN, Lee JJ, Zhang CP, Zhang ZY

Elevated cyclin D1 expression is predictive for a benefit from TPF induction chemotherapy in oral squamous cell carcinoma patients with advanced nodal disease. Mol Cancer Ther 12 (6) :1112-21, 2013. e-Pub 2013. PMID: 23515614

Gadhikar MA, Sciuto MR, Ortega Alves MV, Pickering CR, Osman AA, Neskey DM, Zhao M, Fitzgerald AL, Myers JN, Frederick MJ

Chk1/2 inhibition overcomes the cisplatin resistance of head and neck cancer cells secondary to the loss of functional p53. Mol Cancer Ther 12 (9) :1860-73, 2013. PMID: 23839309

Ow TJ, Sandulache VC, Skinner HD, Myers JN

Integration of cancer genomics with treatment selection: from the genome to predictive biomarkers. Cancer 119 (22) :3914-28, 2013. e-Pub 2013. PMID: 24037788

Gyanchandani R, Ortega Alves MV, Myers JN, Kim S

A Proangiogenic Signature is Revealed in FGF-Mediated Bevacizumab Resistant Head and Neck Squamous Cell Carcinoma. Mol Cancer Res 11 (12) :1585-96, 2013. e-Pub 2013. PMID: 24092775

Pickering CR, Myers JN

Bcl-2 Inhibition or FBXW7 Mutation Sensitizes Solid Tumor Cells to HDAC Inhibition In Vitro but Could Prove Difficult to Validate in Patients. Cancer Discov 3 (3) :258-9, 2013. PMID: 23475877

Hamilton JD, Ahmed S, Sandulache VC, Daram SP, Ow TJ, Skinner HD, Rao A, Ginsberg LE, Kumar AJ, Myers JN

Improving Imaging Diagnosis of Persistent Nodal Metastases after Definitive Therapy for Oropharyngeal Carcinoma: Specific Signs for CT and Best Performance of Combined Criteria AJNR Am J Neuroradiol 34 (8) :1637-1642, 2013. e-Pub 2013. PMID: 23471023

Myers JN, Sturgis EM

A tale of two cancers: carcinomas of the oral cavity and oropharynx. Otolaryngol Clin North Am 46 (4) :xiii-xvi, 2013. e-Pub 2013. PMID: 23910479

Xie TX, Zhou G, Zhao M, Sano D, Jasser SA, Brennan RG, Myers JN

Serine Substitution of Proline at Codon 151 of TP53 Confers Gain of Function Activity Leading to Anoikis Resistance and Tumor Progression of Head and Neck Cancer Cells Laryngoscope 123 (6) :1416-23, 2013. e-Pub 2013. PMID: 23625637

El-Sawy T, Frank SJ, Hanna E, Sniegowski M, Lai SY, Nasser QJ, Myers J, Esmaeli B

Multidisciplinary management of lacrimal sac/nasolacrimal duct carcinomas. Ophthal Plast Reconstr Surg 29 (6) :454-7, 2013. PMID: 24195987

Wu X, Bhayani MK, Dodge CT, Nicoloso MS, Chen Y, Yan X, Adachi M, Thomas L, Galer CE, Jiffar T, Pickering CR, Kupferman ME, Myers JN, Calin GA, Lai SY

Coordinated Targeting of the EGFR Signaling Axis by MicroRNA-27a* Oncotarget 4 (9) :1388-98, 2013. e-Pub 2013. PMID: 23963114

Sandulache VC, Ow TJ, Daram SP, Hamilton J, Skinner H, Bell D, Rosenthal DI, Beadle BM, Ang KK, Kies MS, Johnson FM, El-Naggar AK, Myers JN

Residual nodal disease in patients with advanced-stage oropharyngeal squamous cell carcinoma treated with definitive radiation therapy and posttreatment neck dissection: Association with locoregional recurrence, distant metastasis, and decreased survival. Head Neck 35 (10) :1454-60, 2013. e-Pub 2012. PMID: 23018868

Pickering CR, Zhang J, Yoo SY, Bengtsson L, Moorthy S, Neskey DM, Zhao M, Ortega Alves MV, Chang K, Drummond J, Cortez E, Xie TX, Zhang D, Chung W, Issa JP, Zweidler-McKay PA, Wu X, El-Naggar AK, Weinstein JN, Wang J, Muzny DM, Gibbs RA, Wheeler DA, Myers JN, Frederick MJ

Integrative genomic characterization of oral squamous cell carcinoma identifies frequent somatic drivers. Cancer Discov 3 (7) :770-81, 2013. e-Pub 2013. PMID: 23619168

Tan M, Myers JN, Agrawal N

Oral cavity and oropharyngeal squamous cell carcinoma genomics. Otolaryngol Clin North Am 46 (4) :545-66, 2013. e-Pub 2013. PMID: 23910469

Sano D, Gule MK, Rosenthal DI, Bell D, Yates J, El-Naggar AK, Myers JN

Early postoperative epidermal growth factor receptor inhibition: Safety and effectiveness in inhibiting microscopic residual of oral squamous cell carcinoma in vivo. Head Neck 35 (3) :321-8, 2013. e-Pub 2012. PMID: 22367702

Loyo M, Li RJ, Bettegowda C, Pickering CR, Frederick MJ, Myers JN, Agrawal N

Lessons learned from next-generation sequencing in head and neck cancer. Head Neck 35 (3) :454-63, 2013. e-Pub 2012. PMID: 22907887

Gyanchandani R, Sano D, Ortega Alves MV, Klein JD, Knapick BA, Oh S, Myers JN, Kim S

Interleukin-8 as a modulator of response to bevacizumab in preclinical models of head and neck squamous cell carcinoma. Oral Oncol 49 (8) :761-70, 2013. e-Pub 2013. PMID: 23623402

Zhong LP, Zhang CP, Ren GX, Guo W, William WN, Sun J, Zhu HG, Tu WY, Li J, Cai YL, Wang LZ, Fan XD, Wang ZH, Hu YJ, Ji T, Yang WJ, Ye WM, Li J, He Y, Wang YA, Xu LQ, Wang BS, Kies MS, Lee JJ, Myers JN, Zhang ZY

Randomized Phase III Trial of Induction Chemotherapy With Docetaxel, Cisplatin, and Fluorouracil Followed by Surgery Versus Up-Front Surgery in Locally Advanced Resectable Oral Squamous Cell Carcinoma. J Clin Oncol 31 (6) :744-51, 2013. e-Pub 2012. PMID: 23129742

Pfeiffer ML, Yin VT, Myers J, Esmaeli B

Regional Nodal Recurrence of Sebaceous Carcinoma of the Caruncle 11 Years After Primary Tumor Resection. JAMA Ophthalmol 131 (8) :1-2, 2013. e-Pub 2013. PMID: 23765335

Peng S, Creighton CJ, Zhang Y, Sen B, Mazumdar T, Myers JN, Lai SY, Woolfson A, Lorenzi MV, Bell D, Williams MD, Johnson FM

Tumor grafts derived from patients with head and neck squamous carcinoma authentically maintain the molecular and histologic characteristics of human cancers J Transl Med 11 (1) :198, 2013. e-Pub 2013. PMID: 23981300

Mroz EA, Tward AD, Pickering CR, Myers JN, Ferris RL, Rocco JW

High intratumor genetic heterogeneity is related to worse outcome in patients with head and neck squamous cell carcinoma. Cancer 119 (16) :3034-42, 2013. e-Pub 2013. PMID: 23696076

Monroe MM, Myers JN, Kupferman ME

Undertreatment of Thick Head and Neck Melanomas: An Age-based Analysis. Ann Surg Oncol 20 (13) :4362-9, 2013. e-Pub 2013. PMID: 23975303

Ali A, Wang Z, Fu J, Ji L, Liu J, Li L, Wang H, Chen J, Caulin C, Myers JN, Zhang P, Xiao J, Zhang B, Li X

Differential regulation of the REGγ-proteasome pathway by p53/TGF-β signalling and mutant p53 in cancer cells. Nat Commun 4:2667, 2013. PMID: 24157709

Sandulache VC, Skinner HD, Wang Y, Chen Y, Dodge CT, Ow TJ, Bankson JA, Myers JN, Lai SY

Glycolytic inhibition alters anaplastic thyroid carcinoma tumor metabolism and improves response to conventional chemotherapy and radiation. Mol Cancer Ther 11 (6) :1373-80, 2012. e-Pub 2012. PMID: 22572813

El-Sawy T, Sabichi AL, Myers JN, Kies MS, William WN, Glisson BS, Lippman S, Esmaeli B

Epidermal growth factor receptor inhibitors for treatment of orbital squamous cell carcinoma. Arch Ophthalmol 130 (12) :1608-11, 2012. PMID: 23229707

Thariat J, Ang KK, Allen PK, Ahamad A, Williams MD, Myers JN, El-Naggar AK, Ginsberg LE, Rosenthal DI, Glisson BS, Morrison WH, Weber RS, Garden AS

Prediction of Neck Dissection Requirement After Definitive Radiotherapy for Head-and-Neck Squamous Cell Carcinoma Int J Radiat Oncol Biol Phys 82 (3) :e367-74, 2012. PMID: 22284033

Ma J, Liu Y, Huang XL, Zhang ZY, Myers JN, Neskey DM, Zhong LP

Induction chemotherapy decreases the rate of distant metastasis in patients with head and neck squamous cell carcinoma but does not improve survival or locoregional control: A meta-analysis. Oral Oncol 48 (11) :1076-84, 2012. e-Pub 2012. PMID: 22800881

Wang Y, Ow TJ, Myers JN

Pathways for cervical metastasis in malignant neoplasms of the head and neck region Clin Anat 25 (1) :54-71, 2012. e-Pub 2011. PMID: 21853469

Skinner HD, Sandulache VC, Ow TJ, Meyn RE, Yordy JS, Beadle BM, Fitzgerald AL, Giri U, Ang KK, Myers JN

TP53 disruptive mutations lead to head and neck cancer treatment failure through inhibition of radiation-induced senescence Clin Cancer Res 18 (1) :290-300, 2012. e-Pub 2011. PMID: 22090360

Christensen JM, Baumann DP, Myers JN, Buretta K, Sacks JM

Indocyanine green near-infrared laser angiography predicts timing for the division of a forehead flap. Eplasty 12:e41, 2012. e-Pub 2012. PMID: 22977676

Takahashi Y, Kupferman ME, Bell D, Jiffar T, Lee JG, Xie T, Li NW, Zhao M, Frederick MJ, Gelbard A, Myers JN, Hanna EY

Establishment and Characterization of Novel Cell Lines from Sinonasal Undifferentiated Carcinoma. Clin Cancer Res 18 (22) :6178-87, 2012. PMID: 23032744

Sano D, Berlin JM, Pham TT, Marcano DC, Valdecanas DR, Zhou G, Milas L, Myers JN, Tour JM

Non-Covalent Assembly of Targeted Carbon Nanovectors Enables Synergistic Drug and Radiation Cancer Therapy |iIn Vivo||i ACS Nano 6 (3) :2497-505, 2012. PMID: 22316245

Sandulache VC, Myers JN

Altered metabolism in head and neck squamous cell carcinoma: an opportunity for identification of novel biomarkers and drug targets. Head Neck 34 (2) :282-90, 2012. e-Pub 2011. PMID: 21322078

Sandulache VC, Skinner HD, Ow TJ, Zhang A, Xia X, Luchak JM, Wong LJ, Pickering CR, Zhou G, Myers JN

Individualizing antimetabolic treatment strategies for head and neck squamous cell carcinoma based on TP53 mutational status Cancer 118 (3) :711-21, 2012. e-Pub 2011. PMID: 21720999

Sano D, Xie TX, Ow TJ, Zhao M, Pickering CR, Zhou G, Sandulache VC, Wheeler DA, Gibbs RA, Caulin C, Myers JN

Disruptive TP53 mutation is associated with aggressive disease characteristics in an orthotopic murine model of oral tongue cancer Clin Cancer Res 17 (21) :6658-70, 2011. e-Pub 2011. PMID: 21903770

Savar A, Oellers P, Myers J, Prieto VG, Torres-Cabala C, Frank SJ, Ivan D, Esmaeli B

Positive sentinel node in sebaceous carcinoma of the eyelid. Ophthal Plast Reconstr Surg 27 (1) :e4-6, 2011. PMID: 20940661

Sano D, Fooshee DR, Zhao M, Andrews GA, Frederick MJ, Galer C, Milas ZL, Morrow PK, Myers JN

Targeted molecular therapy of head and neck squamous cell carcinoma with the tyrosine kinase inhibitor vandetanib in a mouse model Head Neck 33 (3) :349-58, 2011. PMID: 20629091

Frederick MJ, VanMeter AJ, Gadhikar MA, Henderson YC, Yao H, Pickering CC, Williams MD, El-Naggar AK, Sandulache V, Tarco E, Myers JN, Clayman GL, Liotta LA, Petricoin EF 3rd, Calvert VS, Fodale V, Wang J, Weber RS

Phosphoproteomic analysis of signaling pathways in head and neck squamous cell carcinoma patient samples Am J Pathol 178 (2) :548-71, 2011. PMID: 21281788

Sano D, Matsumoto F, Valdecanas DR, Zhao M, Molkentine DP, Takahashi Y, Hanna EY, Papadimitrakopoulou V, Heymach J, Milas L, Myers JN

Vandetanib restores head and neck squamous cell carcinoma cells' sensitivity to cisplatin and radiation in vivo and in vitro. Clin Cancer Res 17 (7) :1815-27, 2011. e-Pub 2011. PMID: 21350000

Jiffar T, Yilmaz T, Lee J, Hanna E, El-Naggar A, Yu D, Myers JN, Kupferman ME

KiSS1 mediates platinum sensitivity and metastasis suppression in head and neck squamous cell carcinoma. Oncogene 30 (28) :3163-73, 2011. PMID: 21383688

Zhao M, Sano D, Pickering CR, Jasser SA, Henderson YC, Clayman GL, Sturgis EM, Ow TJ, Lotan R, Carey TE, Sacks PG, Grandis JR, Sidransky D, Heldin NE, Myers JN

Assembly and initial characterization of a panel of 85 genomically validated cells lines from diverse head and neck tumor sites Clin Cancer Res 17 (23) :7248-64, 2011. e-Pub 2011. PMID: 21868764

Agrawal N, Frederick MJ, Pickering CR, Bettegowda C. Chang K, Li RJ, Fakhry C, Xie TX, Zhang J, Wang J, Zhang N, El-Naggar AK, Jasser SA, Weinstein JN, Trevino L, Drummond JA, Muzny DM, Wu Y, Wood LD, Hruban RH, Westra WH, Koch WM, Califano JA, Gibbs RA, Sidrasky D, Vogelstein B, Velculescu VE, Papadopoulos N, Wheeler DA, Kinzer KW, Myers JN

Exome sequencing of head and neck squamous cell carcinoma reveals inactivating mutations in NOTCH1 Science 333 (6046) :1154-7, 2011. e-Pub 2011. PMID: 21798897

Shahani S, Ahmad A, Barakat FH, Chuang HH, Fowler NH, Myers JN, Stava C, Habra MA

F-18 FDG PET/CT detecting thyroid plasmacytoma after the successful treatment of gastric large B-cell lymphoma Clinical Nuclear Medicine 36 (4) :317-9, 2011. PMID: 21368613

Su Ying-Wen, Xie Tong-xie, Sano D, Myers JN

IL-6 stabilizes Twist and enhances tumor cell motility in head and neck cancer cells through activation of casein kinase 2 PLos One 6 (4) , 2011. PMID: 21559372

Yom SS, Garden AS, Staerkel GA, Ginsberg LE, Morrison WH, Sturgis EM, Rosenthal DI, Myers JN, Edeiken-Monroe BS

Sonographic examination of the neck after definitive radiotherapy for node-positive oropharyngeal cancer AJNR Am J Neuroradiol 32 (8) :1532-8, 2011. e-Pub 2011. PMID: 21757532

Galer CE, Corey CL, Wang Z, Younes MN, Gomez-Rivera F, Jasser SA, Ludwig DL, El-Naggar AK, Weber RS, Myers JN

Dual inhibition of epidermal growth factor receptor and insulin-like growth factor receptor I: Reduction of angiogenesis and tumor growth in cutaneous squamous cell carcinoma Head Neck 33 (2) :189-98, 2011. e-Pub 2010. PMID: 20848439

Alvarado GC, Papadopoulos NE, Hwu WJ, Bedikian AY, Homsi J, Myers JN, Bronstein Y, Bassett RL, Hwu P, Kim KB

Pelvic computed tomography scans for surveillance in patients with primary melanoma in the head and neck Melanoma Res 21 (2) :127-30, 2011. PMID: 21169870

Galer CE, Sano D, Ghosh SC, Hah JH, Auzenne E, Hamir AN, Myers JN, Klostergaard J

Hyaluronic acid-paxlitaxel conjugate inhibits growth of human squamous cell carcinoma of the head and neck via a hyaluronic acid-mediated mechanism Oral Oncol 47 (11) :1039-47, 2011. e-Pub 2011. PMID: 21903450

Gule MK, Chen Y, Sano D, Frederick MJ, Zhou G, Zhao M, Milas ZL, Galer CE, Henderson YC, Jasser SA, Schwartz DL, Bankson JA, Myers JN, Lai SY

Targeted therapy of VEGFR2 and EGFR significantly inhibits growth of anaplastic thyroid cancer in an orthotopic murine model. Clin Cancer Res 17 (8) :2281-91, 2011. e-Pub 2011. PMID: 21220477

Melancon MP, Lu W, Zhong M, Zhou M, Liang G, Elliott AM, Hazle JD, Myers JN, Li C, Stafford RJ

Targeted multifunctional gold-based nanoshells for magnetic resonance-guided laser ablation of head and neck cancer Biomaterials 32 (30) :7600-8, 2011. e-Pub 2011. PMID: 21745689

Ow TJ, Myers JN

Current management of advanced resectable oral cavity squamous cell carcinoma Clin Exp Otorhinolaryngol 4 (1) :1-10, 2011. e-Pub 2011. PMID: 21461056

Sandulache VC, Ow TJ, Pickering CR, Frederick MJ, Zhou G, Fokt I, Davis-Malesevich M, Priebe W, Myers JN

Glucose, not glutamine, is the dominant energy source required for proliferation and survival of head and neck squamous carcinoma cells. Cancer 117 (13) :2926-38, 2011. e-Pub 2011. PMID: 21692052

Berlin JM, Pham TT, Sano D, Mohamedali KA, Marcano DC, Myers JN, Tour JM

Noncovalent functionalization of carbon nanovectors with an antibody enables targeted drug delivery ACS Nano 5 (8) :6643-50, 2011. e-Pub 2011. PMID: 21736358

Liu Z, Wei S, Ma H, Zhao M, Myers JN, Weber RS, Sturgis EM, Wei Q

A functional variant at the miR-184 Binding Site in TNFAIP2 and risk of squamous cell carcinoma of the head and neck. Carcinogenesis 32 (11) :1668-74, 2011. e-Pub 2011. PMID: 21934093

Skinner HD, McCurdy MR, Echeverria AE, Lin SH, Welsh JW, O'Reilly MS, Hofstetter WL, Ajani JA, Komaki R, Cox JD, Sandulache VC, Myers JN, Guerrero TM

Metformin use and improved response to therapy in esophageal adenocarcinoma. Acta Oncol 52 (5) :1002-1009. e-Pub 2012. PMID: 22950385

William WN, Papadimitrakopoulou V, Lee JJ, Mao L, Cohen EE, Lin HY, Gillenwater AM, Martin JW, Lingen MW, Boyle JO, Shin DM, Vigneswaran N, Shinn N, Heymach JV, Wistuba II, Tang X, Kim ES, Saintigny P, Blair EA, Meiller T, Gutkind JS, Myers J, El-Naggar A, Lippman SM

Erlotinib and the Risk of Oral Cancer: The Erlotinib Prevention of Oral Cancer (EPOC) Randomized Clinical Trial. JAMA Oncol:1-8. PMID: 26540028

Woo SH, Yang LP, Chuang HC, Fitzgerald A, Lee HY, Pickering C, Myers JN, Skinner HD

Down-regulation of malic enzyme 1 & 2 sensitizes head and neck squamous cell carcinoma cells to therapy-induced senescence. Head Neck. PMID: 25994759

Shiwarski DJ, Shao C, Bill A, Kim J, Xiao D, Bertrand C, Seethala RR, Sano D, Myers JN, Ha PK, Grandis JR, Gaither LA, Puthenveedu MA, Duvvuri U

To "Grow" or "Go": TMEM16A Expression as a Switch between Tumor Growth and Metastasis in SCCHN. Clin Cancer Res 20 (17) . e-Pub 2014. PMID: 24919570

Ma N, Jiang YW, Zhang X, Wu H, Myers JN, Liu P, Jin H, Gu N, He N, Wu FG, Chen Z

Enhanced Radiosensitization of Gold Nanospikes via Hyperthermia in Combined Cancer Radiation and Photothermal Therapy. ACS Appl Mater Interfaces. e-Pub 2016. PMID: 27689441

Li Z, Gonzalez CL, Wang B, Zhang Y, Mejia O, Katsonis P, Lichtarge O, Myers JN, El-Naggar AK, Caulin C

Cdkn2a suppresses metastasis in squamous cell carcinomas induced by the gain-of-function mutant p53(R172H). J Pathol. e-Pub 2016. PMID: 27447534

Zhang M, Singh R, Peng S, Mazumdar T, Sambandam V, Shen L, Tong P, Li L, Kalu N, Pickering CR, Frederick M, Myers JN, Wang J, Johnson FM

Mutations of the LIM protein AJUBA mediate sensitivity of head and neck squamous cell carcinoma to treatment with cell-cycle inhibitors Cancer Lett. e-Pub 2017. PMID: 28126323

Takahashi Y, Lee J, Pickering C, Bell D, Jiffar TW, Myers JN, Hanna EY, Kupferman ME

Human epidermal growth factor receptor 2/neu as a novel therapeutic target in sinonasal undifferentiated carcinoma. Head Neck. e-Pub 2016. PMID: 26752332

Tanaka N, Patel AA, Wang J, Frederick MJ, Kalu NN, Zhao M, Fitzgerald AL, Xie TX, Silver NL, Caulin C, Zhou G, Skinner HD, Johnson FM, Myers JN, Osman AA

Wee-1 kinase inhibition sensitizes high risk HPV+ HNSCC to apoptosis accompanied by downregulation of MCl-1 and XIAP antiapoptotic proteins Clin Cancer Res 21 (21) :4831-44. PMID: 26124202

Pfeiffer ML, Ozgur OK, Myers JN, Peng A, Ning J, Zafereo ME, Thakar S, Thuro B, Prieto VG, Ross MI, Esmaeli B

Sentinel lymph node biopsy for ocular adnexal melanoma Acta Ophthalmol. e-Pub 2016. PMID: 27775232

Papadimitrakopoulou VA, Frank SJ, Cohen EW, Hirsch FR, Myers JN, Heymach JV, Lin H, Tran HT, Chen CR, Jimeno A, Nedzi L, Vasselli JR, Lowe ES, Raben D

Phase I study of vandetanib with radiation therapy with or without cisplatin in locally advanced head and neck squamous cell carcinoma. Head Neck. e-Pub 2014. PMID: 25352401

Skinner HD, Giri U, Yang L, Woo SH, Story MD, Pickering CR, Byers LA, Williams MD, El-Naggar A, Wang J, Diao L, Shen L, Fan YH, Molkentine DP, Beadle BM, Meyn RE, Myers JN, Heymach JV

Proteomic profiling identifies PTK2/FAK as a driver of radioresistance in HPV negative head and neck cancer. Clin Cancer Res. e-Pub 2016. PMID: 27036135

Hayes DN and the TCGA Hrad and Network, Myers JN

Comprehensive genomic characterization of head and neck squamous cell carcinomas Nature:576-82. e-Pub 2015. PMID: 25631445

Wang L, Wang X, Li Y, Han S, Zhu J, Wang X, Molkentine DP, Blanchard P, Yang Y, Zhang R, Sahoo N, Gillin M, Zhu XR, Zhang X, Myers JN, Frank SJ

Human papillomavirus status and the relative biological effectiveness of proton radiotherapy in head and neck cancer cells. Head Neck. e-Pub 2016. PMID: 28039958

Zhou G, Wang J, Zhao M, Xie TX, Tanaka N, Sano D, Patel AA, Ward AM, Sandulache VC, Jasser SA, Skinner HD, Fitzgerald AL, Osman AA, Wei Y, Xia X, Songyang Z, Mills GB, Hung MC, Caulin C, Liang J, Myers JN

Gain-of-Function Mutant p53 Promotes Cell Growth and Cancer Cell Metabolism via Inhibition of AMPK Activation. Mol Cell 54 (6) :p960–974. PMID: 24857548

Sandulache VC, Chen Y, Feng L, William WN, Skinner HD, Myers JN, Meyn RE, Li J, Mijiti A, Bankson JA, Fuller CD, Konopleva MY, Lai SY

Metabolic interrogation as a tool to optimize chemotherapeutic regimens. Oncotarget. e-Pub 2017. PMID: 28184025

Skinner HD, Giri U, Yang LP, Kumar M, Liu Y, Story MD, Pickering CR, Byers LA, Williams MD, Wang J, Shen L, Yoo SY, Fan YH, Molkentine DP, Beadle BM, Meyn RE, Myers JN, Heymach JV

Integrative Analysis Identifies a Novel AXL-PI3 Kinase-PD-L1 Signaling Axis Associated with Radiation Resistance in Head and Neck Cancer. Clin Cancer Res. e-Pub 2017. PMID: 28476872

Melancon MP, Zhou M, Zhang R, Xiong C, Allen P, Wen X, Huang Q, Wallace M, Myers JN, Stafford RJ, Liang D, Ellington AD, Li C

Selective Uptake and Imaging of Aptamer- and Antibody-Conjugated Hollow Nanospheres Targeted to Epidermal Growth Factor Receptors Overexpressed in Head and Neck Cancer. ACS Nano 8 (5) :4530-4538. PMID: 24754567
| | |
| --- | --- |
| Title: | Progression and Metastasis of Oral Tongue Cancer |
| Funding Source: | NIH/NIDCR |
| Role: | Principal Investigator |
| | |
| --- | --- |
| Title: | Cancer Center Support (Core) Grant - Head and Neck Program (PP9) |
| Funding Source: | NIH/NCI |
| Role: | Program Leader |
| | |
| --- | --- |
| Title: | MD Anderson Cancer Center Head & Neck SPORE - Administrative Core (Core A) |
| Funding Source: | NIH/NCI |
| Role: | Principal Investigator |
| | |
| --- | --- |
| Title: | Comprehensive Analysis of Genetic and Epigenetic Changes in Oral Cancer |
| Funding Source: | Cancer Prevention & Research Institute of Texas (CPRIT) |
| Role: | Principal Investigator |
| | |
| --- | --- |
| Title: | Translational Research in Multidisciplinary Programs (TRIUMPH) |
| Funding Source: | Cancer Prevention & Research Institute of Texas (CPRIT) |
| Role: | Co-Mentor |
| | |
| --- | --- |
| Title: | Institutional National Research Science Award (T32) Training of Academic Head and Neck Surgical Oncologist |
| Funding Source: | NIH/NCI |
| Role: | Co-Principal Investigator |
| | |
| --- | --- |
| Title: | Predicting and Overcoming Chemoradioresistance in p53-Mutant Head and Neck Cancer |
| Funding Source: | NIH/NIDCR |
| Role: | Principal Investigator |
| | |
| --- | --- |
| Title: | Identification of clinically relevant targets for radiosensitization |
| Funding Source: | Cancer Prevention & Research Institute of Texas (CPRIT) |
| Role: | Co-Investigator |
| | |
| --- | --- |
| Title: | Translating Genomic Alterations into Novel Therapeutic Targets in Head and Neck Cancer through Computational and Functional Approaches |
| Funding Source: | NIH/NIDCR |
| Role: | Multi-PI |
| | |
| --- | --- |
| Title: | Identification of Clinically Relevant Targets for Radiosensitization |
| Funding Source: | Cancer Prevention & Research Institute of Texas (CPRIT) |
| Role: | Co-Investigator |
| | |
| --- | --- |
| Title: | Trip12 as a Novel Radiation Enhancement Target and Mediator of the Effect of HPV/p16 on Radiotherapy |
| Funding Source: | NIH/NCI |
| Role: | Co-Investigator |
| | |
| --- | --- |
| Title: | Spore in Head and Neck Cancer - Comprehensive Genomic Characterization of HNSCC Arising in HIV-Infected Individuals |
| Funding Source: | NIH/NIDCR sub through Johns Hopkins University |
| Role: | Site PI |
| | |
| --- | --- |
| Title: | Personalized Cancer Therapy Studies in Head and Neck Squamous Cell Carcinomas (HNSCC) |
| Funding Source: | Kadoorie Charitable Foundation |
| Role: | Co-Investigator |