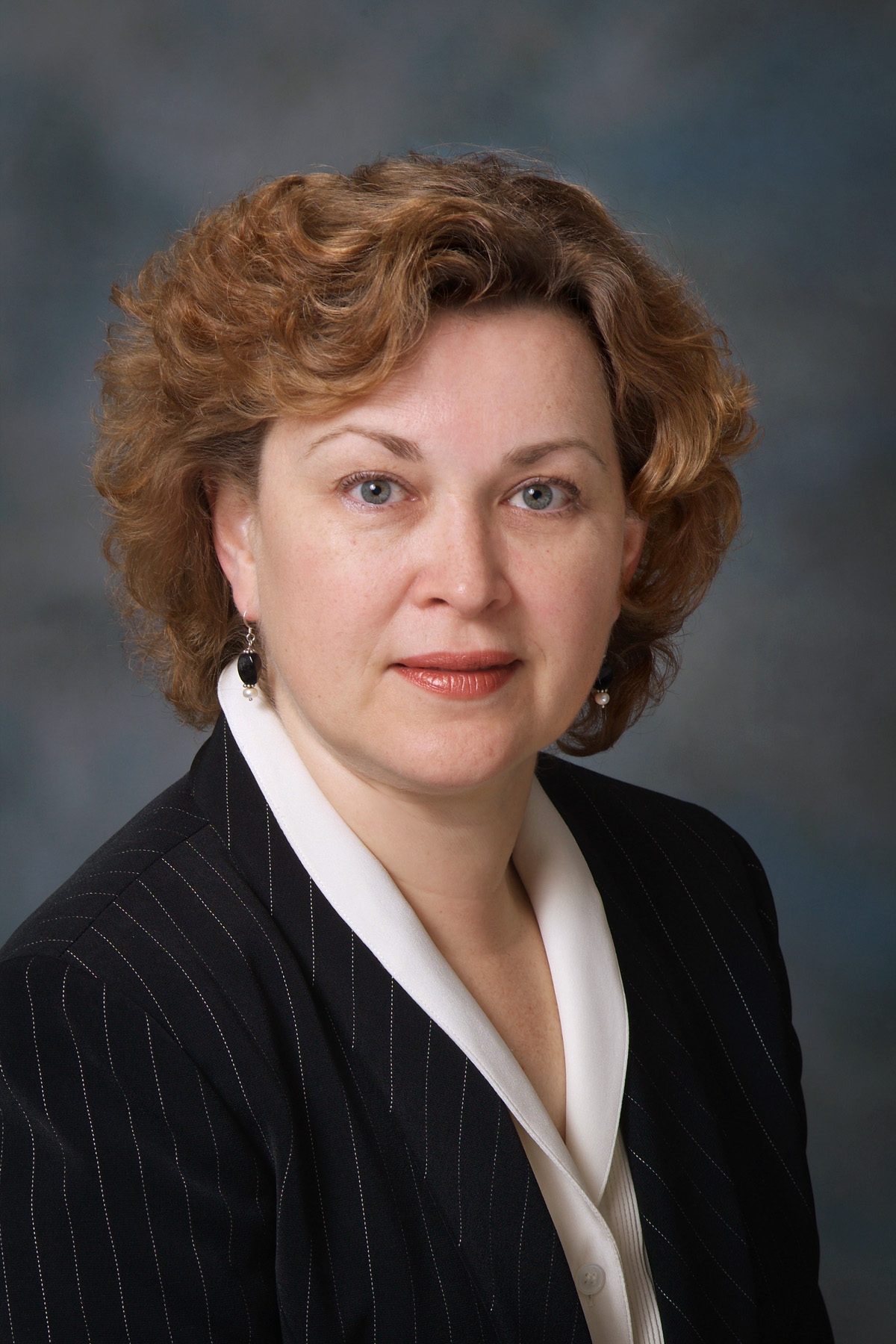 Monica E. Loghin, M. D.
Department of Neuro-Oncology, Division of Cancer Medicine
About Dr. Loghin
Dr. Loghin is an assistant professor in the Department of Neuro-Oncology who specializes in neurological complications related to cancer treatment, particularly neurological and cognitive defects induced by radiation therapy. She received her medical degree from Grigore T. Popa University of Medicine and Pharmacy, clinical residency at the University of Texas Health Science Center, and clinical fellowship at MD Anderson. She joined the MD Anderson faculty in 2006. Dr. Loghin is involved in patient clinical care as well as in the training program for Neuro-Oncology fellows and neurology residents. She currently serves as the Department of Neuro-Oncology Residency Program Director and also collaborates closely with the Neuro-psychology section in developing new therapeutic strategies for cancer-related cognitive dysfunction.
Read More
Primary Appointment
Associate Professor, Department of Neuro-Oncology, Division of Cancer Medicine, The University of Texas MD Anderson Cancer Center, Houston, TX
Residency Program Director, Department of Neuro-Oncology, Division of Cancer Medicine, The University of Texas MD Anderson Cancer Center, Houston, TX
Degree-Granting Education
| | |
| --- | --- |
| 1983 | "Gr.T. Popa" University of Medicine and Pharmacy, Iasi, ROM, MD, Medicine |
Postgraduate Training
| | |
| --- | --- |
| 2003-2005 | Clinical Fellowship, Neuro-Oncology, The University of Texas MD Anderson Cancer Center, Houston, TX |
| 2000-2003 | Clinical Residency, Neurology, UT Health Science Center, Houston, TX |
| 1999-2000 | Clinical Residency, Internal Medicine, UT Health Science Center, Houston, TX |
| | |
| --- | --- |
| 2005 | The American Board of Psychiatry & Neurology |
| 1992 | The Romanian Board of Neurology |
Academic Appointments
Associate Professor, Department of Department of Neurology, The University of Texas Medical Branch, Galveston, TX, 2010 - Present
Assistant Professor, Department of Neuro-Oncology, Division of Cancer Medicine, The University of Texas MD Anderson Cancer Center, Houston, TX, 2006 - 2012
| | |
| --- | --- |
| 2011 | Nominated for Gerald P. Bodey Award for Excellence in Education, University of Texas MD Anderson Cancer Center |
Peer-Reviewed Articles
Raizer JJ, Giglio P, Hu J, Groves M, Merrell R, Conrad C, Phuphanich S, Puduvalli VK, Loghin M, Paleologos N, Yuan Y, Liu D, Rademaker A, Yung WK, Vaillant B, Rudnick J, Chamberlain M, Vick N, Grimm S, Tremont-Lukats IW, De Groot J, Aldape K, Gilbert MR, Brain Tumor Trials Collaborative

A phase II study of bevacizumab and erlotinib after radiation and temozolomide in MGMT unmethylated GBM patients. J Neurooncol 126 (1) :185-92, 2016. e-Pub 2015. PMID: 26476729

Kamiya-Matsuoka C, Paker AM, Chi L, Youssef A, Tummala S, Loghin ME

Posterior reversible encephalopathy syndrome in cancer patients: a single institution retrospective study. J Neurooncol 128 (1) :75-84, 2016. e-Pub 2016. PMID: 26900076

Weathers SP, Han X, Liu DD, Conrad CA, Gilbert MR, Loghin ME, O'Brien BJ, Penas-Prado M, Puduvalli VK, Tremont-Lukats I, Colen RR, Yung WKA, de Groot JF

A randomized phase II trial of standard dose bevacizumab versus low dose bevacizumab plus lomustine (CCNU) in adults with recurrent glioblastoma. J Neurooncol 129 (3) :487-94, 2016. e-Pub 2016. PMID: 27406589

Penas-Prado M, Hess KR, Fisch MJ, Lagrone LW, Groves MD, Levin VA, De Groot JF, Puduvalli VK, Colman H, Volas-Redd G, Giglio P, Conrad CA, Salacz ME, Floyd JD, Loghin ME, Hsu SH, Gonzalez J, Chang EL, Woo SY, Mahajan A, Aldape KD, Yung WK, Gilbert MR, MD Anderson Community Clinical Oncology Program, Brain Tumor Trials Collaborative

Randomized Phase II Adjuvant Factorial Study of Dose-dense Temozolomide Alone and in Combination with Isotretinoin, Celecoxib, and/or Thalidomide for Glioblastoma. Neuro Oncol 17 (2) :266-73, 2015. e-Pub 2014. PMID: 25239666

Rapp SR, Case LD, Peiffer A, Naughton MM, Chan MD, Stieber VW, Moore DF, Falchuk SC, Piephoff JV, Edenfield WJ, Giguere JK, Loghin ME, Shaw EG

Donepezil for Irradiated Brain Tumor Survivors: A Phase III Randomized Placebo-Controlled Clinical Trial. J Clin Oncol 33 (15) :1653-9, 2015. e-Pub 2015. PMID: 25897156

Abouharb S, Ensor J, Loghin ME, Katz R, Moulder SL, Esteva FJ, Smith B, Valero V, Hortobagyi GN, Melhem-Bertrandt A

Leptomeningeal disease and breast cancer: The importance of tumor subtype. Breast Cancer Res Treat 146 (3) :477-86, 2014. e-Pub 2014. PMID: 25038877

Le EM, Loghin ME

Posterior reversible encephalopathy syndrome: A neurologic phenomenon in cancer patients Curr Oncol Rep 16 (5) :383-392, 2014. PMID: 24595679

Theeler BJ, Ellezam B, Yust-Katz S, Slopis JM, Loghin ME, de Groot JF

Prolonged survival in adult neurofibromatosis type I patients with recurrent high-grade gliomas treated with bevacizumab. J Neurol 261 (8) :1559-64, 2014. e-Pub 2014. PMID: 24859329

Giglio P, Dhamne M, Hess KR, Gilbert MR, Groves MD, Levin VA, Kang SL, Ictech SE, Liu V, Colman H, Conrad CA, Loghin M, de Groot J, Yung WK, Puduvalli VK

Phase 2 trial of irinotecan and thalidomide in adults with recurrent anaplastic glioma. Cancer 118 (14) :3599-606, 2012. e-Pub 2011. PMID: 22086614

Levin VA, Bidaut L, Hou P, Kumar AJ, Wefel JS, Bekele BN, Prabhu S, Loghin M, Gilbert MR, Jackson EF

Randomized Double-Blind Placebo-Controlled Trial of Bevacizumab Therapy for Radiation Necrosis of the Central Nervous System. Int J Radiat Oncol Biol Phys 79 (5) :1487-95, 2011. e-Pub 2010. PMID: 20399573

Loghin M, Prados M, Wen P, Junck L, Lieberman F, Fine H, Fink K, Mehta M, Kuhn J, Lamborn K, Chang S, Cloughesy T, DeAngelis L, Robins HI, Aldape K, Yung, WKA

Phase I study of Temozolomide and Irinotecan for recurrent malignant gliomas in patients receiving enzyme-inducing antiepileptic drugs: A North American Brain Tumor Consortium study. Clin Cancer Res 13 (23) :7133-7138, 2007. PMID: 18056194

Radu A, Alecu CS, Raclariu A, Nanu L, Loghin M, Stanciu E, Necula A, Ionescu-Tirgoviste C, Patrugan V

CompAc information system for traditional Chinese medicine. Stud Health Technol Inform 81:401-3, 2001. PMID: 11317777

Loghin M, Prodan R, Stefanache F

The role of evoked potentials in the diagnosis of posterior fossa tumors. Acta Neurologica Moldavica, 1994

Pendefunda G, Prodan R, Loghin M

Cerebral hemorrhage in blood disorders. Journal of the Society of Physicians and Nature Scientists, 1989
Invited Articles
Vaillant B, Loghin M, Treatment of spinal cord tumors., 11 (4) :315-24, 2009
Penas-Prado M, Loghin M, Spinal cord compression in cancer patients: Review of diagnosis and treatment, 10 (1) :78-85, 2008
Loghin M, Levin VA, Headache related to brain tumors., 8 (1) :21-32, 2006
Gilbert MR, Loghin M, The Treatment of Malignant Gliomas., 7 (4) :293-303, 2005
Abstracts
Hasan T, Maraka S, Leeds N, Loghin ME

A Rare Case of Primary Angitis of the Central Nervous System (PACNS) Associated with Metastatic Prostate Cancer Proceedings In: Annual American Academy of Neurology Meeting, 2017, 2017

Gatson NT, Kamiya-Matsuoka C, Rodriguez-Linares Y, Pillainayagam CP, Cachia D, Daher AM, Chi TL, Weinberg JS, Tremont-Lukats IW, Fuller GN, de Groot JF, Loghin M

Gliomatosis, to be or not to cerebri? Proceedings In: Annual American Academy of Neurology meeting, 2016, 2016

Abouharb S, Ensor J, Loghin ME, Katz R, Gonzalez-Angulo AM, Esteva FJ, Moulder SL, Valero V, Hortobagyi GN, Melhem-Bertrandt A

Leptomeningeal disease and breast cancer: Relationship of outcome and subtype J Clin Oncol 31, 2013 (suppl; abstr 601 ). In proceedings: Annual Meeting of the American Society of Clinical Oncology (ASCO), 2013, May 31, - June 4, 2013, Chicago, IL 31, 2013

Penas-Prado M, Groves MD, Mammoser AG, Melguizo I, de groot, JF, Conrad CA, Tremont-Lukats I, Loghin ME, Puduvalli VK, Sulman EP, Hess, KR, Aldape KD, Gilbert MR, Yung, WKA

Phase I lead-in to a 2x2x2 factorial trial of dose-dense temozolomide, memantine, mefloquine, and metformin as postradiation adjuvant therapy of glioblastoma J Clin Oncol 31, 2013 (suppl; abstr TPS2106 ). In proceedings: Annual Meeting of the American Society of Clinical Oncology (ASCO), 2013, May 31, - June 4, 2013, Chicago, IL 31, 2013

Case, D, Naughton MJ, Stieber VW, Bayer GK, Bilodeau PA, Moore DF, Falchuk SC, Needles BM, Piephoff J, Edenfield WJ, Giguere JK, Erickson N, Loghin ME, Shaw EG, Rapp SR

Quality of life (QOL) and cognitive status among irradiated brain tumor survivors treated with donepezil or placebo J Clin Oncol 31, 2013 (suppl; abstr 2051). In proceedings: Annual Meeting of the American Society of Clinical Oncology (ASCO), 2013, May 31, - June 4, 2013, Chicago, IL 31, 2013

Raizer JJ, Giglio P, Hu JL, Groves MD, Merrell R, Conrad CA, Phuphanich S, Puduvalli VK, Loghin ME, Paleologos N, Yung WKA, Vaillant BD, Rudnick JD, Chamberlain MC, Vick N, Grimm SA, Tremont-Lukats I, DeGroot JF, Aldape KD, Gilbert MR

BTTC08-01: A phase II study of bevacizumab and erlotinib after radiation therapy and temozolomide in patients with newly diagnosed glioblastoma (GMB) without MGMT promoter methylation J Clin Oncol 31, 2013 (suppl; abstr 2019). In proceedings: Annual Meeting of the American Society of Clinical Oncology (ASCO), 2013, May 31, - June 4, 2013, Chicago, IL 31, 2013

Conrad C, Yung WKA, deGroot J, Gilbert M,Loghin M, Penas-Prado M, Tremont I, Silberman S, Picker D.

Phase 1 trial of bevacizumab plus TPI 287 in adults with recurrent glioblastoma (GBM) Neuro-Oncology. In: Proceedings from the 18th Annual Meeting of the Scientific Meeting and Education Day of the Society for Neuro-Oncology, 2013, (SNO) San Francisco, CA, November 21 – 24, 2013 15 (supplement 3) :iii106, 2013

Loghin M, Melhem-Bertrandt A, Penas-Prado M, Zaidi T, Katz R

HER2 targeted therapies and leptomeningeal disease Neuro-Oncology. In: Proceedings from the 18th Annual Meeting of the Scientific Meeting and Education Day of the Society for Neuro-Oncology, (SNO), 2013, San Francisco, CA, November 21 – 24, 2013 15 (supplement 3) :iii119, 2013

Zohrevand P, Loghin M

Transient Leukoencephalopathy after Intrathecal Chemotherapy Mimicking Stroke Neurology. In Proceedings: American Academy of Neurology (AAN) meeting, New Orleans LA 4/24-4/27/2012 78, 2012

Groves MD, DeGroot J, Loghin M, Conrad C, Hess K, Ictech S, Hunter K, Yung WKA

A phase I study of Temozolomide and Intrathecal Liposomal Cytarabine in patients with neuroplastic meningitis. Neuro-Oncology. Proceedings In: 16th Annual Meeting of the Society for Neuro-Oncology, Orange County, CA, November 17 - November 20, 2011 13 (Supplement 3) :iii43, 2011

Paker AM, Chi L, Kamiya-Matsuoka C, Loghin ME

Posterior reversible encephalopathy syndrome in cancer patients Neurology. In Proceedings: 16 Annual Scientific Meeting of the Society for Neuro-Oncology, Orange County, CA, November 17-20, 2011 78, 2011

Colman H, Gilbert M, Yung WKA, Aldape K, deGroot J, Conrad C, Levin V, Groves M, Loghin M, Pelloski C, Puduvalli V

A phase I study of Sorafen1B with radiation and temozolomide in newly diagnosed glioblastoma Neuro-Oncology. Proceedings In: 16th Annual Meeting of the Society for Neuro-Oncology, Orange County, CA, November 17 - November 20, 2011 13 (Supplemement 3) :iii61, 2011

Hamilton JD, Wang J, Levin VA, Hou P, Loghin ME, Gilbert MR, Leeds NE, deGroot, JF, Puduvalli V, Jackson EF, Yung WKA, Kumar AJ

Normalized baseline ADC values predict problems associated with Bevacizumab treatment for glioblastoma multiforme or brain radiation induced necrosis Neuro-Oncology. Proceedings In: 16th Annual Meeting of the Society for Neuro-Oncology, Orange County, CA, November 17 - November 20, 2011 13 (Supplement 3) :iii137, 2011

Hamilton JD, Levin VA, Hou P, Prabhu S, Loghin ME, Gilbert MR, Bassett RL, Wang J

Advanced MR imaging shows decreased vessel leakiness/edema and may predict complications in Bevacizumab therapy of brain radiation necrosis Neuro-Oncology. Proceedings In: 16th Annual Meeting of the Society for Neuro-Oncology, Orange County, CA, November 17 - November 20, 2011 13 (Supplement 3) :iii142, 2011

Paker AM, Chi L, Ruiz MD, Loghin ME

Posterior reversible encephalopathy syndrome in patients with cancer. J Clin Oncol 29: 2011 (suppl; abstr 2561). In Proceedings: 2011 Annual American Society of Clinical Oncology (ASCO), Chicago IL, June 4-7, 2011 29, 2011

Puduvalli VK, Penas-Prado M, Gilbert MR, Groves MD, Hess KR, Levin VA, de Groot J, Colman H, Conrad CA, Loghin ME, Hunter K, Yung WKA

Phase I study of Vorinostat combined with Isotretinoin and Carboplatin in Adults with Recurrent Malignant Gliomas Neuro-Oncology: In proceedings of the 2010 Annual Meeting of the Society for Neuro-Oncology (SNO), Montreal, Canada, November 18 - November 21, 2010, 2010

Loghin M, Groves M

Neoplastic meningitis in unknown primary neoplasms Journal of Clinical Oncology. In: 2006 ASCO Annual Meeting Proceedings, 2006, Atlanta Georgia 24 (18-S) , 2006
| | |
| --- | --- |
| Title: | Phase III Double Blind, Placebo Controlled Study of Donepezil in Irradiated Brain Tumor Patients |
| Funding Source: | NIH/NCI |
| Role: | Principal Investigator-MDACC |