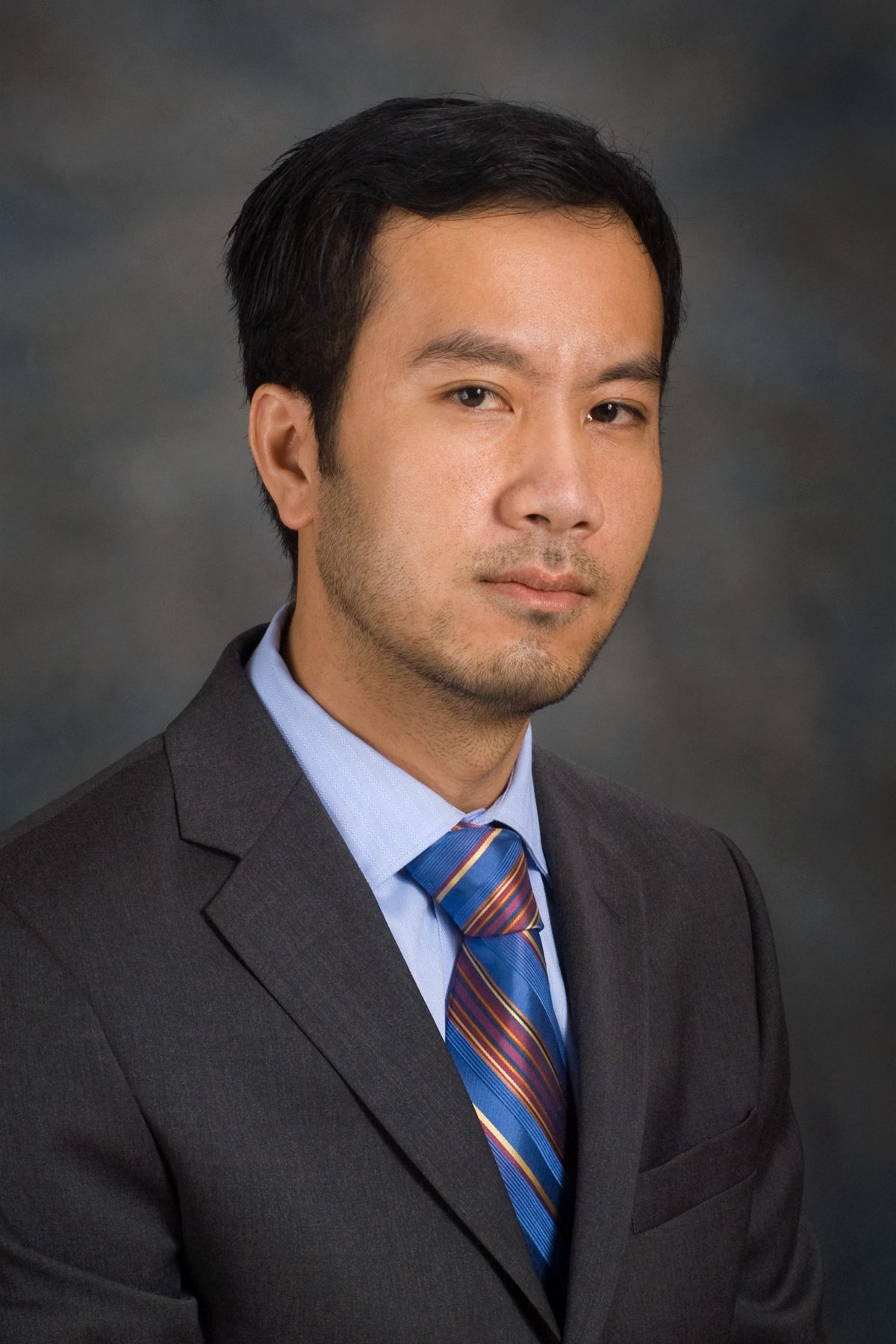 Ott Le, M.D.
Department of Diagnostic Radiology, Division of Diagnostic Imaging
About Dr. Le
After completing his fellowship training in Body Imaging from MD Anderson in 2008, Dr. Le was recruited to stay at the institution as Assistant Professor in the Department of Diagnostic Radiology. In 2013-2014, Dr. Le was subsequently promoted to Associate Professor at MD Anderson. Academically, after obtaining an institutional grant, he was recently the principle investigator for a pilot study investigating the effectiveness of contrast enhanced ultrasound in the intraoperative setting. This work was presented as an educational exhibit at the recent annual meeting of the American Roentgen Ray Society (ARRS) in Toronto, Canada. Dr. Le also routinely orally presents at the annual meeting of the Society of Abdominal Imaging (SAR). His latest presentation was a workshop on MRI imaging of urethral and penile cancer.

As a liaison for the emergency department, Dr. Le helped install a new Siemens CT scanner in the emergency room, improving patient access and care with imaging. This work led to his role as current director of Emergency Radiology. Dr. Le was also temporary director of Ultrasound. With the purpose of improving the patience experience and decreasing patient wait times for outpatient CT imaging, he is currently involved in the Clinical Safety and Effective course.

Dr. Le routinely teaches and mentors technologists, medical students and radiology residents and fellows from MD Anderson, Baylor, and UT Health Sciences Center. This involves one on one mentoring and lectures.

Within the section of Abdominal Imaging, Dr. Le focuses on pancreatic and genitourinary imaging and contrast enhanced ultrasound. He was recently awarded Outstanding Radiologist for year 2015.
Read More
Primary Appointment
Associate Professor, Department of Diagnostic Radiology, Division of Diagnostic Imaging, The University of Texas M D Anderson Cancer Center, Houston, TX
Degree-Granting Education
| | |
| --- | --- |
| 2002 | The University of Texas Medical Branch, Galveston, TX, USA, MD, Medicine |
| 1998 | Texas A & M University, College Station, TX, USA, BS, Zoology |
Postgraduate Training
| | |
| --- | --- |
| 2007-2008 | Clinical Fellowship, Radiology, University of Texas M D Anderson Cancer Center, Houston, TX |
| 2003-2007 | Clinical Residency, Radiology, The University of Texas Medical Branch, Galveston, TX |
| 2002-2003 | Transitional Year Internship, The University of Texas Health Sciences Center, Houston, TX |
| | |
| --- | --- |
| 2007 | American Board of Radiology |
Administrative Appointments/Responsibilities
Co-Director Ultrasound, The University of Texas MD Anderson Cancer Center, Houston, TX, 2014 - 2015
Director of Emergency Radiology, The University of Texas MD Anderson Cancer Center, Houston, TX, 2014 - Present
Emergency Center Liaison, The University of Texas MD Anderson Cancer Center, Houston, TX, 2013 - Present
Other Appointments/Responsibilities
West Houston/Katy Multidisciplinary Conference, UT MD Anderson Cancer Center, Houston, TX, 2014 - Present
Renal Tumors Research Group, UT MD Anderson Cancer Center, Houston, TX, 2011 - Present
Pancreas Research Group, UT MD Anderson Cancer Center, Houston, TX, 2011 - Present
Colon Cancer Screening Research Group, UT MD Anderson Cancer Center, Houston, TX, 2011 - Present
Pancreas Multidisciplinary Conference, UT MD Anderson Cancer Center, Houston, TX, 2009 - Present
Genitourinary Multidisciplinary Conference, UT MD Anderson Cancer Center, Houston, TX, 2008 - Present
Institutional Committee Activities
Member, Quality Improvement Assessment Board, 2015 - Present
Member, Outside TMC promotion & tenure subcommittee, 2015 - 2016
Member, Faculty Senate, 2013 - 2016
Member, Abdominal Imaging QI committee, 2013 - Present
Member, Acute and Critical Care Subcommittee, 2013 - Present
Member, Abdominal Imaging QI committee, 2010 - 2010
Radiological Society of North America
Member, 2007 - Present
American College of Radiology
Member, 2006 - Present
Texas Medical Association
Member, 2006 - Present
Peer-Reviewed Articles
Tamm EP, Le O, Liu X, Layman RR, Cody DD, Bhosale PR

"How to" incorporate dual-energy imaging into a high volume abdominal imaging practice. Abdom Radiol (NY) 42 (3) :688-701, 2017. e-Pub 2017. PMID: 28070657

Bhosale P, Le O, Balachandran A, Fox P, Paulson E, Tamm E

Quantitative and qualitative comparison of single-source dual-energy computed tomography and 120-kVp computed tomography for the assessment of Pancreatic ductal adenocarcinoma J Comput Assist Tomogr 39 (6) :907-13, 2015. PMID: 26295192

Roy A, Le O, Silverman PM, Kundra V

Common and uncommon bilateral adult renal masses Cancer Imaging 12, 2012

Le O, Roy A, Silverman PM, Kundra V

Common and Uncommon Adult Unilateral Renal Masses other than Renal Cell Carcinoma Cancer Imaging 12:1-11, 2012. e-Pub 2012. PMID: 22750134

Oto A, Ernst RD, Mileski WJ, Nishino TK, Le O, Wolfe GC, Chaljub G

Localization of appendix with MDCT and influence of findings on choice of appendectomy incision. AJR Am J Roentgenol 187 (4) :987-90, 2006. PMID: 16985147

Ott L, Wood C, Vikram R, Patnana M, Bhosale P, Bassett R, Bedi D

Feasibility of contrast enhanced intraoperative ultrasound for detection and characterization of renal mass undergoing open partial nephrectomy J Ultrasound Med. e-Pub 2017. PMID: 28390143

Jensen CT, Blair KJ, Le O, Sun J, Wei W, Korivi BR, Morani AC, Wagner-Bartak NA

Utility of CT oral contrast administration in the emergency department of a quaternary oncology hospital: diagnostic implications, turnaround times, and assessment of ED physician ordering. Abdom Radiol (NY). e-Pub 2017. PMID: 28523416
Invited Articles
Vicens RA, Patnana M, Le O, Bhosale PR, Sagebiel TL, Menias CO, Balachandran A, Multimodality imaging of common and uncommon peritoneal diseases: a review for radiologists, 40 (2) :436-56, 2015
Wagner-Bartak N, Tamm E, Toshav A, Le O, Qayyum Aliya et al, CT Liver Imaging – What is new, 3 (3) , 2015
Le O, Tamm Eric P., Wagner-Bartak Nicolaus, Bhosale Priya, Patnana Madhavi, Vikram Raghu, Qayyum Aliya, An Update of Clinical CT Imaging of Pancreatic Neoplasm: Tips, Tricks, and Pitfalls, 3 (7) , 2015
Le O, Bhosale P, Szklaruk J, Ng C, Tamm E, MDCT: Impact of New Technologies on Oncologic Imaging - Practical Considerations, 42 (1) :24-34, 2013
Le O, Patterns of peritoneal spread of tumor in the abdomen and pelvis, 5 (3) :106-12, 2013
Manuals, Teaching Aids, Other Teaching Publications
Le O, ACR online teaching file, Body Imaging, MRI teaching file, biliary cystadenoma. http://mri.org/, 2008
Abstracts
Wilke C, Ahmed A, Elganainy D, Bhosale P, O Le, Lee Y, Cloyd J, Wang H, Herman J, Taniguchi C, Rhim A, Fleming J, Maitra A, Wolff R, Varadhachary G, Lee J, Katz M, Tamm E, Koay E

Tumor interface stability on CT is an early marker of response to cytotoxic therapy in pancreatic ductal adenocarcinoma Journal of Clinical Oncology 35:284 - 284, 2017

Ott Le, Terrell Evans

Improve CT patient check-in The University of Texas System Shared Visions Conference, 2016

Morgan E. Telesmanich, Corey T. Jensen, Jose L. Enriquez,Nicolaus A. Wagner-Bartak, Xinming Liu, Le O, eta

Evaluation of abdominal CT image quality using a new version of vendor-specific model-based iterative reconstruction (Veo 3.0): A comparison of resolution preference, noise reduction and slice optimization presets Society of Computed Body Tomography & Magnetic Resonance 2016 Annual Meeting, 2016

Ott L, Wood C, Vikram R, Patnana M, Bhosale P, Bassett R, Bedi D

Feasibility study of contrast enhanced intraoperative ultrasound for detection and characterization of renal mass undergoing Open Partial Nephrectomy American Roentgen Ray Society 2015 Annual Meeting, 2015

Borst D, Kang K, Reading,R, Le O, Gupta S, Elsayes K, Bedi D

Rare scrotal neoplasms; imaging features and pathological correlation with impact on management in the era of targeted therapy Radiological Society of North America 2014 Scientific Annual Meeting, 2014

Balachandran A, Bhosale P, Fox PS, Le O, Wagner-Bartak NA, Cody D, Paulson EK, Tamm EP

Preliminary comparison of contrast to noise ratios (CNR) for pancreatic neuroendocrine neoplasms (PNENs) for dual energy CT (DECT) versus 120kVp single energy CT (SECT) American Roentgen Ray Society 2013 Annual Meeting, 2013

Le O, Wood C, Tamboli P, Vikram R

MDCT in differentiating pT1-2 from pT3 tumours in clear cell RCC European Congress of Radiology 2013 Annual Meeting, 2013

Bhosale PR, Balachandran A, Le O, Fox PS, Paulson E, Tamm EP

Quantitative comparison of dual energy CT vs. 120kVp CT of pancreatic ductal adenocarcinoma: does DECT improve CNR (lesion conspicuity)? Radiological Society of North America Scientific 2013 Annual Meeting, 2013. e-Pub 2013

Tamm EP, Bhosale PR, Wagner-Bartak NA, Le O, Szklaruk J, Kundra V

An introduction to using dual energy CT for imaging of pancreatic and hepatic oncology Radiological Society of North America Scientific 2012 Annual Meeting, 2012

Le O

MDCT in differentiating pT1-2 from pT3 tumors in renal cell carcinoma Proceedings of Abdominal Radiology Course 2011, 2011

Faria S, Gupta S, Le O, Kundra V

Multimodality imaging of mesenteric masses American Roentgen Ray Society Annual Meeting
Book Chapters
Le O, Vikram R, et al, Carcinoma of the Bladder and Urethra, In: Imaging of the Pelvis, Musculoskeletal System, and Special Applications to CAD, Taylor and Francis, 2016
Le O, The Peritoneum, In: Cross-Sectional Imaging of the Abdomen and Pelvis, 2015
Le O, Peritoneal cavity and gastrointestinal tract, In: Oncologic Imaging: A Multidisciplinary Approach, Elsevier: New York, New York, 2012