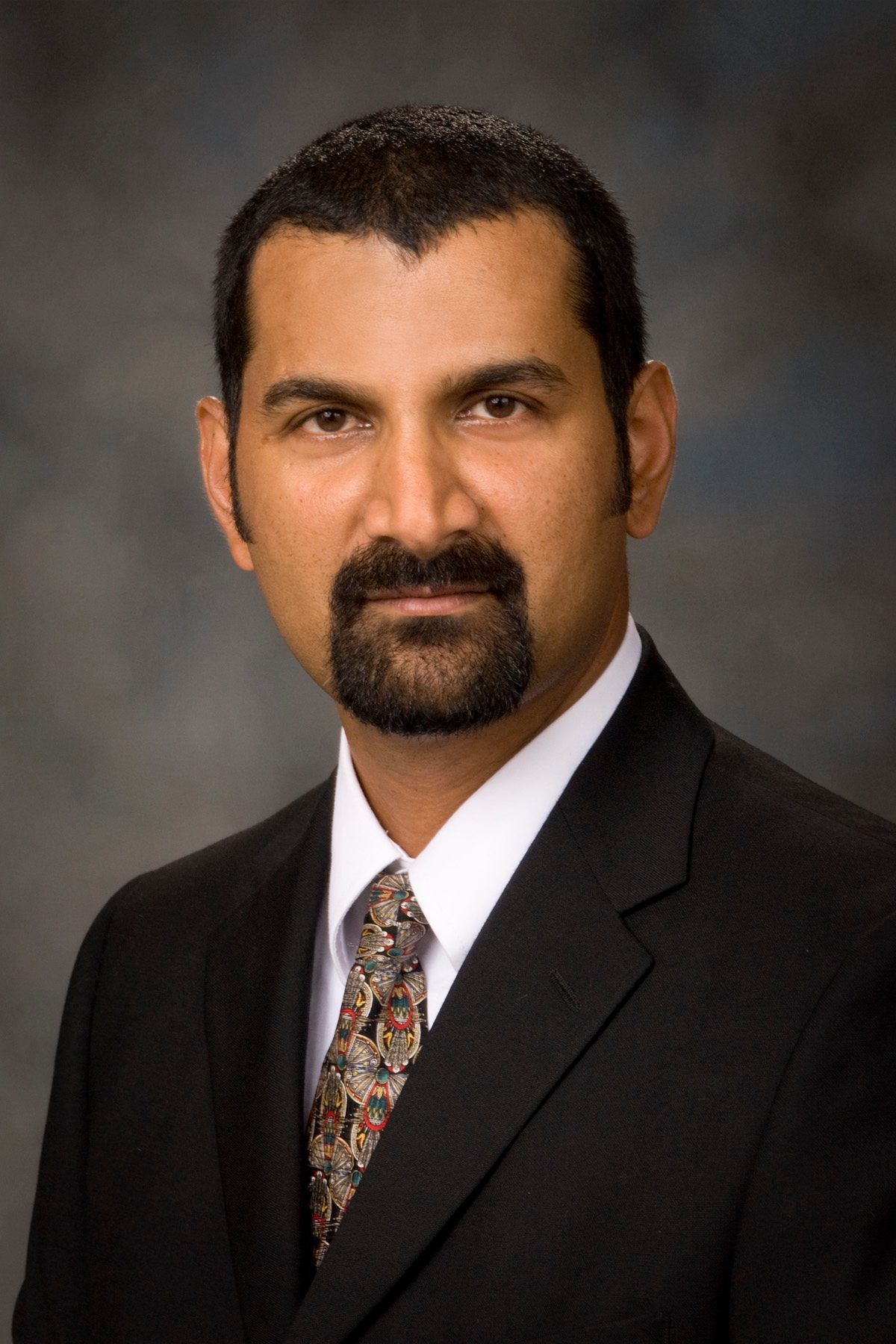 S. Cheenu Kappadath, Ph.D.
Department of Imaging Physics, Division of Diagnostic Imaging
About Dr. Kappadath
S. Cheenu Kappadath, PhD, is an Associate Professor in the Department of Imaging Physics. He is a board-certified and licensed medical physicist with specialties in Nuclear Medicine Physics and Instrumentation (ABSNM) and Diagnostic Radiologic Physics (ABR). He provides clinical physics support for the Departments of Nuclear Medicine and Diagnostic Radiology in the Division of Diagnostic Imaging. He is the Program Director for Imaging Physics Network Services and oversees clinical Imaging Physics operations at institutions within the MD Anderson Cancer Network as well as other satellite and regional care facilities.
He is actively involved in a variety of funded research projects in SPECT/CT, PET/CT, and CT and is the recipient of grants from NIH and industry. Topics of research focus include liver-directed Yttrium-90 microsphere therapy, molecular breast imaging, quantitative imaging with SPECT, PET, and CT; and patient-specific voxel dosimetry. Dr. Kappadath also holds a joint Associate Faculty appointment at The University of Texas Graduate School of Biomedical Sciences in Houston where he serves as an instructor in various courses and advisor to medical physics graduate students. Dr. Kappadath is an active member of several professional medical physics societies such as the AAPM, SNMMI, and ACR. More recently, his research has received the Arthur Weis Award in Radiation Dosimetry and Safety from the Society of Nuclear Medicine and Molecular Imaging (SNMMI).
Read More
Primary Appointment
Associate Professor, Department of Imaging Physics, Division of Diagnostic Imaging, The University of Texas MD Anderson Cancer Center, Houston, TX
Dual/Joint/Adjunct Appointment
Associate Faculty, Graduate School of Biomedical Sciences, The University of Texas Health Science Center at Houston, Houston, TX
· Work with radiologists to improve diagnostic image quality for routine clinical imaging
· Clinical implementation of innovations in data acquisition and image generation
· Manage clinical imaging physics activities at Partner Institutions and Regional Care Centers
Degree-Granting Education
| | |
| --- | --- |
| 1998 | University of New Hampshire, Durham, NH, USA, PhD, Physics |
| 1994 | University of New Hampshire, Durham, NH, USA, MS, Physics |
| 1991 | Illinois Wesleyan University, Bloomington, IL, USA, BA, Physics and Mathematics |
Postgraduate Training
| | |
| --- | --- |
| 2006-2007 | Clinical Residency, Medical Physics, Department of Imaging Physics, The University of Texas MD Anderson Cancer Center, Houston, TX |
| 1998-2001 | Postdoctoral Research Scientist, Department of Physics and Astronomy, Louisiana State University, Baton Rouge, LA |
| | |
| --- | --- |
| 2008 | American Board of Radiology, Diagnostic Radiologic Physics |
| 2007 | American Board of Science in Nuclear Medicine, Nuclear Medicine Physics and Instrumentation |
Academic Appointments
Assistant Professor, Department of Imaging Physics, Division of Diagnostic Imaging, The University of Texas MD Anderson Cancer Center, Houston, TX, 2007 - 2014
Administrative Appointments/Responsibilities
Member, Imaging Physics Clinical Operations Committee, Department of Imaging Physics, The University of Texas MD Anderson Cancer Center, Houston, TX, 2011 - 2015
Nuclear Medicine Research Peer-Review Committee, Member, The University of Texas MD Anderson Cancer Center, Houston, TX, 2009 - Present
Other Appointments/Responsibilities
Coordinator, Outreach Clinical Physics Operations, The University of Texas MD Anderson Cancer Center, Houston, TX, 2013 - 2015
Lead Imaging Physicist, Banner MD Anderson Cancer Center, Phoenix, AZ, 2011 - 2013
Institutional Committee Activities
MD Anderson Cancer Network, Clinical Consultant, 2012 - Present
| | |
| --- | --- |
| 2015 | Arthur Weis Award in Radiation Dosimetry and Safety, Mikell J. Jahvash A, Siman W, Mourtada F, Kappadath SC. Biases and variablility in partition model absorbed doses following Y90 microsphere therapy, Society of Nuclear Medicine and Molecular Imaging (SNMMI) Annual Meeting |
| 2015 | 3rd Place Award Oncology Clinical Diagnosis Track Poster Presentation, Mikell J, Mahvash A, Siman W, Mourtada F, Kappadath SC. Biases and variablility in partition model absorbed doses following Y90 microsphere therapy, Society of Nuclear Medicine and Molecular Imaging (SNMMI) Annual Meeting |
| 2014 | Volunteer Service Award, American Board of Radiology |
| 2012 | 2nd Place Award Radiopharmacy Track Poster Presentation, Maclellan C, Hobbs BP, Chasen B, Murthy R, Mahvash A, Kappadath SC. Absorbed dose differences in 90Y microsphere therapy between pre-treatment 99mTc-MAA and post-treatment 90Y scans, Society of Nuclear Medicine and Molecular Imaging (SNMMI) Annual Meeting |
| 2012 | 2nd Place Award Technologist Oral Presentation, Gonzalez JA, McCoy AP, Mar MV, Kappadath SC. Identifying optimal SPECT acquisition for liver imaging using 99mTc-MAA, Society of Nuclear Medicine and Molecular Imaging (SNMMI) Annual Meeting |
| 2007 | Reviewer's Choice Oral Presentation Award, Kappadath SC, Wendt RE. Assessment of the radiation shielding for a busy PET/CT facility, AAPM Annual Meeting, Washington, DC |
| 2007 | Trainee Travel Grant Recipient, IEEE Medical Imaging Conference, Honolulu, Hawaii |
| 2006 | Medical Physics Residency Award, Radiological Society of North America |
| 2004 | Honorable Mention Poster Award, Kappadath SC, Shaw C, Lai CJ, Liu X, Whitman G., Dual-energy digital mammography for calcification imaging: theory and implementation, SPIE Physics of Medical Imaging Symposium, San Diego, CA |
| 1991 | Meritorious Award, Mathematical Contest in Modeling, Illinois Wesleyan University, Bloomington, Illinois |
| 1991 | Cum laude, B.A, Illinois Wesleyan University, Bloomington, Illinois |
American Association of Physicists in Medicine (AAPM)
Member, AAPM Task Group 177: Gamma Camera, SPECT, and SPECT/CT Acceptance Testing and Annual Surveys, 2009 - Present
The Society of Nuclear Medicine and Molecular Imaging (SNMMI)
Member, Computer and Instrumentation Council, 2009 - Present
American Association of Physicists in Medicine (AAPM)
Member, Nuclear Medicine Subcommittee, 2009 - Present
Peer-Reviewed Articles
Hulme KW, Kappadath SC

Implications of CT noise and artifacts for quantitative (99m)Tc SPECT/CT imaging. Med Phys 41 (4) :042502, 2014. PMID: 24694155

Silosky M, Johnson V, Beasley C, Kappadath SC

Characterization of the count rate performance of modern gamma cameras Med Phys 40 (3) :032502, 2013. PMID: 23464339

Siman W, Kappadath SC

Performance characteristics of a new pixelated portable gamma camera Med Phys 39 (6) :3435-3444, 2012. PMID: 22755723

Hulme KW, Rong J, Chasen B, Chuang HH, Cody DD, Wong FC, Kappadath SC

A CT acquisition technique to generate images at various dose levels for prospective dose reduction studies Am J Roentgenol 196 (2) :W144-51, 2011. PMID: 21257855

Mathieu KB, Kappadath SC, White RA, Atkinson EN, Cody DD

An empirical model of diagnostic x-ray attenuation under narrow-beam geometry. Med Phys 38 (8) :4546-4555, 2011. PMID: 21928626

Kappadath SC

Effects of voxel size and iterative reconstruction parameters on the spatial resolution of 99mTc SPECT/CT J Appl Clin Med Phys 12 (4) :3459, 2011. e-Pub 2011. PMID: 22089002

Kappadath SC, Erwin WD, Wendt RE

A novel method to evaluate gamma camera rotational uniformity and sensitivity variation. Med Phys 36 (6) :1947-1955, 2009. PMID: 19610283

Kappadath SC, Shaw CC

Dual-energy digital mammography: noise reduction techniques. Phys Med Bio 53:5421-43, 2008

Mawlawi O, Kappadath SC, Pan T, Macapinlac H

Factors affecting quantification in PET/CT imaging Current Medical Imaging Reviews 4, 2008

Kappadath SC, Erwin WD, Wendt RE

Observed intercamera variability in clinically relevant performance characteristics for Siemens Symbia gamma cameras Journal of Applied Clinical Medical Physics 7(4), 2006. PMID: 17533358

Lai CJ, Shaw CC, Whitman GJ, Johnston DA, Yang WT, Selinko V, Arribas E, Dogan B, Kappadath SC

Visibility of simulated microcalcifications-a hardcopy-based comparison of three mammographic systems. Med Phys 32(1):182-94, 2005. PMID: 15719969

Kappadath SC, Shaw CC

Dual-energy digital mammography for calcification imaging: scatter and nonuniformity corrections. Med Phys 32(11):3395-408, 2005. PMID: 18765887

Kappadath SC, Shaw CC

Quantitative evaluation of dual-energy digital mammography for calcification imaging. Phys Med Biol 49:2563-76, 2004. PMID: 15272674

Kappadath SC, Shaw CC

Dual-energy digital mammography: calibration and inverse-mapping techniques to estimate calcification thickness and glandular-tissue ratio. Med Phys 30(6):1110-7, 2003. PMID: 12852535

Lemacks MR, Kappadath SC, Shaw CC, Liu X, Whitman GJ

A dual-energy subtraction technique for microcalcification imaging in digital mammography: a signal-to-noise analysis. Med Phys 29(8):1739-51, 2002. PMID: 12201421
| | |
| --- | --- |
| Title: | A novel dose calculation method for targeted radionuclide therapy |
| Funding Source: | Christiana Care Health Services/NIH |
| Role: | Principal Investigator |
| | |
| --- | --- |
| Title: | Multi-modal reconstruction and quantitative SPECT imaging |
| Funding Source: | Siemens Medical Solutions |
| Role: | Co-Investigator |
| | |
| --- | --- |
| Title: | Develop methodology to separately compute the trabecular and cortical bone-mineral density using the GE Discovery CT 750HD scanner with GSI |
| Funding Source: | General Electric |
| Role: | Principal Investigator |