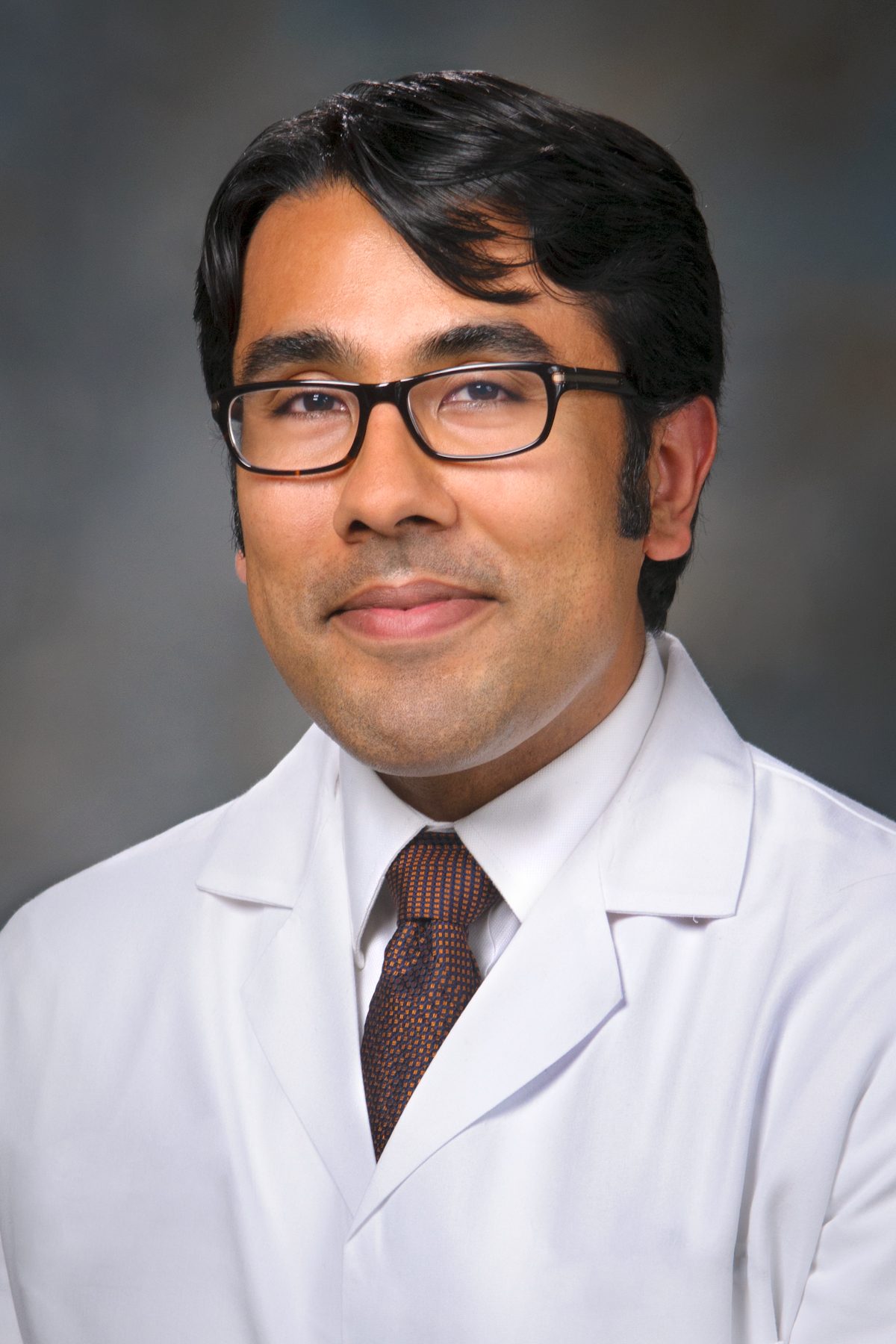 Sharjeel H. Sabir, M.D.
Department of Interventional Radiology, Division of Diagnostic Imaging
About Dr. Sabir
Dr. Sabir joined MD Anderson as Assistant Professor in Interventional Radiology in 2013. His main research interest is quality and safety in Interventional Radiology. The main area in which he has pursued this interest is in the effects of tumor heterogeneity on yields of percutaneous biopsy. Other areas in which Dr. Sabir has focused this interest include percutaneous and endovascular management of renal cell carcinoma, management and care of nephrostomy catheters, and percutaneous ablation of lung metastases. In addition, Dr. Sabir continues work that was started by Dr. Michael Wallace on developing an outcomes database in IR that will allow a comprehensive view of the value of IR. Dr. Sabir is also working on incorporating simulation based training into the IR trainees' curriculum to assure their safe and effective involvement in the care of patients. His clinical interests, in addition to the above procedures, include percutaneous drainage, an array of loco-regional therapies for various cancers, and MRI guided interventions.
Read More
Primary Appointment
Assistant Professor, Department of Interventional Radiology, Division of Diagnostic Imaging, The University of Texas MD Anderson Cancer Center, Houston, TX
Dual/Joint/Adjunct Appointment
Assistant Professor, The University of Texas Health Science Center, Houston, TX
Degree-Granting Education
| | |
| --- | --- |
| 2007 | Baylor College of Medicine, Houston, TX, USA, MD, Medicine |
| 2001 | University of Minnesota, Minneapolis, MN, USA, BA, Philosophy and Physiology |
Postgraduate Training
| | |
| --- | --- |
| 2012-2013 | Clinical Fellowship, Interventional Radiology, The University of Texas MD Anderson Cancer Center, Houston, TX |
| 2008-2012 | Clinical Residency, Radiology, Massachusetts General Hospital, Boston, MA |
| 2007-2008 | Clinical Internship, Transitional Year, Methodist Hospital, Houston, TX |
| | |
| --- | --- |
| 2015 | American Board of Medical Quality |
| 2012 | American Board of Radiology |
Academic Appointments
Assistant Professor, Department of Diagnostic Radiology, Division of Diagnostic Imaging, The University of Texas MD Anderson Cancer Center, Houston, TX, 2013 - 2013
Institutional Committee Activities
Member, Interventional Radiology Fellowship Education Committee, 2014 - Present
Member, Massachusetts General Hospital, Radiology Residency Education, 2010 - 2011
Member, Massachusetts General Hospital, Radiology Residency Admissions, 2010 - 2012
| | |
| --- | --- |
| 2013 | Society of Interventional Radiology Leadership Academy |
| 2010 | RSNA/ARRS/AUR Introduction to Academic Radiology Program |
| 2010 | Chief Resident in Radiology |
| 2006 | Alpha Omega Alpha |
| 2004 | Honors Certificate for Achievement in Basic Sciences |
| 2002 | National Institute of Health Ethical, Legal, and Social Implications of the Human Genome Project Supplemental Grant |
Society of Interventional Radiology
Member, 2010 - Present
American College of Radiology
Member, 2008 - Present
American Roentgen Ray Society
Member, 2008 - Present
Radiological Society of North America
Member, 2006 - Present
Peer-Reviewed Articles
Eisenberg JD, Gervais DA, Singh S, Kalra MK, Sabir SH, Paul AB, Pandharipande PV

Radiation Exposure From CT-Guided Ablation of Renal Masses: Effects on Life Expectancy. AJR Am J Roentgenol 204 (2) :335-42, 2015. PMID: 25615756

Sabir SH, Caldwell K, Moon B, Tam A

Percutaneous Thermal Ablation Techniques for the Treatment of Musculoskeletal Metastases Orthopaedic Knowledge Online Journal, 2015

Sabir SH, Aran S, Abujudeh H

Simulation-Based Training in Radiology J Am Coll Radiol 11 (5) :512-7, 2014. e-Pub 2013. PMID: 23770063

Pham JD, Huang SY, Sabir SH, Huynh T, Wallace MJ

Celect Filter Penetration of Aorta and Lumbar Artery J Vasc Interv Radiol 25 (3) :487-490, 2014. PMID: 24581474

Sabir SH, Armstrong R, Elting LS, Wallace MJ, Gupta S, Tam AL

Early initiation of enteral feeding in cancer patients after outpatient percutaneous fluoroscopy-guided gastrostomy catheter placement. J Vasc Interv Radiol 25 (4) :618-22, 2014. PMID: 24674218

Greka A, Bhatia RS, Sabir SH, Dekker JP

Case records of the Massachusetts General Hospital. Case 4-2013. A 50-year-old man with acute flank pain. N Engl J Med 368 (5) :466-72, 2013. e-Pub 2013. PMID: 23343037
Abstracts
Sabir SH, Patel R, Lin B, Ahrar J, Tam A, Ahrar K

Enhancing the care of cancer patients with ureteral strictures managed with percutaneous nephrostomy tubes 2016 Cancer Suvivorship Symposium: Advancing Care and Research:J Clin Oncol 34, 2016 (suppl 3S; abstr e264), 2016

Sabir SH

Large Solitary Hepatocellular Carcinomas Treated with Transarterial Chemoembolization: In which BCLC Stage Patients Should Be Allocated? International Liver Congress 2016, 2016

Odisio BC, Figueira TA, Sabir SH, Wei W, Abdelsalam ME, Huang SY, Tam AL, Mahvash A, Gupta S, Wallace MJ, Vauthey JN, Kaseb AO

Large single hepatocellular carcinomas treated with transarterial chemoembolization: In which BCLC Stage patients should be allocated? EASL 2016, 2016

Sabir SH, Mehta N, Ford R, Hernandez J, Chien P, Parikh S, Hamlin A, Ahrar K,

Prevention of Nephrostomy Catheter Associated Urinary Tract Infections 2016 UT Shared Visions Conference, 2016

Ahrar J, Ensor J, Mahvash A, Sabir SH, Steele J, McRae S, Avritscher R, Huang S, Odisio BC, Murthy R, Ahrar K, Wallace M, Gupta S

Efficacy of a self-expanding tract sealant device in the reduction of pneumothorax and chest tube placement rates after percutaneous lung biopsy: A matched controlled study using propensity score analysis., 2015

Murthy R, Subbiah S, Mahvash A, Odisio BC, Gupta S, Ahrar J, Sabir Sh, Huang S, Bosch M

Image-Guided Autologous Dendritic Cell Vaccination In Advanced Cancer: Technical Aspects Poster, 2015

Huang SY, Odisio BC, Sabir S, Ensor Jr J, Knoll M, Wallace MJ, Gupta S

Clinical factors that predict 6 month mortality for patients with solid malignancy receiving IVC filters J Vasc Interv Radiol 25 (3 Supplement) :S159-S160, 2014

Williams UU, Ruiz JR, Van Meter A, Abdelsalam ME, Sabir S, Ahrar K

Radial Nerve Injury Following Renal Radiofrequency Ablation in the Lateral Position - Poster 68th Postgraduate Assembly in Anesthesiology, 2014

Sedrak l, Tam A, Odisio BC, Sabir SH, Gupta S, Wallace MJ, Huang SY

Percutaneous transesophageal gastrostomy catheters: indication, technique, and outcome 39th Annual Society of Interventional Radiology Scientific Meeting, 2014

Sabir S, Ahrar K, Choi H, Ward J, Mcrae S

Transgluteal MR-Guided Prostate Biopsy: Results of a Freehand Technique in a Closed 1.5 T MRI J Vasc Interv Radiol Supplement 24 (4S) :S176, 2013

Sabir SH, Patel J, Nguyen TT, Wallace MJ, Suitor CT, McEnery KW, Hicks ME, Gupta S

Use of a mandatory complication entry system integrated into the radiology dictation system for monitoring effects of quality improvement initiatives - Poster 99th annual Conference of the Radiological Society of North America, 2013

Sabir SH, Govindan S, Arellano R

The Abernethy Malformation: Congenital Extrahepatic Portosystemic Shunts J Vasc Interv Radiol Supplement 23 (3S) :S162-S163, 2012

Johnston RP, Sabir S, Govindan S, Gervais D, Hahn P, Kalva S, Arellano R

Portal Vein - Pathology and Intervention 98th Annual Conference of the Radiological Society of North America, 2012
Book Chapters
Sabir SH, Shaw CM, Matin SF, Ahrar K, Thermal Ablative Techniques in Renal Cell Carcinoma, In: Kidney Cancer, Springer International: New York, 195-215, 2015
Sabir SH, Tam AL, Interventional Radiology Procedures in Renal Cell Carcinoma, In: Renal Cell Carcinoma, Oxford University Press: New York, 37-46, 2014
Sabir SH, Cooper JB, Simulation, In: Quality and Safety in Radiology, Oxford University Press: New York, 245-254, 2012