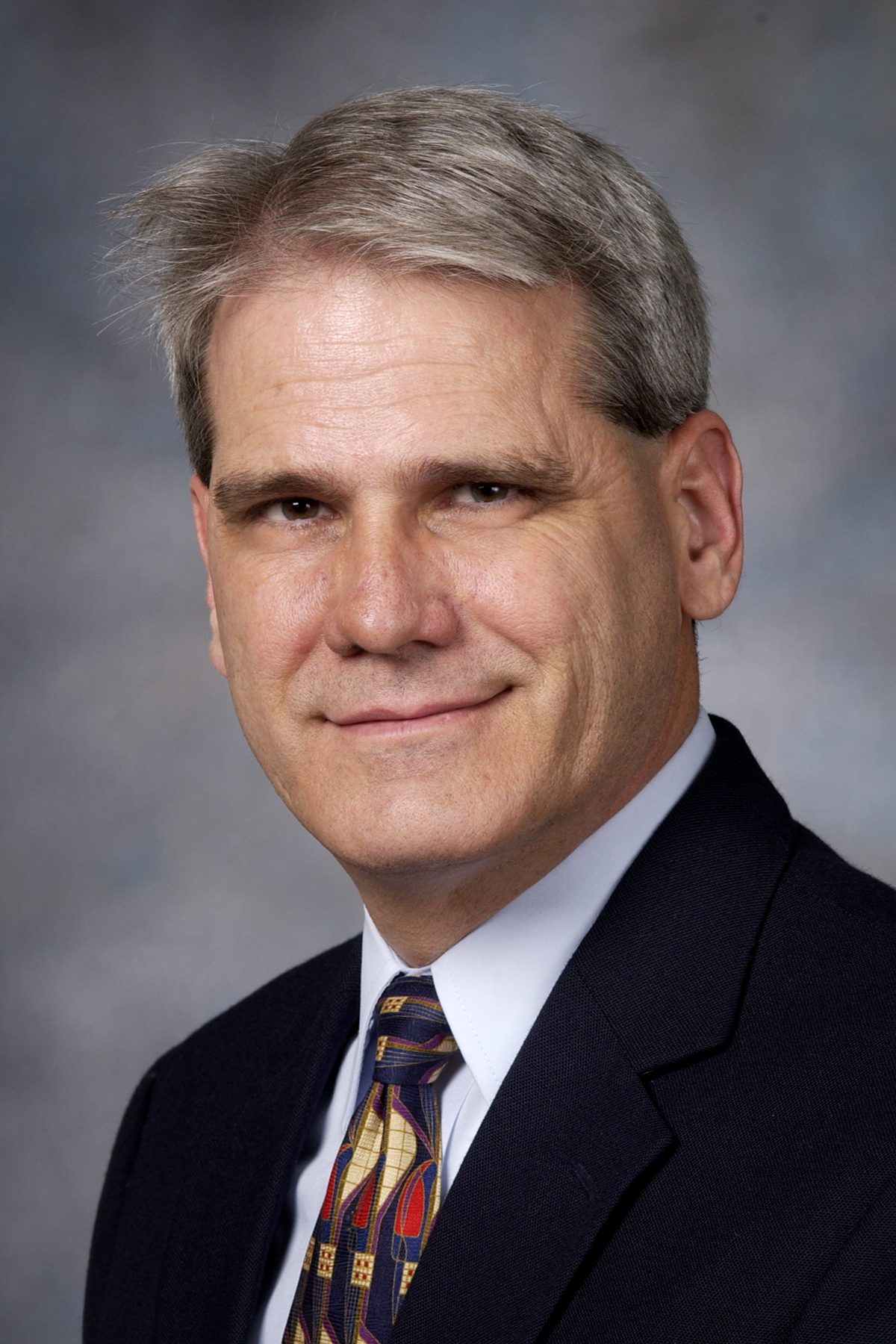 Charles E Willis, M.S., Ph.D., FAAPM
Department of Imaging Physics, Division of Diagnostic Imaging
About Dr. Willis
The objective of Dr. Willis' research is to optimize the clinical use of computed radiography (CR) and direct digital radiography (DR) in diagnostic radiology. These technologies allow digital acquisition of ordinary radiological examinations in sufficient quality and quantity to enable the all-digital radiology department. Clinical practice with CR and DR has been relatively recent, and a number of uncertainties remain concerning their use, including appropriate technical factors, optimal digital image processing, quality control tests and quality assurance indicators. His work also includes evaluation of whether phantoms properly test the performance of CR and DR systems. He is also interested in the study of CR and DR artifacts that appear in clinical images, and the correlation of these artifacts with errors in operation, performance, and configuration of CR and DR systems.

The work is accomplished through a variety of simulations and measurements. Radiographic techniques can be developed for CR and DR examinations using a model of x-ray generator output, tabulated values of attenuation and scatter by the patient, and models of receptor radiation absorption. The mathematical models are validated using actual x-ray generators, patient phantoms, and image receptors with physical measurements of receptor performance and x-ray spectroscopy.

A lack of objective standards for image quality is a problem in diagnostic radiology. Dr. Willis is currently working with software developed by Duke University Medical Center that assesses the quality of chest images according to ten perceptual attributes. Using this software, it may be possible to identify substandard images for subsequent clinical intervention.
Read More
Primary Appointment
Associate Professor, Department of Imaging Physics, Division of Diagnostic Imaging, University of Texas MD Anderson Cancer Center, Houston, TX
Dual/Joint/Adjunct Appointment
Regular Faculty Member, GSBS University of Texas Graduate School of Biomedical Sciences, Houston, TX
Adjunct Associate Professor, Baylor College of Medicine, Houston, TX
Optimizing radiographic techniques for CR and DR examinations Establishing practical quality metrics for CR and DR Evaluating phantoms for CR and DR
Digital Radiography Pediatric Radiography Duel Energy Subtraction Radiography Projection Radiography
Degree-Granting Education
| | |
| --- | --- |
| 1984 | University of Houston, Houston, TX, USA, PHD, Biophysical Sciences |
| 1980 | Louisiana State University, Baton Rouge, LA, USA, MS, Nuclear Engineering |
| 1975 | Louisiana State University, Baton Rouge, LA, USA, BS, General Studies (Sciences) |
| | |
| --- | --- |
| 1997 | American Board of Radiology |
Academic Appointments
Associate Professor, Department of Department of Radiology, Baylor College of Medicine, Houston, TX, 1998 - 2004
Assistant Professor, Department of Department of Radiology, Baylor College of Medicine, Houston, TX, 1997 - 1998
Adjunct Assistant Professor, Department of Department of Radiology, University of Texas Houston Health Science Center, Houston, TX, 1996 - 1997
Assistant Professor, Department of Department of Radiology, University of Texas Houston Health Science Center, Houston, TX, 1992 - 1996
Adjunct Assistant Professor, Department of Department of Radiology, University of Texas Houston Health Science Center, Houston, TX, 1991 - 1992
Nuclear Medical Science Officer, Department of Radiology, Brooke Army Medical Center, San Antonio, TX, 1990 - 1991
Research Associate, Department of Department of Physics, University of Texas M. D. Anderson Cancer Center, Houston, TX, 1984 - 1985
Administrative Appointments/Responsibilities
Special Faculty Member, University of Texas Graduate School of Biomedical Sciences, Houston, TX, 1999 - 2004
Faculty Member, University of Texas Graduate School of Biomedical Sciences, Houston, TX, 1996 - 1999
Other Appointments/Responsibilities
Director, Imaging Physics Residency Program, University of Texas MD Anderson Cancer Center, Houston, TX, 2007 - 2016
Institutional Committee Activities
Alternate, Credentials Committee of the Medical Staff, 2014 - Present
Member, Faculty Senate, 2014 - Present
Member, Education Committee for Health Professionals (formerly known as Non-Physician Clinical Education Committee), 2010 - 2015
Chair, Non-Physician Clinical Education Committee (now known as Education Committee for Health Professionals), 2009 - 2010
Member, Physician Assistant Post Graduate Oncology Program Advisory Committee, 2008 - Present
Vice-chair, Non-Physician Clinical Education Committee (now known as Education Committee for Health Professionals), 2007 - 2009
Member, Imaging Physics Residency Steering Committee, 2004 - 2015
Member, Department of Imaging Physics Steering Committee, 2004 - 2007
Consultantships
International Atomic Energy Agency, International Expert Program, Vienna, Austria, 2007 - Present
Private Consultant, Diagnostic Radiological Physics, Bellaire, TX, 1993 - Present
Military or Other Governmental Service
Major, Physicist, Gulf War Veteran, Brooke Army Medical Center, Office of the Surgeon General, Active Duty, 1990 - 1991
Lieutenant Colonel, U.S. Army Reserve, 1971 - 2003
Viet Nam Era Veteran, Cadet, Active Duty, United States Air Force Academy, 1971 - 1973
| | |
| --- | --- |
| 2014 | Certificate of Appreciation, Physics Case of the Day Education Exhibit, Chicago, IL, 100th Scientific Assembly and Annual Meeting of the Radiological Society of North America |
| 2013 | Certificate of Appreciation, Physics Case of the Day Education Exhibit, Chicago, IL, 99th Scientific Assembly and Annual Meeting of the Radiological Society of North America |
| 2010 | Fellow, American Association of Physicists in Medicine |
| 2005 | Certificate of Appreciation for Excellence in Reviewing Manuscripts in Pediatric Radiology, The Society for Pediatric Radiology |
| 2005 | Certificate of Appreciation for Contributions Educating Radiation Control Staff, Texas Department of State Health Services |
| 2005 | Certificate of Appreciation, Physics Case of the Day Education Exhibit, Chicago, IL, 91st Scientific Assembly and Annual Meeting of the Radiological Society of North America |
| 2004 | Certificate of Appreciation, Physics Case of the Day Exhibit, Chicago, IL, 90th Radiological Society of North America, 90th Scientific Assembly and Annual Meeting |
| 2002 | Certificate of Appreciation, Physics Case of the Day Exhibit, Chicago, IL, Radiological Society of North America, 88th Scientific Assembly and Annual Meeting |
| 1981 | The Lyndon B. Johnson Space Center Group Achievement Award, NASA |
| 1978 | Phi Kappa Phi Honor Fraternity |
Commission on Accreditation of Medical Physics Education Programs
Reviewer, Imaging Physics Residency, 2012 - Present
Image Gently Consortium
Member, DR Steering Committee, 2009 - Present
American Board of Radiology
Item Writer, Physics for the Diagnostic Radiology exam, 2008 - 2011
American Association of Physicist in Medicine
Diagnostic Imaging Subcommittee, Task Group #153, Digital Glossary, 2008 - 2010
Society of Imaging Informatics in Medicine (formerly named, Society for Computer Applications in Radiology)
Program Committee, 2004 - 2008
SW Chapter, American Association of Physicists in Medicine
Member, 2004 - Present
Agfa PACS User Group
Secretary Treasurer, 2002 - 2004
Society for Pediatric Radiology
Associate Member, 2001 - Present
Society for Computer Applications in Radiology
Host Institution Co-chair, 1999 - 1999
Houston Society for Engineering in Medicine and Biology, Houston, TX
Program Committee, 1997 - 1997
Texas Radiological Society, Austin, TX
Member, 1997 - Present
American College of Radiology
Member, 1997 - Present
Society of Photographic and Imaging Engineers, International Technical Working Group on Penetrating Radiation
Member, 1997 - 2005
Peer-Reviewed Articles
Li G, Greene TC, Nishino TK, Willis CE

Evaluation of cassette-based digital radiography detectors using standardized image quality metrics: AAPM TG-150 Draft Image Detector Tests. J Appl Clin Med Phys 17 (5) :6008, 2016. e-Pub 2016. PMID: 27685102

Hsieh CY, Gladish G, Willis CE

Evaluation of a commercial cardiac motion phantom for dual-energy chest radiography J Appl Clin Med Phys 15 (2) :4508, 2014. e-Pub 2014. PMID: 24710435

Prisciandaro JI, Willis CE, Burmeister JW, Clarke GD, Das, RK, Esthappan J, Gerbi BJ, Harkness BA, Patton JA, Peck DJ, Pizzutiello RJ Jr., Sandison GA, White SL, Wichman BD, Ibbott GS, Both S

Essentials and Guidelines for Clinical Medical Physics Residency Training Programs: Executive Summary of AAPM Report Number 249 J Appl Clin Med Phys 15 (3) :4-13, 2014

Jones AK, Polman R, Willis CE, Shepard SJ

One Year's Results from a Server-Based System for Performing Reject Analysis and Exposure Analysis in Computed Radiography J Digit Imaging 24 (2) :243-255, 2011. PMID: 19885636

Don S, Goske MJ, John S, Whiting B, Willis CE

Image Gently pediatric digital radiography summit: executive summary Pediatr Radiol 41 (5) :562-565, 2011. e-Pub 2011. PMID: 21253718

Willis CE, Vinogradskiy YY, Lofton BK, White RA

Gain and offset calibration reduces variation in exposure-dependent SNR among systems with identical digital flat panel detectors Med Phys 38 (7) :4422-4429, 2011. PMID: 21859043

Shepard SJ, Wang J, Flynn M, Gingold E, Goldman L, Krugh K, Leong DL, Mah E, Ogden K, Peck D, Samei E. Willis CE

Erratum: An exposure indicator for digital radiography: AAPM Task Group 116 (Executive Summary) Med Phys (2009) 36 (2898-2914) Med Phys 37 (1) :405, 2010

Willis CE

Optimizing Digital Radiography of Children Eur J Radiol 72 (2) :266-273, 2009. e-Pub 2009. PMID: 19345030

Shepard SJ, Wang J, Flynn M, Gingold E, Goldman L, Krugh K, Leong DL, Mah E, Ogden K, Peck D, Samei E, Wang J, Willis CE

"An exposure indicator for digital radiography: AAPM Task Group 116 (Executive Summary)" Med Phys 36 (7) :2898-2914, 2009. PMID: 19673189

Shah C, Jones AK, Willis CE

Consequences of Modern Anthropometric Dimensions for Radiographic Techniques and Patient Radiation Exposures Med Phys 35 (8) :3616-3625, 2008. PMID: 18777922

Samei E, Badano A, Chakraborty D, Compton K, Cornelius C, Corrigan K, Flynn MJ, Hemminger B, Hangiandreou N, Johnson J, Moxley-Stevens DM, Pavlicek W, Roehrig H, Rutz L, Shepard J, Uzenoff RA, Wang J, Willis CE, AAPM TG18

Assessment of display performance for medical imaging systems: executive summary of AAPM TG18 report. Med Phys 32 (4) :1205-25, 2005. PMID: 15895604

Willis CE, Slovis, TL

The ALARA Concept in pediatric CR and DR: dose reduction in pediatric radiographic exams A white paper conference. Executive Summary. Radiology 234:343-344, 2005

Liu HL, Liu RR, Reeve DM, Shepard SJ, Willis CE

Measurement of CT radiation profile width using CR imaging plates. Med Phys 32 (9) :2881-7, 2005. PMID: 16266102

Willis CE, Slovis TL

The ALARA concept in pediatric CR and DR: dose reduction in pediatric radiographic exams--a white paper conference. AJR Am J Roentgenol 184 (2) :373-4, 2005. PMID: 15671348

Willis CE, Thompson SK, Shepard SJ

Artifacts and Misadventures in Digital Radiography. Applied Radiology 33 (1) :11-20, 2004

Willis CE

Introduction. Pediatr Radiol 34 (Suppl 3) :S165-S166, 2004

Willis CE

Strategies for dose reduction in ordinary radiographic examinations using CR and DR. Pediatr Radiol 34 Suppl 3:S196-200, 2004. PMID: 15558261

Willis CE, Slovis TL

The ALARA concept in pediatric CR and DR: dose reduction in pediatric radiographic exams--a white paper conference executive summary. Pediatr Radiol 34 Suppl 3:S162-164, 2004. PMID: 15558256

Willis CE, Slovis TL

The ALARA Concept in Radiographic Dose Reduction. Radiol Technol 76 (2) :150-2, 2004. PMID: 15587617

Willis CE

Discussion Pediatr Radiol 34 (Suppl 3) :S234-241, 2004

Samei E, Seibert JA, Willis CE, Flynn MJ, Mah E, Junck KL

Performance evaluation of computed radiography systems. Med Phys 28 (3) :361-71, 2001. PMID: 11318318

Roehrig H, Willis CE, Damento MA

Characterization of monochrome CRT display systems in the field. J Digit Imaging 12 (4) :152-65, 1999. PMID: 10587910

Cawthon MA, Goeringer F, Telepak RJ, Burton BS, Pupa SH, Willis CE, Hansen MF

Preliminary assessment of computed tomography and satellite teleradiology from Operation Desert Storm. Invest Radiol 26 (10) :854-7, 1991. PMID: 1960024

Willis CE, Bencomo JA

Logistic representation of the sensitometric response of screen-film systems: empirical validation. Med Phys 17 (4) :676-80, 1990. PMID: 2215413

Willis CE

Diagnostic Radiologic Imaging for the Health Maintenance Facility. Research and Technology Annual Report 1987. NASA Technical Memorandum #100 463:22, 1988

Willis CE, Willis DG, Holmquist GP

An equation for DNA electrophoretic mobility in agarose gels. Appl Theor Electrophor 1 (1) :11-8, 1988. PMID: 3154955

Willis CE, Schultz JR

Spacecraft water system disinfection technology: past, present, and future needs. 17th Intersociety Conference on Environmental Systems. Session 11ES10A, Paper #871487, 9 pages Paper #871487:9 pages, 1987

Bencomo, JA, LeDuc T, McGraw FJ, Fallone BG, Willis CE

Logit analysis of screen/film modulation transfer function data. J Imag Sci 30:270-273, 1986

Willis CE, Holmquist GP

Quantitative measurements of fluorescently-stained DNA in gels from photographic images. Electrophoresis 6:259-267, 1985

Long BH, Willis CE, Prestayko AW, Crooke ST

Effect of anthracycline analogues on the appearance of newly synthesized total RNA and messenger RNA in the cytoplasm of erythroleukemia cells. Mol Pharmacol 22 (1) :152-7, 1982. PMID: 6956804
Invited Articles
Willis, CE, Digital radiography: CR versus DR? Sometimes recognizing the distinction in technologies makes a difference., 37 (1) :25-28, 2008
Willis CE, What's New in Quality Control for Computed Radiography?:21-54, 2004
Willis CE, CR, DR dose strategies address pediatric imaging.:221-225, 2003
Willis CE, Optimizing CR and DR: Good CR/DR Practice., 12 (11) :133-135, 2002
Willis CE, Ten Fallacies about CR., 15 (12) :26-29, 2002
Willis CE, Computed radiography: a higher dose?, 32:745-750, 2002
Willis CE, Filmless practice needs much more diligent QA., 23 (9) :9, 2001
Willis CE, Thompson SK, Strategic Moves: Medical Physics in the Digital Domain.:30-35, 2001
Willis CE, Quality Control of Computed Radiography Systems. Quality Assurance for the Third Millennium., 2000
Willis CE, Parker BR, In pediatrics, CR may become the ideal detector., 21 (11) :175-183, 1999
Other Articles
Seibert JA, Bogucki TM, Ciona T, Huda W, Karellas A, Mercier JR, Samei E, Shepard SJ, Stewart BK, Strauss KJ, Suleiman OH, Tucker D, Uzenoff RA, Weiser JC, Willis CE.

Acceptance Testing and Quality Control of Photostimulable Storage Phosphor Imaging Systems:Report of AAPM Task Group #10.. American Association of Physicists in Medicine AAPM Report 93, 2006

Thompson, SK, Willis CE, Polman R, Homann KI

Validation of a Self-Calibrating Active-Matrix Liquid Crystal Display System.. J Digit Imaging 16 (Suppl 1):19-21, 2003

Thompson SK, Willis CE, Krugh KT, Jeff Shepard S, McEnery KW

Implementing the DICOM Grayscale Standard Display Function for mixed hard- and soft-copy operations.. J Digit Imaging 15 Suppl 1:27-32, 2002. PMID: 12105694

Willis CE, McCluggage CW, Orand MR, Parker BR

Puncture-proof picture archiving and communication system.. J Digit Imaging 14(2) Suppl 1:66-71, 2001. PMID: 11442126

Willis CE, Parker BR, Orand M, Wagner ML

Challenges for pediatric radiology using computed radiography.. J Digit Imaging 11(3) Suppl 1 (3 Suppl 1) :156-8, 1998. PMID: 9735457

Lyche, DK, Willis CE, Williamson MP, Suitor CT, Romlein JR

Quality control of a teleradiology system.. SPIE Medical Imaging 1996: Image Display Newport Beach, CA 2707:636-646, 1996

Willis, CE, Mercier J, Patel M

Modification of conventional quality assurance procedures to accommodate computed radiography.. 13th Conference on Computer Applications in Radiology. Denver, Colorado:275-281, 1996

Cook, JF, Breitweser J, Goldsmith B, Hansen MF, Willis CE, Suitor C

Deployable filmless teleradiology through a DICOM3 interface: a transparent reality?. 13th Conference on Computer Applications in Radiology. Denver, Colorado:19-24, 1996

Willis, CE, Leckie RG, Brink L, Goeringer F

An integrated telemedicine workstation for intercontinental grand rounds.. SPIE Medical Imaging 1995: Image Display. San Diego, CA, 2431:374-381, 1995

Willis, CE, Leckie RG, Carter J, Williamson MP, Scotti SD, Norton G

Objective measures of quality assurance in a computed radiography-based radiology department.. SPIE Medical Imaging San Diego, CA, Physics of Medical Imaging 2432:588-599, 1995

Willis, CE, Weiser JC, Leckie RG, Romlein J, Norton G

Optimization and quality control of computed radiography.. SPIE Medical Imaging VI: PACS Design and Evaluation, Newport Beach, CA 2164:178-185, 1994

Weiser, JC, Leckie RG, Freedman MT, Smith DV, Cawthon MA, Romlein JR, Willis CE, Goeringer F

Significance of the Fuji computed radiography algorithms on hardcopy images.. SPIE Medical Imaging VI: PACS Design and Evaluation 1897:199-203, 1993

Willis, CE, DeTreville R, Leckie RG, Norton G, Lyche D, Goeringer F, Monville J, Engebretson KA, Walgren H

Evolution of teleradiology in the defense medical establishment.. SPIE Medical Imaging VI: PACS Design and Evaluation 1899:366-375, 1993

Leckie, RG, Smith CS, Smith DV, Donnelly J, Cawthon M, Weiser J, Willis CE, Goeringer F

MDIS: A large PACS and teleradiology project. Computer Assisted Radiology.. Proceedings of the International Symposium. Berlin: Springer - Verlag:4-14, 1993

Leckie, RG, DeTreville RE, Lyche D, Norton G, Goeringer F, Willis CE, Cawthon M, Smith D, Hansen M

The ideal teleradiology configuration from a physician's perspective.. SPIE Medical Imaging VI: PACS Design and Evaluation 1899:359-364, 1993

Mun, SK, Bryant GV, Young H, Sheehy M, Willis C, Goeringer F

Command-wide teleradiology for U.S. Armed Forces in Korea.. SPIE Medical Imaging VI:PACS Design and Evaluation 1654:81-88, 1992

Willis CE, Schomer D

Distributed acquisition of digital images in a rural setting. PACS in Medicine.. NATO ASI Series F74:427-429, 1991

Bencomo, JA, Marsh LM, Morgan TJ, Cole A, Willis CE

Digital radiographic imaging systems shift variance as a source of error in contrast detail measurements. Applications of Instrumentation in Medicine XIII. Medical Image Production, Processing, and Display.. Proceedings of the Society of Photographic Engineers 535:22-31, 1985

Willis, CE, Oro JA, Gray HB, Jr

Photographic quantification of fluorescently-stained DNA in gels through analog modification of spectrophotometer output.. Biomedical Engineering II: 2nd Southern Bio-Engineering Conference:381-384, 1983
Editorials
Nagy, PG, Willis CE, Hendee WR, Med Phys, 29(4):638-640, 2002
Book Chapters
Willis CE, Don S, Advances in Chest Radiography Techniques: CR, DR, Tomosynthesis, and Radiation Dose Optimization, In: Pediatric Chest Imaging, 3rd, Springer: Berlin Heidelberg, 1-12, 2014
Willis, Charles E, Quality Control in Digital Radiography. Chapter 10., In: Digital Radiography: An Introduction, Thomson Delmar Learning: Clifton Park, NY, 217-247, 2010
Willis CE, Quality Assurance for Medical Imaging. Chapter 13., In: Practical Imaging Informatics, Springer: New York, 197-211, 2009
Willis, Charles E, Computed Radiography/Digital Radiography: Pediatric, RSNA Categorical Course in Diagnostic Radiological Physics: From Invisible to Visible-The Science and Practice of X-ray Imaging and Radiation Dose Opt., In: Radiological Society of North America, Inc, RSNA: Oak Brook, IL, 73-83, 2006
Willis CE, Quality Assurance: An Overview of Quality Assurance and Quality Control in the Digital Imaging Department., In: Quality Assurance, Meeting the Challenge in the Digital Medical Enterprise, Society for Computer Applications in Radiology: Great Falls, VA, 1-8, 2002
Willis CE, Computed radiographic imaging and artifacts, Chapter 7., In: Filmless Radiology, Springer-Verlag: New York, 137-154, 1999
Willis CE, Computed Radiography, QA/QC., In: Practical Digital Imaging and PACS, Medical Physics Monograph No. 28, Medical Physics Publishing: Madison, 157-175, 1999
Chang, PJ, Channin, DS, Przybylowicz J, Roehrig H, and Willis, CE, The Lightbox, Part 1. Special Course in Computers in Radiology, In: The Lightbox, Part 1, Radiological Society of North America: Chicago, IL, 61-71, 1997
Willis CE, CR Quality Improvement. Categorical Course in Physics: Technology Update and Quality Improvement of Diagnostic X-Ray Imaging Equipment, In: Categorical Course, 153-160, 1996
Letters to the Editor
Willis, CE, Re: "Optimizing the Use of Computer Radiography in Pediatric Chest Imaging.", J Digit Imaging, 22: 99-100, 2009
Willis, CE, Re: "Optimization of Dose and Image Quality for Computed Radiography and Digital Radiography.", J Digit Imaging, 20(1): 1-3, 2007