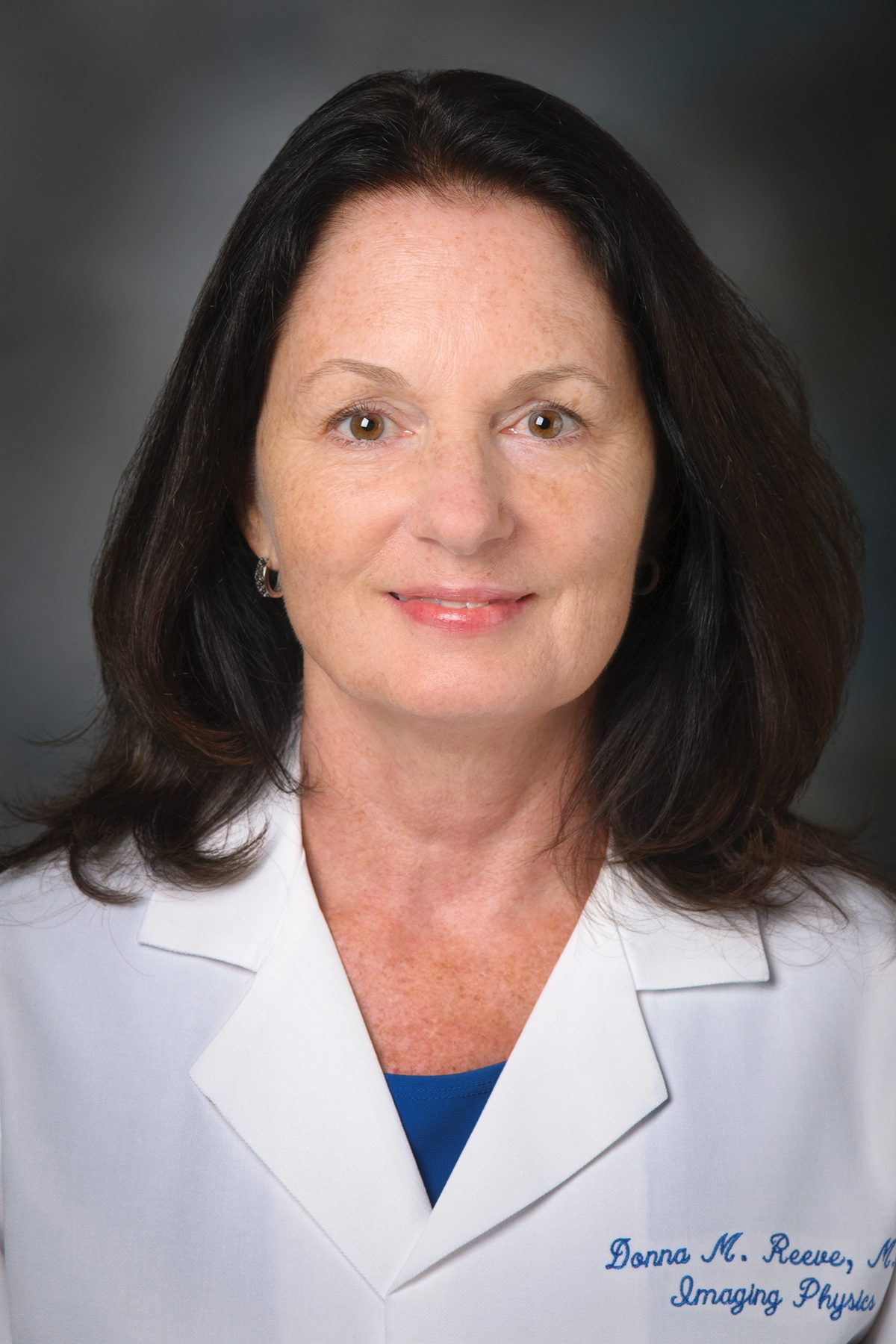 Donna M. Reeve, M.S.
Department of Imaging Physics, Division of Diagnostic Imaging
About Dr. Reeve
Donna Reeve, MS, DABR, DABMP, is a Senior Medical Physicist with the Department of Imaging Physics at the University of Texas MD Anderson Cancer Center. She is board certified in Diagnostic Medical Physics by the American Board of Radiology and in Magnetic Resonance Imaging Physics by the American Board of Medical Physics.
She earned her MS degree in Biomedical Sciences (Medical Physics Program) from the University of Texas Graduate School Of Biomedical Sciences in 1997. After graduating she worked as a diagnostic medical physicist for Western Pennsylvania Hospital in Pittsburgh and then as a consulting physicist in California before joining the Department of Imaging Physics at MD Anderson in 2004. Her primary responsibilities include oversight of MD Anderson's MRI and ultrasound quality control programs. In addition to her clinical responsibilities she is Associate Faculty in the Medical Physics program of the Graduate School of Biomedical Sciences and a Clinical Coordinator for the Imaging Physics Residency Program. Her interests include MRI safety, MRI quality assurance testing and graduate medical physics education.
Read More
Primary Appointment
Senior Medical Physicist, Department of Imaging Physics, Division of Diagnostic Imaging, The University of Texas MD Anderson Cancer Center, Houston, TX
Dual/Joint/Adjunct Appointment
Associate Faculty, Department of Graduate School of Biomedical Sciences, The University of Texas Health Science Center, Houston, TX
Adjunct Faculty, Bachelor of Science Diagnostic Imaging Program. University of Texas School of Health Professions, Houston, TX
Quality assurance testing for MRI MRI safety Medical physics education. Mammography, ultrasound and CT Use of medical images in radiation therapy treatment planning
Degree-Granting Education
| | |
| --- | --- |
| 1997 | The University of Texas Health Science Center, Houston, TX, USA, MS, Biomedical Sciences (Medical Physics) |
| 1986 | Colorado School of Mines, Golden, CO, USA, MS, Geophysics |
| 1982 | San Diego State University, San Diego, CA, USA, BS, Geology (Geophysics) |
| | |
| --- | --- |
| 2006 | American Board of Medical Physics (Magnetic Resonance Imaging Physics) |
| 2001 | American Board of Radiology, (Radiological Physics) |
Other Appointments/Responsibilities
Member, DMP Steering Committee, MD Anderson Cancer Center School of Health Professions, Houston, TX, 2017 - Present
Reviewer, CT Accreditation Program, American College of Radiology, Reston, VA, 2012 - 2017
Reviewer, MRI Accreditation Program, American College of Radiology, Reston, VA, 2007 - Present
| | |
| --- | --- |
| 2017 | Outstanding Teaching Award, GSBS Graduate Student Association, Medical Physics Graduate Program Student Council |
| 2011 | Outstanding Educator Award, The University of Texas School of Health Professions, Diagnostic Imaging Program |
| 2009 | Outstanding Educator Award, The University of Texas School of Health Professions, Diagnostic Imaging Program |
American College of Radiology, Reston, VA
Chair, Subcommittee on MRI Accreditation Physics - Quality and Safety, 2016 - Present
American College of Radiology, Reston, VA
Member, Subcommittee on MRI Accreditation Physics - Quality and Safety, 2012 - Present
American Association of Physicists in Medicine
Vice Chair, Working Group on Magnetic Resonance Testing and Quality Assurance, 2012 - Present
Society of Directors of Medical Physics Program (SDAMPP)
Member, 2010 - Present
American Association of Physicists in Medicine
Member, MRI Subcommittee, 2008 - Present
International Society of Magnetic Resonance in Medicine
Member, 2006 - Present
American College of Radiology, Reston, VA
Member, 1998 - Present
American Association of Physicists in Medicine
Member, 1994 - Present
Peer-Reviewed Articles
Yung J, Stefan W, Reeve DM, Stafford RJ

TU-F-CAMPUS-I-05: Semi-Automated, Open Source MRI Quality Assurance and Quality Control Program for Multi-Unit Institution. Med Phys 42 (6) :3647, 2015. PMID: 26129130

Liu HL, Liu RR, Reeve DM, Shepard SJ, Willis CE

Measurement of CT radiation profile width using CR imaging plates. Medical Physics 32(9):2881-2887, 2005. PMID: 16266102
Other Articles
Neiman HL, Mahood KM, Reeve DM

Experience with Radiology Electronic Imaging Network (REIN) at the Western Pennsylvania Hospital. Electromedica Artikel, 2002
Abstracts
Li G, Dodge C, Reeve DM

Effects of multi-channel coil element failure on image quality. Medical Physics 41:440, 2014

Busse N, Page L, Hou P, Reeve DM

Effects of normalization, filtration, and distortion correction options on MRI ACR phantom images Medical Physics 40 (6) :140, 2013

Hsieh C, Stafford R, Reeve DM

Phase imaging measurement of static magnetic field homogeneity Medical Physics 39:3977, 2012

Spearman MP , Selker R, Blackwood MS, Reeve DM, Simons S, Figura J

H-MR Spectroscopy evaluation of metabolic changes in normal brain tissue in patients with glioblastoma multiforme receiving conformal radiation with an up front tumor boost. Neuro-Oncology Symposium: Current Concepts, Naples, FL, 1999

Jackson EF, Schomer DF, McCutcheon I, Reeve DM, Leeds NE, Hazle JD

Use of dynamic contrast-enhanced MR imaging for guidance of stereotactic brain biopsy. 82nd Scientific Assembly and Annual Meeting of the Radiological Society of North America, Chicago, IL, 1996

Jackson EF, Hazle JD, Reeve DM

Dynamic contrast imaging using spin echo, fast spin echo, and fast spoiled gradient echo sequences. Proceedings of the 4th Annual Meeting of the International Society for Magnetic Resonance in Medicine, New York Book of Abstracts, 1494, 1996

Jackson EF, Hazle JD, Leeds NE, Schomer DF, Danielson SA, Reeve DM

Fast spin echo dynamic contrast imaging for improved differentiation of intracranial recurrent tumor and treatment related changes. Proceedings of the 4th Annual Meeting of the International Society for Magnetic Resonance in Medicine, New York 1583, 1996