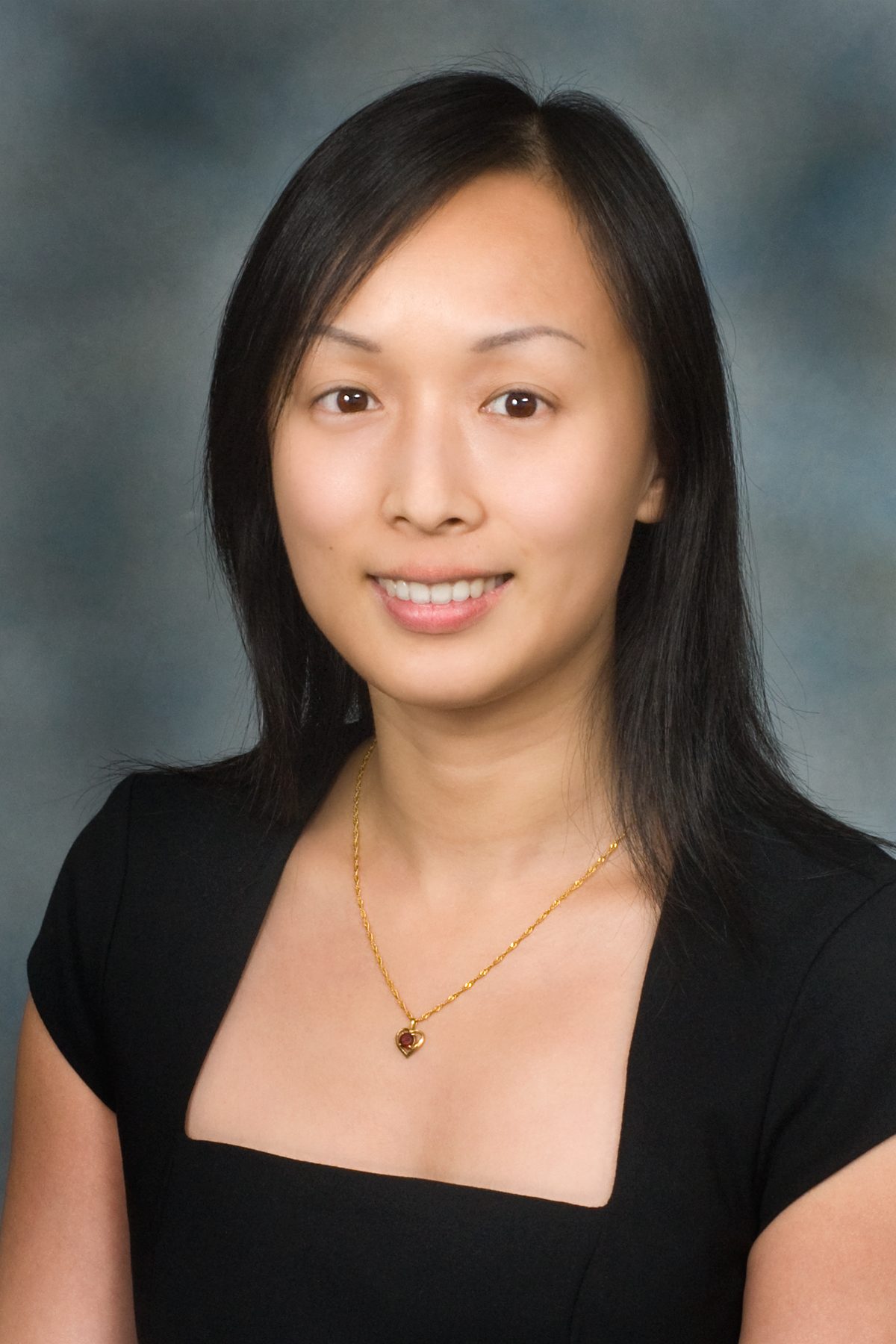 Jianhua Hu
Department of Biostatistics, Division of Science
Primary Appointment
Professor, Department of Biostatistics, Division of Quantitative Sciences, The University of Texas MD Anderson Cancer Center, Houston, TX
Dual/Joint/Adjunct Appointment
Professor, Department of Statistics, Texas A&M University, College Station, TX
Degree-Granting Education
| | |
| --- | --- |
| 2003 | University of North Carolina-Chapel Hill, Chapel Hill, NC, USA, PHD, Biostatistics |
| 2000 | National University of Singapore, Singapore, SGP, MS, Statistics |
| 1998 | East China Normal University, Shanghai, CHN, BS, Applied Mathematics |
Postgraduate Training
| | |
| --- | --- |
| 2004-2004 | Postdoctoral training, Department of Biostatistics, University of North Carolina at Chapel Hill, Chapel Hill, NC |
Academic Appointments
Assistant Professor, Department of Biostatistics, Division of Quantitative Sciences, The University of Texas MD Anderson Cancer Center, Houston, TX, 2004 - 2009
Peer-Reviewed Articles
Roh W, Chen PL, Reuben A, Spencer CN, Prieto PA, Miller JP, Gopalakrishnan V, Wang F, Cooper ZA, Reddy SM, Gumbs C, Little L, Chang Q, Chen WS, Wani K, De Macedo MP, Chen E, Austin-Breneman JL, Jiang H, Roszik J, Tetzlaff MT, Davies MA, Gershenwald JE, Tawbi H, Lazar AJ, Hwu P, Hwu WJ, Diab A, Glitza IC, Patel SP, Woodman SE, Amaria RN, Prieto VG, Hu J, Sharma P, Allison JP, Chin L, Zhang J, Wargo JA, Futreal PA

. Integrated molecular analysis of tumor biopsies on sequential CTLA-4 and PD-1 blockade reveals markers of response and resistance. Sci Transl Med 9(379), 2017. PMID: 28251903.

Hu J, Zhang L, Wang HJ

. Sequential model selection based segmentation to detect DNA copy number variation. Biometrics 72(3):815-26, 2016. e-Pub 2016. PMID: 26954760.

Li H, Liu C, Xiao Y, Chu F, Liang X, Peng W, Hu J, Neelapu SS, Sun SC, Hwu P, Watowich SS

. Bypassing STAT3-mediated Id2 inhibition improves the anti-tumor efficacy of dendritic cells. Sci. Signal 9(47):ra94, 2016. e-Pub 2016.

Peng W, Chen J, Liu C, Malu S, Caitlin C, Chen G, Xu C, Mbofung R, McKenzie J, Tetzlaff MT, Lazar AJ, Torres-Cabala CA, Roszik J, Cooper ZA, Tieu TN, Bernatchez C, Forget MA, Williams LJ, Li HS, Kwong LN, Heffernan TP, Hu J, Bassett R, Bosenberg MW, Woodman S, Overwijk WW, Lizée G, Wargo JA, Radvanyi L, Davies MA, Hwu P

. PTEN loss in melanoma promotes resistance to T-cell-mediated antitumor immune responses. Cancer Discovery 6:202-216, 2016.

Wang J, Kalhor N, Hu J, Wang B, Chu H, Zhang B, Guan Y, Wu Y

. Pretreatment Neutrophil to Lymphocyte Ratio Is Associated with Poor Survival in Patients with Stage I-III Non-Small Cell Lung Cancer. PLoS One 11(10):e0163397, 2016. e-Pub 2016. PMID: 27695079.

An X, Hu J, Do KA

. SIFORM: shared informative factor models for integration of multi-platform bioinformatic data. Bioinformatics 32:3279-3290, 2016.

Jung Y, Lee SP, Hu J

. Robust regression for highly corrupted response by shifting outliers. Statistical Modelling 16:1-23, 2016.

Wang Y, Hobbs BP, Hu J, Ng CS, Do KA

. Predictive Classification of Correlated Targets with Application to Detection of Metastatic Cancer using Functional CT Imaging. Biometrics 71(3):792-802, 2015.

Hu J, Wang P, Qu A

. Estimating and Identifying Unspecified Correlation Structure for Longitudinal Data. J Comput Graph Stat 24(2):455-476, 2015. PMID: 26361433.

Maadooliat M, Huang J, Hu J

. Integrating data transformation in principal components Analysis. Journal of Computational and Graphical Statistics 24(1):84-103, 2015.

Hu J., Zhu H., Hu F.

. Covariate-Adjusted Response-Adaptive Randomization:Optimization and Ethics. Journal of the American Statistical Association 110(509):357-367, 2015.

Li J, Sultana MP, Hu J

. Comparison of Three Dimensional ROC Surfaces for Clustered and Correlated Markers, with a Proteomics Application. Statistica Neerlandica 69:399-418, 2015.

Jung Y, Hu J

. A k-fold averaging cross-validation procedure. Journal of Nonparametric Statistics 27(2):167-179, 2015.

Jun M, Katzfuss M, Hu J, Johnson VE

. Assessing fit in Bayesian models for spatial processes. Environmetrics 25:584-595, 2014.

Jung Y, Huang JZ, Hu J

. Biomarker detection in association studies: modeling SNPs simultaneously via logistic ANOVA. J Am Stat Assoc 109(508):1355-1367, 2014. PMID: 25642005.

Tang G, Zhang L, Fu B, Hu J, Lu X, Hu S, Patel A, Goswami M, Khoury JD, Garcia-Manero G, Medeiros LJ, Wang SA

. Cytogenetic Risk Stratification of 417 Patients with Chronic Myelomonocytic Leukemia from a Single Institution. Am J Hematol 89(8):813-8, 2014. e-Pub 2014. PMID: 24782398.

Ferrajoli A, Shanafelt TD, Ivan C, Shimizu M, Rabe KG, Nouraee N, Ikuo M, Ghosh AK, Lerner S, Rassenti LZ, Xiao L, Hu J, Reuben JM, Calin S, You MJ, Manning JT, Wierda WG, Estrov Z, O'Brien S, Kipps TJ, Keating MJ, Kay NE, Calin GA

. Prognostic value of miR-155 in individuals with monoclonal B-cell lymphocytosis and patients with B chronic lymphocytic leukemia. Blood 122(11):1891-1899, 2013. e-Pub 2013. PMID: 23821659.

Jabbour E, Kantarjian H, Strati P, Cortes JE, O'Brien S, Ravandi F, Bueso-Ramos CE, Qiao W, Hu J, Aad SA, DiNardo CD, Daver N, Kadia TM, Wierda WG, wei Y, Colla S, Borthakur G, Estrov Z, Garcia-Manero G

. Impact of Achievement of Complete Cytogenetic Response on Outcome in Patients with Myelodysplastic Syndromes Treated with Hypomethylating Agents. Blood 122(21):2801-2801, 2013.

Hu J, He X

. Searching for Alternative Splicing with a Joint Model on Probe Measurability and Expression Intensities. Journal of the American Statistical Association 107(499):935-945, 2012.

Maadooliat M, Huang JZ, Hu J

. Analyzing multiple-probe microarray: estimation and application of gene expression indexes. Biometrics 68(3):784-92, 2012. e-Pub 2012. PMID: 22834966.

Li B, Liang F, Hu J, He AX

. Reno: Regularized Nonparametric Analysis of Protein Lysate Array Data. Bioinformatics 28(9):1223-1229, 2012. e-Pub 2012. PMID: 22467912.

Feng X, He X, Hu J

. Wild bootstrap for quantile regression. Biometrika 98(4):995-999, 2011. e-Pub 2011. PMID: 23049133.

Rossi S, Shimizu M, Barbarotto E, Nicoloso MS, Dimitri F, Sampath D, Fabbri M, Lerner S, Barron LL, Rassenti LZ, Jiang L, Xiao L, Hu J, Secchiero P, Zauli G, Volinia S, Negrini M, Wierda W, Kipps TJ, Plunkett W, Coombes KR, Abruzzo LV, Keating MJ, Calin GA

. microRNA fingerprinting of CLL patients with chromosome 17p deletion identify a miR-21 score that stratifies early survival. Blood 116(6):945-52, 2010. e-Pub 2010. PMID: 20393129.

Suraneni MV, Schneider-Broussard R, Moore JR, Davis TC, Maldonado CJ, Li H, Newman RA, Kusewitt D, Hu J, Yang P, Tang DG

. Transgenic expression of 15-lipoxygenase 2 (15-LOX2) in mouse prostate leads to hyperplasia and cell senescence. Oncogene 29(30):4261-4275, 2010. e-Pub 2010. PMID: 20514017.

Byers LA, Holsinger FC, Kies MS, William WN, El-Naggar AK, Lee JJ, Hu J, Lopez A, Tran HT, Yan S, Du Z, Ang KK, Glisson BS, Raso MG, Wistuba II, Myers JN, Hong WK, Papadimitrakopoulou V, Lippman SM, Heymach JV

. Serum signature of hypoxia-regulated factors is associated with progression after induction therapy in head and neck squamous cell cancer. Mol Cancer Ther 9(6):1755-1763, 2010. e-Pub 2010. PMID: 20530716.

Leng X, Ding T, Lin H, Wang Y, Hu L, Hu J, Feig B, Zhang W, Pusztai L, Symmans WF, Wu Y, Arlinghaus RB

. Inhibition of lipocalin 2 impairs breast tumorigenesis and metastasis. Cancer Res 69(22):8579-8584, 2009. e-Pub 2009. PMID: 19887608.

Hu J, He X, Cote GJ, Krahe R

. Singular Value Decomposition-based Alternative Splicing Detection. J Am Stat Assoc 104(487):944-953, 2009. PMID: 20305737.

Niedermeier M, Hennessy BT, Knight ZA, Henneberg M, Hu J, Kurtova AV, Wierda WG, Keating MJ, Shokat KM, Burger JA

. Isoform-selective phosphoinositide 3'-kinase inhibitors inhibit CXCR4 signaling and overcome stromal cell-mediated drug resistance in Chronic Lymphocytic Leukemia: a novel therapeutic approach. Blood 113(22):5549-57, 2009. e-Pub 2009. PMID: 19318683.

Hu J, Johnson VE

. Bayesian Model Selection Using Test Statistics. J R Stat Soc Series B Stat Methodol 71(1):143-158, 2008. PMID: 19829756.

Hu J

. Cancer outlier detection based on likelihood ratio test. Bioinformatics 24(19):2193-9, 2008. e-Pub 2008. PMID: 18697774.

Bhatia B, Jiang M, Suraneni M, Patrawala L, Badeaux M, Schneider-Broussard R, Multani AS, Jeter CR, Calhoun-Davis T, Hu L, Hu J, Tsavachidis S, Zhang W, Chang S, Hayward SW, Tang DG

. Critical and distinct roles of p16 and telomerase in regulating the proliferative life span of normal human prostate epithelial progenitor cells. J Biol Chem 283(41):27957-72, 2008. e-Pub 2008. PMID: 18662989.

Chamilos G, Lewis RE, Hu J, Xiao L, Zal T, Gilliet M, Halder G, Kontoyiannis DP

. Drosophila melanogaster as a model host to dissect the immunopathogenesis of zygomycosis. Proc Natl Acad Sci U S A 105(27):9367-72, 2008. e-Pub 2008. PMID: 18583479.

Hu F, Guise T, Hu J

. Optimal biased coins for two-arm clinical trials. Statistics and Its Interface 1:125-135, 2008. PMID: Not in PubMed.

Hu J, Wright FA

. Assessing differential gene expression with small sample sizes in oligonucleotide arrays using a mean-variance model. Biometrics 63(1):41-9, 2007. PMID: 17447928.

Hu J, He X

. Enhanced quantile normalization of microarray data to reduce loss of information in gene expression profiles. Biometrics 63(1):50-9, 2007. PMID: 17447929.

He J, Pan Y, Hu J, Albarracin C, Wu Y, Dai JL

. Profile of Ets gene expression in human breast carcinoma. Cancer Biol Ther 6(1):76-82, 2007. PMID: 17172821.

Hu J, Wright FA, Zou F

. Estimation of expression indexes for oligonucleotide arrays using the singular value decomposition. Journal of the American Statistical Association 101:41-50, 2006. PMID: Not in PubMed.

Hu J, Kapoor M, Zhang W, Hamilton SR, Coombes KR

. Analysis of dose-response effects on gene expression data with comparison of two microarray platforms. Bioinformatics 21(17):3524-9, 2005. e-Pub 2005. PMID: 16081476.

Hu J, Zou F, Wright FA

. Practical FDR-based sample size calculations in microarray experiments. Bioinformatics 21(15):3264-72, 2005. e-Pub 2005. PMID: 15932903.

Coombes KR, Morris JS, Hu J, Edmonson SR, Baggerly KA

. Serum proteomics profiling--a young technology begins to mature. Nat Biotechnol 23(3):291-2, 2005. PMID: 15765078.

Hu J, Coombes KR, Morris JS, Baggerly KA

. The importance of experimental design in proteomic mass spectrometry experiments: some cautionary tales. Brief Funct Genomic Proteomic 3(4):322-31, 2005. PMID: 15814023.

Zou F, Fine JP, Hu J, Lin DY

. An efficient resampling method for assessing genome-wide statistical significance in mapping quantitative trait Loci. Genetics 168:2307-16, 2004. PMID: 15611194.

Hu F, Hu J

. A note on breakdown theory for bootstrap methods. Statistics & Probability Letters 50:49-53, 2000.

Judy Wang H, Hu J

. Identification of Differential Aberrations in Multiple-sample Array CGH Studies. Biometrics. e-Pub 2010. PMID: 20618310.

Hu J, He X, Baggerly KA, Coombes KR, Hennessy BT, Mills GB

. Non-parametric quantification of protein lysate arrays. Bioinformatics 23(15):1986-94. e-Pub 2007. PMID: 17599930.

Chen P, Roh W, Cooper ZA, Reuben A, Vence LM, Hu J, Bassett RL, et al.

. Analysis of immune signatures in longitudinal tumor samples yields insight into biomarkers of response and mechanisms of resistance to immune checkpoint blockade. Cancer Discovery 6(8):827-837. e-Pub 2016.

Pan R, Hogdal LJ, Benito JM, Bucci D, Han L, Borthakur G, Cortes J, Deangelo DJ, Debose L, Mu H, Döhner H, Gaidzik VI, Galinsky I, Golfman LS, Haferlach T, Harutyunyan KG, Hu J, Leverson JD, Marcucci G, Müschen M, Newman R, Park E, Ruvolo PP, Ruvolo V, Ryan J, Schindela S, Zweidler-McKay P, Stone RM, Kantarjian H, Andreeff M, Konopleva M, Letai AG

. Selective BCL-2 Inhibition by ABT-199 Causes On Target Cell Death in Acute Myeloid Leukemia. Cancer Discov. e-Pub 2014. PMID: 24346116.
Other Articles
Hu J, Jung Y, Johnson VE

Network construction via non-local prior and likelihood ratio test based Bayes factor. Manuscript, 2012.

Hu J, Lee S, Huang J

High-dimensional clustering for binary data. Manuscript, 2011.
Abstracts
Hu J, Wright FA

. Shrinkage and likelihood estimates of differential gene expression in oligonucleotide arrays. The American Journal of Human Genetics 73(S421), 2003.

Hu J, Yin G

. A semiparametric regression model for oligonucleotide arrays. The American Journal of Human Genetics 73(S605), 2003.
Book Chapters
Hu J, Zhang W. Alternative splicing with bioinformatics technology. In: Alternative Splicing in Cancer. Research Signpost, 2006.
Hu J, Yin G, Morris JS, Zhang L, Wright FA. Entropy and survival-based weights to combine affymetrix array types in the analysis of differential expression and survival. In: Methods of Microarray Data Analysis IV. Springer US, 95-108, 2005.