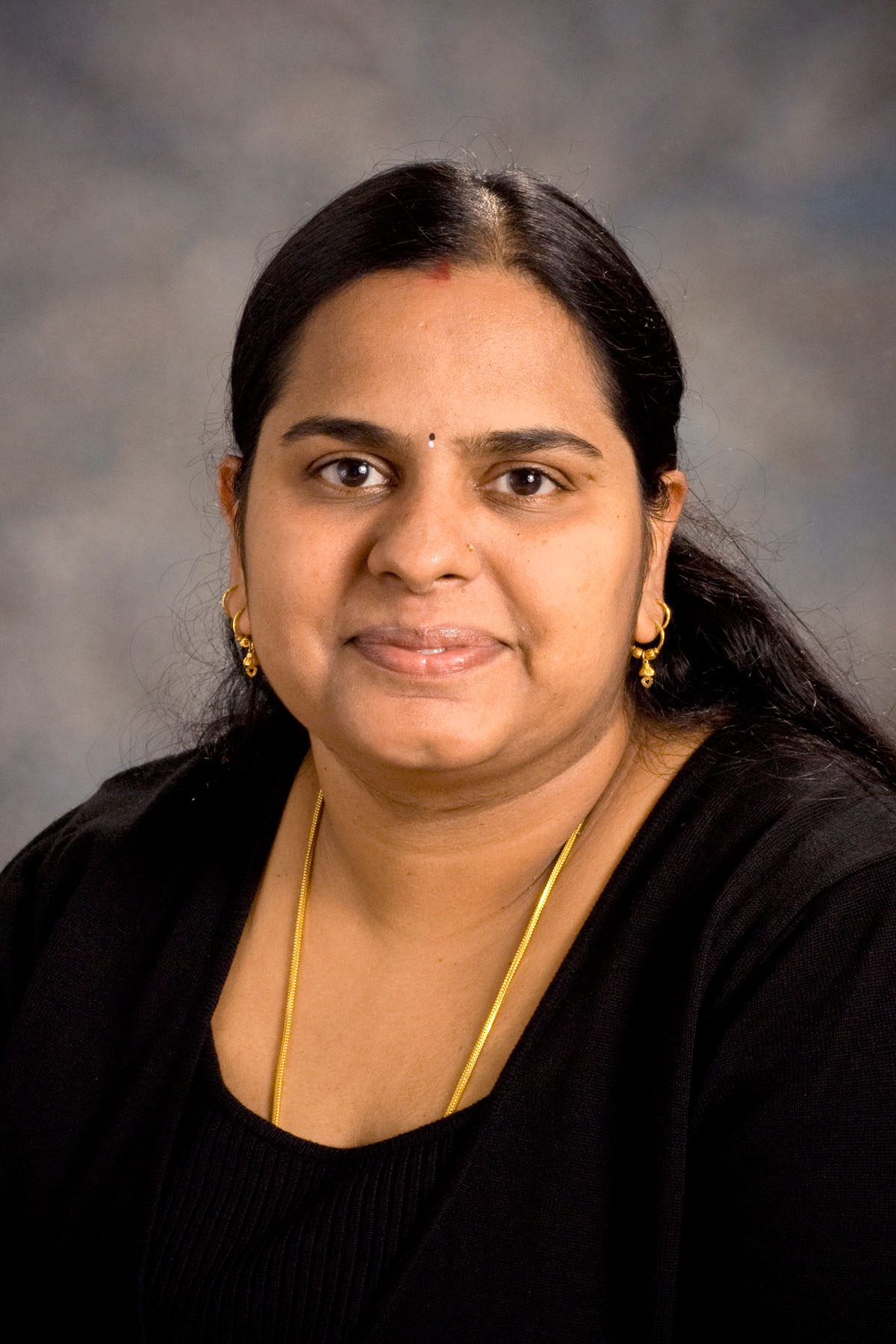 Khatri Latha, Ph.D
Department of Neurosurgery, Division of Surgery
Primary Appointment
Instructor, Department of Neurosurgery - Research, Division of Surgery, The University of Texas MD Anderson Cancer Center, Houston, TX
Degree-Granting Education
| | |
| --- | --- |
| 2001 | University of Madras, Madras, IND, PHD, Biology (Microbiology) |
| 1997 | University of Madras, Madras, IND, Masters in Phiolosphy, Botany(Biology) |
| 1995 | University of Madras, Madras, IND, MS, Biology |
| 1992 | University of Madras, Madras, IND, BS, Biology |
Postgraduate Training
| | |
| --- | --- |
| 2005-2007 | Research Fellowship, Cancer Biology (Brain Tumor Centre), The University of Texas MD Anderson Cancer Center, Houston, TX |
| 2002-2005 | Research Fellowship, Molecular and Cellular Biology, Baylor College of Medicine, Houston, TX |
| 2001-2002 | Research Fellowship, Biochemistry, University of Houston, Houston, TX |
| | |
| --- | --- |
| 1998 | Senior Research Fellowship, Council of Scientific and Industrial Research (CSIR) Government of India |
| 1996 | Junior Research fellowship, Department of Environment, Government of India |
Peer-Reviewed Articles
Latha K, Li M, Chumbalkar V, Gururaj A, Hwang Y, Dakeng S, Sawaya R, Aldape K, Cavenee WK, Bogler O, Furnari FB

. Nuclear EGFRvIII-STAT5b complex contributes to glioblastoma cell survival by direct activation of the Bcl-XL promoter. Int J Cancer 132(3):509-20, 2013. e-Pub 2012. PMID: 22729867.

Gururaj AE, Gibson L, Panchabhai S, Bai M, Manyam G, Lu Y, Latha K, Rojas ML, Hwang Y, Liang S, Bogler O

. Access to the nucleus and functional association with c-Myc is required for the full oncogenic potential of ΔEGFR/EGFRvIII. J Biol Chem 288(5):3428-38, 2013. e-Pub 2012. PMID: 23250739.

Hwang Y, Chumbalkar V, Latha K, Bogler O

. Forced dimerization increases the activity of ?EGFR/EGFRvIII and enhances its oncogenicity. Mol Cancer Res 9(9):1199-208, 2011. e-Pub 2011. PMID: 21775422.

Chumbalkar V, Latha K, Hwang Y, Maywald R, Hawley L, Sawaya R, Diao L, Baggerly K, Cavenee WK, Furnari FB, Bogler O

. Analysis of phosphotyrosine signaling in glioblastoma identifies STAT5 as a novel downstream target of ΔEGFR. J Proteome Res 10(3):1343-52, 2011. e-Pub 2011. PMID: 21214269.

Gwak HS, Shingu T, Chumbalkar V, Hwang YH, DeJournett R, Latha K, Koul D, Alfred Yung WK, Powis G, Farrell NP, Bögler O

. Combined action of the dinuclear platinum compound BBR3610 with the PI3-K inhibitor PX-866 in glioblastoma. Int J Cancer 128(4):787-96, 2011. e-Pub 2010. PMID: 20473884.

Cella N, Contreras A, Latha K, Rosen JM, Zhang M

. Maspin is physically associated with [beta]1 integrin regulating cell adhesion in mammary epithelial cells. FASEB J 20(9):1510-2, 2006. e-Pub 2006. PMID: 16720730.

Latha K, Zhang W, Cella N, Shi HY, Zhang M

. Maspin mediates increased tumor cell apoptosis upon induction of the mitochondrial permeability transition. Mol Cell Biol 25(5):1737-48, 2005. PMID: 15713631.

Latha K, Lalithakumari D.

. Transfer and expression of a hydrocarbon degrading plasmid, pHCL from P. putida to marine bacteria. World Journal of Microbiology & Biotechnology 17(5):523-528, 2001.

Hilda A, Manjula VK, Gopinath S, Latha K.

. Pathogenesis and protease activity in the mutants of Colletotrichum capsici. International Journal of Tropical Plant Diseases 14:73-83, 1996.

Hilda A, Gopinath S, Latha K, Sivakumari J.

. Biodegradability of Oils and related substances. Biology Education 11(2):104-109, 1994.