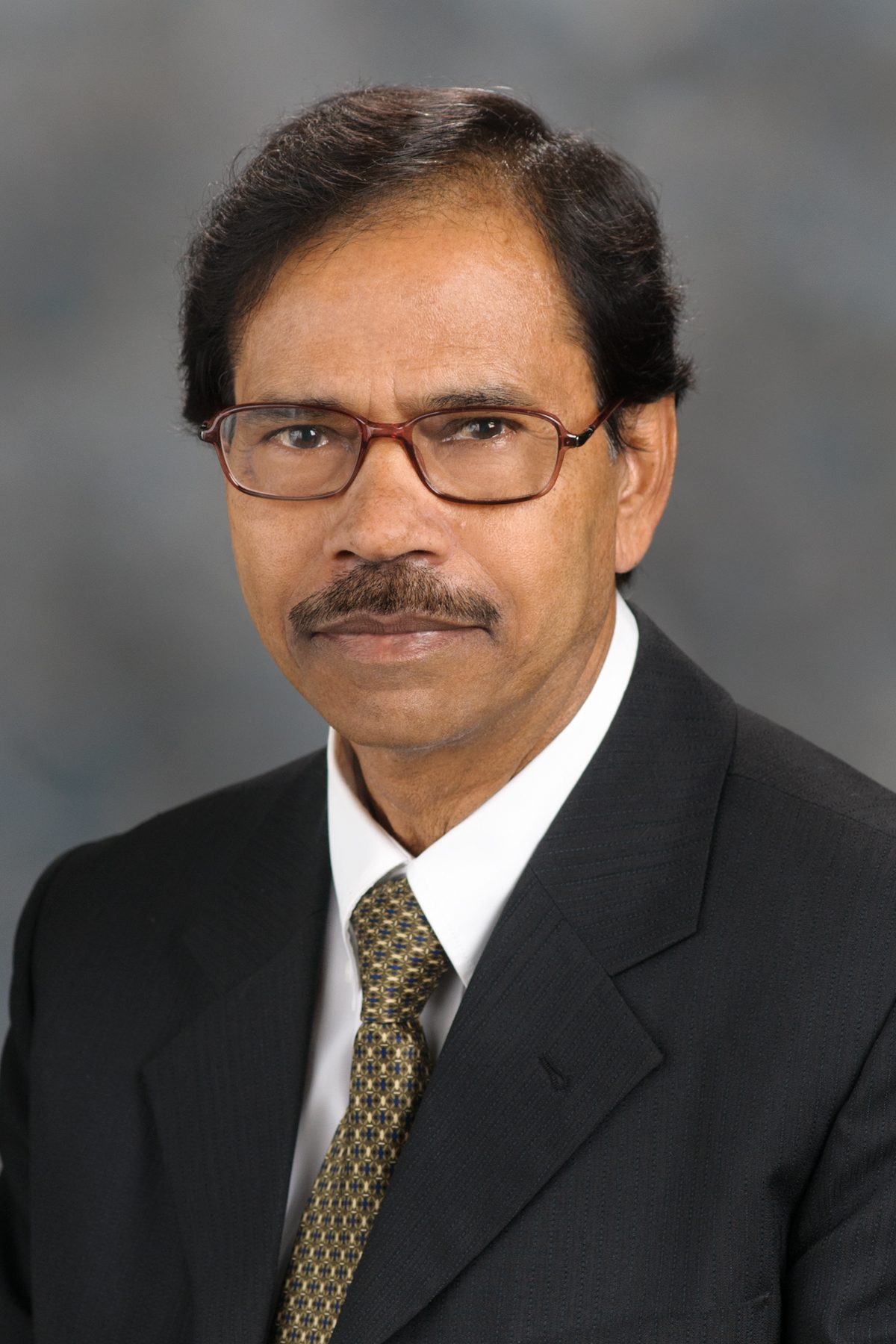 Mian M. Alauddin, Ph.D.
Department of Cancer Systems Imaging, Division of Diagnostic Imaging
About Dr. Alauddin
Dr. Alauddin's research goals are development of radiotracers for molecular imaging and improvement in detection and monitoring therapy outcome of cancer by non-invasive modality, including PET. Dr. Alauddin's team has developed a variety of PET radiotracers during the past years of basic research, some of which are in the clinical trials. These include 11 C-FMAU, 18 F-FMAU, 18 F-FHBG and 18 F-IPQA. To achieve these goals, Dr. Alauddin's team plans to continue in designing and synthesizing new radiotracers for PET imaging, and investigate their biological activities both in vitro and in vivo to pursue for clinical translation.
Further research interests are to develop novel radiolabeled monclonal antibodies and peptides with radiometals for cancer diagnosis, therapy and treatment-follow up. These include radiolabeled monoclonal antibodies and peptides with Zr-89, Cu-64, In-111, Y-90 etc. for diagnostic and therapeutic applications.
Read More
Primary Appointment
Associate Professor, Department of Cancer Systems Imaging, Division of Diagnostic Imaging, The University of Texas MD Anderson Cancer Center, Houston, TX
Dual/Joint/Adjunct Appointment
Associate Member, The University of Texas Graduate School of Biomedical Science, Houston, TX
Degree-Granting Education
| | |
| --- | --- |
| 1987 | The University of Manitoba, Winnipeg, CAN, PHD, Organic Chemistry |
| 1982 | Brock University, St. Catharines, CAN, MS, Organic Chemistry |
| 1968 | Rajshahi University, Rajshahi, BAN, MS, Chemistry |
| 1966 | Rajshahi University, Rajshahi, BAN, BS, Chemistry, Physics, Mathematics |
Postgraduate Training
| | |
| --- | --- |
| 1987-1988 | Postdoctoral Fellowship, California Institute of Technology, Pasadena, CA |
Academic Appointments
Associate Professor, Department of Department of Experimental Diagnostic Imaging, Division of Diagnostic Imaging, The University of Texas MD Anderson Cancer Center, Houston, TX, 2004 - 2013
Associate Professor, Department of Department of Pathology, University of Southern California, Los Angeles, CA, 2001 - 2004
Associate Professor, Department of Department of Radiology, USC School of Medicine, Los Angeles, CA, 2000 - 2004
Instructor, Tred Technical College, Department of Chemistry, Los Angeles, CA, 1999 - 2000
Assistant Professor, Department of Department of Radiology, USC School of Medicine, Los Angeles, CA, 1994 - 2000
Instructor, Southwest College, Department of Chemistry, Los Angeles, CA, 1994 - 1999
Research Associate, University of Southern California, School of Pharmacy, Los Angeles, CA, 1991 - 1992
Postdoctoral Research Fellow, California Institute of Technology, Pasadena, CA, 1987 - 1988
Teaching/Research Assistant, Department of Dept of Chemistry, Univ of Manitoba, Winnipeg, 1983 - 1987
Other Appointments/Responsibilities
Resident Faculty Fellow, USC, Los Angeles, CA, 1994 - 2004
Visiting Scientist, The Johns Hopkins University, Baltimore, MD, 1992 - 1993
Institutional Committee Activities
Member, Radiation Safety Committee, 2009 - Present
Member, Radioactive Drug Research Committee (RDRC), 2007 - 2010
| | |
| --- | --- |
| 1996 | Zumberge Fellow, University of Southern California, Los Angeles, CA |
| 1987 | Postdoctoral Fellowship, California Institute of Technology, California |
| 1983 | Teaching and Research Assistantship, University of Manitoba, Canada |
| 1980 | Teaching and Research Assistantship, Brock University, Ontario, Canada |
AACR
Member, 2012 - Present
Society of Molecular Imaging
Member, 2005 - Present
Society of Nuclear Medicine
Member, 1992 - Present
Society of Nuclear Medicine, Houston, TX
Member, 1992 - Present
American Chemical Society, Washington, DC
Member, 1990 - Present
American Chemical Society, Houston, TX
Member, 1990 - Present
Peer-Reviewed Articles
Varkaris A, Corn PG, Parikh NU, Efstathiou E, Song JH, Lee YC, Aparicio AM, Hoang A, Gaur S, Thorpe L, Maity SN, Bar-Eli M, Czerniak BA, Shao Y, Alauddin M, Lin SH, Logothetis CJ, Gallick GE

Integrating murine and clinical trials with cabozantinib to understand roles of MET and VEGFR-2 as targets for growth inhibition of prostate cancer Clin Cancer Res 22 (1) :107-21, 2016. e-Pub 2015. PMID: 26272062

Najjar AM, Manuri PR, Olivares S, Flores L 2nd, Mi T, Huls H, Shpall EJ, Champlin RE, Turkman N, Paolillo V, Roszik J, Rabinovich B, Lee DA, Alauddin M, Gelovani J, Cooper LJ.

Imaging of Sleeping Beauty-Modified CD19-Specific T Cells Expressing HSV1-Thymidine Kinase by Positron Emission Tomography. Mol Imaging Biol 18 (6) :838-48, 2016. e-Pub 2016. PMID: 27246312

Ferrara F, Staquicini DI, Driessen WH, D'Angelo S, Dobroff AS, Barry M, Lomo LC, Staquicini FI, Cardó-Vila M, Soghomonyan S, Alauddin MM, Flores LG, Arap MA, Lauer RC, Mathew P, Efstathiou E, Aparicio AM, Troncoso P, Navone NM, Logothetis CJ, Marchiò S, Gelovani JG, Sidman RL, Pasqualini R, Arap W

Targeted molecular-genetic imaging and ligand-directed therapy in aggressive variant prostate cancer. Proc Natl Acad Sci U S A 113 (45) :12786-91, 2016. e-Pub 2016. PMID: 27791181

Perera S, Piwnica-Worms D, Alauddin MM

Synthesis of a [18F]-labeled ceritinib analogue for positron emission tomography of anaplastic lymphoma kinase, a receptor tyrosine kinase, in lung cancer Journal of Labelled Compound and Radiopharmaceuticals 59 (3) :103-08, 2016. e-Pub 2016. PMID: 26853088

Alauddin MM, De Palatis L

Current and Future Trends in Early Detection of Pancreatic Cancer: Molecular Targets and PET Probes. Curr Med Chem 22 (29) :3370-89, 2015. e-Pub 2015. PMID: 26295468

Bonomi R, Mukhopadhyay U, Shavrin A, Yeh HH, Majhi A, Dewage SW, Najjar A, Lu X, Cisneros GA, Tong WP, Alauddin MM, Liu RS, Mangner TJ, Turkman N, Gelovani JG

Novel Histone Deacetylase Class IIa Selective Substrate Radiotracers for PET Imaging of Epigenetic Regulation in the Brain. PLoS One 10 (8) :e0133512, 2015. e-Pub 2015. PMID: 26244761

Bhatnagar P, Alauddin M, Bankson JA, Kirui D, Seifi P, Huls H, Lee DA, Babakhani A, Ferrari M, Li KC, Cooper LJ

Tumor Lysing Genetically Engineered T Cells Loaded with Multi-Modal Imaging Agents. Sci Rep 4:4502, 2014. e-Pub 2014. PMID: 24675806

Flores LG, Yeh HH, Soghomonyan S, Young D, Bankson J, Hu Q, Alauddin M, Huff V, Gelovani JG

Monitoring Therapy with MEK Inhibitor U0126 in a Novel Wilms Tumor Model in Wt1 Knockout Igf2 Transgenic Mice Using 18F-FDG PET with Dual-Contrast Enhanced CT and MRI: Early Metabolic Response Without Inhibition of Tumor Growth. Mol Imaging Biol 15 (2) :175-85, 2013. e-Pub 2012. PMID: 22875335

Yeh HH, Tian M, Hinz R, Young D, Shavrin A, Mukhapadhyay U, Flores LG, Balatoni J, Soghomonyan S, Jeong HJ, Pal A, Uthamanthil R, Jackson JN, Nishii R, Mizuma H, Onoe H, Kagawa S, Higashi T, Fukumitsu N, Alauddin M, Tong W, Herholz K, Gelovani JG

Imaging epigenetic regulation by histone deacetylases in the brain using PET/MRI with 18F-FAHA. Neuroimage 1 (64) :630-9, 2013. e-Pub 2012. PMID: 22995777

Turkman N, Gelovani JG, Alauddin MM

An improved synthesis of 1′-[18F]fluoroethyl-β-D-lactose ([18F]-FEL) for PET imaging of pancreatic cancer. J Labelled Comp Radiopharm 56 (7) :351-355, 2013. e-Pub 2013. PMID: 24285438

Nishii R, Tong W, Wendt R, Soghomonyan S, Mukhopadhyay U, Balatoni J, Mawlawi O, Bidaut L, Tinkey P, Borne A, Alauddin M, Gonzalez-Lepera C, Yang B, Gelovani JG

Pharmacokinetics, Metabolism, Biodistribution, Radiation Dosimetry, and Toxicology of 18F-Fluoroacetate (18F-FACE) in Non-Human Primates. Mol Imaging Biol 14 (2) :213-24, 2012. e-Pub 2011. PMID: 21437735

Turkman N, Shavrin A, Paolillo V, Yeh HH, Flores L, Soghomonian S, Rabinovich B, Volgin A, Gelovani J, Alauddin MM.

Synthesis and preliminary evaluation of [18F]-labeled 2-oxoquinoline derivatives for PET imaging of cannabinoid CB2 receptor. Nucl Med Biol 39 (4) :593-600, 2012. e-Pub 2012. PMID: 22226022

Turkman N, Paolillo V, Gelovani JG, Alauddin MM

An investigation on stereospecific fluorination at the 2′-arabino-position of a pyrimidine nucleoside: radiosynthesis of 2′-deoxy-2′-[18F]fluoro-5-methyl-1-β-D-arabinofuranosyluracil. Tetrahedron 68 (50) :10326-10332, 2012. PMID: 23316091

Tian M, Ogawa K, Wendt R, Mukhopadhyay U, Balatoni J, Fukumitsu N, Uthamanthil R, Borne A, Brammer D, Jackson J, Mawlawi O, Yang B, Alauddin MM, Gelovani JG

Whole-body biodistribution kinetics, metabolism, and radiation dosimetry estimates of 18F-PEG6-IPQA in nonhuman primates. J Nucl Med 52 (6) :934-41, 2011. e-Pub 2011. PMID: 21571803

Schwartz DL, Bankson J, Bidaut L, He Y, Williams R, Lemos R, Thitai AK, Oh J, Volgin A, Soghomonyan S, Yeh HH, Nishii R, Mukhopadhyay U, Alauddin MM, Mushkudiani I, Kuno N, Krishnan S, Bornmann W, Lai SY, Powis G, Hazle J, Gelovani J

HIF-1 Dependent Stromal Adaptation to Ischemia Mediates In Vivo Tumor Radiation Resistance Mol Cancer Res 9 (3) :259-70, 2011. e-Pub 2011. PMID: 21364021

Perin E, Tian M, Silva G, Marini FC, Zheng Y, Baimbridge F, Quan X, Young D, Paolillo V, Mukhopadhyay U, Gonzales-Lepera C, Borne A, Uthamanthil R, Brammer D, Jackson J, Decker W, Najjar, A, Thomas M, Soghomonyan S, Jeong H, Rios J, Vela D, Steiner D, Robinson S, Mawlawi O, Pan T, Stafford J, Kundra V, Li C, Alauddin MM, Shpall E, Gelovani JG.

Imaging the Long-Term Fate of Mesenchymal Stem Cells after Intramyocardial Transplantation in a Porcine Model of Myocardial Infarction. PLoS ONE 6 (9) , 2011. e-Pub 2011. PMID: 21912635

Paolillo V, Yeh HH, Mukhopadhyay U, Gelovani JG, Alauddin MM

Improved detection and measurement of low levels of [18F]fluoride metabolized from [18F]-labeled pyrimidine nucleoside analogues in biological samples. Nucl Med Biol 38 (8) :1129-1134, 2011. e-Pub 2011. PMID: 21741850

Chan PC, Wu CY, Chang WY, Chang WT, Alauddin MM, Liu RS, Lin WJ, Chen FD, Chen CL, Wang HE.

Evaluation of F-18-labeled 5-iodocytidine (18F-FIAC) as a new potential positron emission tomography probe for herpes simplex virus type 1 thymidine kinase imaging. Nucl. Med. Biol. 38 (7) :987-95, 2011. e-Pub 2011. PMID: 21982570

Pal A, Balatoni JA, Mukhopadhyay U, Ogawa K, Gonzalez-Lepera C, Shavrin A, Volgin A, Tong W, Alauddin MM, Gelovani JG

Radiosynthesis and Initial In Vitro Evaluation of [(18)F]F-PEG (6)-IPQA-A Novel PET Radiotracer for Imaging EGFR Expression-Activity in Lung Carcinomas. Mol Imaging Biol 13 (5) :853-61, 2011. e-Pub 2010. PMID: 20859697

Staquicini FI, Ozawa MG, Moya CA, Driessen WH, Barbu EM, Nishimori H, Soghomonyan S, Flores LG, Liang X, Paolillo V, Alauddin MM, Basilion JP, Furnari FB, Bogler O, Lang FF, Aldape KD, Fuller GN, Höök M, Gelovani JG, Sidman RL, Cavenee WK, Pasqualini R, Arap W

Systemic combinatorial peptide selection yields a non-canonical iron-mimicry mechanism for targeting tumors in a mouse model of human glioblastoma. J Clin Invest 121 (1) :161-73, 2011. e-Pub 2010. PMID: 21183793

Turkman N, Shavrin A, Ivanov RA, Rabinovich B, Volgin A, Gelovani JG, Alauddin MM

Fluorinated cannabinoid CB2 receptor ligands: synthesis and in vitro binding characteristics of 2-oxoquinoline derivatives. Bioorg Med Chem 19 (18) :5698-707, 2011. e-Pub 2011. PMID: 21872477

Turkman N, Pal A, Tong W, Gelovani JG, Alauddin MM.

Radiosynthesis of 1′-[18F]fluoroethyl-β-D-lactose ([18F]-FEL) for early detection of pancreatic carcinomas with PET. J. Labelled. Comp. Radiopharm. 54 (5) :233-238, 2011

Ying Y, Ghosh P, Guo L, Pal A, Mukhapadhyay U, Peng Z, Yeh HH, Bertolini S, Flores LG, Young D, Volgin A, Soghomonyan S, Bornmann W, Logsdon C, Alauddin MM, Gelovani JG

Synthesis and Ex Vivo Autoradiographic Evaluation of Ethyl-beta-D: -galactopyranosyl-(1,4')-2'-deoxy-2'-[(18)F]fluoro-beta-D: -glucopyranoside-A Novel Radioligand for Lactose-Binding Protein: Implications for Early Detection of Pancreatic Carcinomas with PET. Mol Imaging Biol 13 (3) :546-546, 2011. e-Pub 2010. PMID: 20593279

Yeh HH, Ogawa K, Balatoni J, Mukhopadhyay U, Pal A, Gonzalez-Lepera C, Shavrin A, Soghomonyan S, Flores L, Young D, Volgin AY, Najjar AM, Krasnykh V, Tong W, Alauddin MM, Gelovani JG

Molecular imaging of active mutant L858R EGF receptor (EGFR) kinase-expressing nonsmall cell lung carcinomas using PET/CT. Proc Natl Acad Sci U S A 108 (4) :1603-8, 2011. e-Pub 2011. PMID: 21220318

Alauddin MM, Gelovani JG

Pyrimidine nucleosides in molecular PET imaging of tumor proliferation. Curr Med Chem 17 (11) :1010-1029, 2010. PMID: 20156163

Turkman N, Gelovani JG, Alauddin MM.

Radiosynthesis of N5-[18F]fluoroacetylornithine (N5-[18F]FAO) for PET imaging of ornithine decarboxylase (ODC) in malignant tumors. J. Labelled. Comp. Radiopharm. 53:33-37, 2010. e-Pub 2010

Conti PS, Bading JR, Mouton PP, Links JM, Alauddin MM, Fissekis JD, Ravert HT, Hilton J, Wong DF, Anderson JH

In vivo measurement of cell proliferation in canine brain tumor using C-11 labeled FMAU and PET. Nucl Med Biol 35 (1) :131-141, 2008. e-Pub 2007. PMID: 18158952

Conti PS, Hilton J, Wong DF, Alauddin MM, Dannals RF, Ravert HT, Wilson AA, Anderson JH

High performance liquid chromatography of carbon-11 labeled thymidine and its major catabolites for clinical PET studies. Nucl Med Biol 21 (8) :1045-1051, 1994. PMID: 9234362

Najafi A, Alauddin MM, Sosa A, Ma GQ, Chen DC, Epstein AL, Siegel ME

The evaluation of 186Re-labeled antibodies using N2S4 chelate in vitro and in vivo using tumor-bearing nude mice. Int J Rad Appl Instrum B 19 (2) :205-212, 1992. PMID: 1601674

Chan PC, Wu CY, Chang WT, Lin CY, Tseng YL, Liu RS, Alauddin MM, Lin WJ, Wang HE.

Monitoring tumor response with [(18)F]FMAU in a sarcoma-bearing mouse model after liposomal vinorelbine treatment. Nucl Med Biol 40 (8) :1035-42. e-Pub 2013. PMID: 23969084
Invited Articles
Alauddin MM, Nucleoside-based probes for imaging tumor proliferation using positron emission tomography, 56 (3-4) :237-43, 2013
Alauddin MM, Positron Emission Tomography (PET), Imaging with 18F-based Radiotracers., 2 (1) :55-76, 2012
Alauddin MM, Gelovani JG, Radiolabeled Nucleoside Analogues for PET Imaging of HSV1-tk Gene Expression., 10 (16) :1617-1632, 2010
Soghomonyan S, Hajitou A, Rangel R, Trepel M, Pasqualini R, Arap W, Gelovani JG, Alauddin MM, Molecular PET imaging of HSV1-tk reporter gene expression using [18F]FEAU, 2 (2) :416-23, 2007
Hajitou A, Rangel R, Trepel M, Soghomonyan S, Gelovani JG, Alauddin MM, Pasqualini R, Arap W, Design and construction of targeted AAVP vectors for mammalian cell transduction., 2 (3) :523-31, 2007
Other Articles
Alauddin MM

Preparation and Reactions of o-quinodimethanes.. Ph.D. Thesis, Department of Chemistry, The University of Manitoba, Canada., 1987
Letters to the Editor
Epstein A, Khawli LA, Alauddin MM., Authors reply to letter to the editors by Mather S. J., Nucl Med Biol, 20: 376, 1993
| | |
| --- | --- |
| Title: | Improving cord blood transplantation. |
| Funding Source: | NIH/NCI |
| Role: | Co-Investigator |
| | |
| --- | --- |
| Title: | Detection of early stage pancreatic cancer using PET and 18F-FEL. |
| Funding Source: | Institutional (IRG) |
| Role: | Principal Investigator |
| | |
| --- | --- |
| Title: | In situ redirection of T cell specificity and imaging of targeted CAR expression |
| Funding Source: | NIH/NCI |
| Role: | Co-Investigator |
| | |
| --- | --- |
| Title: | New generation of radiotracers for PET imaging of molecular signatures of tumors |
| Funding Source: | NIH/NCI |
| Role: | Co-Investigator |
| | |
| --- | --- |
| Title: | Imaging Core of the Pancreatic Moon Shot |
| Funding Source: | MDACC |
| Role: | Co-Investigator |
| | |
| --- | --- |
| Title: | Targeting Cancer-Associated Fibroblasts to Enhance Drug Delivery and Immunotherapy |
| Funding Source: | Cancer Prevention & Research Institute of Texas (CPRIT) |
| Role: | Collaborator |
| | |
| --- | --- |
| Title: | PC150196: PET Imaging of Immune Checkpoint Blockade |
| Funding Source: | Department of Defense (DOD) |
| Role: | Co-Investigator |