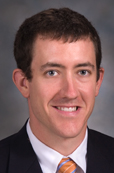 '
Aaron Kyle Jones, Ph.D.
Present Title & Affiliation
Primary Appointment
Assistant Professor, Department of Imaging Physics, Division of Diagnostic Imaging, The University of Texas MD Anderson Cancer Center, Houston, TX
Dual/Joint/Adjunct Appointment
Associate Member, The University of Texas Graduate School of Biomedical Sciences at Houston, Houston, TX
Education & Training
Degree-Granting Education

2006
University of Florida, Gainesville, FL, PHD, Medical Physics
2003
University of Florida, Gainesville, FL, MS, Medical Physics
2001
Furman University, Greenville, SC, BS, Magna Cum Laude, Physics
Board Certifications
| | |
| --- | --- |
| 6/2009 | ABR Diagnostic Radiological Physics |
Experience/Service
Institutional Committee Activities
Member, Radiation Safety Committee, 2009-present
Selected Publications
Peer-Reviewed Original Research Articles

1.
Pasciak AS, Jones AK. Does "spreading" skin dose by rotating the C-arm during an intervention work? J Vasc Interv Radiol 22(4):443-52; quiz 453, 4/2011. e-Pub 3/2011. PMID: 21367618.
2.
Jones AK, Polman R, Willis CE, Shepard SJ. One year's results from a server-based system for performing reject analysis and exposure analysis in computed radiography. J Digit Imaging 24(2):243-55, 4/2011. e-Pub 11/2009. PMID: 19885636.
3.
Pasciak AS, Jones AK. Non-destructive measurement of the grid ratio using a single image. Med Phys 36(10):4720-4725, 10/2009. PMID: 19928103.
4.
Shah C, Jones AK, Willis CE. Consequences of modern anthropometric dimensions for radiographic techniques and patient radiation exposures. Med Phys 35(8):3616-25, 8/2008. PMID: 18777922.
5.
Jones AK, Hintenlang DE. Potential clinical utility of a fibre optic-coupled dosemeter for dose measurement in diagnostic radiology. Radiat Prot Dosim 132(1):80-87, 2008.
6.
Staton RJ, Jones AK, Lee C, Hintenlang DE, Arreola MM, Williams JL, Bolch WE. A tomographic physical phantom of the newborn child with real-time dosimetry. II. Scaling factors for calculation of mean organ dose in pediatric radiography. Med Phys 33(9):3283-89, 9/2006. PMID: 17022223.
7.
Jones AK, Simon TA, Bolch WE, Holman MM, Hintenlang DE. Tomographic physical phantomof the newborn child with real-time dosimetry. I. Methods and techniques for construction. Med Phys 33(9):3274-82, 9/2006. PMID: 17022222.
8.
Jones AK, Pazik FD, Hintenlang DE, Bolch WE. MOSFET dosimeter depth-dose measurements in heterogeneous tissue-equivalent phantoms at diagnostic x-ray energies. Med Phys 32(10):3209-13, 10/2005. PMID: 16279074.
© 2014 The University of Texas MD Anderson Cancer Center