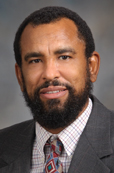 '
Abdullah Osman, PhD
Present Title & Affiliation
Primary Appointment
Research Instructor, Department of Head and Neck Surgery - Research, The University of Texas M.D. Anderson Cancer Center, Houston, TX
Education & Training
Degree-Granting Education

2000
UT Health Science Center at San Antonio, San Antonio, TX, PHD, Biochemistry and Molecular Cell Biology
1992
King Saud University, Saudi, Saudi Arabia, BS, Biochemistry

Postgraduate Training

2000-2003

Postdoctoral, Molecular Cell Biology and Physiology, Washington University School of Medicine, St. Louis, MO
Experience/Service
Academic Appointments
Assistant Professor, Department of Molecular and Cellular Oncology, King Fahad Medical City, Faculty of Medicine, Riyadh, Saudi Arabia, 2007-2009
Research Instructor, Otolaryngology-Head and Neck Surgery, Washington University School of Medicine, St. Louis, MO, 2004-2007
Post-doctoral Fellow, Cell Biology, Washington University School of Medicine, St. Louis, MO, 2000-2003
Teaching Assistant, Department of Biochemistry and Molecular Biology, Graduate School of Biomedical Sciences, San Antonio, TX, 1996-1997
Teaching Research Assistant, Department of Biochemistry and Molecular Biology, Northern Arizona University, Flagstaff, AZ, 1994-1995
Selected Publications
Peer-Reviewed Original Research Articles

1.
Osman AA, Schrader AD, Hawkes AJ, Akil O, Bergeron A, Lustig LR, Simmons DD. Muscle-like nicotinic receptor accessory molecules in sensory hair cells of the inner ear. Mol Cell Neurosci 38(2):153-69, 6/2008. e-Pub 3/2008. PMCID: PMC2480618.
2.
Bergeron AL, Schrader A, Yang D, Osman AA, Simmons DD. The final stage of cholinergic differentiation occurs below inner hair cells during development of the rodent cochlea. J Assoc Res Otolaryngol 6(4):401-15, 12/2005. PMCID: PMC2504619.
3.
Bao J, Lin H, Ouyang Y, Lei D, Osman A, Kim TW, Mei L, Dai P, Ohlemiller KK, Ambron RT. Activity-dependent transcription regulation of PSD-95 by neuregulin-1 and Eos. Nat Neurosci 7(11):1250-8, 11/2004. e-Pub 10/2004. PMID: 15494726.
4.
Osman AA, Saito M, Makepeace C, Permutt MA, Schlesinger P, Mueckler M. Wolframin expression induces novel ion channel activity in endoplasmic reticulum membranes and increases intracellular calcium. J Biol Chem 278(52):52755-62, 12/2003. e-Pub 10/2003. PMCID: PMC495029.
5.
Osman AA, Hancock J, Hunt DG, Ivy JL, Mandarino LJ. Exercise training increases ERK2 activity in skeletal muscle of obese Zucker rats. J Appl Physiol 90(2):454-60, 2/2001. PMID: 11160042.
6.
Osman AA, Pendergrass M, Koval J, Maezono K, Cusi K, Pratipanawatr T, Mandarino LJ. Regulation of MAP kinase pathway activity in vivo in human skeletal muscle. Am J Physiol Endocrinol Metab 278(6):E992-9, 6/2000. PMID: 10827000.
7.
Cusi K, Maezono K, Osman A, Pendergrass M, Patti ME, Pratipanawatr T, DeFronzo RA, Kahn CR, Mandarino LJ. Insulin resistance differentially affects the PI 3-kinase- and MAP kinase-mediated signaling in human muscle. J Clin Invest 105(3):311-20, 2/2000. PMCID: PMC377440.
Grant & Contract Support
| | |
| --- | --- |
| Title: | TP53 as a Biomarker to Personalize Chemotherapy for Patients with Head and Neck Cancer |
| Funding Source: | Cancer Prevention & Research Institute of Texas (CPRIT) |
| Role: | Co-Investigator |
| Principal Investigator: | Myers |
| Duration: | 12/1/2011 - 5/30/2014 |
© 2014 The University of Texas MD Anderson Cancer Center