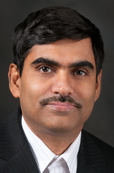 '
Abhijit Mazumdar, Ph.D.
Present Title & Affiliation
Primary Appointment
Assistant Professor, Department of Clinical Cancer Prevention, Division of OVP, Cancer Prevention and Population Sciences, The University of Texas MD Anderson Cancer Center, Houston, TX
Bio Statement
The goal of the proposed research is to investigate the effective preventive therapies for ER negative breast cancer using high throughput screening of siRNA kinase library when combined with rexinoid. I have the expertise and motivation to successfully carry out the proposed research project. I have a broad research background in developing novel molecular-targets for cancer prevention and therapeutics including laboratory-based identification and validation of targets. I have been extensively trained in cell and molecular cancer biology and would like to utilize my expertise in cancer prevention and in targeted therapy. In summary I will be interested in the projects in cancer prevention involving kinases activated in cancer and their inhibition in combination with rexinoids.
Office Address
The University of Texas MD Anderson Cancer Center
Basic Science Research Building
1515 Holcombe Blvd
Unit Number: 1013
Houston, TX 77030
Room Number: S7.8116
Phone: 713-834-6336
Fax: 713-834-6350
Education & Training
Degree-Granting Education

1998
Jadavpur University, Calcutta, India, PHD, Biochemistry
1991
University of Calcutta, Calcutta, India, MS, Biochemistry
1988
University of Calcutta, Calcutta, India, BS, Chemistry
Experience/Service
Academic Appointments
Research Associate, Breast Center, Breast Center, Baylor College of Medicine, Houston, TX, 2008-2009
Instructor, Department of Head and Neck Surgery, Division of Medicine/Surgery & Experimental Therapeutics, The University of Texas M.D. Anderson Cancer Center, Houston, TX, 2004-2007
Other Appointments/Responsibilities
Senior Scientist, Dr. Reddy's Laboratories, Hyderabad, India, 2003-2004
Member, AACR, Houston, TX, 2001-2015
Honors and Awards
1999-2003

Postdoctoral Fellow,

MD Anderson Cancer Center, Department of Molecular Cellular Oncology
Selected Publications
Peer-Reviewed Original Research Articles

1.
Hartman ZC, Poage GM, den Hollander P, Tsimelzon A, Hill J, Panupinthu N, Zhang Y, Mazumdar A, Hilsenbeck SG, Mills GB, Brown PH. Growth of triple-negative breast cancer cells relies upon coordinate autocrine expression of the pro-inflammatory cytokines IL-6 and IL-8. Cancer Res 73(11):3470-80, 6/2013. e-Pub 4/2013. PMCID: PMC3853111.
2.
Mazumdar A, Medina D, Kittrell FS, Zhang Y, Hill JL, Edwards DE, Bissonnette RP, Brown PH. The combination of tamoxifen and the rexinoid LG100268 prevents ER-positive and ER-negative mammary tumors in p53-null mammary gland mice. Cancer Prev Res (Phila) 5(10):1195-202, 10/2012. e-Pub 8/2012. PMID: 22926341.
3.
Mazumdar A, Henderson YC, El-Naggar AK, Sen S, Clayman GL. Aurora kinase A inhibition and paclitaxel as targeted combination therapy for head and neck squamous cell carcinoma. Head Neck 31((5)):625-34, Head Neck. 31(5):625-34 2009, 2009. PMCID: PMC2668723.
4.
Bagheri-Yarmand R, Mazumdar A, Sahin AA, Kumar R. LIM kinase 1 increases tumor metastasis of human breast cancer cells via regulation of the urokinase-type plasminogen activator system. Int J Cancer 118(11):2703-10, 6/2006. PMID: 16381000.
5.
Shellenberger TD, Mazumdar A, Henderson Y, Briggs K, Wang M, Chattopadhyay C, Jayakumar A, Frederick M, Clayman GL. Headpin: a serpin with endogenous and exogenous suppression of angiogenesis. Cancer Res 65(24):11501-9, 12/2005. PMID: 16357159.
6.
Mishra SK, Yang Z, Mazumdar A, Talukder AH, Larose L, Kumar R. Metastatic tumor antigen 1 short form (MTA1s) associates with casein kinase I-gamma2, an estrogen-responsive kinase. Oncogene 23(25):4422-9, 5/2004. PMID: 15077195.
7.
Mishra SK, Mazumdar A Vadlamudi RK, Li F, Wang RA, Yu W, Jordan VC, Santen RJ, Kumar R. MICoA, a novel metastasis-associated protein 1 (MTA1) interacting protein coactivator, regulates estrogen receptor-alpha transactivation functions. J Biol Chem 278(21):19209-19, 5/2003. e-Pub 3/2003. PMID: 12639951.
8.
Mazumdar A, Kumar R. Estrogen regulation of Pak1 and FKHR pathways in breast cancer cells. FEBS Lett 535(1-3):6-10, 1/2003. PMID: 12560069.
Grant & Contract Support
Title:
Targeting the MELK protein for the treatment of triple negative breast cancer
Funding Source:
Susan G. Komen Breast Cancer Foundation
Role:
Collaborator
Duration:
10/1/2015 - 9/30/2016
Title:
DAPK-1 a novel target for the treatment of triple-negative breast cancer
Funding Source:
MD Anderson
Role:
Collaborator
Duration:
10/1/2015 - 9/30/2016
Title:
Targeting MAP3Ks for the Treatment of Triple-Negative Breast Cancer
Funding Source:
Breast Cancer Research Foundation
Role:
Collaborator
Principal Investigator:
Powel H. Brown
Duration:
10/1/2012 - 9/30/2013
Title:
Targeting ACP1 for the Treatment of ER-negative Breast Cancer
Funding Source:
Susan G. Komen Breast Cancer Foundation
Role:
Collaborator
Principal Investigator:
Powel H. Brown
Duration:
4/1/2012 - 3/31/2015
Title:
Targeting Phosphatases for the Treatment of ER-negative Breast Cancer
Funding Source:
Susan G. Komen Breast Cancer Foundation
Role:
Collaborator
Principal Investigator:
Powel H. Brown
Duration:
12/1/2009 - 11/30/2010
Title:
Combining Cancer Prevention Drugs to Eliminate Cancer Stem Cells and Prevent Breast Cancer
Funding Source:
Breast Cancer Research Fund
Role:
Collaborator
Principal Investigator:
Powel H. Brown
Duration:
11/1/2009 - 10/31/2010
Title:
Investigating Headpin, a potential anti-invasive and anti-Angiogenic candidate
Funding Source:
Head and Neck Spore
Role:
Principal Investigator
Duration:
2005
Title:
Investigating Headpin, a potential anti-invasive and anti-Angiogenic candidate
Funding Source:
Head & Neck Spore
Role:
Principal Investigator
Duration:
2004
Title:
DAPK-1, a Novel Target for the Treatment of p53 Mutant Cancers
Funding Source:
Department of Defense (DOD)
Role:
Collaborator
Title:
DAPK-1, a Novel Target for the Treatment of p53 Mutant Cancers
Funding Source:
NIH
Role:
Collaborator