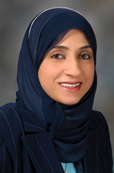 '
Ala Abudayyeh, MD
Present Title & Affiliation
Primary Appointment
Assistant Professor, Department of Emergency Medicine, Division of Internal Medicine, The University of Texas MD Anderson Cancer Center, Houston, TX
Office Address
The University of Texas MD Anderson Cancer Center
1400 Pressler Street
Unit Number: 1468
Houston, TX 77030
Room Number: FCT13.6101
Phone: 713-745-9331
Fax: 713-792-8743
Email: aabudayyeh@mdanderson.org
Education & Training
Degree-Granting Education

2003
University of Texas-Houston Medical School, Houston, TX, MD, Internal Medicine
1999
Baylor University, Waco, TX, BS, Magna Cum Laude, Biology

Postgraduate Training

6/2009-8/2011

Nephrology Fellowship, Nephrology, Baylor College of Medicine, Houston, TX

6/2004-6/2006

Resident, Internal Medicine, Baylor College of Medicine, Houston, TX

8/2003-6/2006

Internal Medicine Resident, Baylor College of Medicine, Houston, TX
Board Certifications
| | |
| --- | --- |
| 2011 | American Board of Internal Medicine |
Selected Publications
Peer-Reviewed Original Research Articles

1.
Ertem FU, Zhang W, Chang K, Mohaiza Dashwood W, Rajendran P, Sun D, Abudayyeh A, Vilar E, Abdelrahim M, Dashwood RH. Oncogenic targets Mmp7, S100a9, Nppb and Aldh1a3 from transcriptome profiling of FAP and Pirc adenomas are downregulated in response to tumor suppression by Clotam. Int J Cancer 140(2):460-468, 1/15/2017. e-Pub 10/18/2016. PMID: 27706811.
2.
Abudayyeh A, Hamdi A, Abdelrahim M, Lin H, Page VD, Rondon G, Andersson BS, Afrough A, Martinez CS, Tarrand JJ, Kontoyiannis DP, Marin D, Gaber AO, Oran B, Chemaly RF, Ahmed S, Abudayyeh I, Olson A, Jones R, Popat U, Champlin RE, Shpall EJ, Rezvani K. Poor immune reconstitution is associated with symptomatic BK polyomavirus viruria in allogeneic stem cell transplant recipients. Transpl Infect Dis. e-Pub 11/14/2016. PMID: 27862740.
3.
Oliver N, Luong T, Tchakarov A, Abdelrahim M, Mulanovich VE, Kontoyiannis DP, Jones R, Kebriaei P, Samuels J, Glass W, Abudayyeh A. Disseminated cryptococcal infection in allogeneic stem cell transplant patients: a rare cause of acute kidney injury. Bone Marrow Transplant 51(10):1301-1304, 10/2016. e-Pub 5/9/2016. PMID: 27159179.
4.
Wanchoo R, Abudayyeh A, Doshi M, Edeani A, Glezerman IG, Monga D, Rosner M, Jhaveri KD. Renal toxicities of novel agents used for treatment of multiple myeloma. Clin J Am Soc Nephrol. e-Pub 9/21/2016. PMID: 27654928.
5.
Abudayyeh A, Hamdi A, Lin H, Abdelrahim M, Rondon G, Andersson BS, Afrough A, Martinez CS, Tarrand JJ, Kontoyiannis DP, Marin D, Gaber AO, Salahudeen A, Oran B, Chemaly RF, Olson A, Jones R, Popat U, Champlin RE, Shpall EJ, Winkelmayer WC, Rezvani K. Symptomatic BK Virus Infection Is Associated with Kidney Function Decline and Poor Overall Survival in Allogeneic Hematopoietic Stem Cell Recipients. Am J Transplant 16(5):1492-502, 5/2016. e-Pub 3/2/2016. PMID: 26608093.
6.
Safe S, Jin UH, Morpurgo B, Abudayyeh A, Singh M, Tjalkens RB. Nuclear receptor 4A (NR4A) family - orphans no more. J Steroid Biochem Mol Biol 157:48-60, 3/2016. e-Pub 4/23/2015. PMCID: PMC4618773.
7.
Marina George;Amir Hamdi, Maen Abdelrahim; William F. Glass, Ala Abudayyeh. Acute Renal Failure Due to Vitamin C: Case Report and Review of the Literature. BMC Research Notes, 12/2015.
8.
Abudayyeh A, Truong LD, Beck LH, Weber DM, Rezvani K, Abdelrahim M. Membranous nephropathy in autologous hematopoietic stem cell transplant: autologous graft-versus-host disease or autoimmunity induction? Clin Kidney J 8(4):440-4, 8/2015. e-Pub 6/1/2015. PMCID: PMC4515891.
9.
Hedrick E, Lee SO, Kim G, Abdelrahim M, Jin UH, Safe S, Abudayyeh A. Nuclear Receptor 4A1 (NR4A1) as a Drug Target for Renal Cell Adenocarcinoma. PLoS One 10(6):e0128308, 2015. e-Pub 6/2/2015. PMCID: PMC4452731.
10.
Rajasekaran A, Ngo TT, Abdelrahim M, Glass W, Podoll A, Verstovsek S, Abudayyeh A. Primary myelofibrosis associated glomerulopathy: significant improvement after therapy with ruxolitinib. BMC Nephrol 16:121, 2015. e-Pub 8/1/2015. PMCID: PMC4521341.
11.
Nair V, Sreevalsan S, Basha R, Abdelrahim M, Abudayyeh A, Rodrigues Hoffman A, Safe S. Mechanism of Metformin-dependent Inhibition of mTOR and Ras Activity in Pancreatic Cancer: Role of Sp Transcription Factors. J Biol Chem 289(40):27692-701, 10/3/2014. e-Pub 8/20/2014. PMCID: PMC4183806.
12.
Abudayyeh AA, Lahoti A, Salahudeen AK. Onconephrology: the need and the emergence of a subspecialty in nephrology. Kidney Int 85(5):1002-4, 5/2014. PMID: 24786870.
13.
Maliakal P, Abdelrahim M, Sankpal UT, Maliakal C, Baker CH, Safe S, Herrera LJ, Abudayyeh A, Kaja S, Basha R. Chemopreventive effects of tolfenamic acid against esophageal tumorigenesis in rats. Invest New Drugs 30(3):853-61, 6/2012. e-Pub 1/4/2011. PMID: 21197621.

Invited Articles

1.
Finkel KW, Cohen EP, Shirali A, Abudayyeh A, American Society of Nephrology Onco-Nephrology Forum. Paraprotein-related Kidney Disease: Evaluation and Treatment of Myeloma Cast Nephropathy. Clin J Am Soc Nephrol 11(12):2273-2279, 12/7/2016. e-Pub 8/15/2016. PMID: 27526708.
2.
Ala Abudayyeh & Maen Abdelrahim. Current Strategies for Prevention and Management of Stem Cell Transplant Related Urinary Tract and Voiding Dysfunction . Current Bladder Dysfunction Reports, 2/2015.
Grant & Contract Support
Title:
A Prospective Observational Study of Urinary Biomarkers of Nephrotoxicity in Cancer Patients Receiving Cisplatin Chemotherapy
Funding Source:
NIH/NCI
Role:
Co-Principal Investigator
Duration:
8/2013 - 4/2015
Title:
BK Virus Infection in Hematopoetic Stem Cell Transplant Survivors and Renal Outcomes
Funding Source:
The University of Texas MD Anderson Cancer Center
Role:
Principal Investigator
Duration:
8/2013 - 7/30/2014
Title:
Inactivation of the Nuclear Receptor TR3 as an Important New Drug Target for Treating RCC
Funding Source:
The University of Texas MD Anderson Cancer Center Kidney Cancer Research Program
Role:
Principal Investigator
Duration:
4/2013 - 4/2014