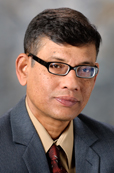 '
Aloke K Sarkar, Ph.D.
Present Title & Affiliation
N/A
Bio Statement
Autophagy is an evolutionally conserved cellular degradation process involving elimination of defective or superfluous organelles and to target them to autophagosomes which eventually regulate both cell survival and cell death. Selective exclusion of damaged mitochondria by autophagy (mitophagy), in combination with mitochondrial biogenesis, regulates the changes in steady-state mitochondrial mass that are required to meet metabolic demand. I am particularly motivated to study mitochondria specific proteins that control the elimination of damaged and non-functional mitochondria in Leukemia. Recently we have identified a novel role for a DNA damage response pathway gene in regulating mitophagy in multiple cell types including B cell leukemia. Alternatively another area of my research interest is to identify new/novel cancer genes using insertional mutagenesis in genetically predisposed murine leukemia models. Using MoMuLV as many as 86 proviral integration sites were cloned that resulted in >35% acceleration in tumor induction when newborn transgenic mice are inoculated with the virus. I have identified several novel and yet undisclosed role of known genes in driving multiple human solid and liquid tumors including T and B cell leukemias. I am focused on identifying molecular targets of these genes in order to explore potential regulators that would help us designing strategy in future clinical trials.

 
Office Address
The University of Texas MD Anderson Cancer Center
1901 East Road
Houston, TX 77054
Room Number: 4SCR3.1031
Phone: 713 792 8028
Fax: 713 794 4316
Email: asarkar@mdanderson.org
Education & Training
Degree-Granting Education

1996
Jadavpur University, Calcutta, West Bengal, PHD, Biochemistry & Cancer Biology
1987
University of Calcutta, Calcutta, West Bengal, MS, Zoology & Genetics

Postgraduate Training

2007-2011

Research Fellowship, Baylor College of Medicine, Houston, TX

2004-2007

Research Fellowship, University of Texas Medical Branch, Galveston, TX

2000-2004

Research Fellowship, University of Toronto, Toronto, Ontario
Experience/Service
Academic Appointments
Instructor, Department of Experimental Therapeutics, Division of Cancer Medicine, The University of Texas MD Anderson Cancer Center, Houston, TX, 2011
Honors and Awards
2004-2006

SCCCB Postdoctoral Fellowship,

University of Texas Medical Branch Galveston

2001-2003

MRC Postdoctoral Fellowship,

University of Toronto
Selected Publications
Peer-Reviewed Original Research Articles

1.
Sarkar A, Zhang M, Liu SH, Sarkar S, Brunicardi FC, Berger DH, Belaguli NS. Serum response factor expression is enriched in pancreatic β cells and regulates insulin gene expression. FASEB J 25(8):2592-603, 8/2011. e-Pub 4/27/2011. PMID: 21525490.
2.
Cui JW, Li YJ, Sarkar A, Brown J, Tan YH, Premyslova M, Michaud C, Iscove N, Wang GJ, Ben-David Y. Retroviral insertional activation of the Fli-3 locus in erythroleukemias encoding a cluster of microRNAs that convert Epo-induced differentiation to proliferation. Blood 110(7):2631-40, 10/1/2007. e-Pub 6/22/2007. PMID: 17586726.
3.
Lee CR, Cervi D, Truong AH, Li YJ, Sarkar A, Ben-David Y. Friend virus-induced erythroleukemias: a unique and well-defined mouse model for the development of leukemia. Anticancer Res 23(3A):2159-66, May-Jun, 5/2003. PMID: 12894591.
4.
Saha BK, Sarkar A, Basak R, Chatterjee M. 1alpha, 25-Dihydroxyvitamin D3 suppresses the effect of streptozotocin-induced diabetes during chemical rat liver carcinogenesis. Cell Biol Int 25(3):227-37, 2001. PMID: 11352495.
5.
Sarkar A, Saha BK, Basak R, Mukhopadhyay I, Karmakar R, Chatterjee M. Anticlastogenic potential of 1alpha,25-dihydroxyvitamin D3 in murine lymphoma. Cancer Lett 150(1):1-13, 3/13/2000. PMID: 10755381.
6.
Bishayee A, Sarkar A, Chatterjee M. Further evidence for chemopreventive potential of beta-carotene against experimental carcinogenesis: diethylnitrosamine-initiated and phenobarbital-promoted hepatocarcinogenesis is prevented more effectively by beta-carotene than by retinoic acid. Nutr Cancer 37(1):89-98, 2000. PMID: 10965525.
7.
Sarkar A, Pradhan S, Mukhopadhyay I, Bose SK, Roy S, Chatterjee M. Inhibition of early DNA-damage and chromosomal aberrations by Trianthema portulacastruml. In carbon tetrachloride-induced mouse liver damage. Cell Biol Int 23(10):703-8, 1999. PMID: 10736194.
8.
Sarkar A, Basak R, Bishayee A, Basak J, Chatterjee M. Beta-carotene inhibits rat liver chromosomal aberrations and DNA chain break after a single injection of diethylnitrosamine. Br J Cancer 76(7):855-61, 1997. PMCID: PMC2228073.
9.
Mukherjee B, Sarkar A, Chatterjee M. Biochemical basis of selenomethionine-mediated inhibition during 2-acetylaminofluorene-induced hepatocarcinogenesis in the rat. Eur J Cancer Prev 5(6):455-63, 12/1996. PMID: 9061276.
10.
Sarkar A, Bishayee A, Chatterjee M. Beta-carotene prevents lipid peroxidation and red blood cell membrane protein damage in experimental hepatocarcinogenesis. Cancer Biochem Biophys 15(2):111-25, 11/1995. PMID: 8590436.
11.
Bishayee A, Sarkar A, Chatterjee M. Hepatoprotective activity of carrot (Daucus carota L.) against carbon tetrachloride intoxication in mouse liver. J Ethnopharmacol 47(2):69-74, 7/7/1995. PMID: 7500638.
12.
Sarkar A, Mukherjee B, Chatterjee M. Inhibition of 3'-methyl-4-dimethylaminoazobenzene-induced hepatocarcinogenesis in rat by dietary beta-carotene: changes in hepatic anti-oxidant defense enzyme levels. Int J Cancer 61(6):799-805, 6/9/1995. PMID: 7790114.
13.
Sarkar A, Mukherjee B, Chatterjee M. Inhibitory effect of beta-carotene on chronic 2-acetylaminofluorene induced hepatocarcinogenesis in rat: reflection in hepatic drug metabolism. Carcinogenesis 15(5):1055-60, 5/1994. PMID: 8200068.
14.
Sarkar A, Mukherjee B, Rana M, Chatterjee M. Comparative patterns of hepatic drug metabolizing enzymes and their possible correlation with chromosomal aberrations in transplantable murine lymphoma: a time course study. Cancer Invest 12(5):477-83, 1994. PMID: 7922703.