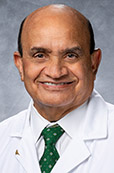 '
Aman U. Buzdar, M.D., F.A.C.P.
Present Title & Affiliation
Primary Appointment
Vice President, Clinical Research, The University of Texas MD Anderson Cancer Center, Houston, TX
Professor of Medicine and Internist (tenured), Department of Breast Medical Oncology, Division of Cancer Medicine, The University of Texas MD Anderson Cancer Center, Houston, TX
Education & Training
Degree-Granting Education

1967
Nishtar Medical College, Multan, Pakistan, MB,BS
1962
Government Emerson College, Multan, Pakistan, FSc

Postgraduate Training

1974-1975

Second Year Fellow in Medicine (Oncology), The University of Texas System Cancer Center, M. D. Anderson Hospital and Tumor Institute, Houston, TX

1973-1974

First Year Fellow in Hematology-Oncology, Norwalk Hospital, Norwalk, CT

1972-1973

Senior Resident in Medicine, Norwalk Hospital, Norwalk, CT

1971-1972

Second Year Resident in Medicine, Lutheran Hospital, Cleveland, OH

1970-1971

First Year Resident, Medicine, Lakewood Hospital, Lakewood, OH

1969-1970

First Year Resident, General Practice, Maryview Hospital, Portsmouth, VA

1968-1969

Rotating Intern, Kaukini Hospital, Honolulu, HI
Board Certifications
| | |
| --- | --- |
| 1/1979 | American Board of Medical Oncology, Diplomate |
| 1/1975 | American Board of Internal Medicine, Diplomate |
Experience/Service
Administrative Appointments/Responsibilities
Ad Interim Vice President, Clinical Research, The University of Texas MD Anderson Cancer Center, Houston, TX, 6/2010-5/2012
Selected Publications
Peer-Reviewed Original Research Articles

1.
Vachon CM, Suman VJ, Brandt KR, Kosel ML, Buzdar AU, Olson JE, Wu FF, Flickinger LM, Ursin G, Elliott CR, Shepherd L, Weinshilboum RM, Goss PE, Ingle JN. Mammographic Breast Density Response to Aromatase Inhibition. Clin Cancer Res 19(8):2144-53, 4/2013. PMCID: PMC3630282.
2.
Liu M, Ingle JN, Fridley BL, Buzdar AU, Robson ME, Kubo M, Wang L, Batzler A, Jenkins GD, Pietrzak TL, Carlson EE, Goetz MP, Northfelt DW, Perez EA, Williard CV, Schaid DJ, Nakamura Y, Weinshilboum RM. TSPYL5 SNPs: Association with Plasma Estradiol Concentrations and Aromatase Expression. Mol Endocrinol 27(4):657-70, 4/2013. PMCID: PMC3607698.
3.
Cuzick J, Dowsett M, Pineda S, Wale C, Salter J, Quinn E, Zabaglo L, Mallon E, Green AR, Ellis IO, Howell A, Buzdar AU, Forbes JF. Prognostic Value of a Combined Estrogen Receptor, Progesterone Receptor, Ki-67, and Human Epidermal Growth Factor Receptor 2 Immunohistochemical Score and Comparison With the Genomic Health Recurrence Score in Early Breast Cancer. J Clin Oncol 29(32):4273-8, 11/2011. PMID: 21990413.
4.
Ingle JN, Buzdar AU, Schaid DJ, Goetz MP, Batzler A, Robson ME, Northfelt DW, Olson JE, Perez EA, Desta Z, Weintraub RA, Williard CV, Flockhart DA, Weinshilboum RM. Variation in Anastrozole Metabolism and Pharmacodynamics in Women with Early Breast Cancer. Cancer Res 70(8). e-Pub 3/2010. PMID: 20354183.
5.
Dowsett M, Cuzick J, Ingle J, Coates A, Forbes J, Bliss J, Buyse M, Baum M, Buzdar A, Colleoni M, Coombes C, Snowdon C, Gnant M, Jakesz R, Kaufmann M, Boccardo F, Godwin J, Davies C, Peto R. Meta-Analysis of Breast Cancer Outcomes in Adjuvant Trials of Aromatase Inhibitors Versus Tamoxifen. J Clin Oncol, 11/2009. PMID: 19949017.
6.
Boughey JC, Buzdar AU, Hunt KK. Recent advances in the hormonal treatment of breast cancer. Curr Probl Surg 45(1):13-55, 1/2008.
7.
Buzdar AU, Chlebowski R, Cuzick J, Duffy S, Forbes J, Jonat W, Ravdin P. Defining the role of aromatase inhibitors in the adjuvant endocrine treatment of early breast cancer. Curr Med Res Opin 22:1575-85, 8/2006. PMID: 16870082.
8.
Buzdar AU. Anastrozole for breast cancer: recent advances and ongoing challenges. Expert Rev Anticancer Ther 6:839-48, 6/2006. PMID: 16761927.
9.
Come SE, Buzdar AU, Ingle JN, Arteaga CL, Brown M, Dowsett M, Hilsenbeck SG, Kumar R, Johnston SR, Lee AV, Paik S, Pritchard KI, Winer EP, Hart C. Proceedings of the Fifth International Conference on Recent Advances and Future Directions in Endocrine Therapy for Breast Cancer: conference summary statement. Clin Cancer Res 12:997s-1000s, 2/2006. PMID: 16467115.
10.
Buzdar AU. Aromatase inhibitors: changing the face of endocrine therapy for breast cancer. Breast Dis 24:107-17, 2006. PMID: 16917143.
11.
Buzdar AU, Inbrahim NK, Francis D, Booser DJ, Thomas ES, Theriault RL, Pusztai L, Green MC, Arun BK, Giordano SH, Cristofanilli M, Frye DK, Smith TL, Hunt KK, Singletary SE, Sahin AA, Ewer MS, Buchholz TA, Berry D, Hortobagyi GN. Significantly higher pathologic complete remission rate after neoadjuvant therapy with trastuzumab, paclitaxel, and epirubicin chemotherapy: results of a randomized trial in human epidermal growth factor receptor 2-positive operable breast cancer. J Clin Oncol 23:3676-85, 6/2005. PMID: 15738535.
12.
Buzdar AU. TAS-108: a novel steroidal antiestrogen. Clinical Cancer Research 11(2):906s-908s, 2005.
13.
Wefel JS, Lenzi R, Theriault R, Buzdar AU, Cruickshank S, Meyers CA. 'Chemobrain' in breast carcinoma?: a prologue. Cancer 101(3):466-75, 8/2004. PMID: 15274059.
14.
Giordano SH, Cohen DS, Buzdar AU, Perkins G, Hortobagyi GN. Breast carcinoma in men: a population-based study. Cancer 101(1):51-7, 7/2004. PMID: 15221988.
15.
Buzdar AU, Vergote I, Sainsbury R. The impact of hormone receptor status on the clinical efficacy of the new-generation aromatase inhibitors: a review of data from first-line metastatic disease trials in postmenopausal women. Breast J 10(3):211-7, 5/2004. PMID: 15125747.
16.
Giordano SH, Buzdar AU, Smith TL, Kau SW, Yang Y, Hortobagyi GN. Is breast cancer survival improving? Cancer 100(1):44-52, 2004. PMID: 14692023.
17.
Baum M, Buzdar A, Cuzick J, Forbes J, Houghton J, Howell A, Sahmoud T. Anastrozole alone or in combination with tamoxifen versus tamoxifen alone for adjuvant treatment of postmenopausal women with early-stage breast cancer: results of the ATAC (Arimidex, Tamoxifen Alone or in Combination) trial efficacy and safety update analyses. Cancer 98(9):1802-10, 11/2003. PMID: 14584060.
18.
Buzdar AU. Breast cancer in men. Oncology (Williston Park) 17(10):1361-4; discussion 1364, 1369-72, 10/2003. PMID: 14606362.
19.
Buzdar AU. 'Arimidex' (anastrozole) versus tamoxifen as adjuvant therapy in postmenopausal women with early breast cancer--efficacy overview. J Steroid Biochem Mol Biol 86(3-5):399-403, 9/2003. PMID: 14623537.
20.
Buzdar AU, Singletary SE, Valero V, Booser DJ, Ibrahim NK, Rahman Z, Theriault RL, Walters R, Rivera E, Smith TL, Holmes FA, Hoy E, Frye DK, Manuel N, Kau SW, McNeese MD, Strom E, Thomas E, Hunt K, Ames F, Berry D, Hortobagyi GN. Evaluation of paclitaxel in adjuvant chemotherapy for patients with operable breast cancer: preliminary data of a prospective randomized trial. Clin Cancer Res 8(5):1073-9, 5/2002. PMID: 12006521.
21.
The ATAC (Arimidex Tamoxifen Alone or in Combination) Trialists' Group. Anastrozole alone or in combination with tamoxifen versus tamoxifen alone for adjuvant treatment of postmenopausal women with early breast cancer: first results of the ATAC randomised trial. Lancet 359:2131-2139, 2002.

Invited Articles

1.
Buzdar AU. Medical oncology: Endocrine-therapy-related symptoms and breast cancer. Nat Rev Clin Oncol 6(6):309-10, 6/2009. PMID: 19483735.
2.
Buzdar AU. Role of biologic therapy and chemotherapy in hormone receptor- and HER2-positive breast cancer. Ann Oncol. e-Pub 1/2009. PMID: 19150946.
3.
Buzdar AU. Fulvestrant--a novel estrogen receptor antagonist for the treatment of advanced breast cancer. Drugs Today (Barc) 44(9):679-92, 9/2008. PMID: 19137123.
4.
Buzdar AU. Clinical experience with epothilones in patients with breast cancer. Clin Breast Cancer Suppl 2:S71-8, 3/2008.
5.
Arimidex, Tamoxifen, Alone or in Combination (ATAC) Trialists' Group, Forbes JF, Cuzick J, Buzdar AU, Howell A, Tobias JS, Baum M. Effect of anastrozole and tamoxifen as adjuvant treatment for early-stage breast cancer: 100-month analysis of the ATAC trial. Lancet Oncology 9(1):45-53, 1/2008.
6.
Buzdar AU. Preoperative chemotherapy treatment of breast cancer-A review. Cancer 110(11):2394-407, 10/2007. e-Pub 10/2007. PMID: 17941030.
7.
Buzdar AU. Update on the management of inflammatory breast cancer. Clin Adv Hematol Oncol 4(5):344-5, 2006. PMID: 16728943.

Books (edited and written)

1.
Aman U. Buzdar. Ed(s) Aman U. Buzdar. Endocrine Therapies in Breast Cancer. Oxford Oncology Library: Oxford, UK, 2007.
© 2014 The University of Texas MD Anderson Cancer Center