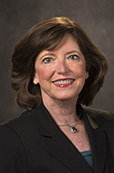 '
Ann M. Killary, Ph.D.
Present Title & Affiliation
N/A
Research Interests
Tumor suppressor genes
Breast and Pancreatic Cancer
Cancer genetics
Little is known about the genetic pathways that discriminate breast cancer in young women from those that occur more commonly in the general population with later age of onset. Suppression subtractive hybridization has identified a novel gene DEAR1 which maps into a region of high frequency loss of heterozygosity (LOH) in a number of histologically diverse human cancers and for which we have evidence of its role in the evolution of breast cancer and for its potential as a prognostic marker in early onset breast cancer. A major project in the laboratory involves the characterization of DEAR1 function to elucidate its role in development and cancer.
Our laboratory is also a biomarker discovery laboratory funded by the Early Detection Research Network of the National Cancer Institute. Goals in this regard are focused on the use of functional genomic strategies to identify pathways aberrant in pancreatic cancer from which novel biomarkers for the early detection of pancreatic cancer can be identified.
View a complete list of Dr. Killary's publications.
Office Address
The University of Texas MD Anderson Cancer Center
2130 W. Holcombe Blvd.
Unit Number: 2951
Houston, TX 77030
Room Number: LSP9.4224
Phone: (713) 834-6395
Email: akillary@mdanderson.org
Education & Training
Degree-Granting Education

1981
The University of Texas Graduate School of Biomedical Sciences, Houston, TX, PHD, Genetics

Postgraduate Training

1981-1985

Postdoctoral Fellow, University of Southern California Medical School, Los Angeles, CA, Dr. R.E.K. Fournier
Selected Publications
Peer-Reviewed Original Research Articles

1.
Balasenthil S, Chen N, Lott ST, Chen J, Carter J, Grizzle WE, Frazier ML, Sen S, Killary AM. A migration signature and plasma biomarker panel for pancreatic adenocarcinoma. Cancer Prev Res (Phila) 4(1):137-49, 1/2011. e-Pub 11/11/2010. PMCID: PMC3635082.
2.
Wang J, Chen J, Chang P, LeBlanc A, Li D, Abbruzzesse JL, Frazier ML, Killary AM, Sen S. MicroRNAs in plasma of pancreatic ductal adenocarcinoma patients as novel blood-based biomarkers of disease. Cancer Prev Res (Phila) 2(9):807-13, 9/2009. e-Pub 9/1/2009. PMID: 19723895.
3.
Lott ST, Chen N, Chandler DS, Yang Q, Wang L, Rodriguez M, Xie H, Balasenthil S, Buchholz TA, Sahin AA, Chaung K, Zhang B, Olufemi SE, Chen J, Adams H, Band V, El-Naggar AK, Frazier ML, Keyomarsi K, Hunt KK, Sen S, Haffty B, Hewitt SM, Krahe R, Killary AM. DEAR1 is a dominant regulator of acinar morphogenesis and an independent predictor of local recurrence-free survival in early-onset breast cancer. PLoS Med 6(5):e1000068, 5/26/2009. e-Pub 5/5/2009. PMCID: PMC2673042.
4.
Lott ST, Chandler DS, Curley SA, Foster CJ, El-Naggar A, Frazier M, Strong LC, Lovell M, Killary AM. High frequency loss of heterozygosity in von Hippel-Lindau (VHL)-associated and sporadic pancreatic islet cell tumors: evidence for a stepwise mechanism for malignant conversion in VHL tumorigenesis. Cancer Res 62(7):1952-5, 4/1/2002. PMID: 11929809.
5.
Sanchez Y, Lovell M, Marin MC, Wong PE, Wolf-Ledbetter ME, McDonnell TJ, Killary AM. Tumor suppression and apoptosis of human prostate carcinoma mediated by a genetic locus within human chromosome 10pter-q11. Proc Natl Acad Sci U S A 93(6):2551-6, 3/19/1996. PMCID: PMC39835.
6.
Woloshin P, Song K, Degnin C, Killary AM, Goldhamer DJ, Sassoon D, Thayer MJ. MSX1 inhibits myoD expression in fibroblast x 10T1/2 cell hybrids. Cell 82(4):611-20, 8/25/1995. PMID: 7664340.
7.
Sanchez Y, el-Naggar A, Pathak S, Killary AM. A tumor suppressor locus within 3p14-p12 mediates rapid cell death of renal cell carcinoma in vivo. Proc Natl Acad Sci U S A 91(8):3383-7, 4/12/1994. PMCID: PMC43581.
8.
Killary AM, Wolf ME, Giambernardi TA, Naylor SL. Definition of a tumor suppressor gene within human chromosome 3p21-p22. Proc Natl Acad Sci U S A 89(22):10877-81, 11/15/1992. PMCID: PMC50445.
9.
de Lange T, Shiue L, Myers RM, Cox DR, Naylor SL, Killery AM, Varmus HE. Structure and variability of human chromosome ends. Mol Cell Biol 10(2):518-527, 2/1990. PMCID: PMC360828.
10.
Killary AM, Fournier RE. A genetic analysis of extinction: trans-dominant loci regulate expression of liver-specific traits in hepatoma hybrid cells. Cell 38(2):523-34, 9/1984. PMID: 6147198.